Korean Airlines offer First and Business Class Flights. Not only European or American airlines can provide their passengers with luxurious business and first class seats, coupled with exceptional onboard services and exquisite meals. Recently, I have learned at first hand that Korean airlines yield to none in the level of services and amenities offered aboard their business and first cabins.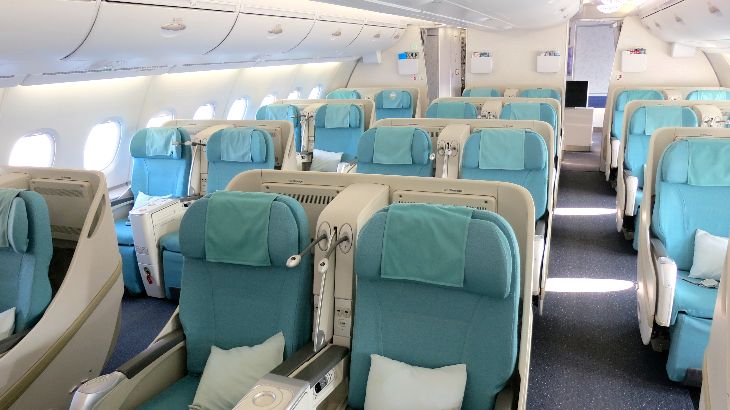 Korean Air is undoubtedly one of the best airline carriers. The company's huge Boeing 777 and Airbus A380, as well as services offered aboard these planes cannot but impress. First of all, I want to admit that first and business flights on Korean Air are similar across both planes. The only noticeable difference are impressive business class lounges onboard A380. So, there is hardly any reason for disappointment if you are not able to get business class tickets on A380, as B777 offers pretty much the same.
Korean Air business class cabins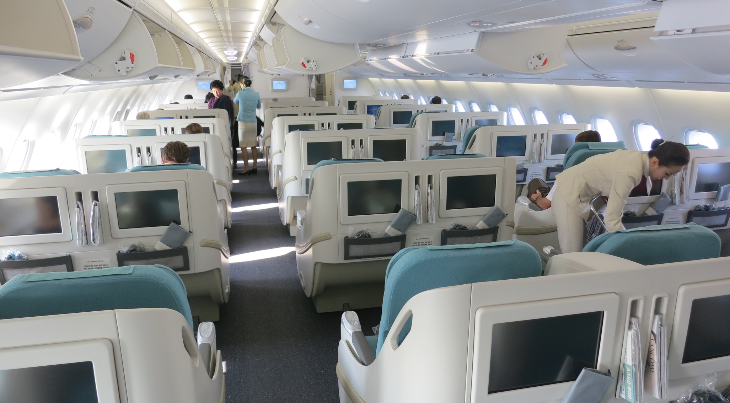 Korean Air business class cabins are luxurious, spacious and very comfortable. Even lavatories claim attention, as they have something that I have never noticed on any other airplane. Just imagine, lavatories aboard B777 have carpets. The best thing about these carpets is that they are velcroed to the floor and therefore can be easily replaced once they get dirty or wet. Lavs are squeaky clean and this credit goes to the KAL's flight attendants, who do their best to keep them clean during the whole flight.
One more "little thing" that I highly appreciate about Korean Airline business class are button holes on the napkins. This life-hack is really valuable for many passengers wearing light-coloured shirts. This small detail shows that every passenger is treated with a special care.
Korea Business Class Flight Amenities
Korea business class flights are very popular in the USA, because countries have close economic relations. Whatever business class in Korean Airlines you choose, you will be offered superior meals services. Meals served aboard KAL's B777 have nothing in common with the vapid food served on coach class flights. On long-haul flights business class passengers are usually served two meals. You will be offered delicious seared tuna, Korean chili paste gochujang, rubbery crunch, kimchee-like pickles and bibimbap – a famous Korean specialty. Everything is very delicious.
Korean business class tickets price starts from $2997
Now let's look inside a big, blue KAL's double-decker airbus A380. As already mentioned the difference between B777 and A380 is not great, however the latter is undoubtedly more enormous and impressive. Business class cabin of the A380 is bigger, lighter and more spacious. The upper business class decker has only 94 lie-flat seats. The dearth of seats is a peculiar feature of KAL's A380. The total number of seats on Korean Air's A380 is only 407, while other airlines manage squeezing in more than 500 seats on the similar airbuses. The lesser amount of seats is a valuable advantage, as passengers get a lot more room. Business class lie-flat seats are located on the upper deck of the aircraft and configured 2-2-2. As for me, the best seats are near the window, as they offer a bigger storage space.
A380's Business Class Cabin
Another key feature of the A380's business class cabin is a spacious "Celestial Lounge" with cosy couches and high, soft cushions. Celestial Lounge offers various snacks like colorful Korean-style lollipops, fried potato chips, nuts and canapes. Alcoholic and nonalcoholic beverages are also available in a great assortment. In other words, business class tickets are worth every single penny you pay.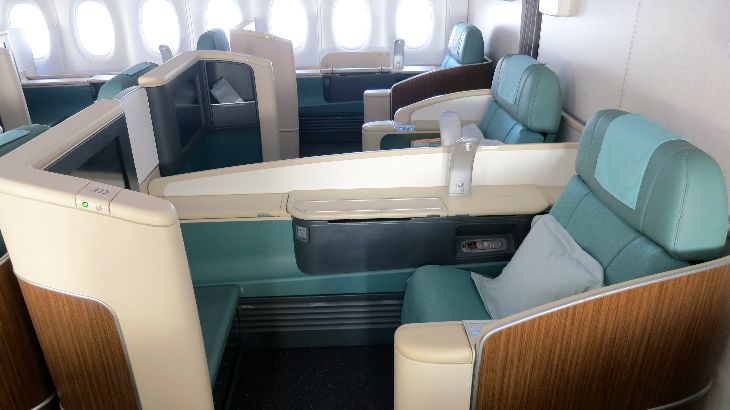 Korean Air first class cabin is located on the main deck and is called "Kosmo Suite". Korean Airline first class suite has only 12 seats, configured 1-2-1. First class seats or "suites", as the company calls them, are super big. These plush suites are 27 inches wide and 79 inches long. The absence of partition-walls ( which is common for first class cabins of most airlines) makes the KAL's A380 first class more convivial. On the top of that, Korean Air is one a few airline companies that pamper their first class passengers with caviar.
Meals served aboard Korean Air's A380 are above all praise. During long-haul first class flights to Korea, passengers are served two meals. If you are not hungry or just want to sleep, you can postpone one of the meals. Flight attendants are very friendly and are always ready to make your flight experience even more comfortable by catering to your whims, as long as they are within reasonable bounds, of course.
Korean air business class tickets to Seoul start from $2797
Summing everything up, I want to say that you will never regret choosing Korean Air business class flights and first class tickets to Korea. Whether you ride on their B777 or A380, you will get the best flying experience for your money. Both aircrafts are equipped with all modern amenities, necessary for a comfortable and enjoyable flight. The small difference between the two planes does exist, however both offer the highest level of interior comfort and flawless inboard services.
Cheap Korean Air Business Class Tickets Prices
Cheap Korean Air business class tickets to London from $2988
Korean Air cheap business class flights to Europe from $2959
Korean Air discount business class flights to Korea from $2959
discounted Korean Air business class fares to Korea from $3159
Top Destinations for Business Class and First Class Travel in 2021
Rome, Yangon, Lucerne, Frankfurt, Tokyo, Edinburgh, Dubai, Paris, Bangkok, Johannesburg, Budapest, Osaka, Taipei, Brussels, Stockholm, Barcelona, Amsterdam, Athens, Berlin, Helsinki, Vienna, Brisbane, Reykjavik, Venice, Guangzhou, Perth, Milan, Seoul, , Glasgow, Madrid, Munich, Nice, Beijing, Dusseldorf, Iceland, Cairo, Melbourne, Moscow, Shenzhen, Shanghai, Nuremberg, Spain, France, Germany, Italy, Sweden, Switzerland, Singapore, Tel Aviv, Israel, Norway
Cheap First Class will take you to London, Paris, Amsterdam, New York or Hong Kong cheap! Get to the global capital destinations easily and forget about the overly-priced services of the vast majority of air flight companies online! Save up to 70% of your money with Cheap First Class luxury travel!
Cheap First Class is Your Reliable Luxury Travel Partner
Travel with confidence, plan your luxury air trip, find the cheapest first class and business class flight deals and book great value fares to 60+ destinations with Cheap First Class!
Need help with your trip? Here are answers to FAQs for all your travel!
Related Articles