Cheap Business Class Flights [Best Deals 2023]
Finding cheap business class Flights is easier than you'd think. Flying business class to a cross Atlantic trip is like having a proper mattress is for your night's sleep: if you have it, you take it for granted, if you don't have it, your entire days' worth of productivity has been flushed down the drain.
The last thing you want on your business trip to Europe is to join a business meeting half-conscious, incapable of any thinking processes from all the jet lag and no sleep in a tight half-reclining chair.
The good news is: business class deals are what we at Cheap First Class specialise in and below we are spilling the beans on the top tips on how to get cheap business class tickets – for business or leisure travel.
Don't feel like remortgaging your house but still need to fly business class to Europe to be full of energy at the important bout of negotiations there?
We got your back, read on.
What Are the Benefits of Flying Business Class?
The one BIG thing you are buying on a Transatlantic flight when you opt for a Business class trip is [drumroll]: a day in your life.
How much does it cost? You tell us.
The travel in economy class is so exhausting, you are not an operating unit of a human being after you have landed. You feel like eating, sleeping and maybe eating again. You are only good for those 2 basic operations; you feel 89 with 5 grandkids and a walking stick.
To sum up, business class flights have the following benefits, that keep you fresh as a cucumber upon arrival:
Business Class Cabin Helps Reduce Stress
From the access to relaxing exclusive lounges to priority onboarding – a business class traveler is not subjected to much stress at all. On the contrary, you are enveloped into an environment that truly exceeds your regular levels of comfort. You wish your whole life was like business class travel.
Business Class Flights is Increased Comfort
The bed in a business class flight
On a business class flight, you get a BED in the sky, not a chair you are stuck in for hours at a time. A comfortable cozy private bed, that keeps you sleeping through the flight and makes sure you are ready for an active day ahead upon arrival.
The privacy of a business class flight
If you have had an unpleasant economy class passenger sitting next to you once in your life, you know exactly what we mean. Not only you get extremely uncomfortable physically if the person spending the next 10-15 hours next to you has bodily odours and poor manners, but you also get super irritated and experience considerable moral inconvenience and damage.
The lounge access
If you ever traveled with kids or had to finish off some critical tasks on the flights with long periods of the wait between connecting flights, you know the pain. The pain of bored kids running around the pretty dangerous airport environment. The pain of noise and distraction and plastic seating under your bum, reducing your productivity to near-zero levels. Business-class passengers get to enjoy the privacy of the well-appointed lounges with kids playing in the secure playrooms.
Unforgettable heavenly gourmet experience in business class flight
OK, we admit to the pretty self-evident use of the epithet "heavenly" here. But, man, the food in the business class is out of this world. Specially elaborated menus by celebrity chefs are prepared just before the flight using the freshest quality ingredients according to your dietary requirements.
Now, that you have an intricate picture of the benefits of flying business class, let's review exactly how to fly business class for less.
Best 5 Business Class Airlines In The World
Qatar Airways
Business class | Lounges | Cuisine | Privilege Club
Qatar Airways is a state-owned carrier of Qatar, headquartered in Doha.
Fleet: 200+ aircraft | Boeing 777-300ER | Airbus 350-900 | Boeing 787-8
Hub: Hamad International Airport

Instagram QatarAirways | Popular hashtag: #qatarairways
ANA All Nippon Airways
Business class | Lounges | Cuisine | AMC ANA Mileage Club
Largest Japanese airlines, headquartered in Tokyo.
Fleet: 240+ aircrafts | Boeing 737-800 | Boeing 787-8 | Boeing 787-9
Hub: Tokyo International Airport AKA Haneda Airport

Instagram ANA | Popular hashtag: #flyANA
Singapore Airlines
Business class | Lounges | Dining | the PPC Club
Flag carrier airline of Singapore, headquartered in Airline House in Singapore.
Fleet: 135+ aircraft | Airbus 350-900 | Boeing 777-300ER | Airbus 380-800

Singapore Air Instagram| Popular hashtag: #FlySQ
Emirates
Business class | Worldwide Lounges | Business class dining | Emirates Skywards
The state-owned flag carrier of UAE, headquartered in Garhoud, Dubai.
Fleet: 250+ aircrafts | Boeing 777-300ER | Airbus 380-800 | Boeing 777-200LR
Hub: Dubai International Airport [DXB]

Emirates Instagram| Popular hashtag: #EmiratesAirline
Qantas Airways
Business class | Lounges | In-flight Dining | Qantas Frequent Flyer
The flag carrier of Australia, headquartered in Mascot, Sydney.
Fleet: 130+ aircraft | Boeing 737-800 | Airbus 330-200 | Airbus 330-800
Hubs: Sydney Airport | Melbourne Airport | Brisbane Airport

Qantas Instagram| Popular hashtag: #Qantas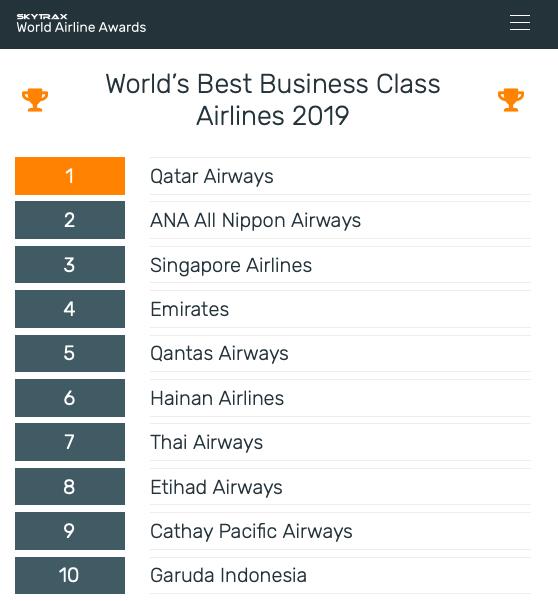 SkyTrax rating 2019
Cheap Business Class Deals 2021: Top Destinations & Routes
Discounted business class fares are available to any major destination of the world via CheapFirstClass.com – one of the world's top websites for discount business class flights. Let's review some of the popular routes below:
Cheap Business Class Tickets to Rome, Italy
Whether you are looking to take a selfie with the Coliseum in the background or get your perfect Doppio on via del Corso, Rome will greet and meet you with open arms alongside another 9 million of international tourists.
Cheap first class and business class tickets to Rome are available from many cities in the USA, inclusive of Miami (MIA), New York (JFK), Boston (BOS), Chicago (ORD).
Passengers may choose from a list of airlines depending on the airport of departure with United Airlines, Turkish Airlines, Delta, Lufthansa as options.
Cheap Business Class Flights to Yangon, Myanmar
If you are visiting the former capital of Myanmar as an educational family immersion into Buddhist culture and looking to visit the world-known sacred Shwedagon Pagoda or discovering the colonial past of Britain for scientific purposes, Yangon has brow-raising stories and heart-stopping views to offer.
Book Cheap business class and first class flights Yangon with Qatar Airways, Singapore Air, Hainan Airlines, and many more.
You can buy tickets to business class flights in every major airport, including the following US airports: New York (JFK), Dallas (DFW), San Francisco (SFO), Los Angeles (LAX).
Cheap Business Class Flights to Lucerne, Switzerland
Lucerne is a fairy-tale-like looking city in Switzerland, that people visit to absorb the Swiss essence of saturated cheeses & decadent chocolates, to leisurely stroll along the wooden landmark Chapel bridge and visit the Culture and convention centre (KKL). The stunning lake shores have made this petit town a tourist attraction with developed infrastructure. Lucerne is worth visiting, especially if you are lucky to book  a cheap business class flight to Lucerne.
If you missioned yourself to find cheap business class flights to Lucerne, you are looking into getting to one of the nearest 2 airports: Zurich (ZRH) and Berne-Belp (BRN).
Discount business class flights are available from New York (JFK), Denver (DEN), Atlanta (ATL), Boston (BOS) among other destinations.
Cheap Business Class Flights to Frankfurt, Germany
To take a trip to Frankfurt in a cheap business class flight is a must-do for all hotdog lovers. Just kidding. This German town is a fusion of rich European culture and modern architecture and vibe. From strolling in the Palmengarten Botanical gardens, going to Oper Frankfurt or visiting a Goethe-House museum, Frankfurt will keep surprising you around every corner.
Business class flights from the USA to Germany, Frankfurt Airport, are provided by many major airlines, inclusive of American Airlines, British Airways, ANA, Delta, Emirates.
Cheap Business Class Flights to Tokyo, Japan
No respectable tourist can call themselves that without treading their foot on Japanese soil. It is worth flying to Japan if you are lucky to book a cheap business class flight to Tokyo as it is a unique gem in every right and Tokyo is one of the most unparalleled metropolia of the world. The Ueno Park alone will take an inquisitive mind a few days to attend all it has to offer: Tokyo National Museum, The National Museum of Western Art and Ueno Zoo.
If you are taking a cross-Atlantic flight from the USA to Japan, Tokyo, you might fly in both: Haneda and Narita International Airport. Haneda only serves the flights of 1 US carrier: American Airlines, flying passengers from 2 major US airports of LAX and DFW.
How to Get Upgraded to Business Class for Free & for Miles
OK, first things first, when it comes to upgrading game few factors work across the board – for all flights, destinations, carriers:
Upgrades happen on the vast majority of flights that are fully booked (so as you can imagine, pretty much on every trans-Atlantic flight, as empty seats are too expensive on those).
Upgrade game has hugely changed nowadays with technological advancement and airlines will try to sell them even at a small increment, rather than use it for free upgrades.
Keep an open mind to getting a free upgrade to business class and keep trying your luck every time – it costs nothing and the reward is too good not to give it a go.
Upgrade to Business Class on United
If you are looking for cheap business class deals on United Airlines, you'd better be part of their loyalty program MileagePlus®.
You can earn miles by flying United ® or United Express ®, stay in the partner hotels belonging to chains IHG ® and Marriott ® as well fly with Star Alliance carriers.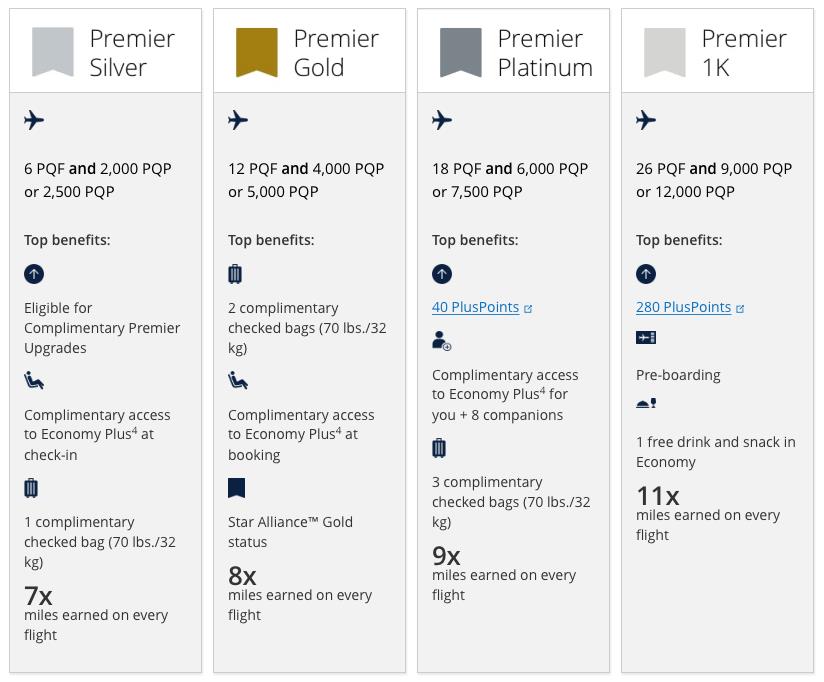 If you have a chance – spending money with their partner credit cards is also a way to fast miles accumulation. Choose Mileage Plus Personal Cards or United Business Credit Cards.
Once again, paying for an upgrade is always an option, but always be on the lookout to get a free upgrade: ask, complain (when you have a legitimate reason), charm a team member.
Alternatively, you can always buy cheap business class tickets online via trustful agents, who have access to the best flight deals on GDS. CheapFirstClass.com has an impeccable reputation for providing the best airfare deals in business class and first class travel.
Upgrade to Business Class on Lufthansa
Lufthansa airlines with its partner carriers offer services to over 400 destinations, many of them being transatlantic. The upgrade to Business class when crossing the pond is particularly sought after due to one big reason: the bed in the sky.
You can purchase an upgrade to Business Class flight on Lufthansa or  get it  for free as a part of their loyalty program.
Miles & More loyalty program offers several ways to earn and spend miles, inclusive via staying with partner Hilton & Marriott hotels, renting out Hertz cars and using Miles & More credit cards, available in 20 countries.
An upgrade to business class is usually cheaper when done with miles rather than with cash.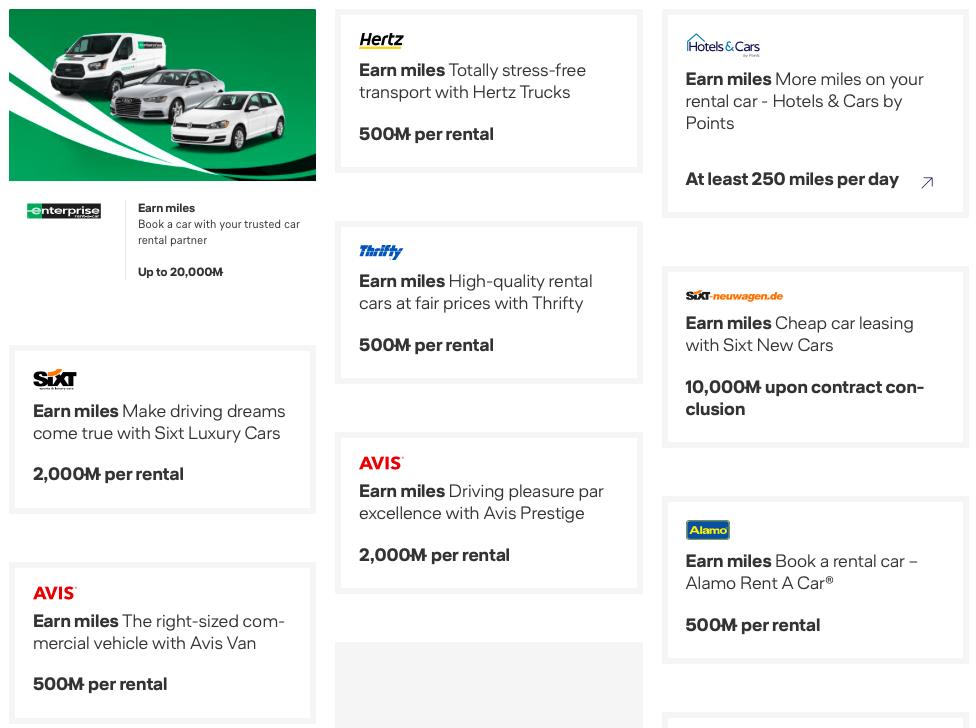 Miles & More: Earn miles for a business class upgrade
Upgrade to Business Class on Turkish Airlines
Turkish Airlines is happily upgrading passengers on shorter flights, provided you are part of their loyalty program Miles & Smiles.
Getting a free upgrade is more problematic on transatlantic flights, but you still have significantly higher chances, if you are loyal to the company.
Passengers can earn miles by flying Turkish Airlines and Anadolujet as well as 20+ other partner airlines, inclusive of United, Singapore. ANA, Lufthansa.
For a free business class upgrade, always try to be in your best behavior, charming your way with the check-in people as well as stewards on board. If you happen to be on the overbooked flight, don't be shy to declare your perfect terms to catch the next flight, which includes an upgrade to business class and some bonus miles.
Upgrade to Business Class on Virgin Atlantic
To get a free upgrade to a business class on Virgin Atlantic one needs a bit of luck. Or vice versa, you need to have some kind of hiccup, so you have a legitimate reason to complain and make a bit of drama.
Provided there are seats in the Business class, the plane team will be happy to provide it to you to keep you shut and away from spreading the creating more negative reviews across all channels.
Virgin's Loyalty program is called Flying Club and allows one to earn miles in several lucrative ways.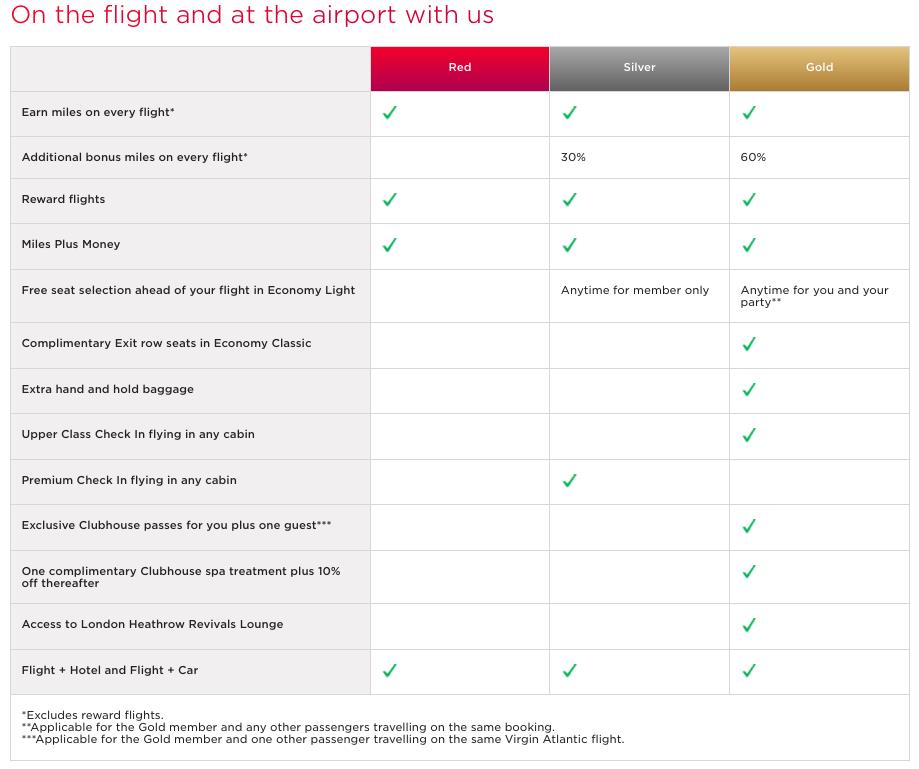 Virgin Flying Club tiers comparison table
How to Get Cheap Business Class Tickets to All International Destinations?
Last minute business class deals are one of the best opportunities to fly in a business class for ridiculous amounts. Early bird deals are OK, but the best ones are still in the last-minute category when the carrier needs to make at least some money for fuel. Are you a freelancer who travels light? Take your chances by all means with last minute offers for business class and first class.
Monitor booking engines for mistakes. They do happen and they fly fast. As hi-tech as the industry is, there is still space for human error. If you have the time to keep refreshing your screen now and then, absolutely go for it.
The best way to get cheap business class tickets is still to find the agent with the least markup. Online agents, like CheapFristClass.com, are in fierce competition against each other and are absolutely motivated to keep their clients happy and coming back.
Average Business Class Tickets Price
As a rule of thumb, a business class ticket for a transatlantic crossing will cost anything from $1900 to $3300, depending on a myriad of factors, like the carrier, destination, season, day of the week, time of departure, direct vs one with connecting flights, etc. A ticket for a trip in business class will typically cost three to four times as much as a ticket for an economy class flight. 
Here at Cheap First Class we look for the cheapest business and first class flights on a regular basis. Therefore, we're pretty good at estimating prices for luxury flights to all top worldwide destinations. 
Why Book and Buy Air Tickets with Cheap First Class?
Cheap First Class is a reputable online air tickets booking agency, whose best interest is to meet all needs of our passengers: to get them the cheapest business class tickets for long-haul flights to all top global destinations.
Having access to the GDS booking engine with by-the-second data updates, our agents will hunt down the lowest price as per your given parameters.
Our Best Destinations to Fly Business Class
20 Benefits of Flying Business Class 
Enhanced health and safety measures.

Quick and easy pre-flight experiences.

Fast track security.

Dedicated check-in desks.

Priority boarding and deplaning.

Access to Business Class Airline Lounges.

Best Business & First Class Airline Seats.

Premium In-flight entertainment options.

A spacious seat,

adaptable to your personal space.

Advanced LED lighting.

Delicious dine-on-demand cuisine.

Highest all-round performance of cabin staff

Access to best airport services.

A luxurious selection of amenities.

State-of-the-art communications system.

Early arrival to the airport.

Premium assistance to your departure, connection or arrival

Last minute schedule and ticket changes.

Extra luggage allowance.

Business class priority baggage.
Cheap First Class is Your Reliable Luxury Travel Partner
Plan your trip, find the cheapest first class and business class flight deals and book great value fares to 60+ destinations with Cheap First Class!
Need help with your trip? Here are answers to FAQs for all your travel!