SPECIAL OFFER TO Frankfurt

Business Class to Frankfurt

Price: $6865
Now: $2575

First Class to Frankfurt

Price: $8479
Now: $3288

Why visit Frankfurt?
When you're planning your trip through the European cities, Frankfurt might not be the first choice on your list. However, it is one of the best places to visit if you want to embrace the true spirit of modern Europe. Frankfurt is an example of a perfect balance between echoes of the old glory of Altstadt and modern, almost North-American, feel of the city center.
Although it is a living, breathing city, Frankfurt is full of tourist attractions, from museums to taverns and shopping centers. There is something to do for everyone, which makes it a perfect tourist destination.
Frankfurt Airports
There are two airports in Frankfurt's vicinity. Frankfurt-Hahn Airport, or HHN, is quite small and located further from the city. Still, it is a great destination if you're looking for a cheap business class to Frankfurt.
Frankfurt Airport, also denoted as FRA, on the other hand, is one of the busiest airports in Europe. Almost 70 million passengers used its services last year. FRA provides everything you need for a comfortable journey, and it continues to improve and expand. It is also in close proximity to the city itself, so you will be able to start sightseeing right after the arrival.
Top 3 Airlines with Great Business Class to Frankfurt, Germany
Over 120 airlines use the Frankfurt airports, so picking the right one is a difficult task. Here are the top 3 airlines you can consider for business class flights to Frankfurt:
Lufthansa – around 75% of all passengers arriving to FRA are customers of this company. So, no matter where you are in the world, you will be able to get to Frankfurt with this airline;
American Airlines – this company is known for comfortable seats and great overall travel experience. If all you're looking for is convenience – this is your safest bet;
United Airlines – the United business class is on par with previous contestants. The main benefits from this company, though, are the Polaris lounges you get to stay at not just before the journey, but also in the interim points of a long-haul flight.
20 Benefits of Flying Business & First Class to Frankfurt
Enhanced health and safety measures.

Quick and easy pre-flight experiences.

Fast track security.

Dedicated check-in desks.

Priority boarding and deplaning.

Access to Business Class Airline Lounges.

Best Business & First Class Airline Seats.

Premium In-flight entertainment options.

A spacious seat,

adaptable to your personal space.

Advanced LED lighting.

Delicious dine-on-demand cuisine.

Highest all-round performance of cabin staff

Access to best airport services.

A luxurious selection of amenities.

State-of-the-art communications system.

Early arrival to the airport.

Premium assistance to your departure, connection or arrival

Last minute schedule and ticket changes.

Extra luggage allowance.

Business class priority baggage.
Why Use Cheap First Class to Find Business and First Class Tickets?
Our service relieves you from all the pressure and tension of choosing the right flight to your destination point. Whether you're a spontaneous person or there is an emergency and you need to get on a last-minute business class to Frankfurt, we're always ready to help you.
How to Buy Business & First Class Tickets on Cheap First Class to Frankfurt?
We can help you to find any ticket of your choice (even last-minute first-class tickets to Frankfurt) through a couple of channels:
Call us directly and book your flight;
Visit our website and pick one of the deals from the list;
Fill out the form, and our specialists will contact you as soon as possible.
Business Class Lounges
A number of airlines that operate in Frankfurt offer comfortable lounges for their business class passengers and higher tier customers. For example, Lufthansa business class lounge offers you a comfortable bathroom, tasty coffee (courtesy of LavAzza) and a convenient working place. If you're flying cheap first class to Frankfurt, you can use the Senator lounge, which is even cozier.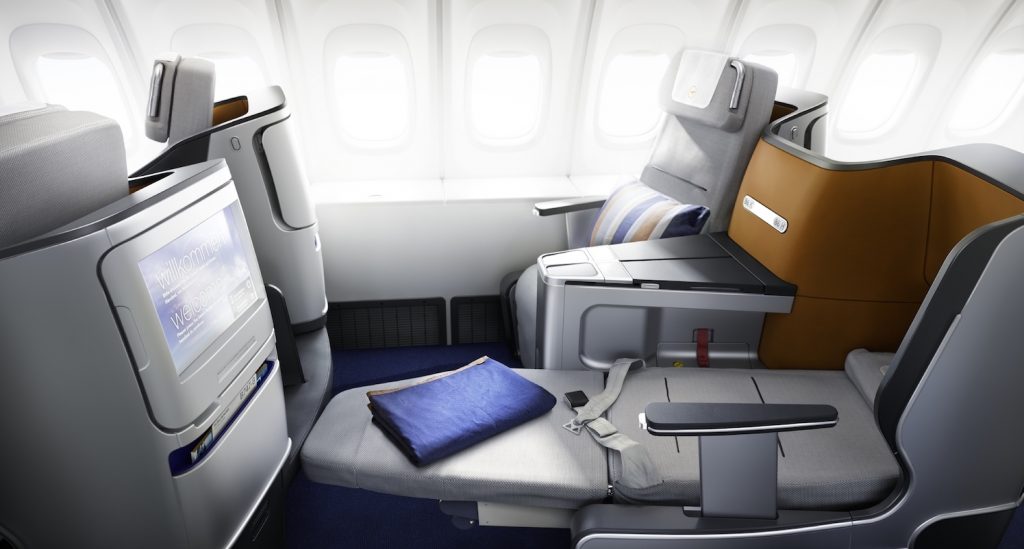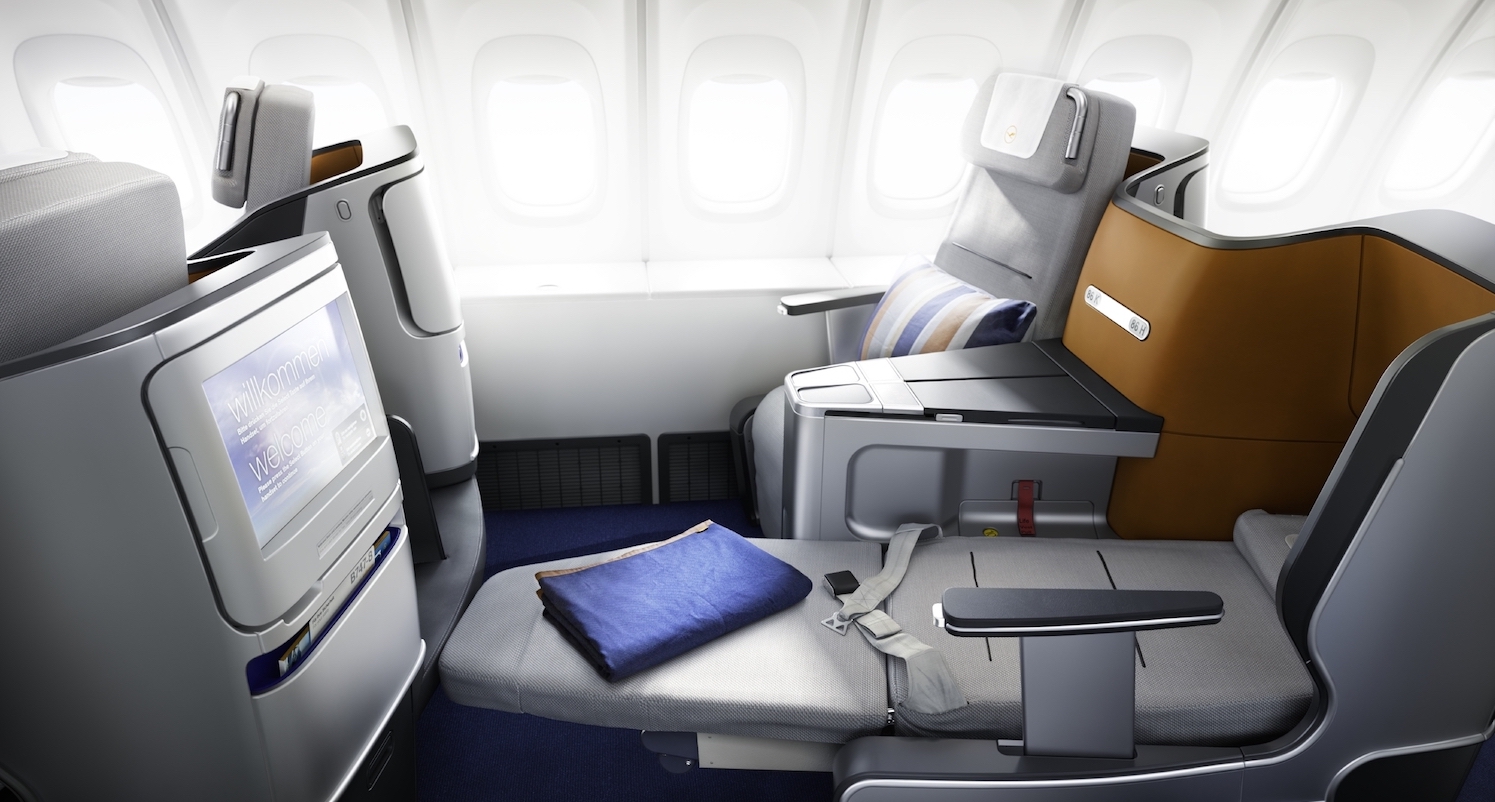 Recently Sold Business Class Flights to Frankfurt
BOS
Boston
→
FRA
Frankfurt
Business Class
$2,930
DFW
Dallas
→
FRA
Frankfurt
Business Class
$2,941
ATL/KATL
Atlanta
→
FRA
Frankfurt
Business Class
$2,952
DEN/KDEN
Denver
→
FRA
Frankfurt
Business Class
$2,874
JFK
New York
→
FRA
Frankfurt
Business Class
$2,806
SFO
San Francisco
→
FRA
Frankfurt
Business Class
$2,845
LAX
Los Angeles
→
FRA
Frankfurt
Business Class
$2,905
ORD
Chicago
→
FRA
Frankfurt
Business Class
$2,973
Things To Do In Frankfurt
Frankfurt is full of beautiful buildings, so the first thing you can do there is admire the architectural masterpieces. Continue your exploration of the city by visiting a variety of museums, from the Museum of Modern Art to Goethe's house. Once you've fed your mind and soul, it's time to feast on something more tangible – visit some traditional taverns, taste the German cuisine and, most importantly, craft beer and wine.
Top Destinations for Business Class and First Class Travel in 2021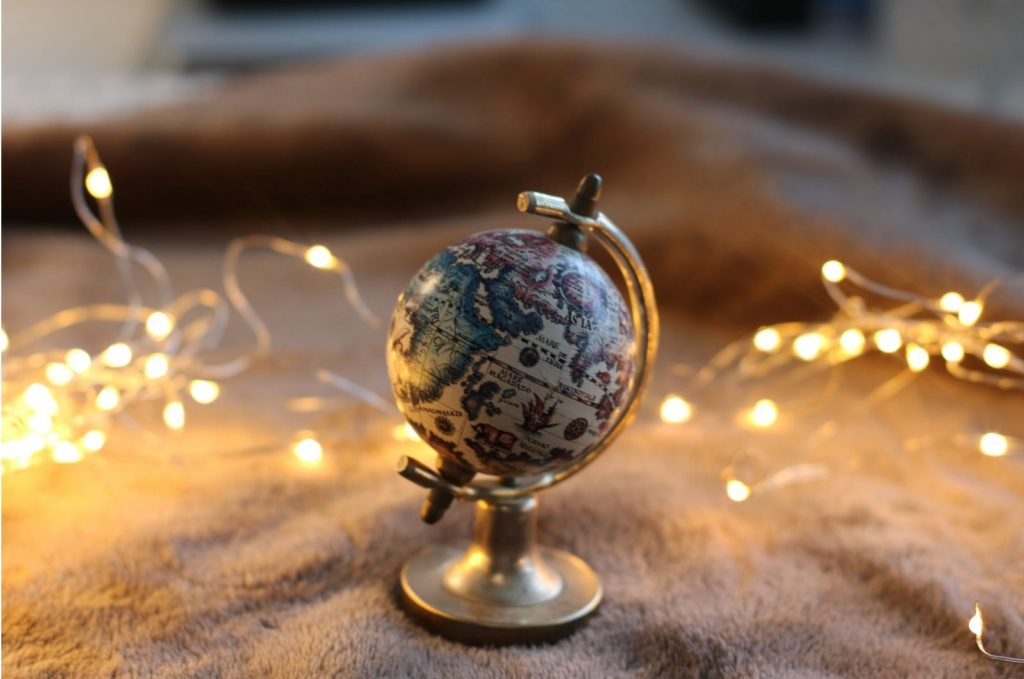 Rome, Yangon, Lucerne, Frankfurt, Tokyo, Edinburgh, Dubai, Paris, Bangkok, Johannesburg, Budapest, Osaka, Taipei, Brussels, Stockholm, Barcelona, Amsterdam, Athens, Berlin, Helsinki, Vienna, Brisbane, Reykjavik, Venice, Guangzhou, Perth, Milan, Seoul, Glasgow, Madrid, Munich, Nice, Beijing, Dusseldorf, Iceland, Cairo, Melbourne, Moscow, Shenzhen, Shanghai, Nuremberg, Spain, France, Germany, Italy, Sweden, Switzerland, Singapore, Tel Aviv, Israel, Norway
Cheap First Class will take you to London, Paris, Amsterdam, New York or Hong Kong cheap! Get to the global capital destinations easily and forget about the overly-priced services of the vast majority of air flight companies online! Save up to 70% of your money with Cheap First Class luxury travel!
Cheap First Class is Your Reliable Luxury Travel Partner
Travel with confidence, plan your luxury air trip, find the cheapest first class and business class flight deals and book great value fares to 60+ destinations with Cheap First Class!
Need help with your trip? Here are answers to FAQs for all your travel!