Today specials for business class airfares to Shanghai:

Amazing Tourist and Business Destination
If you have never been to Shanghai, you should find time and money to do that, you can buy cheap first and business class tickets to Shanghai. This is one of the most impressive and bustling places in the world. Having a population of more than 23 million people, it is the most populated city in the world. This international metropolis, with its magnificent architecture, myriad of luxurious boutiques, rich historical heritage, inscrutable Chinese culture and energetic way of life cannot but impress. Every year, thousands of tourists from all around the world come to Shanghai to discover at least a small part of all its wonders.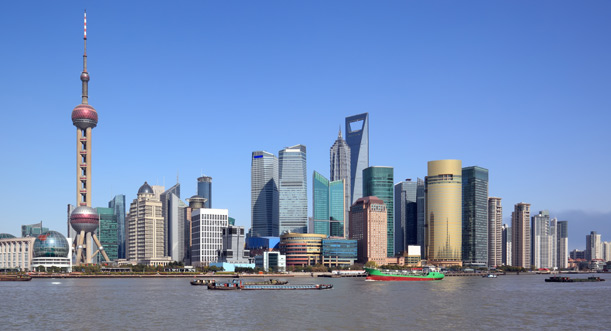 One of the most impressive features of this Chinese city is that it allows tourists experience the present, future and past all at once. This is the place, where you will find a perfect blend of different cultures, traditional and contemporary elements, as well as oriental and western art and traditions. The skyline of the city is made by the old Shikumen and modern skyscrapers. Ancient chinese traditions and western customs make a visitor's stay in Shanghai truly exciting and unforgettable.
Restaurants in Shanghai
Shanghai is famous for its exquisite restaurants, which are the best in the country. High quality of food and excellent services will satisfy even stout trencher-men. The city offers a great variety of food delights based on the traditions of the local Benbamg, Hunan, Beijin and Guangzhou dishes. If you cannot live a day without Western food, you can satisfy your food cravings by visiting the downtown area.
Shanghai is a real paradise for shoppers and this is why it is usually called the "Oriental Paris". The city is crammed with shopping centers and busy commercial streets. The most fashionable and trendy boutiques you will find by visiting Huaihai Road and Nanjing Road. If shopping is one of your hobbies, you should visit Jiali Sleepless City, Yuyuan Shopping City and Xujiahui Shopping Center.
Night Life
Night life is also extremely interesting and exciting here. Visiting the Oriental Art Center and Grand Theater is an absolute must for any art lover. The best discos, nightclubs and bars are located in the Xin Tian Di street. If you dream about relaxation, Hengshan Road would be an ideal choice for you. Also do not lose your chance to take a night cruise on the rippling Huangpu River. Visiting the Bund is also a must for every visitor.
Shanghai is not just a popular tourist destination. It is a global business and financial center. Being a huge cultural, financial, technology, scientific and international trade center of the East China, the city is also very lucrative for business person from all around the world. The city's welcoming economic environment has made Shanghai a popular business destination.
Getting to Shanghai from the USA or any other country is not a problem nowadays, as virtually all big airlines offer flights to this Asian city. Of course, such international flights are pretty tiresome, as they last more than five hours. Unfortunately, not everyone is ready to spend seven or more hour in the plane just to visit a new place. Indeed, lots of people are terrified by long-haul flights. However, there are situations when avoiding such trips is impossible. If this is the case with you, first and business class flights will help avoid the discomfort of long air trips and reach the destination relaxed and in a good mood.
Premium Class Cabins
When purchasing a seat in a premium class cabin (be it first or cheapest business class flights to Shanghai), you purchase comfort that is so important during long-haul trips. cheapfirstclass.com will hep you not just discover all benefits of premium class flights, but alos purchase them for less. This company offers the best deals on business and first class flights to Shanghai and other popular destinations.
Prices
Cheap business class tickets to Shanghai from $2985
Luxury flights to Shanghai from $3689
Top Destinations for Business Class and First Class Travel in 2024
Rome, Yangon, Lucerne, Frankfurt, Tokyo, Edinburgh, Dubai, Paris, Bangkok, Johannesburg, Budapest, Osaka, Taipei, Brussels, Stockholm, Barcelona, Amsterdam, Athens, Berlin, Helsinki, Vienna, Brisbane, Reykjavik, Venice, Guangzhou, Perth, Milan, Seoul, , Glasgow, Madrid, Munich, Nice, Beijing, Dusseldorf, Iceland, Cairo, Melbourne, Moscow, Shenzhen, Shanghai, Nuremberg, Spain, France, Germany, Italy, Sweden, Switzerland, Singapore, Tel Aviv, Israel, Norway
Cheap First Class will take you to London, Paris, Amsterdam, New York or Hong Kong cheap! Get to the global capital destinations easily and forget about the overly-priced services of the vast majority of air flight companies online! Save up to 70% of your money with Cheap First Class luxury travel!
Cheap First Class is Your Reliable Luxury Travel Partner
Travel with confidence, plan your luxury air trip, find the cheapest first class and business class flight deals and book great value fares to 60+ destinations with Cheap First Class!
Need help with your trip? Here are answers to FAQs for all your travel!