SPECIAL OFFER TO Dubai

Business Class to Dubai

Price: $6654
Now: $2784

First Class to Dubai

Price: $8568
Now: $3389
Cheap Business Class | First Class to Dubai.Last Minute Flights
Dubai is always open to travellers; in this city located in the Middle East, you can find any number of activities to engage in. All in all, this city is amazing! It is a perfect combination of huge skyscrapers, stunning beaches, and boundless sands.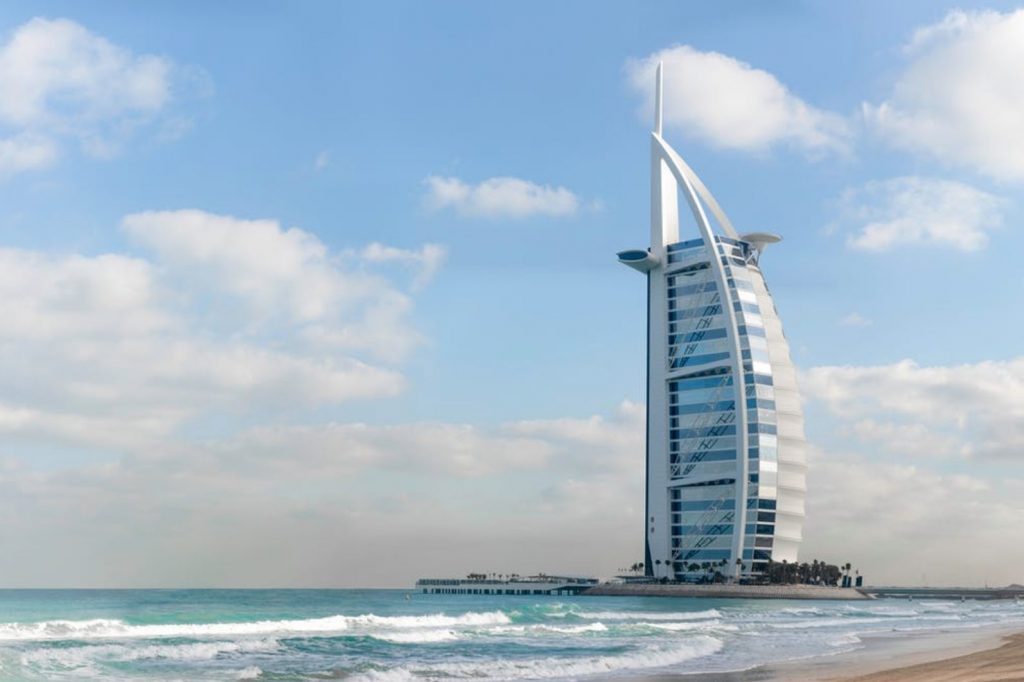 Reasons to visit Dubai? The highest tower in the world, Burj Khalifa, is situated there. This tower offers a view of the city like no other and allows you to see the beauty of Dubai from a bird's eye perspective.
Another reason to come to Dubai is the Burj Al Arab – the famously expensive and luxurious hotel, located on a small island amidst the sea and known for its unique architecture.
You love shopping? No other metropolis can give you a better shopping experience than Dubai; the city has a number of shopping malls where you can find a broad selection of well-known brand products or unique, handmade things. Doesn't matter why you are visiting Dubai: to meet your business partner or for a family vacation, this city can meet the requirements of any tourist. However, if you are used to traveling with comfort, choose business class flights to Dubai. As a result, you'll be ready to enjoy the city right after landing.
Airports in Dubai
Dubai has two international airports:
Dubai International Airport (the majority of international airlines fly to this airport);
Al Maktoum International Airport (this one is mainly used by smaller budget airlines).
Top 3 Airlines with Great Business Class to Dubai
If you are used to being comfortable and can't imagine a trip in economy class, then choosing cheap business class to Dubai might be the best solution. As a result, you'll get to your destination relaxed and ready for adventures. Dubai offers a number of exciting activities to tourists, and you need to be ready for them. The below airlines offer the cheapest and at the same time the most convenient business class cabins:
If you want to get the tickets at a lower price, book them in advance!
Why Buy Tickets with CheapFirstClass.com?
Searching for last minute business class to Dubai? You've come to the right place! We are a trusted online ticketing company, offering a wide array of last minute first class tickets to Dubai or any other metropolis. Our goal is to relieve you from anxiety; you shouldn't wrestle with a problem of how to find the cheapest tickets on your own. We'll do it for you! CheapFirstClass.com offers:
a wide array of business class tickets to any destination;
round-the-clock support;
affordable prices (the price for cheap first class to Dubai can be reasonable).
Our primary goal is to help you get your cheap business class and first class tickets!
How to Find Business Class and First Class Tickets on Cheap First Class?
It is so easy! Spend just a few minutes on filling the order form, and our representative will get in touch with you to clarify the details. You will need to provide us with the following information:
your destination;
dates;
contact information.
We are ready to find the best offers for you.
Business Class Flights Prices & Our Discounts to Dubai
First Class Flights Prices & Our Discounts to Dubai
Recently Sold Business Class Flights to Dubai
BOS
Boston
→
DXB
Dubai
Business Class
$2,933
DFW
Dallas
→
DXB
Dubai
Business Class
$2,947
ATL/KATL
Atlanta
→
DXB
Dubai
Business Class
$2,956
DEN/KDEN
Denver
→
DXB
Dubai
Business Class
$2,878
JFK
New York
→
DXB
Dubai
Business Class
$2,906
SFO
San Francisco
→
DXB
Dubai
Business Class
$2,745
LAX
Los Angeles
→
DXB
Dubai
Business Class
$2,805
ORD
Chicago
→
DXB
Dubai
Business Class
$2,873
Business Class Lounge
By choosing business class, you'll also get access to the airport lounge, the place where you can relax between the flights. You'll find a number of complimentary snacks, free drinks, and appetizers, as well as a free WiFi connection. Simply put, this is the area where you can stretch your legs and enjoy your free snack and a drink before the flight.
Things to Do in Dubai
When in Dubai, you should definitely visit the following places:
Burj Khalifa;
Burj Al Arab;
Mall of the Emirates;
Deserts;
Dubai Marina;
The Dubai Fountain.
With CheapFirstClass.com, you'll have the time to visit them all and enjoy your trip!