How to Fly First Class for cheap. 12 Ways to Save Your Money
Getting your hands on cheap first class airline tickets sounds like a dream for some and is an everyday routine for others. If you are looking to experience the ultimate levels of luxury in the sky without having to sell off your family jewellery, our 12 tips on how to find cheap first class flights is a great starting point.
Top 11 International Airlines [Best First Class Seats]
Why look for the best first-class flight deals at all if you are not looking to land these lucrative offers with the top 5 international airlines who service long haul flights?
If domestic flights are a tolerable ordeal even in the business or economy class, the long haul flights are the ones why the first class was created. Those tiresome 14-19 hours' flights can take days of recovery, so the first class is the only savior.
According to The 5-Star Airline rating by Skytrax , and their massive database of 21 millions of passenger reviews, below are the world's top 5 airlines as of March 2020:
Business Class Flights vs. First Class Flights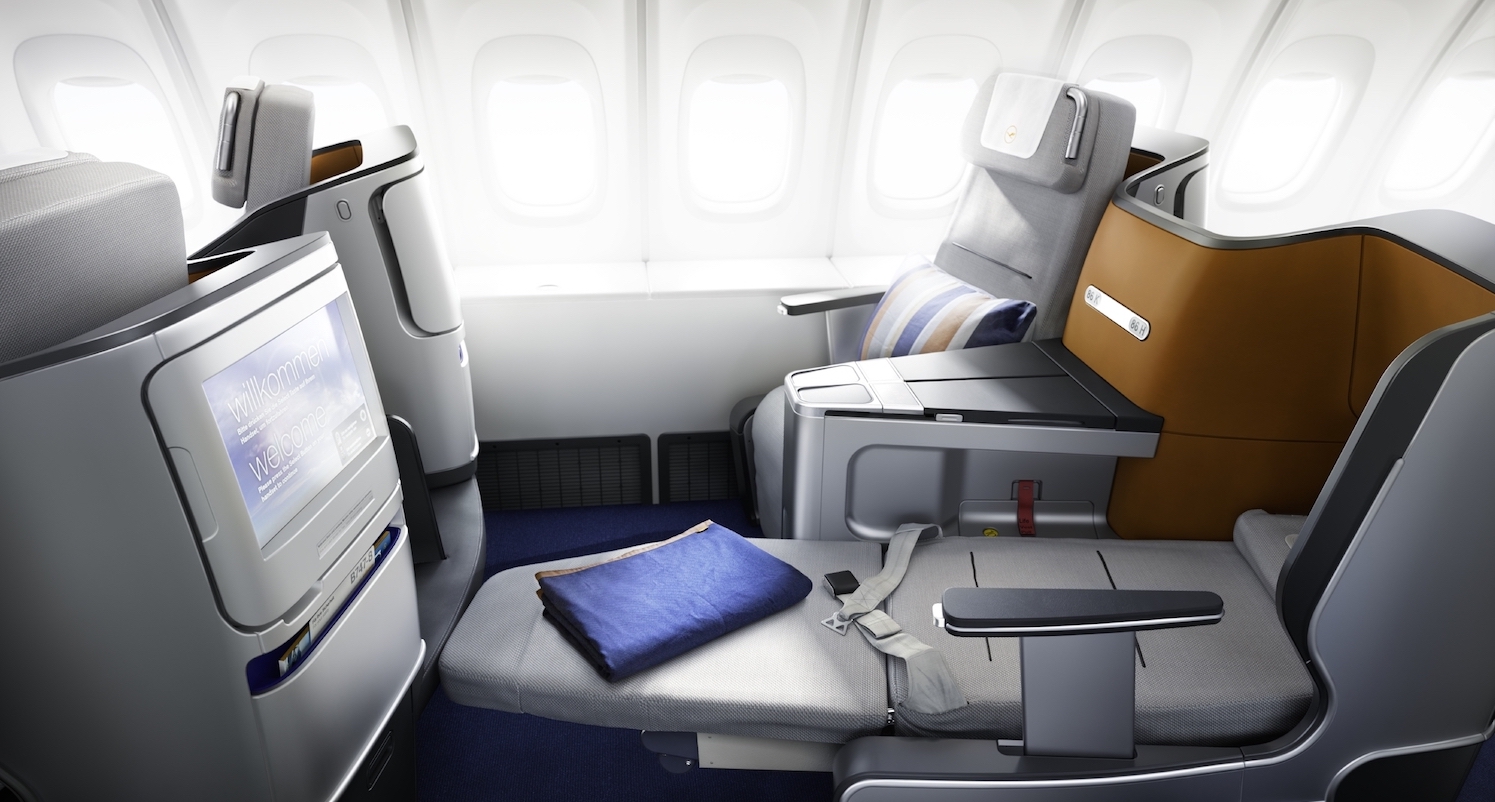 For those lost to understand the difference between the business class and first class, the short answer is:
• On domestic short flights, the difference between the business class and the first class may be pretty symbolic.
• On long haul flights, first class is usually a pretty solid step up in terms of many aspects, but this still depends on the airlines, the destination and the model of the aircraft.
Business Class Flight Privileges
Access to a first class lounge.
A personal coach to and from the plane.
More space in general and more leg-space in particular.
More privacy, inclusive with some aircraft offering fully enclosed cabins.
More extensive and much more elaborate menu with exquisite chinaware to serve the food on.
Sometimes first class privileges will include round tables, minibars, and free Wi-Fi.
First Class Flight Reviews
Check out our First Сlass run-of-the-mill features reviews.
The seats are usually standalone in first class with no one sitting next to you. In the vast majority of cases, they are full-flat beds with just a few aircrafts still having full-flat seats or cradle seats.
Boarding Review
The first class boarding experience is pretty smooth, due to the extra services like a personal coach or a chauffeur-driven car to take a passenger to and from the plane as well as extra manning to look after the guests. First class travellers enjoy priority boarding.
First Class Flight Food Review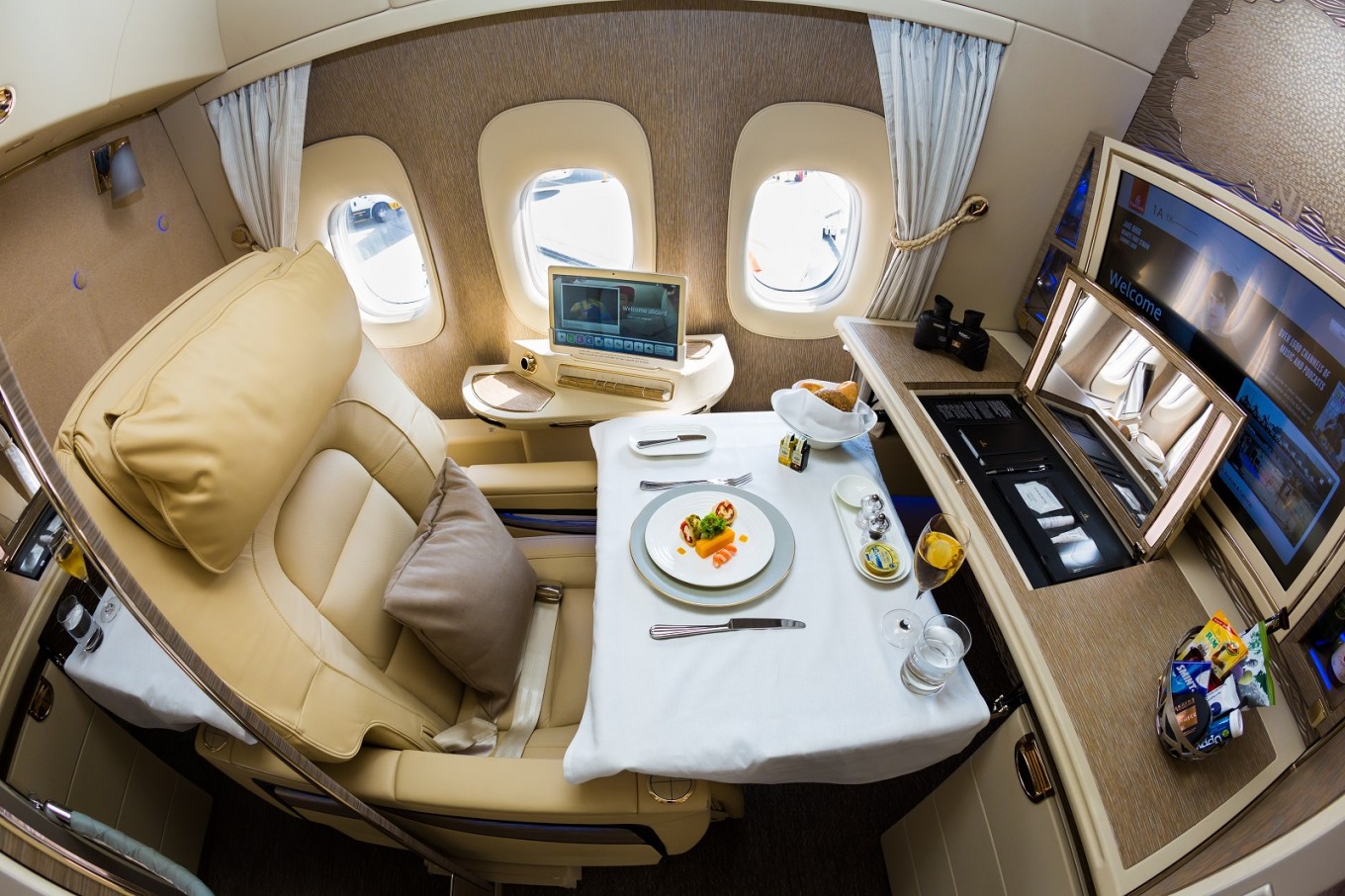 From the top quality of thoroughly selected ingredients, gourmet menus elaborated by world-renowned chefs, the finest bone china and premium silverware to the possibility of accommodating pretty much any dietary requirements with a small notice – this sums up the First class Food & Menu. Michelin is restricted to land outlets ranking only, or else, the chances are that some of the First Class culinary operation units would get a star or two.
First Class Flight Lounge Review
Both Business and First Class passengers get access to exclusive lounges in airports world over. The First Class passengers get access to all the facilities of the Business class lounges and a number of exclusive First class-only premises. First class lounges may feature the shower spas, cigar bars, quiet areas, complimentary Wi-Fi and even wine cellars.
Entertainment review
With the world's top international airlines that perform long-haul and transatlantic flights, passengers have no chance to get bored. Inflight entertainment on a first class flight is still more enjoyable due to the big screens and top of the range headphones.
There are thousands of channels to choose from, so anybody will find a TV program, movie or a game to pass time. For those needing to be online, a Wi-Fi connection is included in the first class flights.
First Class Photos of Top Airlines
It's best to see once than to hear a hundred times, right? We picked some of the stunning photography capturing the luxury as it is for the guests of the sky flying the first class.
How Much Do First Class Flight Tickets Cost?
When it comes to the price of the first class airline tickets, two statements are always correct.
There is no such thing as cheap first class airline tickets
It depends on many factors such as destination, airlines, booking window [how early in advance you book], cancellation terms, aircraft model, season membership level, etc.
But as a rule of thumb, to buy first class airline tickets for long haul international flights, passengers have to pay 2-3 times the prices of a business class ticket price, which, in its turn, is 3-5 times the price of an economy class ticket.
With all that said, if you are asking yourself: "How can I get cheap first class flights?" The mission is possible.
Stay with us to find out more.
Flight-savvy traveller's top 12 ways to get cheap first class tickets
If getting the lowest price first class airline tickets seems as likely as winning a lottery, allow us to dissuade you: it is no rocket science and can be done by people still on the way to their first million.
Strategize Your Booking
Consider how flexible you can be with the dates of travel – the more flexibility, the lower the price can be. Avoid the local big conferences and events, like the Olympic Games, etc., that will boost the first class and business class flight prices. Be smart about booking your tickets, check a few first class ticket service providers and compare their offers.
How to Get Upgraded to First Class Flight?
It takes some guts and a level extraversion to ask a total stranger for something, true. But if you are a people person, who works in sales, or comes from an open culture, such as American one, this may be the way to go.
Another situation where you can consider asking for an upgrade to first class is when you have some obvious reasons for that: for example, you are pregnant or elderly.
Provided the aircraft is not full and there is still space in the First Class, the probability is that you can charm a steward into upgrading you to the first class cabin.
Be a Loyal Customer of Airlines of Your Choice
Indeed, competition in the sky is high and airlines always consider the LTV of a client. They love a predictable customer with regular routes and will go out of their way to keep them and please them with all sorts of extra mile offers and promotional deals.
If you are a corporate first class traveler or a leisure one, try to stick with one or two airlines whose points you can always convert into huge savings.
Sign Up to an Airline Credit Card
If you use credit cards, use the ones that accumulate bonuses and miles for your next flight. This tip is specifically helpful if you happen to be in the e-commerce business and use your card to buy for drop shipping. You spend for your company yet you can use those bonus miles for personal travel. Classic win-win.
Volunteer Your Seat on an Overbooked Flight
Flights get overbooked, as airlines cannot afford many empty seats in the sky and there's variable statistics of no-show. If you happen to be on one of those overbooked flights and are willing to give up your seat, it's a great way to ask for some compensation. State the latest you need to get a replacement flight and your terms: the flight credit or an upgrade to a first class cabin on the replacement flight.
Travel in a Company
This tip doesn't work every time, but if your travel plans allow deviating in the number of passengers, sometimes two for one coach may be cheaper than two seats purchased separately.
Check Out Low-cost Airlines
The cheapest first class international flights might in 2021 be the case of low-cost airlines offering. This option might not be the paragon of luxury service, but it will certainly have most of the first class travel privileges.
How to Get Cheap First Class Flights: Elite & Airline Credit Cards
Whenever you choose an airline, sign up for the co-branded credit card, like an American Express Platinum. Sign-up bonuses alone will take you half-way to Europe for the USA in a first class cabin. Whenever you reach a minimum monthly spend, get another Elite Card one for your family member so you can enjoy cumulative perks.
Check-in Online at the Earliest Possible Time
In case a flight is overbooked, an airline will try to offer a heavily discounted upgrade to a first class cabin. To catch them, though, you'll have to check in earliest.
Use Miles to Upgrade
This is why you have been saving them right? And the fact is, when you are on the lookout for discount first class flights, this is one of the most travel-savvy ways to spend your miles: to convert your long haul international flight from pure suffering to 15 hours of luxurious comfort.
Wait Till Last Minute
It's a bit of a gamble, but if you are feeling adventurous, the last-minute deals are one of the best out there. The first class included.
Book Buy First Class Tickets with CheapFirstClass.com Throughout 2021
With decades/years of experience catering for savvy travellers looking to book first class flights online, cheapfirstclass.com is a flight consolidator who aims to convert every first-time client into a regular one. This is why we take our client's interest religiously time after time again.
We will compete for you fiercely on land and in the skies alike, so you may rest assured there's no better agent to book cheap first class flights to anywhere.
How to Fly First Class for Cheap?
Trust the professional flight consolidator, who cares enough to compete flight after flight again, so you rest assured you have landed with the best travel agent in the first class international flights category.
Save up to 70% on First Class Tickets Cost
The airline industry employs sophisticated revenue management systems to make sure planes are fullest. An empty seat in the sky is too much of a luxury. Your savings on the first class ticket depend on no less than hundreds of variables.
We cannot guarantee we will provide you savings of thousands of dollars of 77% discounts on one international ticket in a first class cabin, but we can assure you that you will get the best price according to your requirements with our loyal & customer-driven service.
What route do you have in mind this time? Let us give you our best and heavenly cheap quote today!
Top Destinations for Business Class and First Class Travel in 2021
Cheap First Class will take you to London, Paris, Amsterdam, New York or Hong Kong cheap! Get to the global capital destinations easily and forget about the overly-priced services of the vast majority of air flight companies online! Save up to 70% of your money with Cheap First Class luxury travel!
Cheap Business & First Class Flights to Europe
Cheap Business & First Class Flights Worldwide
Cheap First Class is Your Reliable Luxury Travel Partner
Travel with confidence, plan your luxury air trip, find the cheapest first class and business class flight deals and book great value fares to 60+ destinations with Cheap First Class!
Need help with your trip? Here are answers to FAQs for all your travel!