SPECIAL OFFER TO Germany

Business Class to Germany

Price: $6964
Now: $2674

First Class to Germany

Price: $8678
Now: $3489
Cheap First & Business Class to Germany. Last Minute Flights
Germany is the third most visited country in Europe. It is at the same time a global business center and a country that combines examples of Romanesque, Renaissance, Gothic and Baroque, as well as classical and modern architecture. Below you will learn how to get to Germany by business and first class flights.
Review of Top 5 Airports in Germany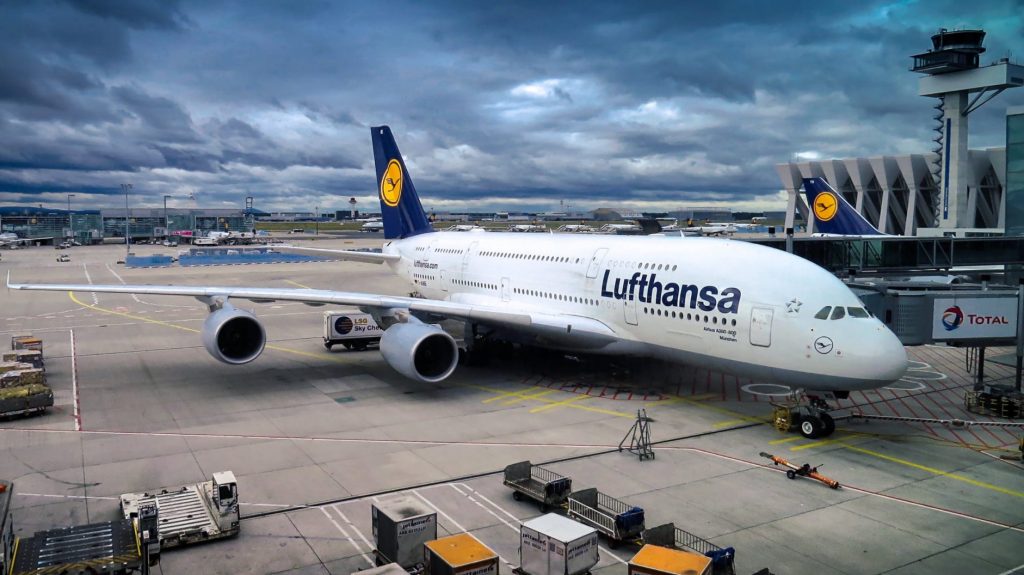 There are several international airports in Germany. The largest and most famous are in:
Berlin (TXL);
Munich (MUC);
Hamburg (HAM);
Düsseldorf (DUS);
Cologne (CGN).
Airport Information – Berlin Tegel Airport (TXL)
This is a huge airport (466 hectares) with 5 terminals. It is located 13 kilometers from the center of Berlin.
Transportation To & From Tegel
There is no metro or railroad near Tegel. Therefore, you can reach it only in two ways: by bus or by taxi.
Airport Information – Munich Airport (MUC)
Munich Airport is the transportation hub of the capital of Bavaria. It is the second largest airport in the country and the ninth largest in Europe. It is located 28 km from Munich and consists of 2 terminals.
Transportation To & From Munich Airport
You can get to the airport in several ways:
train from Hauptbahnhof München;
metro;
bus route 365;
transfer, ordering the service in advance.
Airport Information – Hamburg Airport (HAM)
This airport, being one of the five largest international airports in Germany, is located 8.5 km from the city. The airport has two terminals and two runways.
Transportation To & From Hamburg Airport
You can get from the airport to Hamburg by public transport, for example, by bus to the Hauptbahnhof station, or by electric train (route S1).
Airport Information – Dusseldorf Airport (DUS)
This international airport is the third largest in Germany, located 15 km from the city. The airport has three terminals: A, B and C, interconnected. You can go from one terminal to another on foot.
Transportation To & From Dusseldorf Airport
There are several ways to get to Düsseldorf:
bus (route 721);
S7 city train, which goes straight to the city's central railway station;
S-Bahn S11 (landing station is located near Terminal C).
Airport Information – Cologne Bonn Airport (CGN)
This airport is the largest airport in the north-west of Germany and contains two terminals. The airport serves two major cities: Cologne and Bonn. It is located 15 km from
Cologne and 16 km from Bonn.
Transportation To & From Cologne Bonn Airport
You can get from the airport to the city in the following ways:
train S13 (to Cologne);
bus SB60 (to Bonn);
via a train from an underground railway station.
German Airports And Business Class Lounges
The Berlin airport offers several lounges for business class passengers: Lufthansa, Berlin Airport Club Lounge, as well as the AIR FRANCE-KLM Lounge. The design is quite minimalistic, but nothing will distract you from the main task, whether it is resting after the flight or focusing on urgent business tasks. You can enjoy the local cuisine, watch TV, use free Wi-Fi or just read newspapers. All zones are equipped for people with disabilities.
The Munich Airport also has a Lufthansa lounge. In addition, in Terminal 2 you can visit the Terminalstraße Business & Senator Lounge. Here, visitors will enjoy a light and well-thought-out interior, high-class service, a bar with alcoholic and non-alcoholic beverages, as well as excellent cuisine. And, of course, there is unlimited Wi-Fi and comfortable seating and rest areas.
The Hamburg Airport has a Flughafen recreation area that offers meeting facilities for up to 8 people. This means that you can even make business deals between flights, and do it in a comfortable place with wireless Internet access, soft drinks and air conditioning.
The Dusseldorf Airport has as many as 4 lounge options: from the flagship airline Lufthansa, Open Sky Lounge, Hugo Junkers Lounge and VIP-Service Lounge. We recommend the second option (Open Sky) because of the stunning atmosphere that will help you relax and enjoy peace and tranquility within moments.
And finally, be sure to visit the lounge at Cologne-Bonn Airport – you will be amazed by the bright, spacious and extremely stylish interior, as well as by the high level of skill of local chefs.
Review of Top 5 Airlines First & Business Class
You can get international first and business class flights to Germany from the USA using the services of such airlines:
The flight will last 16+ hours (you will probably need at least one transfer).
Recently Sold Business Class Flights to Germany
BOS
Boston
→
Germany
Germany
Business Class
$2,705
DFW
Dallas
→
Germany
Germany
Business Class
$2,945
ATL/KATL
Atlanta
→
Germany
Germany
Business Class
$2,925
DEN/KDEN
Denver
→
Germany
Germany
Business Class
$2,925
JFK
New York
→
Germany
Germany
Business Class
$2,804
SFO
San Francisco
→
Germany
Germany
Business Class
$2,945
LAX
Los Angeles
→
Germany
Germany
Business Class
$2,965
ORD
Chicago
→
Germany
Germany
Business Class
$2,963
Top Destinations for Business Class and First Class Travel in 2021
Rome, Yangon, Lucerne, Frankfurt, Tokyo, Edinburgh, Dubai, Paris, Bangkok, Johannesburg, Budapest, Osaka, Taipei, Brussels, Stockholm, Barcelona, Amsterdam, Athens, Berlin, Helsinki, Vienna, Brisbane, Reykjavik, Venice, Guangzhou, Perth, Milan, Seoul,Glasgow, Madrid, Munich, Nice, Beijing, Dusseldorf, Iceland, Cairo, Melbourne,Moscow, Shenzhen, Shanghai, Nuremberg, Spain, France, Germany, Italy, Sweden, Switzerland, Singapore, Tel Aviv, Israel, Norway
Cheap First Class will take you to London, Paris, Amsterdam, New York or Hong Kong cheap! Get to the global capital destinations easily and forget about the overly-priced services of the vast majority of air flight companies online! Save up to 70% of your money with Cheap First Class luxury travel!
Cheap First Class is Your Reliable Luxury Travel Partner
Travel with confidence, plan your luxury air trip, find the cheapest first class and business class flight deals and book great value fares to 60+ destinations with Cheap First Class!
Need help with your trip? Here are answers to FAQs for all your travel!