SPECIAL OFFER TO Cairo

Business Class to Cairo

Price: $7194
Now: $2644

First Class to Cairo

Price: $8678
Now: $3359
Cheap Business Class Flights to Cairo, Egypt [2023]
Have you ever been to Cairo? It is the place with ancient history, friendly people, and fantastic cuisine. What is more, this city has an excellent flight connection, so you can fly cheap first class to Cairo from almost anywhere in the world.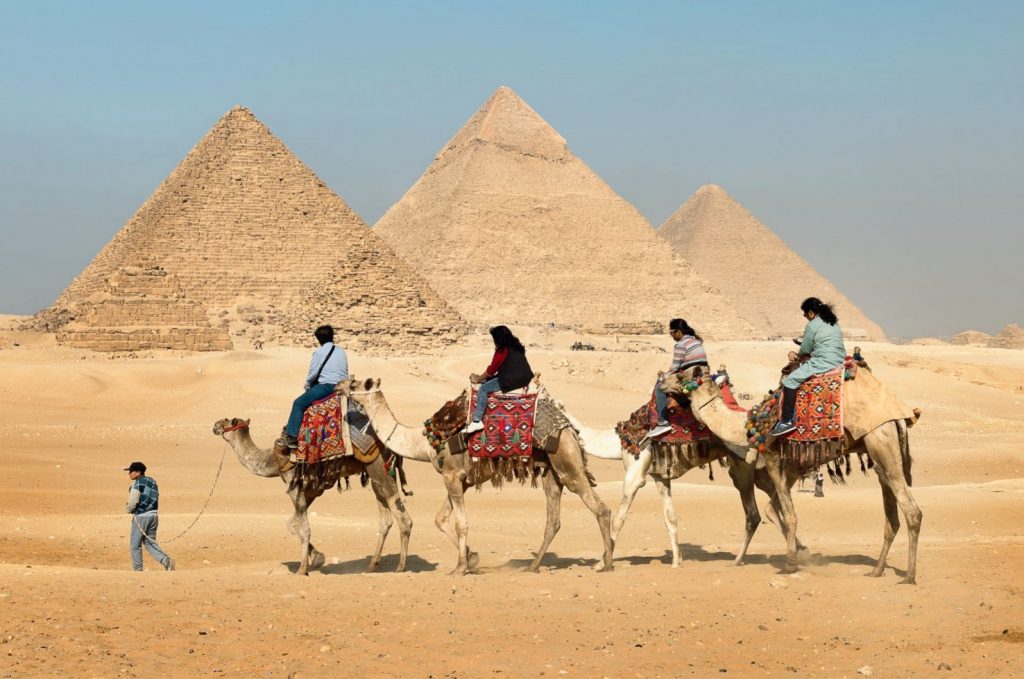 Airports in Cairo
Cairo has one international airport (CAI) located 22 km northeast of the city center. Processing over 16 million passengers yearly, it is the second busiest airport on the continent. This airport has three terminals, modern facilities, and a good bus connection with the city.
Top 3 Airlines with Great Business Class to Cairo
The Cairo International Airport cooperates with more than 50 different airlines, including the world's leading carriers which provide fantastic business class flights to Cairo.
The best of them are:
20 Benefits of Flying Business and First Class ✅ to Cairo, Egypt
Enhanced health and safety measures.

Quick and easy pre-flight experiences.

Fast track security.

Dedicated check-in desks.

Priority boarding and deplaning.

Access to Business Class Airline Lounges.

Best Business & First Class Airline Seats.

Premium In-flight entertainment options.

A spacious seat,

adaptable to your personal space.

Advanced LED lighting.

Delicious dine-on-demand cuisine.

Highest all-round performance of cabin staff

Access to best airport services.

A luxurious selection of amenities.

State-of-the-art communications system.

Early arrival to the airport.

Premium assistance to your departure, connection or arrival

Last minute schedule and ticket changes.

Extra luggage allowance.

Business class priority baggage.
Book & Buy Tickets with Cheap First Class
Here, at CheapFirstClass , we focus in finding the best travel options for our customers. We have agreements with a number of leading airlines, so we can get even last-minute first class tickets to Cairo. To provide our clients with the most beneficial deals, we use algorithms to compare different flight offers and minimize the price by up to 72%.
There is no need to browse different websites searching for the best flight offer. With Cheap First Class, you can find tickets just in a few clicks. If you want to fly cheap business class to Cairo, all you have to do is choose the date and leave the request on our website. What is more, you can always call us at 1-800-818-2451, and we will assist you in booking the ticket.
Business Class Flights Prices & Our Discounts to Cairo
First Class Flights Prices & Our Discounts to Cairo
Recently Sold Business Class Flights to Cairo
BOS
Boston
→
CAI
Cairo
Business Class
$2,931
DFW
Dallas
→
CAI
Cairo
Business Class
$2,941
ATL/KATL
Atlanta
→
CAI
Cairo
Business Class
$2,952
DEN/KDEN
Denver
→
CAI
Cairo
Business Class
$2,873
JFK
New York
→
CAI
v
Business Class
$2,906
SFO
San Francisco
→
CAI
Cairo
Business Class
$2,945
LAX
Los Angeles
→
CAI
Cairo
Business Class
$2,805
ORD
Chicago
→
CAI
Cairo
Business Class
$2,873
Business Class Lounge
If you want to wait for your flight in comfort, there are plenty of lounges in Cairo Airport. Some of them are exclusive for the passengers of certain airways, such as Emirates; however, you can find universally accessible options, such as Pearl Lounge. Notice that most lounges don't offer alcohol drinks including even beer and wine.
Instead of just planning the trip of your dream, you could be on the plane right now. So, stop dreaming and contact us for the last-minute business class to Cairo!
Top Destinations for Business Class and First Class Travel in 2021
Rome, Yangon, Lucerne, Frankfurt, Tokyo, Edinburgh, Dubai, Paris, Bangkok, Johannesburg, Budapest, Osaka, Taipei, Brussels, Stockholm, Barcelona, Amsterdam, Athens, Berlin, Helsinki, Vienna, Brisbane, Reykjavik, Venice, Guangzhou, Perth, Milan, Seoul, , Glasgow, Madrid, Munich, Nice, Beijing, Dusseldorf, Iceland, Cairo, Melbourne, Moscow, Shenzhen, Shanghai, Nuremberg, Spain, France, Germany, Italy, Sweden, Switzerland, Singapore, Tel Aviv, Israel, Norway
Cheap First Class will take you to London, Paris, Amsterdam, New York or Hong Kong cheap! Get to the global capital destinations easily and forget about the overly-priced services of the vast majority of air flight companies online! Save up to 70% of your money with Cheap First Class luxury travel!
Cheap First Class is Your Reliable Luxury Travel Partner
Travel with confidence, plan your luxury air trip, find the cheapest first class and business class flight deals and book great value fares to 60+ destinations with Cheap First Class!
Need help with your trip? Here are answers to FAQs for all your travel!