SPECIAL OFFER TO BANGKOK

Business Class to Bangkok

Price: $6874
Now: $2554

First Class to Bangkok

Price: $8378
Now: $3349
Why Visit Bangkok?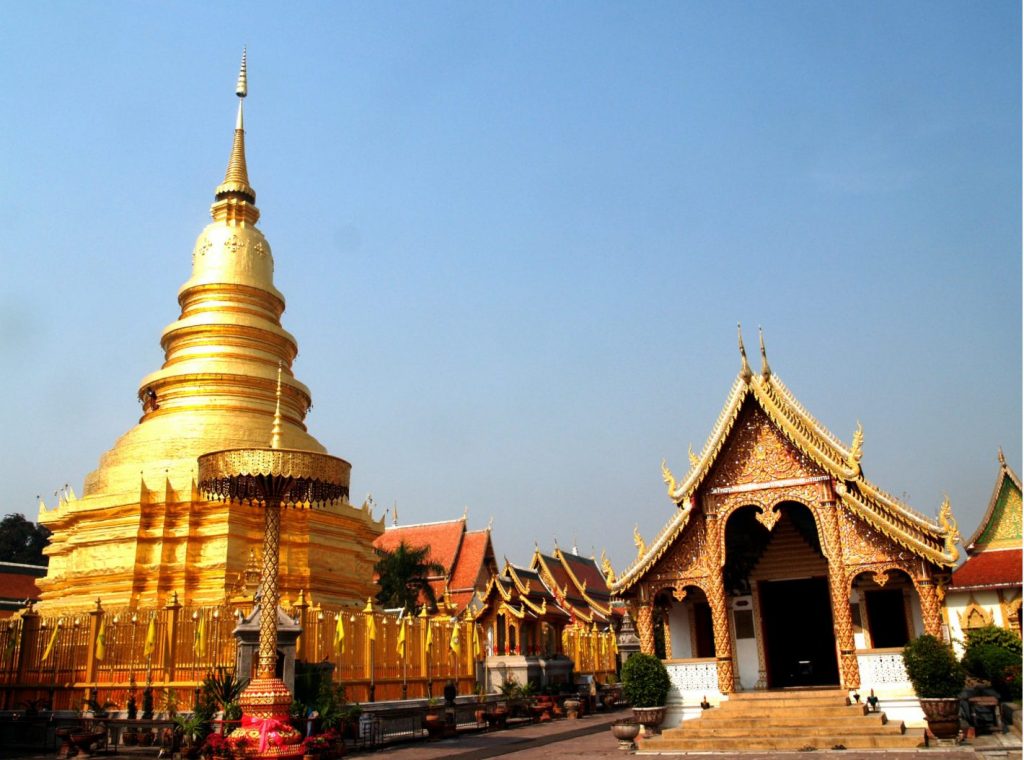 Bangkok has long been attracting both tourists and foreign businessmen.
The city's opportunities and a large number of prominent companies, some of them in the Fortune Global 500, draw a constant flow of business travellers to Bangkok. Airlines offering to fly first class to Bangkok combined with modern accommodations guarantee that you will enjoy the highest level of comfort during the trip.
If you consider traveling to Bangkok for a vacation, there are a lot of must-see things:
Architectural gems: Wat Arun (the Temple of Dawn), Grand Palace, and 88-story Sky Bar and Hotel;
Sights of local charm: Chatuchak Market, Soi Cowboy, Bang Krachao Gardens, and Floating markets;
Experiences: street food, massage, and nightlife.
Airports in Bangkok
You can get to Bangkok using Don Mueang International Airport (DMK) or Suvarnabhumi Airport (BKK).
Opened in 1914, DMK is the oldest airport in Asia. It is located 16 miles north of Bangkok. You can get to the city by train, bus, or taxi.
BKK is much newer – it was opened only in 2006. After that, its big brother decided to focus on local and low-cost flights and turned into the world's largest low-cost carrier airport by 2015.
Suvarnabhumi literally means 'land of gold'. It is located 19 miles east of Bangkok and linked to it by bus and train. BKK serves most business class flights Bangkok receives from the US and Europe.
Top 3 Airlines with Great Business Class Flights to Bangkok
When you are trying to find a flight to Bangkok that will provide you with the best experience, you should consider those airlines that are famous for their high quality of services. Here are the top three airlines that deserve your attention:
1. United Airlines. Its business class tickets give privileges like a separate check-in desk and priority boarding. The configuration of seats is usually 2-2-2;
2. Delta Air Lines. In its business class, you will receive a splendid amenity kit and access to onboard automatic systems;
3. ANA All Nippon Airways. Its cabins have a lie-flat or fully-flat seat design. At the airport, you can wait for the flight at the ANA Lounge.
Why Book and Buy Tickets with Cheap First Class?
We know that you value your time and money. Using our service to find last-minute first class tickets to Bangkok, you can save both.
Instead of counting every bonus mile, browsing countless sites in search of discounts, or playing drama at the airport, you can just contact us and rely on our expertise. Using our algorithms and connections with airlines, we will find you a cheap business class to Bangkok in just a few minutes.
How to Find Tickets  on Cheap First Class?
There's nothing easier. Just fill in the details of the flight you need on the Home page of our site, and our experts will get back to you with a deal you could only dream of. Alternatively, you can call us to get last-minute first class tickets to Bangkok.
Recently Sold Business Class Flights to Bangkok
BOS
Boston
→
BKKT
Bangkok
Business Class
$2,935
DFW
Dallas
→
BKKT
Bangkok
Business Class
$2,945
ATL/KATL
Atlanta
→
BKKT
Bangkok
Business Class
$2,955
DEN/KDEN
Denver
→
BKKT
Bangkok
Business Class
$2,875
JFK
New York
→
BKKT
Bangkok
Business Class
$3,426
SFO
San Francisco
→
BKKT
Bangkok
Business Class
$3,315
LAX
Los Angeles
→
BKKT
Bangkok
Business Class
$3,255
ORD
Chicago
→
BKKT
Bangkok
Business Class
$3,163
Business Class Lounge
Business class tickets may give you access to a business class lounge in the departure airport. In this case, you can relax in a truly comfortable atmosphere, use complimentary amenities available, or catch up with work while nobody interrupts you.
Best Tourist Attractions in Bangkok
In addition to the sights and experiences mentioned above, Bangkok offers you:
Skytrain riding to rapidly get around the city in air-conditioned carriages;
Jaunting along the Chao Phraya River to see all facets of life in Bangkok;
Shopping at high-class malls and street markets;
Strolling around one of the biggest Chinatowns in the world;
Watching Muay Thai fights, a national sport in Thailand;
Visiting puppet shows where people control the puppets directly from the stage.
Business Class Travellers FAQ [2021]