Cheap Business Class Flights to Guangzhou, China [2023]. If you want to feel the spirit of business and see what commerce is all about, you should definitely visit Guangzhou, the third largest Chinese city and a major trading center. And these are not mere words because Forbes named Guangzhou the best commercial city on the Chinese mainland three years in a row (2013-2015). Being a host of the China Import and Export Fair, which takes place twice a year (in April and October) and is locally known as Canton Fair, the city attracts many business travellers, traders, and buyers from more than 200 countries. The fair has been held for 59 years already and it has served as a true indicator of China's economic fortunes.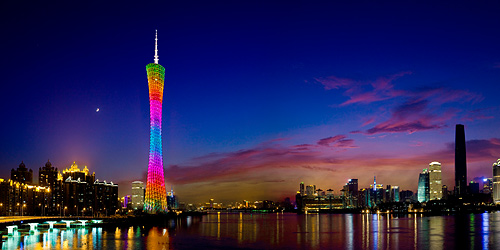 Local business people are pleasant to deal with because they want and know how to make money. Commerce is thriving here and your business trip to Guangzhou will never be in vain. Whether you're going to visit the Fair or have an important business meeting in this Chinese city, most likely you'll travel there by plane. Since it's a long-haul flight, you may be interested in flying business class to Guangzhou.
Why flying economy is not a good idea?
Why flying economy is not a good idea? Trips to such a faraway destination as Guangzhou can take up to 15 hours. It means that you're about to spend half of day sitting in your plane seat and this is where the kind of seat determines the quality of your luxury flight to Guangzhou. The main criteria according to which classes are differentiated are legroom and reclining, in-flight and pre-flight services, and pricing.
Economy class seats recline and have the seat width of 17-18 inches and the seat pitch (legroom) up to 36 inches. In terms of in-flight entertainment, it is represented by one TV screen visible for all cabin passengers or individual screens built into each seat. Power outlets, food, amenity bags, and Wi-Fi may be provided depending on a particular airline or may be absent.
Benefits of Flying Business Class Flights to China
Fast Check-in
Business class cabins are a far cry from economy class. Travel experience usually begins already in the airport or even at passenger's home as some airlines offer a chauffeured pick-up and drop-off service. Once you arrive at the airport, you get to the airline's lounge where you can relax before your flight and have a free drink or snack. Sometimes, business class travellers are prioritised when boarding and can get through check-in procedure faster. Totally different experience waits for them on-board. Spacious seats (34 inches in width) that are transformed into fully-flat beds and extra legroom (up to 87 inches) let you if not enjoy then at least feel comfortable during a flight. Also, there are compartments for your belongings and a hard table to accommodate your laptop.
Amenity Kit
Business class passengers are also provided with amenity kits containing skincare products as well as anti-skid socks, toothbrush, toothpaste, eyeshade, earplugs, and monitor-cleaning cloth. In-flight entertainment usually features video screens with rich content. For instance, Emirates' A380 can boast an on-board bar accessible for business-class and first-class passengers. So, you see that the difference between two classes is striking.
Availability of Business Class Tickets at the Price of Economy
Some may say that flying economy is less expensive. It's difficult to object, but you should know that business class airfares to Guangzhou varies from airline to airline and you can always find the most advantageous offer that will slightly differ from the economy-class ticket price. The cheapest business class flights can always be found using the service Cheap First Class.
Comfortable Cabins
There are many airlines flying to Guangzhou and their business cabins differ in terms of seat layout and in-flight services. When you'll be looking for cheap business flights to Guangzhou, compare different airlines and choose the one that is best for you. We picked 3 popular carriers whose business class cabins and business class deals to Guangzhou are worth your attention. In order to help you make the right choice, we included real customers' feedback.
Cathay Pacific Business Class Seats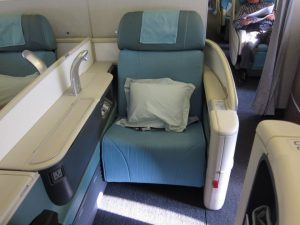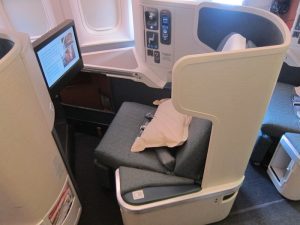 Cabins on Cathay Pacific's aircraft can boast the award-winning seats. The seats have two pre-set positions – for sitting and for sleeping. There are also controls to adjust the level of reclining: you can retreat for more privacy and relaxation or touch the button and slide your seat forward to talk to your neighbor. When you feel like falling asleep, fully recline your seat so that it becomes a flat bed complete with a duvet and a pillow. A "herringbone" seat layout allows every passenger to have an easy access to the aisle.
Seat width – 21 inches
Flat bed length – 83 inches
For your comfort, there is much storage room for your belongings, in particular, a closet for your shoes, vanity table, and a side table to put your devices onto.
Their in-flight entertainment system Studio CX presented on each private touchscreen TV will not let you get bored with a great collection of the latest movies, shows, and music.
As to the quality of food served, one of its first-timers wrote:
It was still quite good. While the meal was unmemorable, at least they executed well on what they were serving.
Cathay Pacific's passengers appreciate that the airline regularly offers cheap business class flights to Guangzhou and other Asian destinations.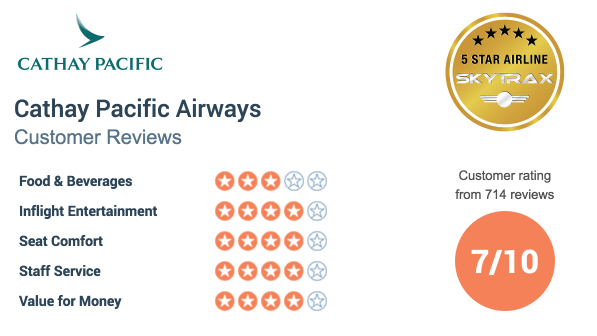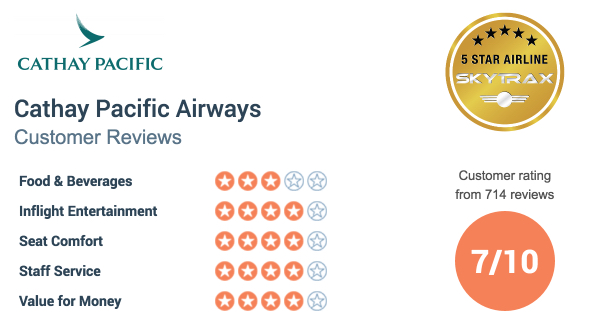 Korean Air Business Class Seats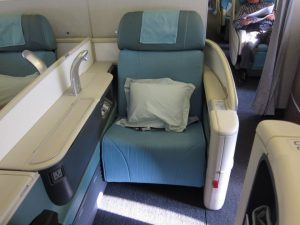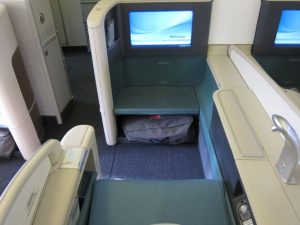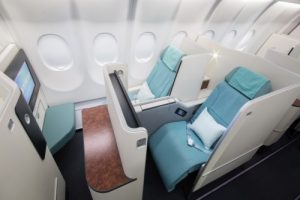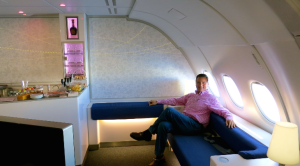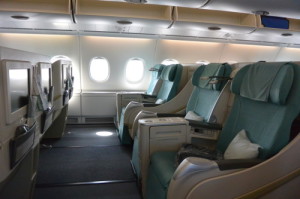 The seats in its business class cabins of Korean Air aircrafts are arranged according to a 2-2-2 pattern. Each seat has three pre-set positions: upright, reclined, and flatbed as well as six other directional controls. Last year the airline announced that they will upgrade its business class introducing the "Prestige Suites". Their main distinctive features are a staggered seat layout and privacy panels. Such design allows for individual aisle access. When the seat is reclined to a fully flat bed the armrests go down making the bed several inches wider (from 21 to 22.5). In comparison with the existing business class cabins (or as they put it – Prestige class), the legroom on the window aisle has increased to 87 inches. Prestige suites have been promised to be installed in one of the airline's A330-300s on the Guangzhou, Singapore, and Hanoi routes. So, research business class fares to Guangzhou offered by Korean Air and try out their refreshed business cabins.
Seats in Prestige suites
The seats in Prestige suites are equipped with 17-inch touch screens for watching Asian and Western movies and playing games. The passengers can find a pair of slippers in their seatbacks so that they can take off their shoes and walk around the cabin without soiling their socks. Amenity kits contain a travel toothbrush, toothpaste, a folding brush-comb, eye-mask, and necessary skincare products. Although ear plugs are not included in amenity kits, you can request them from a flight attendant.
This is the review left by Andrew from the UK who has recently flown with Korean Air:
Korean Air was substantially cheaper and the overall experience not much different to Cathay, who I flew last time. If you want an airline that offers a proper onboard Business class experience and you aren't that worried about in-flight entertainment, Korean Air is an excellent choice/value for money.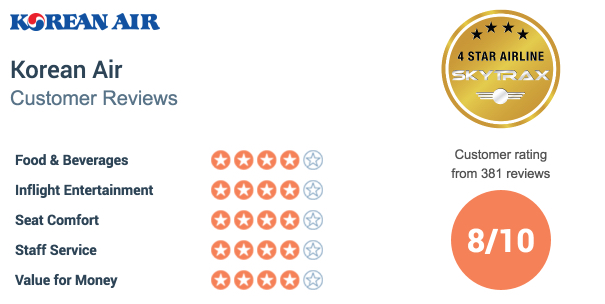 Other reviews see at http://www.airlinequality.com/airline-reviews/korean-air
United Airlines Seats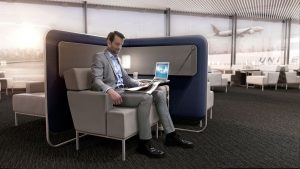 In order to compete with other airlines, United Airlines will introduce a brand new design of business class cabins end this year. They promise the United Polaris concept will significantly change travel experience of their customers. The seats in new cabins are arranged in a "herringbone" style that mixes in-line and angled seats saving a lot of space and providing a direct access to the aisle. When unfolded, the seats turn into 78-inch beds. If passengers want to sleep, they can use a "do not disturb" light. They also can adjust lighting to their needs and control it from both lying and sitting positions. There are storage areas for your stuff, a mirror, and a table for work. If you get hungry, you can walk up to the cabin bar and get some snack.
Passengers will have access to new pre-departure lounges that feature sleep pods and spa-like showers.
Today, the airline business cabins feature spacious seats equipped with ergonomic tray tables. When you feel you need to have some sleep, you can recline your seat into a flat bed or adjust to any angle you like. You'll find the seat controls even in the dark because they are illuminated. Extra comfort is ensured by a plush duvet and pillow. An amenity kit is filled with ear plugs, socks, breath mints, an eye mask, and dental care items.
Every United business class seat is equipped with seatback on-demand entertainment systems, featuring a personal 15-inch video monitor. You can charge your own devices using in-seat power.
You can find both positive and negative reviews of United Airlines. The truth is that their seats can't be named ideal. That's why they got only three stars from Skytrax – see http://www.airlinequality.com/seat-reviews/united-airlines. Still, they offer many discounted business seats to Guangzhou.