Someone suggests that business class flight with Delta One is an improved coach only. Nevertheless, the business options offer more comfort than standard medium classes. Depending on the route and airline, the business class seats have various configurations and options. However, there are some features essential for any business class, such as TV, laptop power ports, premium meal and beverages, larger seat space and amenity kits.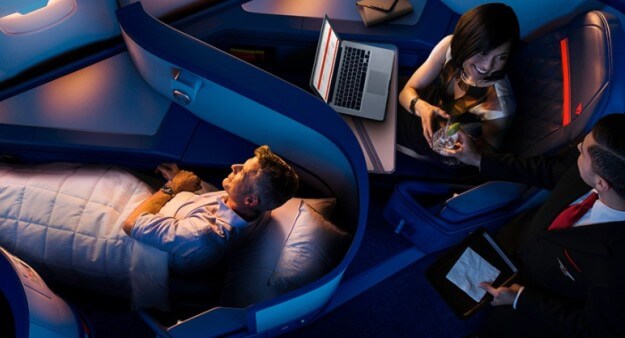 Here's our review of business class flights by Delta airlines on the route Zurich – New York is presented. The flight is made on the Boeing 767-300ER.
Benefits of Flying Business Class with Delta Airlines
The Delta benefits of business class customers starts after the passport control. Delta airline offers its business passengers the access to panorama lounge area on the top of terminal E, which is used for most intercontinental flights. The name "Panorama Lounge" derives from the astonishing panorama view on the take-off runway and airfield.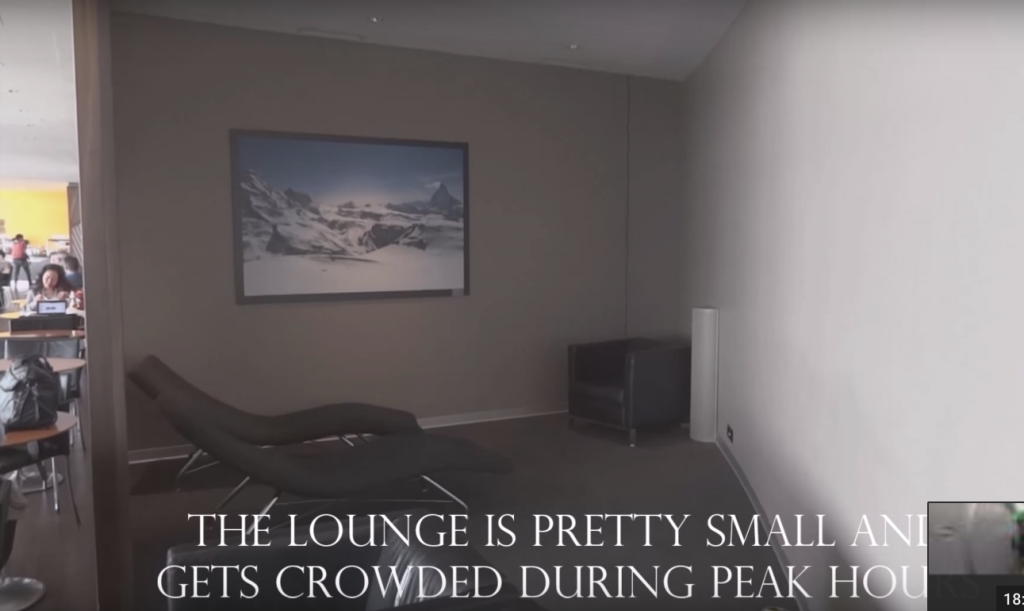 Delta lounge area offers a wide choice of beverages, but only a few snacks. Depending on the time, various meals are provided to the business passengers. If your flight departure is before the noon, you will have a chance to taste breakfast or even lunch.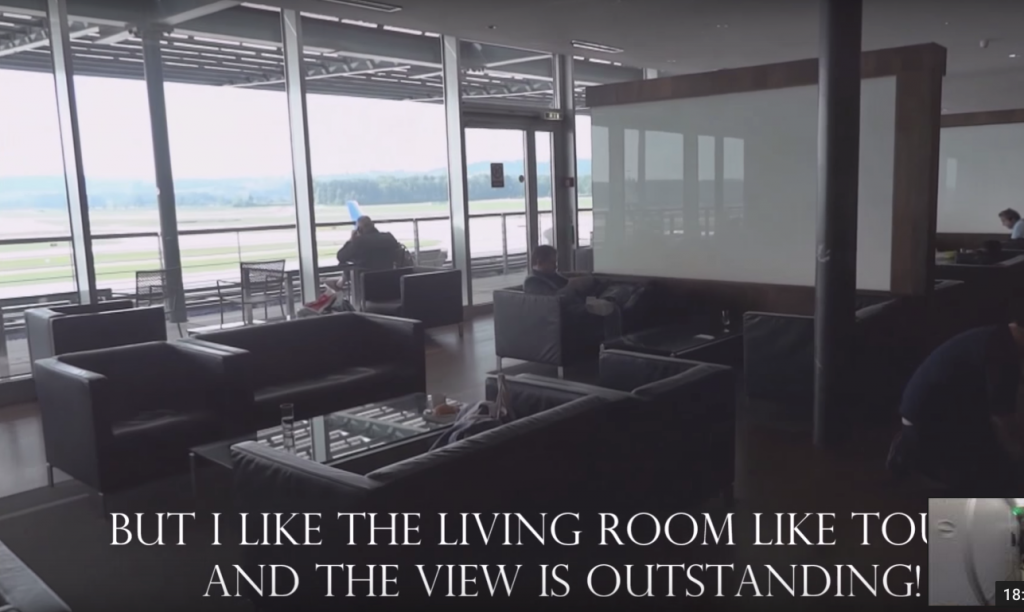 If you are a coffee addict, you will be pleased to taste various sorts of well-cooked coffee.
The lounge area has one disadvantage – it is small enough and gets crowded in the peak time.
However, there are some cozy places to have a rest while waiting for your departure. The main feature of the Panorama Lounge is the admirable view, and the area looks like a living room. Someone will really appreciate it. If you want to have your meal outside, an outstanding lounge deck is the perfect place.
After the delicious lunch, it is time to boarding.
Hello Business Class!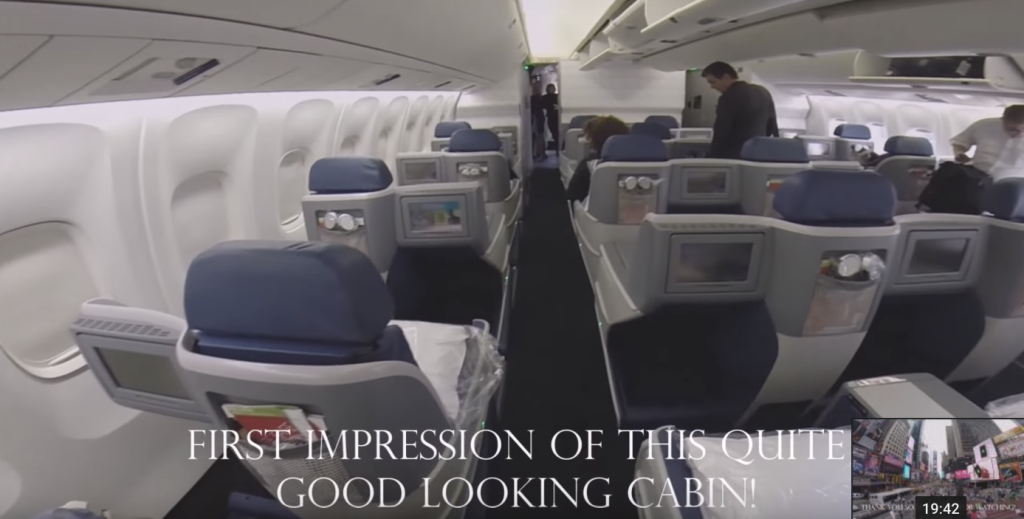 The first impression of a cabin is astonishing. Business class cabins on the Delta flight from Zurich to New York is presented by the arrangement of long-haul leather seats. The seats in the cabin are located in three rows by 1-2-1, where 1 seat row is set near the windows, and 2 seats row is located in the middle. The middle seats will suit perfectly to a couple, because they offer a huge space and individual aisle access.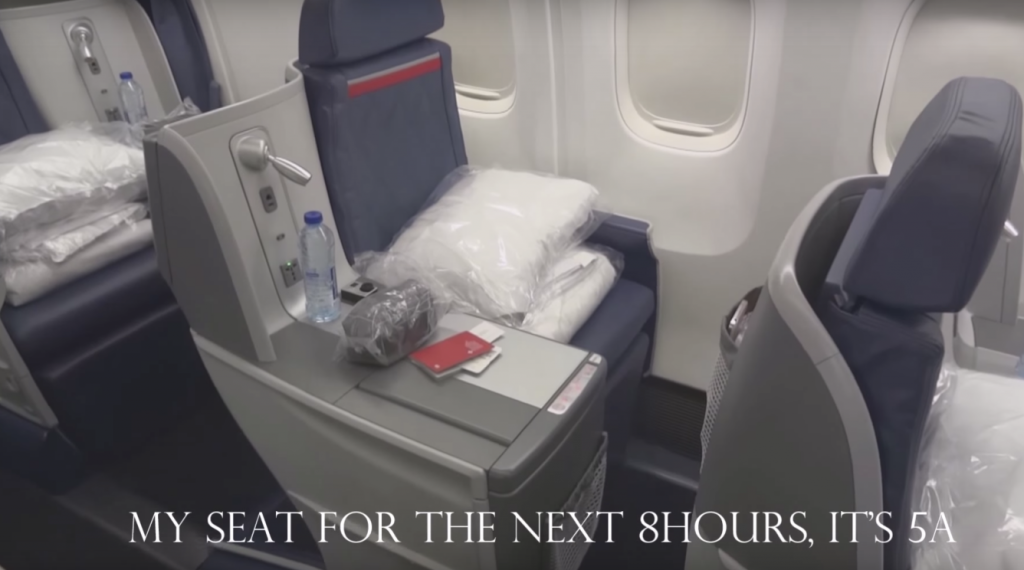 As a small bonus, the Delta airline shows a funny safety video on the screens. You should definitely see this!
Luxurious Seats
Let's go back to the seats. The business class in Delta Boeing 767-300ER is equipped with comfortable seats, which transform into the fully lie flat seats in bed-mode.
The side seats are nice and offer a lot of space.
The foot area and the surrounding space are rather sufficient. A lack of personal storage is the only flaw.
Comfort
The seat is a bit narrow, but rather comfortable. The size of the seat is quite large even for an average tall person. All window seats are single and provide more privacy.
Every seat has a touch control of its configuration. It is quite intuitive and simple. Nevertheless, if you faced problems with it, you can always ask a flight attendant for help.
View
One of the advantages of a side seat is the window view. The business class cabin is located closer to the aircraft's nose, therefore you can enjoy your window view without any distraction of the wing. The window seat is fitted with the desk and its tray area is exposed to the aisle, giving more privacy.
Entertainment
Such standard options as USB output and mood lighting are the integral part of any business class.
A display, which can not boast of large screen size, is located in front of the seat. However, the quality of in-flight entertainment is pretty good.
Wi-Fi is a paid option on board even for business customers.
Services
The on-board services are being rendered shortly after the flying-off. The business passengers may enjoy a delightful menu and a vast assortment of drinks, including premium cocktails, beer, wine or Delta Sunrise Cocktail. It should be noted that the food trails in business class are covered with some clothing in order not to spoil the aesthetic view.
Food
Caprese Salad and Cream of Asparagus Soup can be offered to the business class customers as starters. They look splendid and taste even better!
Another small feature is plastic salt-and-pepper shakers.
The exclusive menu by Swiss chef offers several main courses, including Zurich-Style Chicken, Grilled Lamb Chops, Panzerotti Pasta and Chilled Plate. It is offered to accompany these delicious masterpieces with a glass of wine at your choice – Byron Santa Barbara Chardonnay, Round Pond Sauvignon Blanc, Monasterio De Las Vinas Reserva, Bodegas La Rosa CXV, Chateau Solon, Quinta Do Noval and Champagne Jacquart Brut Mosaique.
And a dessert of course, which you can also choose out of several proposals – Vanilla Ice Cream Sundae, A Tasting of Sweet Treats and Selection of Fine Cheeses. All meals are well cooked and bring delight to the passengers.
Amenities
The bathroom has nothing special to be mentioned, except for the larger space, compared to the coach class.
When it comes time to sleep, your seat miraculously turns into a flat bed! The blankets and pillows are supplied by Marriott.
The in-flight entertainment includes a lot of various movies, games, audio tracks. You may even leave your feedback during the flight.
The final meal before the arrival includes Cuban Pork Sandwich or Chicken Satay.
An individual attention should be paid to the amenity kit. It is provided by Tumi and contains all necessary toiletries for the flight.
Bottom Line
– Business class services of Delta airline on the route from Zurich to New York are rather splendid.
– Seat is a bit narrow but comfortable enough. All side seats are single making more privacy. The fully lie flat seats in bed-mode are magnificent and incredibly comfortable.
– Flight attendants express respect and are very helpful.
– Exclusive meals will be appreciated by real gourmet!
– Screen is a bit small, however the quality of the IFE and choice is pretty good!
In conclusion, it should be mentioned that the price of business class seats for this flight is pretty affordable. Boeing 767-300ER of Delta airline offers great business class options, which will be highly appreciated by any traveler.
Top Destinations for Business Class and First Class Travel in 2021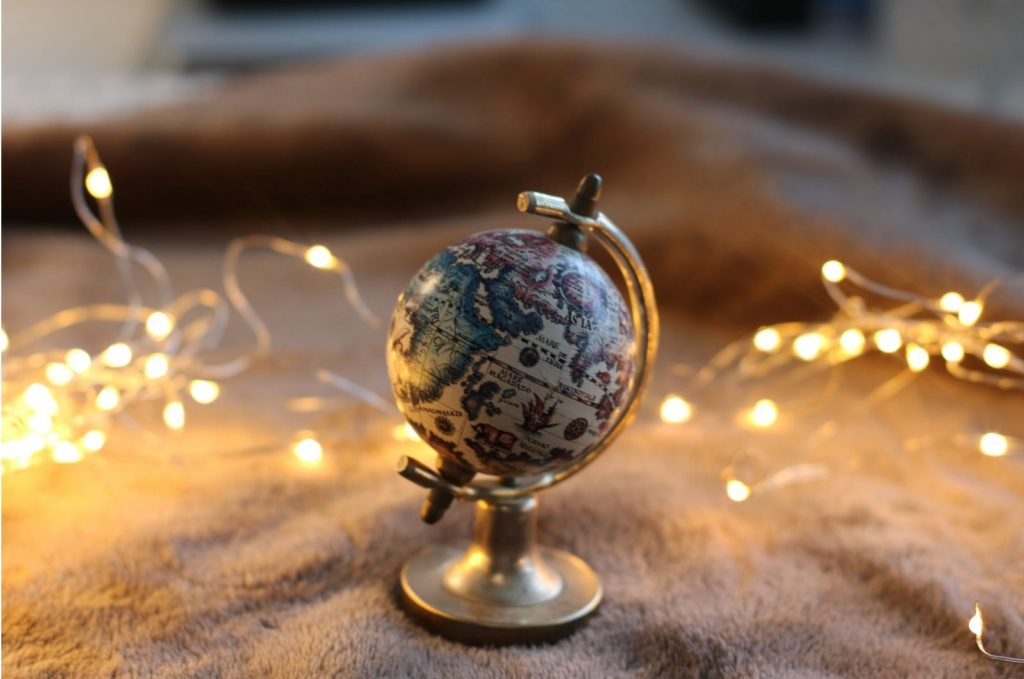 Rome, Yangon, Lucerne, Frankfurt, Tokyo, Edinburgh, Dubai, Paris, Bangkok, Johannesburg, Budapest, Osaka, Taipei, Brussels, Stockholm, Barcelona, Amsterdam, Athens, Berlin, Helsinki, Vienna, Brisbane, Reykjavik, Venice, Guangzhou, Perth, Milan, Seoul, Glasgow, Madrid, Munich, Nice, Beijing, Dusseldorf, Iceland, Cairo, Melbourne,Moscow, Shenzhen, Shanghai, Nuremberg, Spain, France, Germany, Italy, Sweden, Switzerland, Singapore, Tel Aviv, Israel, Norway
Cheap First Class will take you to London, Paris, Amsterdam, New York or Hong Kong cheap! Get to the global capital destinations easily and forget about the overly-priced services of the vast majority of air flight companies online! Save up to 70% of your money with Cheap First Class luxury travel!
Cheap First Class is Your Reliable Luxury Travel Partner
Travel with confidence, plan your luxury air trip, find the cheapest first class and business class flight deals and book great value fares to 60+ destinations with Cheap First Class!
Need help with your trip? Here are answers to FAQs for all your travel!