Entrepreneurship thrives in London, and there are a couple of reasons for that. Both the stable political environment and the economy, booming well above the European averages, make the UK in general and especially London a highly favourable place for doing business.
If you are thinking of setting up a company in the UK, you'll be very pleased to know that it is the easiest place to start and run a business in Europe, as well as one of the easiest places to register a property. London, being the financial and business capital of the country, will surprize you with convenient external transport links, available key staff and accessible markets. And if that doesn't convince you that London is the perfect location to do business, than low taxes for foreign investors definitely will.
The UK is located on a number of islands lying between two seas, which means that the fastest and the most comfortable way of reaching this country is air travel. London is a home for the busiest airport system in the world, comprising six international airports and a few smaller ones.
On average, it takes about 8 hours to fly from the US to London. The exact duration of your flight will depend on the location of the airport from which you depart. The shortest business class flight to London lasts about 6 hours, and the longest one usually doesn't exceed 11 hours.
Long Haul Business Flights from USA to London
A flight from the US to London is not too long, and you might think that there is no need to spend tons of money on business class when you can easily make it in a cheaper coach seat. However, after a few hours have passed, you may start feeling not a little uncomfortable.That is why we strongly recommend that you choose cheap business class flights, if you are planning a business trip to London. The seats in business class are spacious and very comfortable, which is especially important for those who are having a business meeting right after the last minute business class flight to London is over and need to both feel and look rested.
But it's not only about the comfort of the seats. The distance between them is a lot bigger, the number of fellow passengers is a lot smaller, there is much more variety in food options, the alcohol is often free, and the quality of the service is, of course, much higher.
It's no news that business and first class tickets are extremely expensive. Even so, getting a cheap flight to London is not a fantasy. If you book your last minute business class flight to London well in advance or look for last minute offers, you stand a very good chance of getting amazing business class deals. cheapfirstclass.com guarantees the best price-quality ratio of airfares to London on the market. Choosing cheapfirstclass.com, not only can you enjoy every luxury of business class flights to London, you also pay the lowest price.
Top Airlines with Luxury Seats to London
Indeed, a rare city throughout the world can surpass London in terms of popularity and attraction. Being one of the prominent tourist destinations, the capital of Great Britain provides fantastic opportunities to travel, go shopping, and explore. Moreover, this is by right the number one European city for business. From here, you can rapidly expand to the global market: gain from flexible regulations and the latest innovations. The city hosts millions of workers and specialists of all kinds. Not to mention that London is considered to be the top location for headquarters due to the lowest taxation level in Europe and overlapping with different time zones.
West London is supposed to be the core business area in the city. It encompasses Covent Garden, main offices of numerous corporations, luxurious hotels and boutiques, and the Heathrow Airport. The local IT cluster, also known as Silicon Roundabout, is situated in East London and partly in Central London. Here, the hubs of prominent tech companies can be found. No wonder that dozens of foreigners come to London in search of adventures, fame, and success. Of course, the fastest way to get there is by plane, and airfares to London are provided by world-leading carriers.
Benefits of Flying Business Class to London in 2021
Now, the question comes: why exactly should you choose business class fares to London? Isn't it better to save money by flying in economy class?
As the first, business class offers you a range of exclusive benefits unavailable to other passengers. Describing them all would take us too much time so let's have a look at the very basic features. You get a fully convenient seat with power outlets, personal entertainment system, and often with privacy partitions. It converts into a spacious bed to sleep and relax, and the flight attendants provide you with luxurious personal care products and bedding amenities. Throughout a long trip, you can use onboard hygiene units, try delightful meals, and even work productively. In addition, you will check in on a priority basis and get access to premium lounges at the airport.
As the second, it is not really that difficult to find cheap business class tickets to London on the Internet. In contrast to a widespread opinion, such kind of services is not always overly expensive. For example, you can participate in loyalty programmes launched by an airline you prefer or subscribe to newsletters to watch out last-minute offers and specials. Just being quick and attentive, you will be able to purchase the cheapest business class flights to London.
Let's now find out more about airlines offering business class tickets to London, as well as study the feedback from real customers.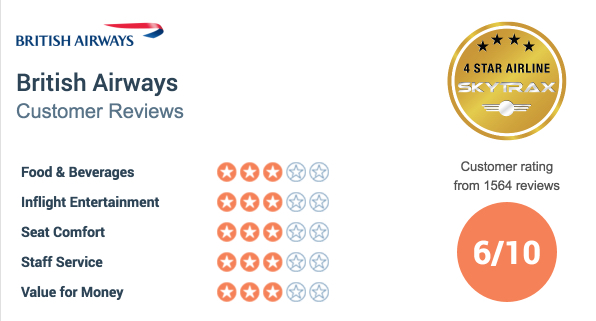 1. British Airways
British Airways is the flag airline of the UK. For their business-class passengers, they offer personalised check-in and priority boarding. To rest or work until your flight starts, welcome to premium lounges providing the full set of treatments including entertainment and spa procedures. Thanks to the expanded baggage allowance, you can bring as many bags as you need.
A comfortable seat turns into a flat bed so you can take a nap during the trip. The menu comprises exclusive meals made of the best ingredients.
James, London, told us: "Very pleased with the personal service throughout the flight. Splendid food and wine, especially pasta – one of the best dishes I've ever had."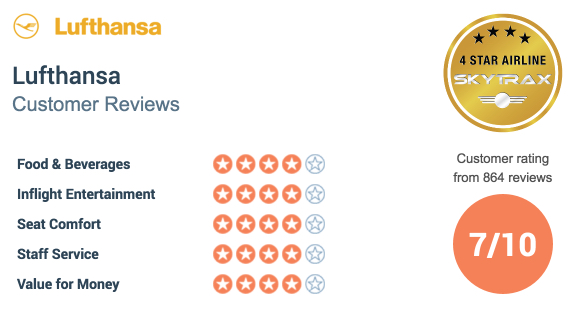 2. Lufthansa
Lufthansa is the flag carrier of Germany and also the largest airline in Europe. In fact, they often provide discounted business seats to London. Lufthansa's new open-design cabins are equipped with spacious and convenient seats that instantly transform into fully flat beds.
Before your boarding starts, enjoy the superior comfort of Business Lounge. Throughout your flight, the finest selection of food and drinks, exquisite onboard service, and access to multimedia are at your disposal.
3. KLM
KLM is the flag airline of the Netherlands. People often think long trips are tedious and exhausting. To break this stereotype, KLM offer their clients to kill time with pleasure using the entertainment system. It includes big IFE screens, USB sockets, and headphones isolating any extra noise.
Cabin design is plain and lavish at the same time. It provides spacious legroom and fully flat seats equipped with power outlets and separated by privacy partitions. In addition, the wide selection of international press is given on board.
That's what we heard from Kelsey, Tokyo: "It was the best service I could imagine! I was also excited about the cabin interior and super comfortable seats."
4. Swiss International Air Lines
Swiss International Air Lines (also known as SWISS) is the flag-carrying airline of Switzerland. Their business class is recognized as the best in Europe! Travelling with SWISS, you can wait for your flight at sophisticated lounges in Zurich, Geneva, or all around the world. On board, excellent meals are cooked to your order; both single and double long-haul seats are arranged in the modular layout and support the function of massage. Moreover, there are screens located right in front of you. The last but not least, Swiss International Air Lines offer you a Comfort Kit including all the necessary amenities.
Andy, Hong Kong, said: "That was just a great trip. We departed and arrived strictly on schedule. Totally satisfied with dishes and service. The new configuration of seats is excellent; I had a single seat – it was spacious and cozy."
5. Air France
Air France  is the French flag-carrying airline. In fact, France has always been known for its high-class services. This flight company provides quite cheap business class tickets to London. AF seats have the herringbone configuration and can be transformed into flat beds. Furthermore, their legroom is the largest among the rest of airlines. Each passenger is given a set of international magazines and water for free. And, of course, you will be delighted with the top meals and wines of French cuisine.
Lena, Manchester, told us: "Seats were fine, and I had a long and nice sleep on a fully flat bed. To be honest, I've never experienced better service and food. Definitely, worth trying."
6. American Airlines
American Airlines – although the USA technically doesn't have the official flag carrier, AA is considered to be the major flight company of the country. Besides, this is the largest airline in the world in terms of profitability, fleet size, and kilometers flown. Thanks to ergonomic cabin design, you will enjoy extra comfort and space during the entire flight. Seats are arranged in the 1-2-1 configuration; each has a control panel and becomes a spacious bed with just a touch of a button.
Tom, Phoenix, uttered: "My trip was awesome indeed. The cabin crew performed marvelously. I liked the food: the meal and the size of portions."
7. United Airlines
United Airlines is another major US flight company, which makes it the main competitor of American Airlines. They actually serve the biggest number of destinations in the world. Choosing their business class, you will get Premier Access to check-in. The 2-2-2 configuration of seats allows you free access to the aisle and extra space to store your hand luggage during the trip. The onboard entertainment system features the best selection of films, TV shows, and other media. Adjustable light, in-seat power, and USB sockets are included.
Here's what Kate, New York, told us: "The seat was very convenient, and I found a fine amenity kit on the shelf right in front of me. Nice selection of food – I chose ribs prepared extremely well."
8. Delta Air Lines
Delta Air Lines (or just Delta) is another US airline offering business class deals to London. Like its counterparts, AA and UA, the company maintains sophisticatedly decorated cabins with the 1-2-1 herringbone configuration of seats. This allows both working and relaxing during your flight. Aircraft are fully supplied with onboard devices. Bedding accessories designed by Westin Heavenly and a perfect amenity kit from Tumi will help you rest after an excellent dinner.
Mike, Boston, commented: "I enjoyed my trip with Delta. The staff was well-trained and polite."
9. Korean Air
Korean Air is the flag carrier of South Korea. Asian companies also sell cheap business class flights to London, and this is one of the main market players. You will spend the entire trip enjoying privacy in a Prestige Suite with a fully reclinable seat. An amenity kit from Davi contains all the necessary products to make your fight even more amazing. Cabins are supplied with in-seat power and adjustable lighting. The airline is a leader in terms of catering as well. Its premium-class meals stably hold the Mercury Award.
This is what Steven, Vancouver, said: "Wonderful customer service, I must admit. The check-in staff and the cabin crew were friendly and helpful all the time. Good airline, amazing experience!"
10. Cathay Pacific
Cathay Pacific is the flag airline of Hong Kong. Several years ago, they completely upgraded their business class: renovated long-haul cabins and added a lot of new facilities. Now, you are able to benefit from the onboard entertainment system, hi-tech hygiene rooms, exclusive Western and Asian meals, and the personalized service. A reverse herringbone seat turns into a flat bed or into a workplace. Besides, the airline hosts premium lounges in Hong Kong International Airport and in partner countries.
Peter, Sydney, confessed: "I stayed at the Pier Lounge in Hong Kong, and everything was awesome. I had a really good flight; my seat was spacious and I slept well."
Benefits of Flying Business and First Class to London
1. Enhanced health and safety measures.
2. Quick and easy pre-flight experiences.
3. Speedy security clearance.
4. Dedicated check-in desks.
5. Priority boarding.
6. Access to private lounges.
7. In-flight entertainment options.
8. A spacious seat, adaptable to your personal space.
9. Advanced LED lighting.
10. Delicious dine-on-demand cuisine.
11. A luxurious selection of amenities.
12. State-of-the-art communications system.
13.Early arrival to the airport.
14. Premium assistance to your departure, connection or arrival.
15. Extra luggage allowance.
Best Destinations to Fly with Cheap First Class
Cheap First Class is Your Reliable Luxury Travel Partner
Travel with confidence, plan your luxury air trip, find the cheapest first class and business class flight deals to Europe and book great value fares to 60+ destinations with Cheap First Class!
Need help with your trip? Here are answers to FAQs for all your travel!
Related Articles