If Norway is a country you have always dreamed of visiting, you are definitely thinking about ways to get there. Business class airlines can take you to Norway, one of the the world's most beautiful locations. They provide extra convenience and are able to improve your trip considerably. Take a look at the best flights that can get you to Norway this year!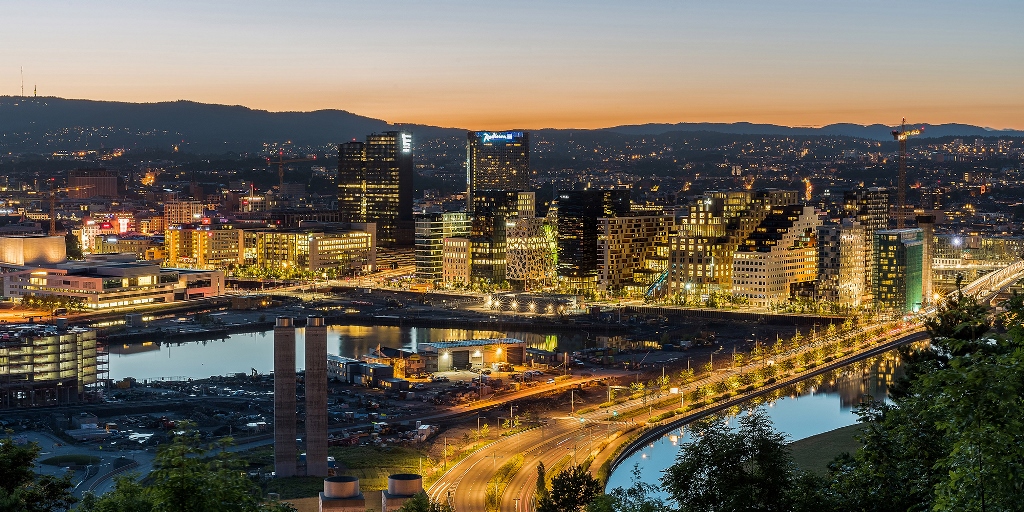 Top 5 Reasons to Visit Norway
Norway is an amazing Scandinavian country, and thousands of tourists worldwide are dreaming about visiting it. The country's coast lies along the Arctic Ocean, which explains its unique climate. Breathtaking views are among the top reasons to visit Norway. Well developed tourism programs offer a variety of outdoor activities and places to visit. If you are still hesitating whether Norway is worth visiting, take a look at our top 5 reasons to travel to the homeland of the Vikings:
Winter Sports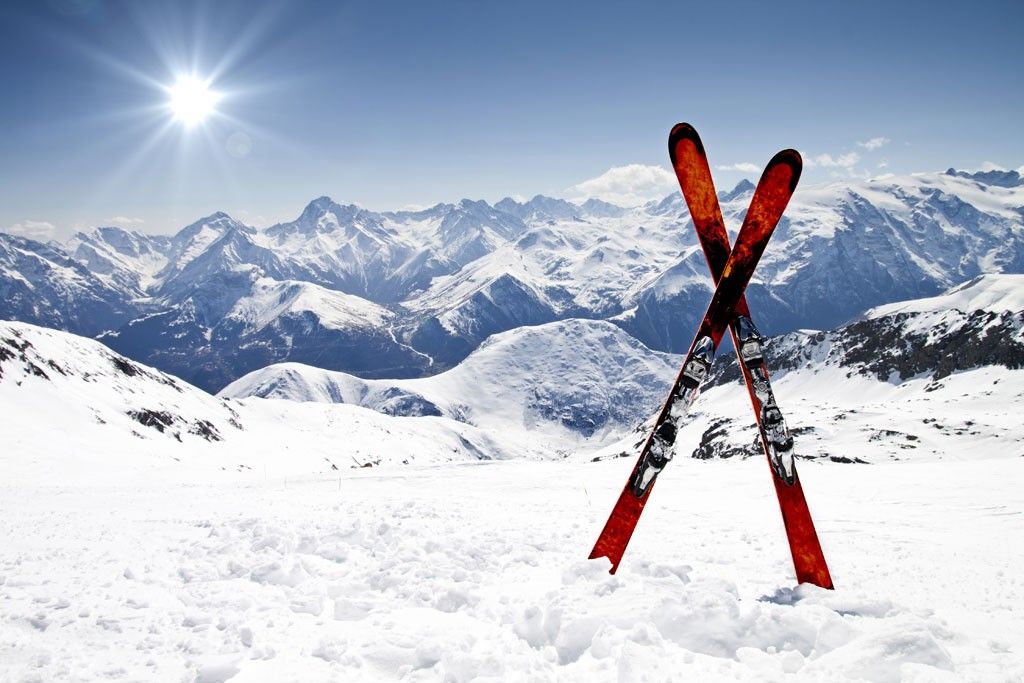 Several world-known ski resorts are located here. If you are looking for something even more beautiful than Alpine landscapes, Norway's Hemsedal and Hafjeli are a great option.
Magnificent Archipelagos
Have you heard about the Lofoten Archipelago? The islands are Norway's most beautiful attractions. At least once in a lifetime, you need to see the tiny fishermen cabins located all along the cold Nordic beaches.
Unique Stave Architecture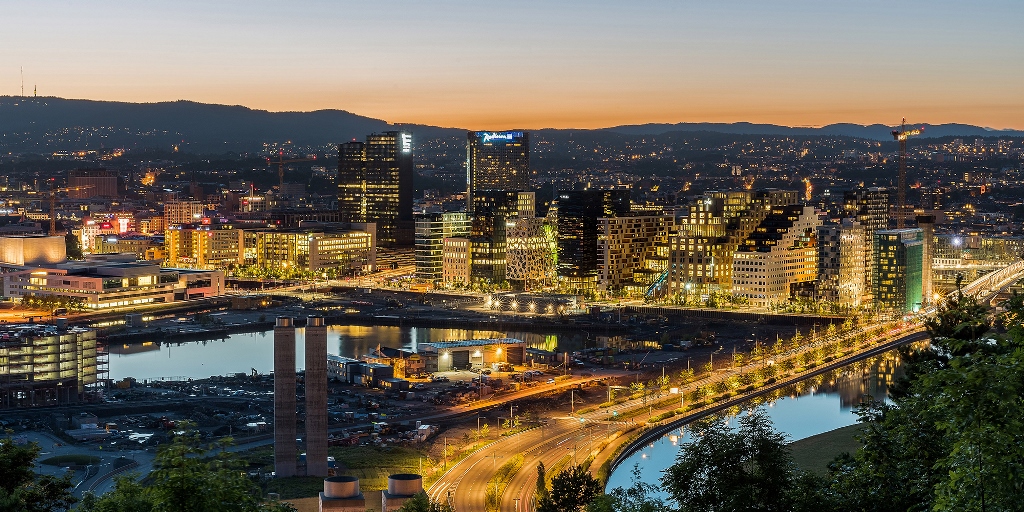 Stave churches are one of the distinguishing features of Nordic countries. Those are masterpieces of woodworking built in a lovely harmony with nature many hundreds of years ago.
Charming Cities
Due to its geographical location, Norwegian cities look completely different from any other European country. The architecture is simple but beautiful. The small houses are brightly colored and look straight out of a fairytale.
Norwegian Fjords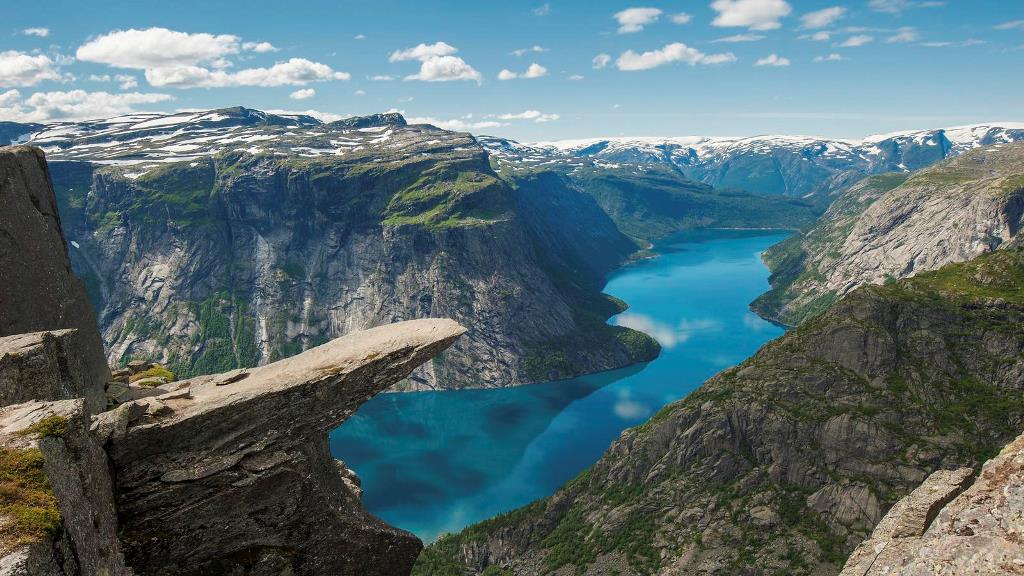 Fjords are beautiful natural glacier valleys. They say if you haven't seen fjords, you haven't been to Scandinavia. So don't miss the opportunity to visit the western part of the country and enjoy the breathtaking views.
Where Can You Travel to Norway From?
It is quite easy to get to the Norwegian capital, Oslo, from any of the world's biggest cities. Currently, the country's biggest airport Gardermoen connects 151 international destinations. If you are ready for 2-3 transfers, you can get to Norway from any location. New routes are added quite frequently.
Here are some of the cities you can fly to Oslo from:
– New York (USA);
– Istanbul (Turkey);
– Los Angeles (USA);
– Moscow (Russia);
– Marrakesh (Morocco);
– Bangkok (Thailand);
– Edinburgh (Scotland);
– Dubrovnik (Croatia);
– Canary Islands (Spain),
– Riga (Latvia);
– Dubai (UAE);
– Paris (France);
– Doha (Qatar);
– Budapest (Hungary).
What Planes Can You Fly With?
Your trip can be organized in the most pleasant and convenient way thanks to a variety of planes that fly to Norway.
Economy Class
The economy class flights made it possible for millions of people worldwide to travel with no obstacles. The affordable price is the #1 feature of this type. However, it may lack some conveniences.
Premium Economy
Here, the price may be a bit higher, but the flight is more pleasant.
Business Class
If comfort is the most important thing for you, you should definitely take a look at the best business class to Norway.
First Class
Best first class airline can make your journey impeccable. This is quite an expensive option that provides extra comfort and additional amenities for the passengers.
Review of 5 Best Airlines to Norway
If you are interested in traveling to Norway, our list will be definitely useful for you. Here, we gathered the most important information about airlines that fly to Norway.
SAS Scandinavian Airlines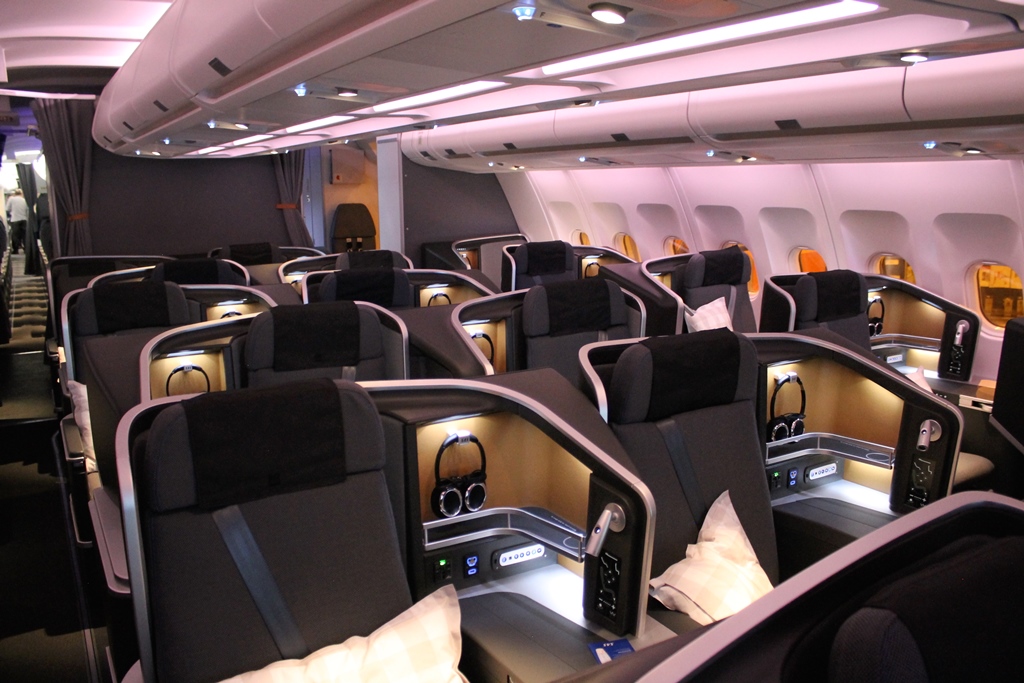 Founded in 1946, this is the greatest carrier of Norway, Denmark and Sweden with hubs in Oslo, Copenhagen and Stockholm. It operates over 150 plains and flies to more than 120 destinations all over the world. SAS is a member of the airline Star Alliance.
If you would like to experience what Scandinavian service means, you should definitely fly with SAS. The crew is professional and friendly. The staff is always there if you need something, and at the same time, they never bother you without a reason.
The airbuses are fresh, clean and quite comfortable. Enough space between the seats and armrests means the flight is as comfortable as possible. Another feature to highlight is there is plenty of leg room. The seats are featured with a laptop outlet.
The menu includes a variety of dishes and beverages. Fish, chicken, beef, delicious wines and cheeses can satisfy the tastes of any gourmet. You can also find some traditional foods and a buffet with fruits, sandwiches, juices, coffee, tea, etc.
Don't worry about feeling bored during a flight. The entertainment services include a variety of video files, TV and audio channels. Games are available as well. Also, the company is improving the high-speed WiFi onboard. The new system will even allow video streaming in real time.
Key Advantages
Extra convenient sleeper seats;
Seat massage option;
Healthy food.
American Airlines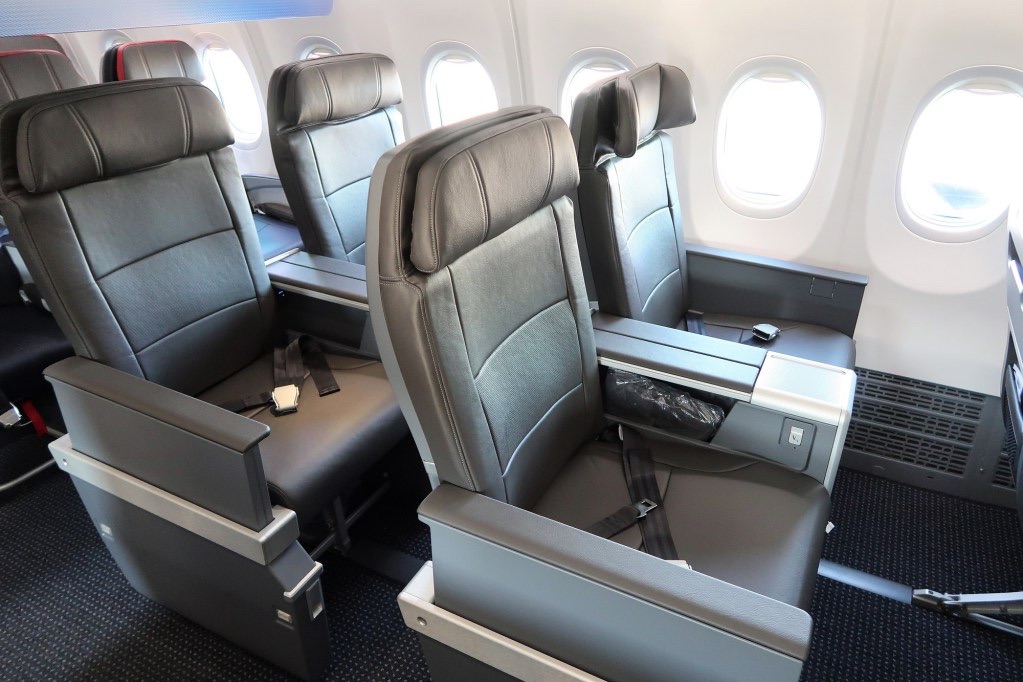 This is the greatest US airline with hubs in major cities like New York, Chicago, Los Angeles, Washington, etc. It operates almost 1,000 planes flying to more than 150 domestic and international destinations. Over 120,000 employees work here. The company was founded in the 1930s from a union of several dozens of small airlines.
The service is nice and friendly. The staff reacts to call button requests almost immediately.
The fully-lie seats are rather convenient. An exceptional thing is that each passenger has direct access to the aisle. The bed stretches enough so even a tall person can feel comfortable.
The best business class airline review says the menu is perfectly balanced with traditional American and Norwegian food. Here you can find everything from fresh buns and cookies to delicious ice cream. Dinner includes beef fillet, chicken and fish, antipasto, etc. American style coffee goes well with Norwegian breakfasts.
If onboard entertainment means a lot to you, American Airlines is a better option than SAS. You can choose from 260 movies, myriads of TV programs and hundreds of audio files. Touchscreen monitors and headphones make your flight as fun as possible.
Key Advantages
International WiFi capability;
Mattress pads for night flights;
Convenient pyjamas and slippers;
Nice amenity kit with refreshing cosmetics.
Lufthansa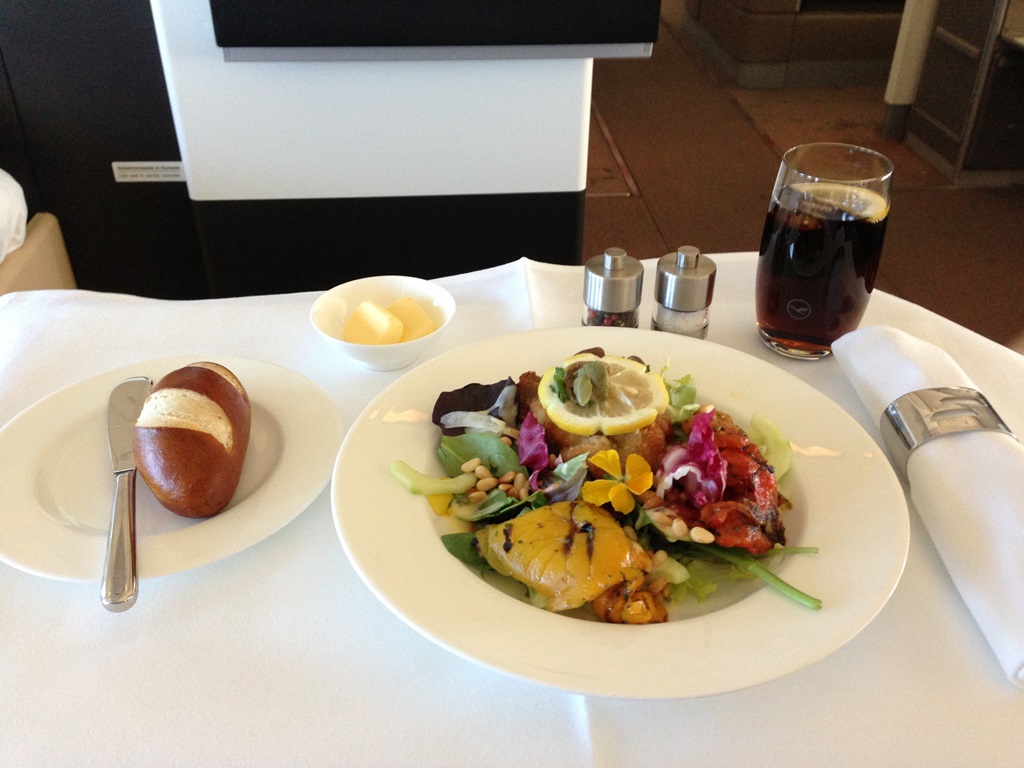 Lufthansa is the biggest German airline and at the same time the biggest European one. It is the leader in 2 significant aspects: fleet size and the number of passengers. The fleet includes 285 aircraft that fly to 220 destinations. Lufthansa is one of Star Alliance founders. Its hubs are located in Frankfurt and Munich. The company was first formed in Berlin in 1926 and reformed after World War II, in the 1950s.
German service is particularly nice. The cabin crew is responsible and professional.
Business class seats on short and medium routes are rather convenient. There is enough personal space to relax or work during the flight. Seats are converted to 2m on all long-haul flights.
The menu depends on the length of the flight. The passengers will be provided with snacks, sandwiches or 2 dishes for dinner right after take-off. Meat (chicken, beef) and vegetarian dishes are available. You can also order coffee or tea, as well as wine, beer or other alcohol throughout the flight. Breakfasts are light but delicious.
The Lufthansa magazine is a good read for a short flight. Seats are featured with laptop outlets. The touchscreen isn't very large. You can spend your flight watching some of the 100 movies or 200 TV programs available, or listening to your favorite audiobook or music. The user interface is translated into 10 languages.
Key Advantages
Business class check-in counters and lounges in all airports;
Entertainment program with a multilanguage user interface;
Children menu and individual menu.
Brussels Airlines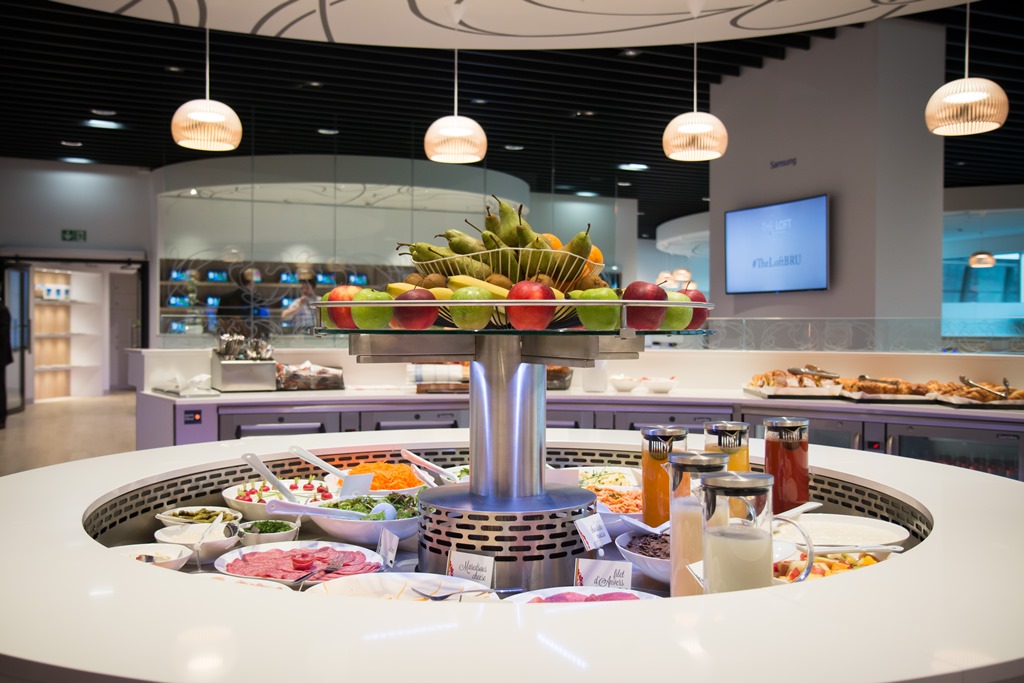 The best business class airlines to Europe include Brussels Airline. This is the largest Belgium airline with 56 aircraft flying to over 120 destinations. Brussels Airlines is a member of the Star Alliance; Lufthansa Group is its parent company. Its BizzandClass tariff includes premium meals and expensive beverages on board. Full flexibility is a great feature of this offer.
The crew dedicates its full attention to the passengers. All the members are friendly, easy going, professional and polite.
The seat configuration is convenient for all business class passengers. Fully lie-flat seats are highly convenient. The crew proactively offers pillows and blankets so you can enjoy your flight even more.
Your lunch may include a starter, a main course, dessert and cheese! The cheese plate includes a selection of delicious cheeses served with warm bread rolls upon request. You can also order ice cream or a cold snack throughout the flight. The selection of wine and champagne will impress you! The beverages are delicious.
The entertainment opportunities are rather limited. However, you can still choose from the list of the latest Hollywood movies, games and music.
Key Advantages
Box of delicious chocolate presented prior to landing;
Nice menu;
An online list of films available for your flight.
Cathay Pacific Airways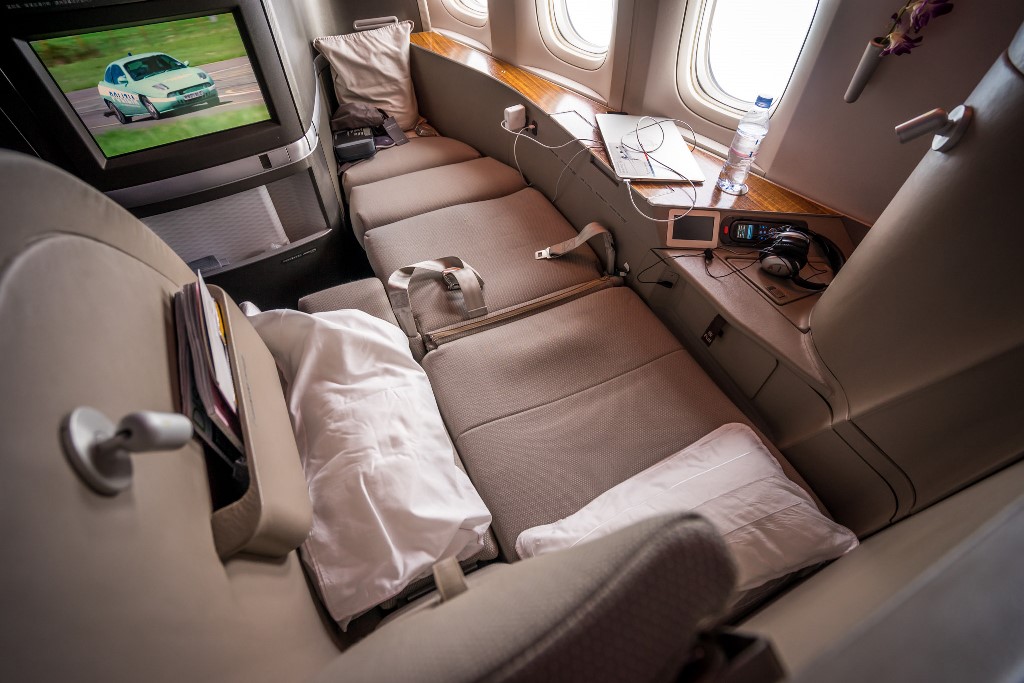 Cathay Pacific Airways is one of the luxury airlines to Norway. It flies to 77 destinations and operates 150 aircraft. The main office is in Hong Kong, China. It was founded in 1946 and since that time has gained huge popularity. Now, it is one of the 10 world's largest airlines in terms of sales. In 2017, the company's revenue reached almost $100 billion.
The service is nice and fast. The meal is served on time, and the bathroom is cleaned frequently.
Business class airline to Norway review says the aircraft seats are the best here. They are quite easy to control, and the seat pattern provides maximum privacy. Each seat is 2.08 m long.
An interesting combination of European and Asian cuisine is served onboard. You can choose traditional roasted lamb or stir-fried vegetables for dinner. Each meal is accompanied by delicious beverages. After a cup of fragrant coffee, you will be definitely enjoying the flight to Norway even more.
Multiple movies and TV programs are available for passengers. What is prominent, the airline's Discovery magazine has a whole guide for choosing a movie. The passengers answer simple questions about their mood and get movie suggestions.
Key Advantages
Highly convenient seats;
Extended amenity kit with lip balm, hand cream, toothpaste and non-slip socks;
Tidiness and cleanliness.
The Table of Comparison
| | | | | | |
| --- | --- | --- | --- | --- | --- |
| | SAS | Americal Airlines | Lufthansa | Brussels Airlines | Cathay Pacific Airways |
| Service and Staff | Professional and friendly | Well-trained and fast | Responsible and just great | Easy-going and professional | Fast and tidy |
| Comfort and Seats | Rather comfortable; extra leg room | Fully-lie seats with direct access to the aisle | Depends on the length of the flight; seats converted up to 2 m | Fully-lie seats, convenient configuration | Extra convenient easy-to-control seats of 2.08 m |
| Menu | Fish, chicken, beef, a variety of beverages | American and Norwegian food available; you can order ice cream, cookies, and antipasto throughout the flight | Depends on the length of the flight: snacks, sandwiches or 2-course dinner | Great lunch with a starter, a main course, dessert and cheese. A big box of chocolates as a present | Combination of European and Asian traditional cuisines |
| Entertainment | The list of movies and TV channels is limited | Extended list of movies and TV programs | Around 100 movies and 200 TV programs and a convenient software app with games | Limited entertainment channels; latest Hollywood movies available | Multiple movies and TV programs along with a magazine which helps to choose the best option |
How to Choose the Best Business Class Airline to Norway
What is the best airline to fly to Norway? There is no defined answer to this question. Each of the airlines provides high-quality service and maximum comfort for the passengers. Follow these tips and come to the right decision:
When Would You Like to Fly?
Timing makes a great difference. If you need to arrive before noon, look for the flights that will take you to Oslo on time. A delay is always possible, but it is very unlikely the plane will arrive a couple of hours earlier.
What Is Your Budget?
A business class ticket may be rather expensive. However, it depends on the airline and your current location. It is obvious that flying with Cathay Pacific from Hong Kong is more expensive than flying from Frankfurt with Lufthansa.
Study the Opportunities
Our short review of cheap business class flights to Norway provides only basic information. So if you need more, look for additional reviews, find out how popular the airline is, and buy the tickets!
Final Thoughts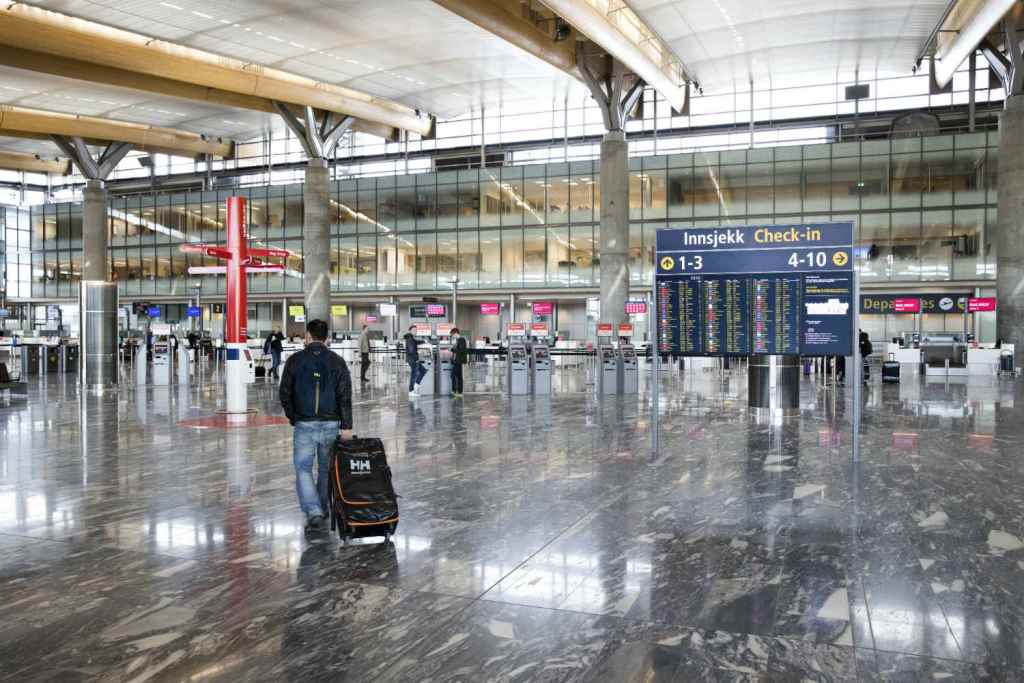 Norway is a beautiful Scandinavian country that is definitely worth your time and attention. However, a bad flight can ruin your entire experience. So prepare carefully and become a passenger of the best service provider!