Every business class experience has something special. Nowadays, the market of air services counts hundreds of air companies offering different business class options subject to the route and destination. Recently, the term business class began to change its original value. Thus, many airliners invent some brand names to their business class products.
Delta: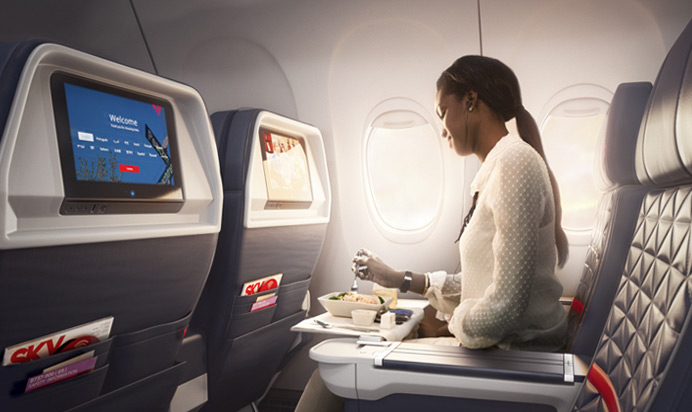 United Airlines: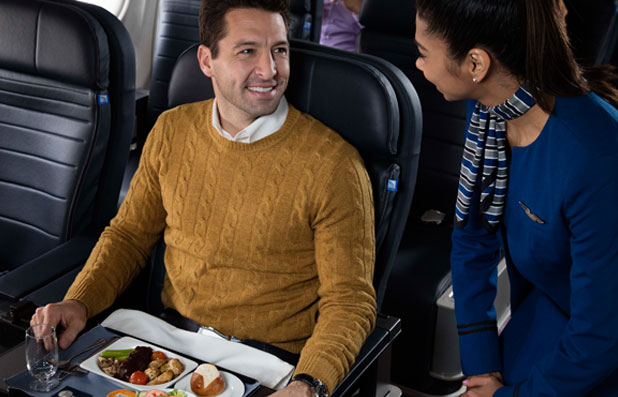 When comparing Delta & United airlines business class, we will compare Delta One and United Polaris, which are the business class products of the relevant airliners.
Delta Airlines and United Airlines are the major American air companies and the main competitors. Bothe provide international and domestic flights (about 319 destinations for Delta and 235 destinations for United).
These companies have a luxury status, for this reason, their fleets are equipped for several classes of comfort to meet the requirements of various customers.
As it was mentioned above, the companies are the absolute competitors, therefore we will attempt to find differences between Delta and United Airlines business class.
Comparison Table for Delta Airlines and United Airlines Business Class
Delta Airlines vs United Airlines Business Class

#

Delta Airlines

United Airlines

Baggage policy

70lbs/32kg (max. 2 items) checked baggage.

Cabin baggage: 1 item, 22 x 14 x 9 in or 56 x 36 x 23 cm

70lbs/32kg (max. 3 items) checked baggage.

Cabin baggage: 1 item, 22 x 14 x 9 in or 56 x 36 x 23 cm

Lounges

Delta Sky Club lounges

United Polaris Lounge

Staying fresh

Delta Sky Club provides showers and all the necessary toiletries.

Spa-like showers are available in United Polaris Lounges

Dining services

Premium meal options

Restaurant style dining

Business Class in the air

Delta Airlines

United Airlines

Seats

Fully lie-flat seats with direct access to aisle. Various arrangement of seats in the cabin (1-2-1 or 2-2). Reverse herringbone arrangement of seats.

Seats, converting into fully flat bed of 6'6''. 1-2-1 seat configuration, providing all-aisle access.

IFE

Good entertainment system. 18'' high-resolution display. The IFE is filled with various music, movies, games and other useful tools.

United Private Screening with a huge amount of movies and TV shows.

On-flight food and beverages

Quality chef-supervised meals with regional menus. Peculiar menus for each destination. A good selection of wines regarding to the flight.

Multi course menus designed under the auspices of Charlie Trotter-affiliated chefs.

Amenity Kits

Tumi amenity kit containing pen, eye mask, toiletries by Malin&Goetz, and socks.

Bedding, mattress cushions, slippers, and pajamas by Saks Fifth Avenue. Amenity kits contain products by Soho House & Co.'s Cowshed Spa
Baggage Policy
The baggage policy of United Airlines stipulates the opportunity to carry up to 3 items of checked baggage if you are a business class customer. In additions, this option may be increased up to 4 items, if the customer is a representative of U.S. military forces. Delta Airlines still conduct a convenient baggage policy. Nevertheless, when comparing business class of Delta & United Airlines, you can take 1 item more if using the United Polaris product.
Luxury Lounges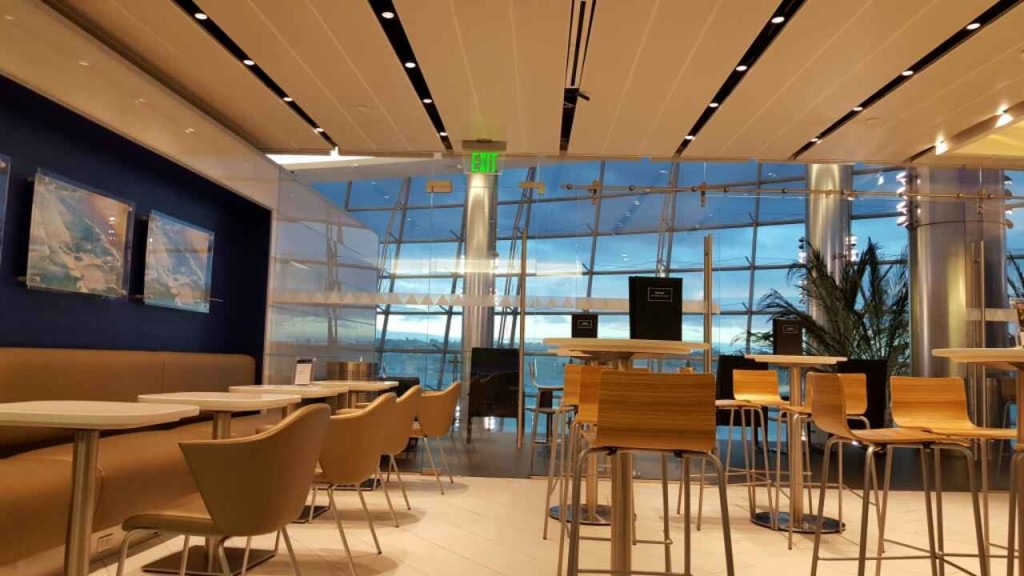 Delta Sky Club is the name of Delta Airlines' lounge locations for their premium passengers. If you are traveling as a Delta One customer, you automatically get ab access to this luxury area, where you can have a rest in private bedroom or take a shower. The Delta lounges provide also other specialized amenities, including self-service bars.
Since 2016, the United Polaris passengers can enjoy the lounge locations of new type. United Airlines decided to get to a new level of comfort of their lounge areas. Now, they are called the Polaris Lounge and they look incredible. The seating options are represented by 32 open-faced cubicles. There are also tables and chairs at the wall and in other parts of the lounge. Bar, restrooms, showers and bathrooms are the integral part of the contemporary Polaris Lounge.
Dining in Lounges
The restaurant-style dining services have started to be provided in Polaris Lounge quite recently. Now, you can order breakfast, lunch and dinner depending on the time. Dinner and lunch have the same menu, including a variety of soups, salads, appetizers and desserts. United Airlines has taken a great leap, as until recently the airliner provided the buffet dinning services only.
Delta One customers will be pleased to taste meals in the Delta Sky Club lounges. You can enjoy your meal of various cuisine in the environment of modern décor and perfect interior design. However, many lounges still have no complimentary premium meal options.
Business Class Cabin
Differences between Delta Airlines and United Airlines business class seats are not significant. Both air companies prefer 1-2-1 configuration of seats for their business class customers. A reverse herringbone arrangement is very convenient, since it gives a direct access to aisle from the seats.
The main feature of United Polaris seats is their conversion into 6 foot 6 inches full flat bed with direct access to aisle. The seats have custom design and are the exclusive product of United Airlines. Such famous companies as PriestmanGoode and Acumen Design Associates participated in the development of the seats. The seats are suite-like pods, fitted with mood lighting, several storage areas, and surfaces for dining and working.
Delta One passengers may feel less comfort only if traveling in the cabin with the 2-2 configuration. This configuration has no direct access to aisle from the seats. It is rarely to encounter. Most aircrafts of Delta Airlines have the 1-2-1 arrangement of long haul seats, which convert into fully lie-flat bed.
In-Flight Entertainment
United Polaris customers can enjoy a United Private Screening on 16-inch high-definition screen. To the comfort of passengers, a variety of TV shows, music and movies are provided. The flight entertainment content is special due to the partners of United Airlines, including HBO, Vevo and many others.
Delta One passengers have an opportunity to experience a pretty good IFE. The display is 18'' with high resolution. The content includes movies, games, music and other useful things. The user interface is rather convenient and self-intuitive. No problems are attached.
Meals and Beverages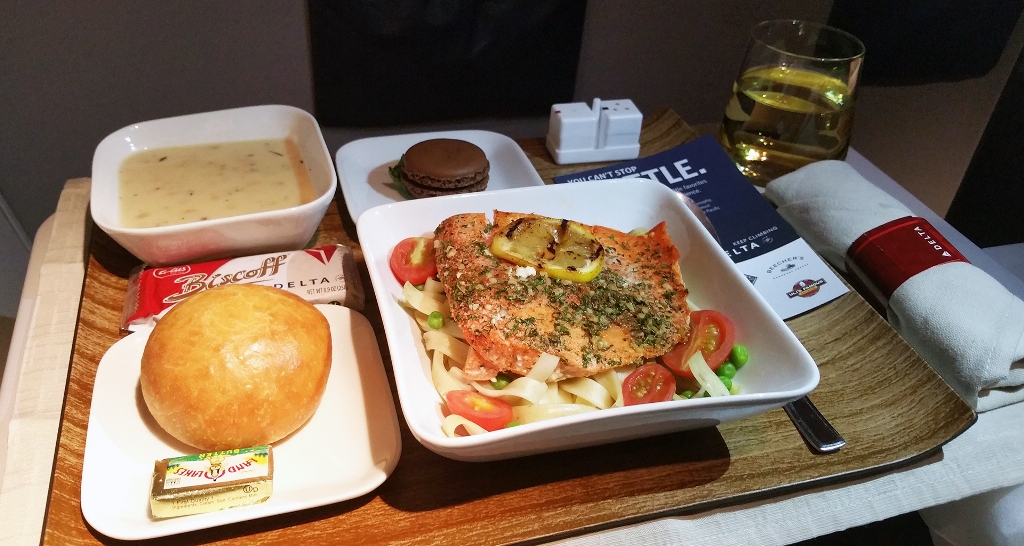 The premium passengers of United Airlines are offered with multi course menus under the auspices of Charlie Trotter-affiliated chefs via due to the partnership with the Trotter Project. A huge assortment of wines and beverages is not a feature of a respectable business class anymore.
Regional menus is the peculiarity for the Delta One customers. As a rule, the menus are developed in partnership with famous chefs. The menus contain about 17 special courses at customers' choice.
Business Class Bedding Services
Both companies are well prepared to offer the best bedding options to their customers.
The Delta One customers are offered with two pillows and blanket. Tumi Company is the supplier of the amenity kit for Delta Airlines. It contains various useful items including skincare items by Malin & Goetz.
The United Polaris provide their customers with blankets, pillows, pajamas and slippers. You would be surprised to know who are the suppliers of amenity kits to United Airlines – Soho House & Co's Cowshed Spa and Saks Fifth Avenue.
Bottom Line
Both airliners provide a high level of comfort to their business class customers. The seats, dining services and equipment are on the high horse.
Cheap First Class is Your Reliable Travel Partner
Plan your trip, find the cheapest first class and business class flight deals and book great value fares to 60+ destinations with Cheap First Class!
Need help with your trip? Here are answers to FAQs for all your travel!