Cheap First Class & Business Class Flights to London from USA is the best way to visit London – one of the world's most famous destinations for leisure and business. To feel the taste of Europe, you should definitely see it at least once in a life. Business and First class flights from the USA are surely too long to survive trough in coach class so we prepared a quick guide for you on how to enjoy luxury for cheap.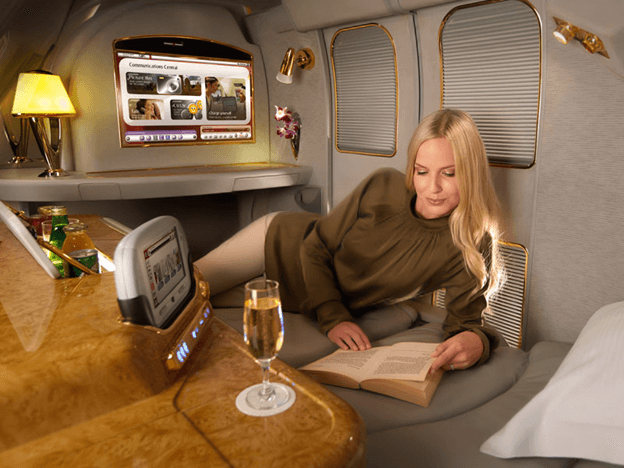 Experience first class seats
Airlines with first class from the USA to London
Despite a huge number of various airlines, the first class flights to London from the USA are offered only by several ones, including Finnair, British Airways, and American Airlines. In addition to the first class benefits mentioned above, such as priority check-in and boarding, access to lounges, exclusive meal, the British Airways offers luxury facial treatment or relaxing massage for some flights.
Regular prices for cheap first class from the USA to London
Now let's have a look on the regular prices for cheap first class from the 10 biggest cities in the USA to London according to Skyscanner:
1. New York City, NY – $10,926
2. Los Angeles, CA – $12,709
3. Chicago, IL – $10,734
4. Houston, TX – $11,272
5. Philadelphia, PA – $9,864
6. Phoenix, AZ – $12,076
7. San Antonio, TX – $7,621
8. San Diego, CA – $11,010
9. Dallas, TX – $10,734
10. San Jose, CA – $6,061
Of course, these prices are rough, because they will be different based on the date, direct flight or not, and other requirements.
Discounted prices for cheap first class from the USA to London
The companies do not manage to sell all first class tickets before the flight, therefore they offer a discount on first class tickets. It's difficult to find them online, but possible. Nevertheless, it is recommended to call the airline and ask if available. How much are we talking? The average discounted price is 40-60% lower than the regular one, e.g. a discounted price for cheap first class flight from Chicago to London would cost around $5,000-7,000. Good luck in your search!
17 steps to find cheap first class to London from the USA cities
1. Loyalty may be your key to success when you are looking for cheap first class
Perhaps, the simplest way to win a discounted first class airfare to London is to become a loyalty program member. If you travel frequently, join a program offered by your preferred airline and benefit from different options.
2. You will need the right credit card
If you are a regular client of some major U.S. airline, you might be offered to get their co-branded credit card. Do not miss this opportunity because you will be able to accrue miles to spend those on first class seats to any destination you want. Another option you may take is to get a travel-themed credit card.
3. Search for special first class airfares to London
There are air tickets of a particular type named Q-UP, Y-UP, or K-UP that you can buy only in the USA or Canada. Look for them on the internet or ask your air ticket provider. It's pretty much like finding cheap first class flights to London – the difference is that you just book your seat as a coach one and get upgraded by default.
4. Claim the compensation if possible
If the airline is guilty of anything that creates obstacles on your way, you are entitled to compensation. Has your flight been delayed for many hours or cancelled? Is your seat in coach class broken? Check out if it is the air company's fault and request for an upgrade to first class.
5. Pay partially
If you are a participant of some loyalty program offered by your airline, you have probably earned enough miles. Instead of spending your money on two first class tickets, pay with your miles for your trip to London and buy the return trip. This totals 50% cheaper first class seats to London.
6. Know when to fly to London
There are periods of time when frequent first-class travelers do not fly. Obviously, I'm talking about big public and national holidays. And this is the time for regular coach class passengers to take the chance – any first class cabin will likely be undersold. Ask a check-in officer for an upgrade and you may succeed.
7. Just go and ask your check-in agent
Imagine you don't have any privileges as a regular flyer and there is no possibility to economize any other way. Yes, it sometimes works. Even if you aren't sure there are seats available, a check-in officer might find an opportunity to promote you. Here, the success hugely depends on your communication skills.
8. Fly for cheap within the USA
Cheap first class tickets to London are usually available from major gateways. Those who don't live there also have to book domestic flights. You don't need luxury on your several-hour flight, do you? There must be inexpensive offers and you merely should search for them well.
9. Fly with your companions
You do not have to travel alone to find cheap first class deals to Europe. Often, it is much easier for a flight company to sell two discounted premium class tickets than one. They wish to sell out as many seats as possible so if a cabin is underbooked, groups of passengers are welcomed there.
10. Pay for additional first class services
When you are about to take a longhaul flight to Europe, there are many extras to pay for. In some cases, this may help you to win an upgrade to first class – if you pay a large fee, for instance. Airline employees don't want to disturb their potential frequent clients with expenses so they might reward you with a cheap seat in first class. Note that your chances double if you travel in a group or a couple.
11. Use your charisma to become an elite flyer
Can't find any cheap first class trips to London? Then try to chat up the frontline staff and they indeed might provide you with a free or discounted upgrade. Of course, words don't work without a proper atmosphere. Work on your entire image to make the right impression on people around.
12. Volunteer
To increase their revenue, air companies sometimes oversell flights because they definitely know there won't be the total load. As a rule, there is not. But some flights are indeed packed so check-in officers have to find passengers ready to give up their seats. If you wish to try your luck, become a volunteer and see what happens.
13. Stay tuned for updates
You will receive a lot of valuable information about cheap first class flights by subscribing to your airline's newsletter. And don't forget to check your inbox a few hours prior to your trip since they might offer you free or discounted upgrades to first class.
14. Buy and upgrade if your flight is underbooked
When there are too many non-booked seats in a first class cabin, an air carrier risks losing much of its revenue. No one wants it so frontline employees will have nothing against coach-class travelers buying first class tickets for cheap. They won't probably give it to you for free as they have to somehow compensate the loss but you nonetheless will be able to pay the minimal sum.
15. Don't buy a round trip
Cheap first class roundtrips are not always easy to find. However, you can gain from discounted one-way trips. Book two first class tickets for cheap on two different airlines and you will fly to London and back with the maximum comfort!
16. Go to a travel agency
Travel agents normally charge fees for their services so there is no need to let them arrange your entire journey. One great thing they can do is to help you book discounted first class tickets to London on a priority basis.
17. Plan your time of arrival
Sometimes, your chance of getting upgraded depends on when you show up at an airport. You may be too early so check-in agents might reward you as the first passenger in the queue. Or you may be too late and there won't be any other way but to provide you with a cheap upgrade to first class. Try the variant that suits you both yet remember there is no absolute guarantee.