You have probably been to some European cities. Well, we could hardly imagine a real traveler that has never visited Europe! This ancient area is a cradle of several incomparably beautiful cultures that have affected the modern world much more radical than you can imagine. For instance, Ancient Greece has been the most developed culture for more than five centuries. One cannot overestimate art and science heritage left by this beautiful culture! However, modern European countries have much to offer. Such cities as Rome, London, Geneva, Berlin, Paris, and Barcelona are totally worth visiting. And with cheap business class flights to Europe, your adventure will be much better and convenient. Never forget about comfort!
The fact that we talk only about the business class to Europe might be quite confusing. But we have a perfect explanation – every interesting and exciting adventure starts with a comfortable luxury flight to Europe. Inconvenient services and cheap foods may ruin the impression from the entire trip. And what do you get with business class fares? Much more than you can imagine! Business class passengers get special treatment right from the start. Most airports have individual stands for business and first class passengers. Therefore, you no longer need to wait in long lines to just get a boarding pass. Moreover, VIP lounge areas for passenger provide you with relaxing atmosphere and important facilities (snack bars, coffee shops, hygiene rooms with showers etc.). but the best part is onboard services. First, business class seats are nothing like narrow and cheap economy class seats. You can relax in fully flattening leather seats, which is crucial for long-haul flights. Entertainment is much better with wide screens and numerous hours of movies and series. The food is yet another benefit of business class trips. Forget about pre-made dishes and frozen foods! You will also get a wide range of alcoholic and non-alcoholic beverages, including huge wine lists. That is why we recommend catching cheap business class flights to Europe with our site.
You should also choose the appropriate carrier. And while prices might vary throughout the year (or even throughout the week), every airline has its obvious benefit. Here are some of them:
1. Lufthansa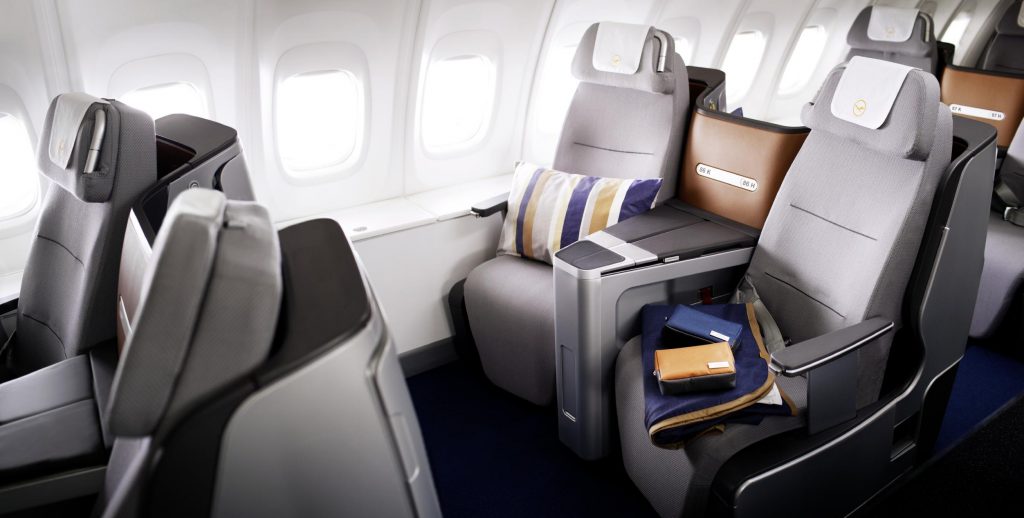 Lufthansa, the Germany's flag carrier and is widely acknowledged as one of the most popular airlines in the world. It has recently redesigned its cabins – and now they look absolutely amazing! The seat is a shell design and it has various compartments for magazines, shoe,s and purses, headphones etc. It looks more like a studio apartment in the sky. You get 6.5 feet long flatbed with ergonomic cushioning control to adjust firmness. With the herringbone 2-2-2 design of the cabin, you will feel both the comfort of being alone and permanent attention of thoughtful flight attendants. And you will for sure enjoy soothing effect of light-gray cabin decorations.
Here's what Lufthansa's passengers had to say about the flight:
"I have been using Lufthansa for a decade by now. And surprisingly, their services get better with every year! They provide one of the cheapest business class flights to Europe, which is nice. I got a personal flight attendant who was with me throughout the flight. I was really excited about meal services – and it didn't disappoint me at all. And the meal service looked exactly as I expected – with high-quality china tableware and beautifully decorated dishes. I also liked a great variety of snacks, which I found in the gallery. Lufthansa's long-haul flights are perhaps the best of all."
2. KLM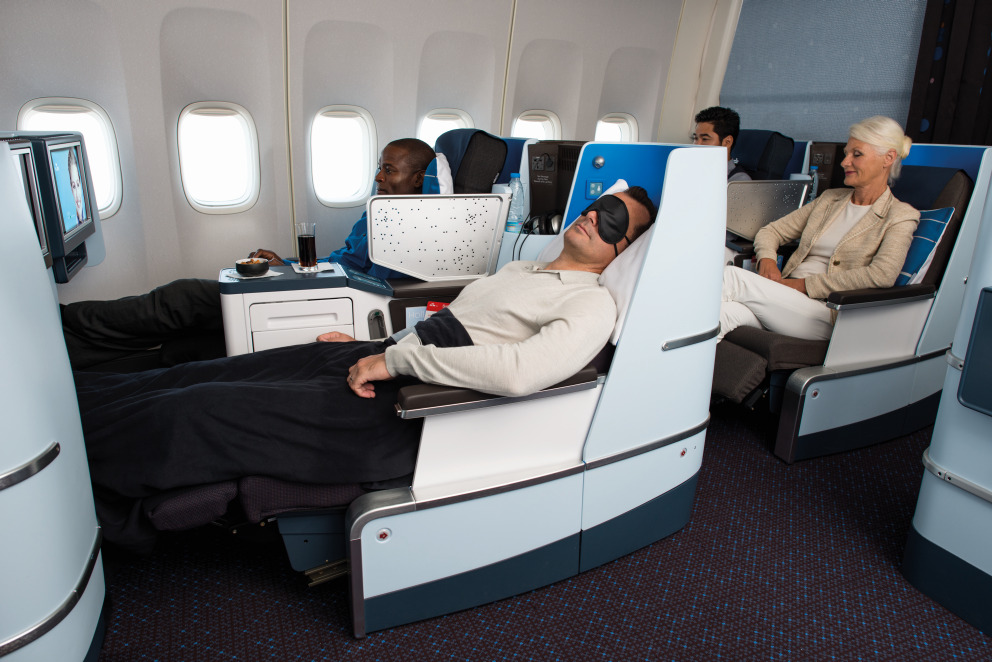 KLM Royal Dutch Airlines, the flag carrier of the Netherlands and, of course, it provides business class fares to Europe. Its concept is a nice example of classy simplicity. The cabins are supplied with the new business-style hard product. Seats are the most significant part of your onboard comfort. That is why we always pay special attention to it. The seats are great for napping and lounging while the legroom is quite spacious, which is exceedingly important for tall passengers. You will experience a high-level of privacy with partitions between seats. The entertainment system consists of the IFE screen of a relatively large size, power and USB sockets, headphone jacks, and noise canceling headphones. And here's what KLM's passengers are saying about its services:
"The cabin looks so simple yet relaxing! I loved the way the color pallet feel. I had a lot of fun watching fresh series. Usually, entertainment is represented with old movies and a narrow choice of music, but I was excited to see how much content I had for exploration. I also liked that meal services started with hot towels – that's quite a convenient idea. Appetizers included smoked salmon tartar, the carpaccio, and yellow pepper soup. I cannot imagine anything better than that. But what truly amazed me is braised beef with onion compote, spinach and ricotta cannelloni. It was a real fine dining experience!"
3. Air France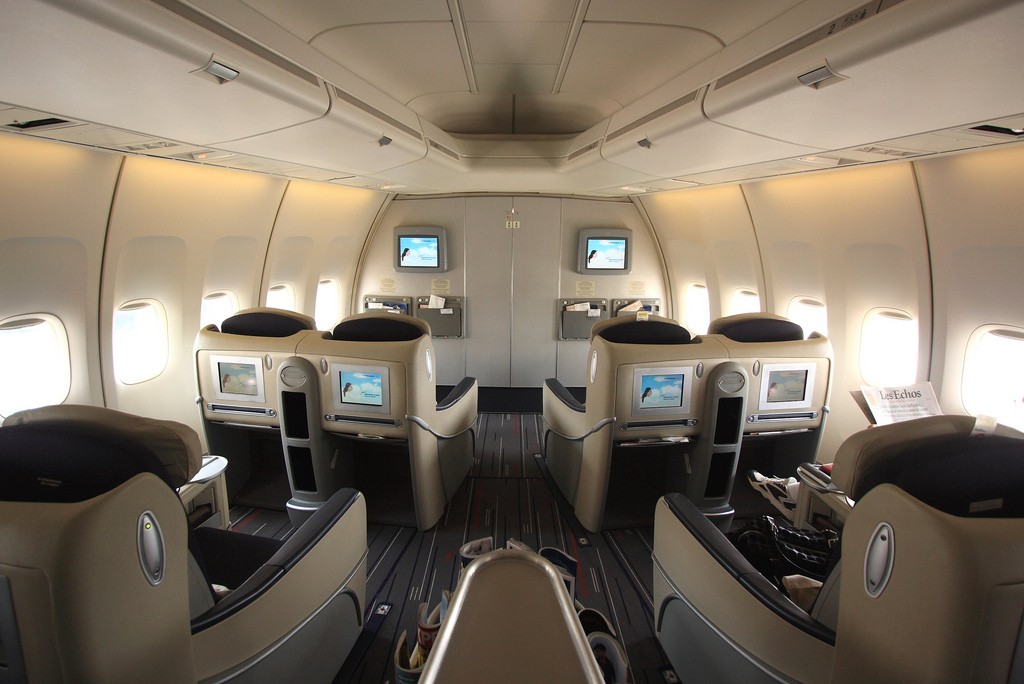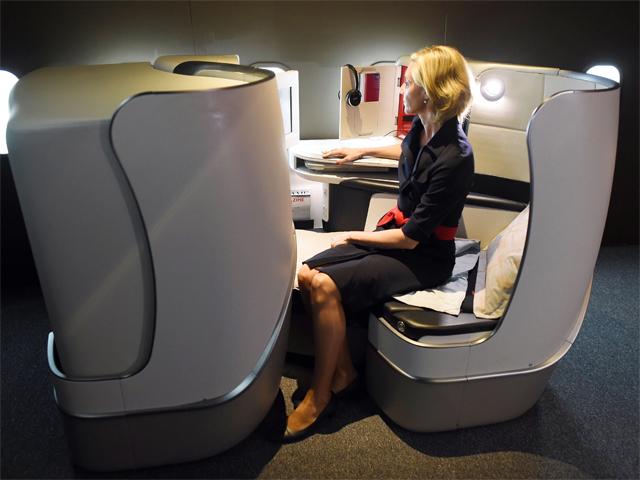 Air France is a part of KLM-Air France holding and is the biggest carrier of France. This company provides adequate pricing for business class tickets to Europe. Their seats are quite standard with its herringbone arrangement and two-meter fully flat bed. But, without doubts, it has some additional touches of well-known French premium services. For instance, the seats have the biggest imaginable feet room. Therefore, even the tallest passengers will feel relaxed. Such simple details as magazines and water waiting for you at your seat make this carrier so popular. And don't forget about a marvelous selection of French fine wines. Here's what a recent passenger tells about this company:
"I often feel uncomfortable in premium class cabins – there's something cold and artificial about it. However, Air France's business class is truly cozy. I understood that was going to be a great flight when I found the shoe bag with comfy slippers and socks. I didn't have to wear my boots every time I needed to leave my seat – and it's amazing. What I also liked is that they put many storage compartments. It's very useful during a long-haul flight. The amuse bouche consisted of shrimp with cheese and lemon was delicious and I want to fly again just to have it one more time!"
4. Delta Airlines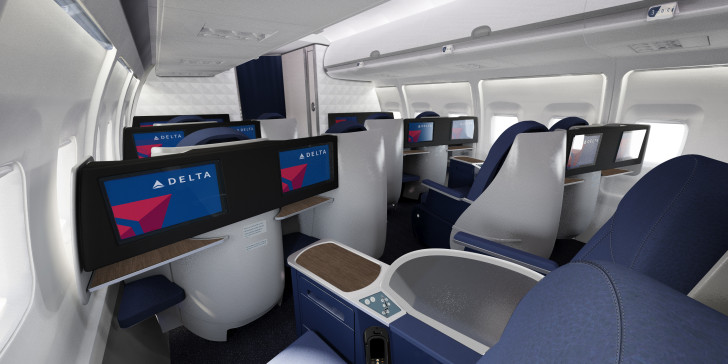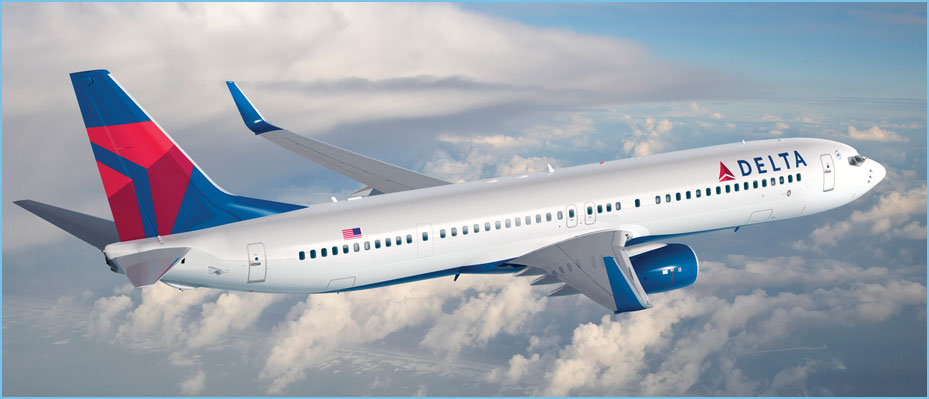 Delta Air Lines, or simply Delta, is yet another carrier that provides business class airfares to Europe. It's based in the USA – and America has a somewhat poor reputation. But several carriers, including Delta Air Lines, have nothing to do with that. Business class cabins of this company have a 1-2-1 herringbone arrangement of seats, which allows sleeping well while having a sufficient access to aisles. Delta is also famous for Westin Heavenly bedding amenities they provide – a plush blanket and two pillows, a smaller one and a bigger one. And with Tumi amenity kits, your flight will be 100% comfortable.
Now let's see what Delta's passengers have to say:
"I really liked how the cabin felt – with its light-gray design and red accents on the seats. However, I was surprised with enormous prices for onboard Wi-Fi – 70$ for the whole flight is really too much. Another thing that seemed strange is that meals were presented exceedingly good – but tasted nothing like their presentation. I had the pork tenderloin and it was dry and flavorless. But the cheese platter was good, which somehow saved the whole dining service from being a total disappointment. Overall service was good. In the end, what we all look for in overnight flights is comfort and relaxation, and it felt pretty much like that."
5. United Airlines Business Class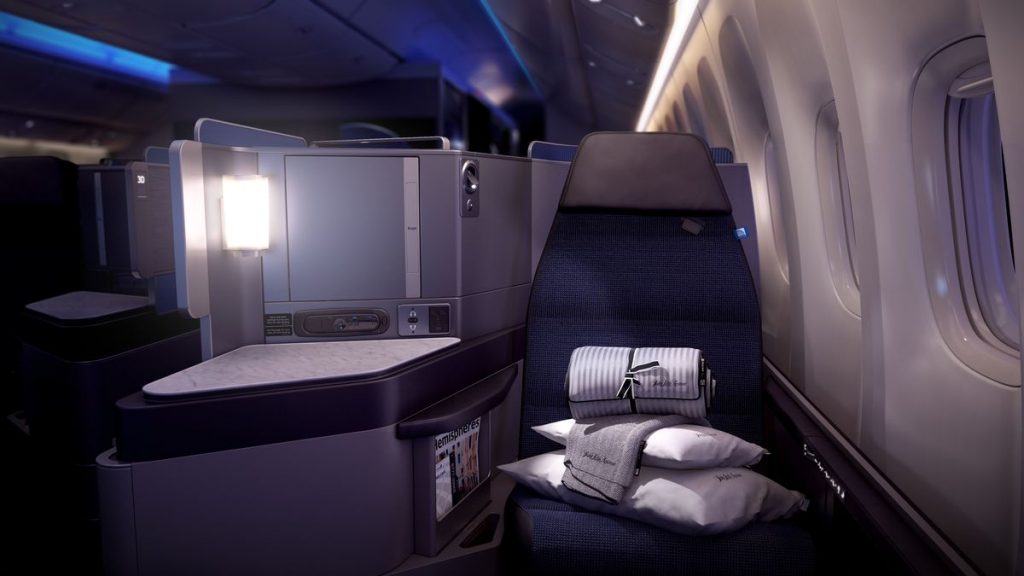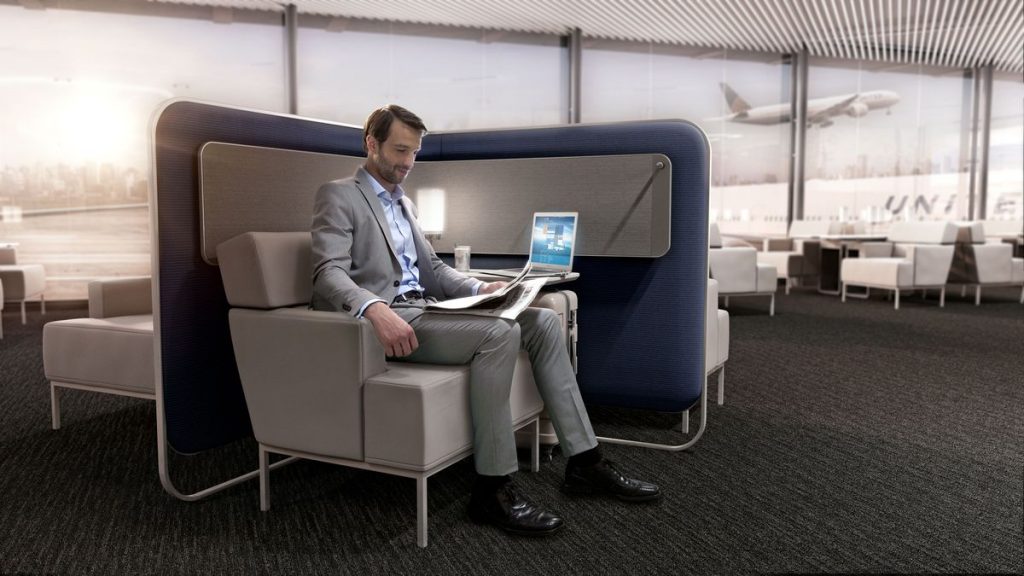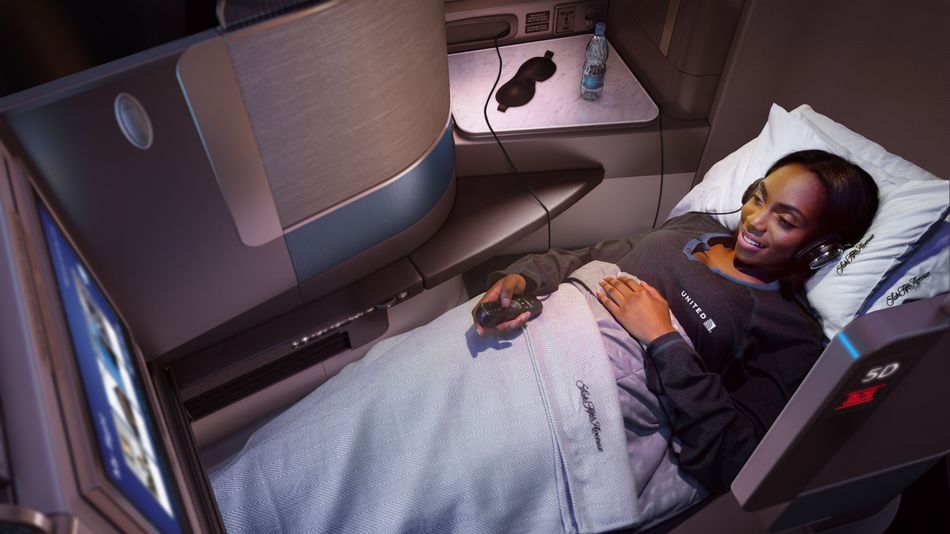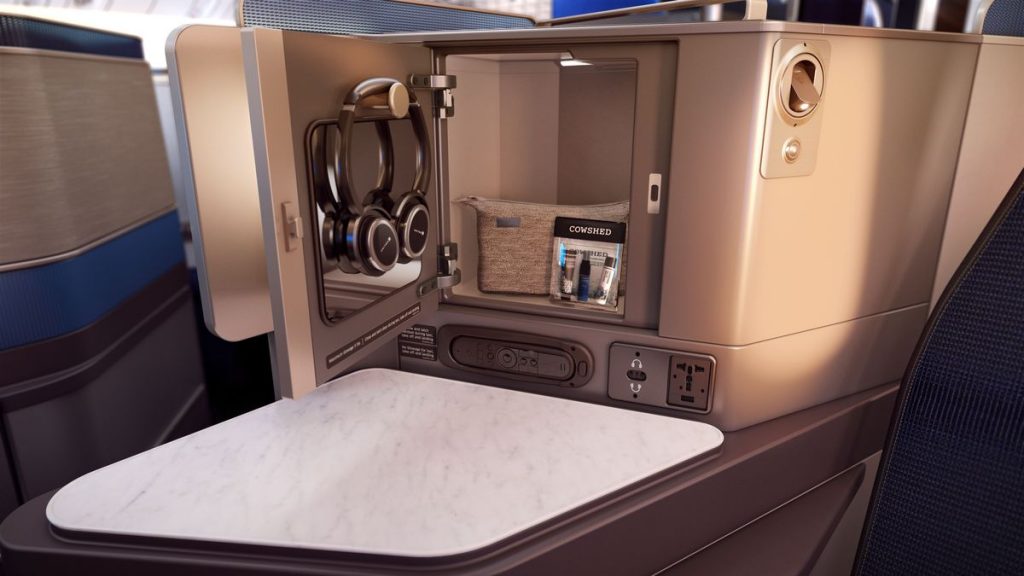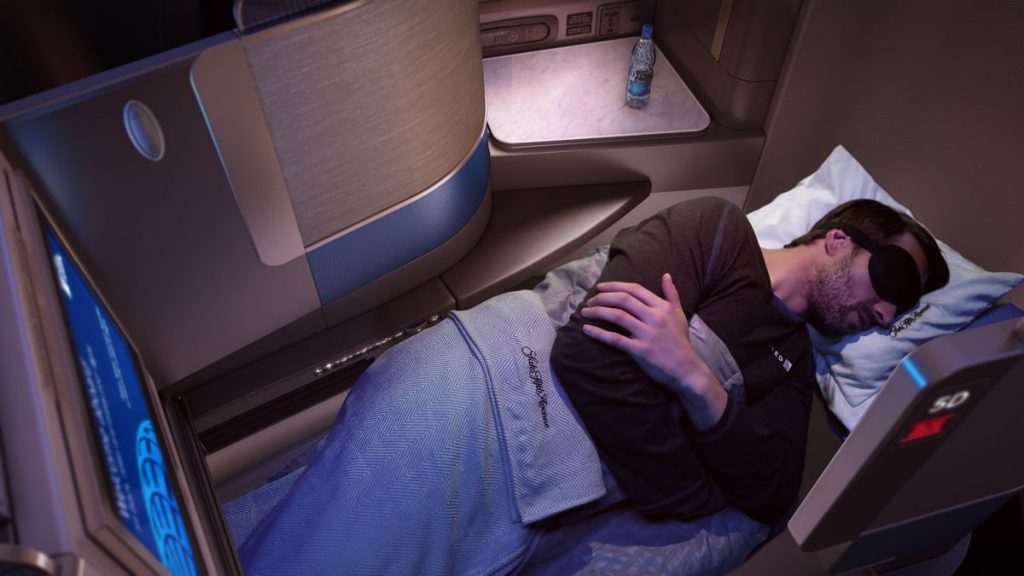 United Airlines is an American carrier and one of the biggest airlines in the world. They provide discounted business seats to Europe (their business class is called BusinessFirst). The seats are arranged in the 2-2-2 layout. There is storage under an ottoman in front of the seat, in-seat power via power point and USB and a reading light in addition to the overhead light, which will help you entertain yourself without bothering your neighbours. More than 150 hours of entertainment, including Hollywood blockbusters and games, are waiting for you in the entertainment system with a rather big screen. Here's what a recent passenger has to say about the flight:
"I never wait for something spectacular from American airlines. But this time, it felt quite good. The seats were nice (I am almost 2 meters tall and it's often a trouble for me to use any kind of transportation while this time, I fitted just fine). Meals were good but not amazing, though it's always a matter of taste. For the entrée, I had smoked trout with papaya salsa – and it was indeed the best of all dishes. There is also in-flight Wi-Fi available for a charge of $US16.99 for the flight. With no data cap. It was really useful during the flight, even though it was a bit slow."
6. American Airlines Business Class


American Airlines is one of the biggest carriers of the USA. It provides both domestic flights and cheap business class flights to Europe. Their new business class cabins look quite spacious – and they really are! The cabin has a 1-2-1 configuration so every passenger has a sufficient aisle access. The seat is fully controlled by a panel; therefore, you can adjust your seat and turn it into a fully flat bed by just pushing a button. Amenity kits are very cute with their light gray woolen design. The choice of entertainment is huge – from latest movies and series to all-time classics. Here's what a passenger had to say:
"My husband told me not to go to American Airlines' airport lounge – and it really was that bad, like a throwback to early 90-s. But when I entered the cabin, I immediately forgot about that pitiful experience. It looked so good and, what's more important, spacious! I pre-booked a seat near the window. It was a soothing experience of privacy and relaxation. The staff was attentive, though I waited for my drinks a little too long. Dinner services weren't all that astonishing, but I liked kale lasagna. Another strange point is a poor selection of relatively cheap wines. In the end, wine is just not an American drink."
7. British Airways
British Airways is one of the most popular carriers in the World. It's widely acknowledged as the carrier that knows premium services and exclusive approaches. Flight attendants demonstrate their care and devotion from the very beginning by using your name to welcome you. Cheap business class tickets to Europe come with unbelievable comfort and beautiful design of cabins. As an off-board service, you get an access to lounge with a great selection of champagne, exclusive foods, and entertainment supplies. It will help you spend time while waiting for your flight. Overall, British Airways is our personal recommendation for trips to Europe. And here's a comment from a recent passenger:
"It has been a long since I flew with British Airways. Fortunately, not much had changed since that. And some things got even better. What I like the most about their planes is the overall design of business class cabins. They look both light and peaceful. Another great thing is that they have different amenity kits for men and women (obviously, because we have totally different needs). They serve some outstanding British meals like a seared fillet of British beef with horseradish and chive sauce. I do appreciate airlines that support their country's traditions. And Taittinger as their choice for drink services is just amazing because I love this champagne the most!"
8. Swiss International Air Lines
Swiss International Air Lines is probably the most luxurious carrier on our list. This company provides various business class deals to Europe alongside with numerous other options. When you enter their business class cabins, you experience art astonishing, as their design is just amazing with a touch of natural materials and pastel colors. Swiss Air Lines is also very precise about picking a right staff for their premium class passengers. Therefore, you will feel surrounded by care and attention. They also have single seats on each side of aisle, so if you travel alone, you can feel needed privacy during the flight. And here's what passengers think about the flights:
"It's hard to say which part of the flight amazed me most. First, my personal attendant was almost uncomfortably gorgeous. Second, the overall look of a cabin made me feel cozy and warm (which seldom happens in the air). Meals were not all that amazing as I would expect. But I was okay with that because they serve Duval-Leroy Brut – and it tastes just right. Meal services start with a hot towel handed out, and it makes perfect sense. Amenity kits with a great number of useful supplies and cosmetics, noise-cancelling headphones, bedding – everything felt authentic and new. I really appreciate how this company praises good services."
Top Destinations for Business Class and First Class Travel in 2024
Rome, Yangon, Lucerne, Frankfurt, Tokyo, Edinburgh, Dubai, Paris, Bangkok, Johannesburg, Budapest, Osaka, Taipei, Brussels, Stockholm, Barcelona, Amsterdam, Athens, Berlin, Helsinki, Vienna, Brisbane, Reykjavik, Venice, Guangzhou, Perth, Milan, Seoul, , Glasgow, Madrid, Munich, Nice, Beijing, Dusseldorf, Iceland, Cairo, Melbourne, Moscow, Shenzhen, Shanghai, Nuremberg, Spain, France, Germany,
Italy, Sweden, Switzerland, Singapore, Tel Aviv, Israel, Norway
Cheap First Class will take you to London, Paris, Amsterdam, New York or Hong Kong cheap! Get to the global capital destinations easily and forget about the overly-priced services of the vast majority of air flight companies online! Save up to 70% of your money with Cheap First Class luxury travel!
Get Your Best Business Class Flight to Europe with Cheap First Class
Travel with confidence, plan your luxury air trip, find the cheapest first class and business class flight deals and book great value fares to 60+ destinations with Cheap First Class!
Need help with your trip? Here are answers to FAQs for all your travel!
We really hope that this list will help you choose the right carrier for your unforgettable trip. Nonetheless, the point is – never stop traveling! Exploring the world is the most appropriate way to understand yourself and live in harmony with yourself. The most intriguing adventures of your life are waiting ahead!