Business class may be different depending on the airline company, the route, and the aircraft itself. Nevertheless, each airline company has some features, which distinguish the business class services of a particular company from the competitors.
Cathay Pacific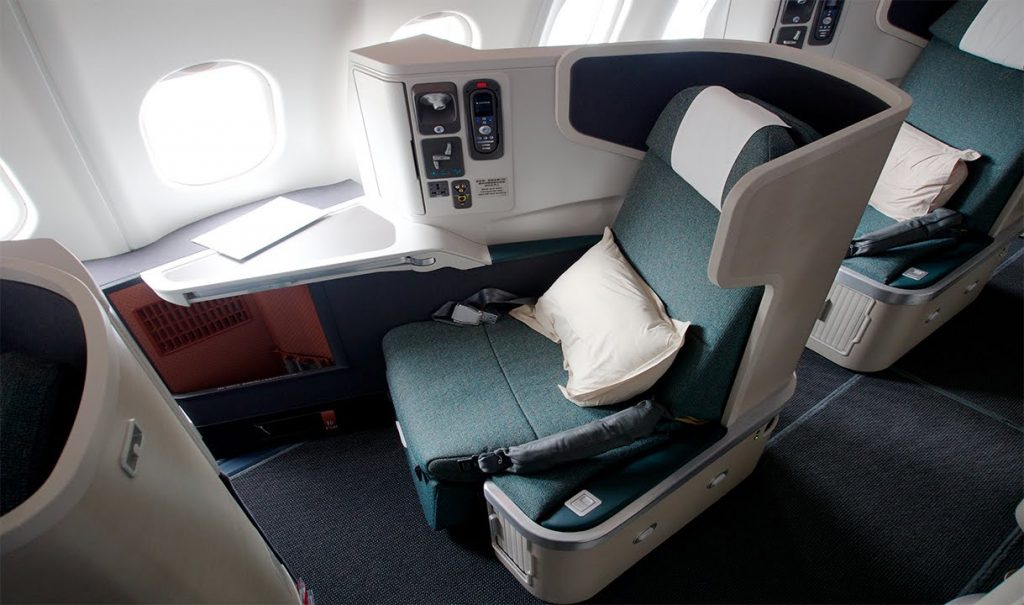 Delta Airlines: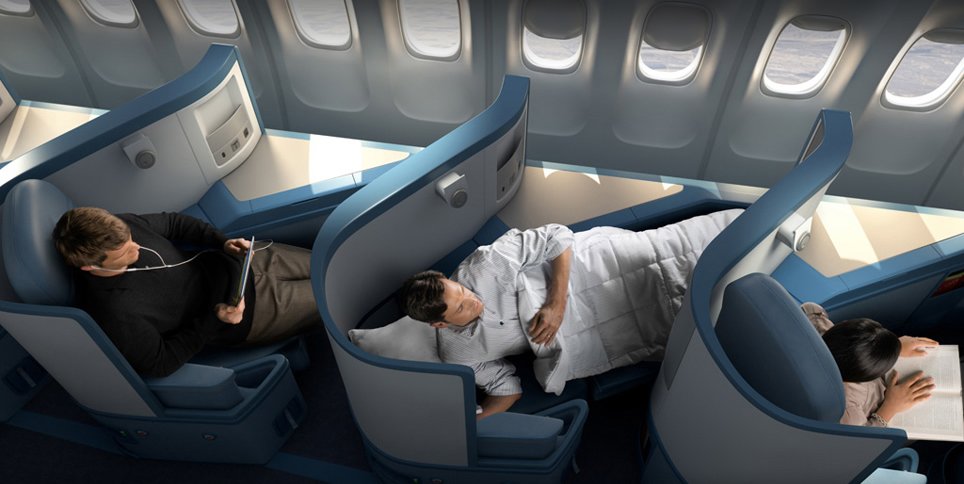 Delta Airlines is a major American air company, providing both international and domestic flights for about 319 destinations.
Cathay Pacific is an air company located in Hong Kong, which can boast of 180 destinations worldwide.
Both air companies offer several types of comfort to their passengers, including economy, business, first and some intermediate classes subject to the route and destination.
What we are interested in is to find differences of Cathay Pacific & Delta Airlines related to business class services and their features. Let's compare Cathay Pacific business class to Delta Airlines.
On land business class services

#

Cathay Pacific

Delta Airlines

Baggage allowance

88lbs/40kg (maximum 2 pieces) check-in baggage.

Carry-on baggage: 1 piece, 22lbs/10kg, 22 x 14 x 9 in or 56 x 36 x 23 cm

70lbs/32kg (maximum 2 pieces) check-in baggage.

Carry-on baggage: 1 piece, 22 x 14 x 9 in or 56 x 36 x 23 cm

Lounge areas

Premium lounge areas

Premium lounge areas

Staying fresh

Showers with premium amenities

Lounge areas of Delta Sky Club with showers, coming with hotel-quality toiletries.

Dining services

Premium meal options

Business class services in the air

Cathay Pacific

Delta Airlines

Seats

Fully lie-flat seats with direct access to aisle. Reverse herringbone arrangement of seats.

Fully lie-flat seats with direct access to aisle. Various arrangement of seats in the cabin (1-2-1 or 2-2). Reverse herringbone arrangement of seats.

IFE

StudioCX entertainment system. A fold out entertainment screen. Newest movies, games, etc. and convenient flight tracker.

Good entertainment system. 18'' high-resolution display. The IFE is filled with various music, movies, games and other useful tools.

On-flight meal and drinks

Menu consists of sustainable ingredients and healthy dining options. A great selection of wines and beverages will be appreciated.

Quality chef-supervised meals with regional menus. Peculiar menus for each destination. A good selection of wines regarding to the flight.

Amenity Kits

Wash bag, Jurlique toileteries, toothpaste, toothbrush, eyeshade, anti-skid socks, earplugs and monitor-cleaning cloth.

Tumi amenity kit containing pen, eye mask, toiletries by Malin&Goetz, and socks.
Baggage Regulations
Cathay Pacific offers more pleasant baggage regulations for business class customers than Delta Airlines. Usually this issue has no significance for the premium passengers, nevertheless, if you need to travel with heavy baggage, Cathay Pacific would be more preferable.
It should be noted that extra baggage charges depend on the flight zone in both air companies.
Luxury Lounge Areas
Delta Airlines can offer the so-called Delta Sky Club, which includes lounge areas for the company's premium customers. In addition to standard options such as satellite TV, free Wi-Fi, and restrooms, the Delta lounges offer exclusive amenities, including self-service bars and showers. An interesting fact is that Delta Airlines provides a number of opportunities to become a Delta Sky Club member.
Business class passengers of Cathay Pacific can enjoy numerous lounge areas worldwide, fitted with shower suites, exclusive bars and other features. These lounges are famous for their incredible design and variety of materials used. A special attention should be drawn to shower suit, which can consist of a full-sized bath, shower, and day bed.
Dining Options
Cathay Pacific lounges can offer self-service buffet to their customers, including European and Asian cuisine. When you were lucky to visit the Wing lounge area, it is advised to go to Coffee Loft and to taste delicious beverages and freshly baked pastries.
Most lounge areas of Delta Sky Club do not offer complimentary premium meal options. However, there is a huge choice of snacks and lighter food.
Business Class Cabin
Comparing business on Delta Airlines and Cathay Pacific, both airliners provide almost the same configuration of seats in the business class cabin. They have a reverse herringbone arrangement of seats, which brings more comfort and more private space for their customers. Seats of both airliners are long haul and fully lie-flat in bed mode.
There are two types of seats configuration in business class of Delta Airlines – 1-2-1 and 2-2. The absence of direct access to aisle from the seats is the only disadvantage of 2-2 configuration.
The partitions between seats in business class cabin of Cathay Pacific look more solid than in Delta.
Generally, it is rather difficult to highlight, which airliner has the best seat comfort. Draw will be a fair verdict.
In-Flight Entertainment
Cathay Pacific can boast of StudioCX entertainment system. The latest movies, a huge choice of games and music are available on a large fold out screen. By the way, the same entertainment selection is offered to first class customers.
Delta Airlines also has a good IFE, which is displayed on 18'' high-resolution screen. You can find various music, movies, games and other useful tools. They are designed especially for your quality leisure time. In addition, you can leave a feedback right in the aircraft. Delta Airline has a reputation of a company, which takes into account its consumers' feedbacks.
Meals and Drinks
Cathay Pacific has an excellent food choices. The dining services begin with appetizers and followed by the main courses, which are all displayed on a cart, and there is no need to take meal orders. After the main course, fruits and cheese accompanied with a glass of wine are offered to passengers.
Delta's business class offers regional menus. It means that each flight has its own menu depending of the route. Usually, the menus are supervised by famous chefs along with wines to match. 17 special meals are offered to business class customers to choose (same option is offered to premium class customers).
Business Class Bed Time
When it goes about sleeping in an aircraft, the business class customers have nothing to complain. The above-mentioned seats turn into fully flat-lie beds, using the touch controls at hand.
Cathay Pacific provides amenity kit with almost all necessary toiletries and items. The only thing you won't find there is slippers. The bedding in business class is very good, consisting of comfortable blanket and pillow.
The Delta business class passengers receive a blanket and two pillows (big and small). The amenity kit is supplied by Tumi, containing Malin + Goetz skincare items.
The seat controls can not be called self-intuitive, however, there is a small bonus – a seat massager.
Bottom Line
Out task was to compare business class of Delta Airlines and Cathay Pacific.
Both companies offer a huge selection of options for their business class passengers. There are some differences between Cathay Pacific & Delta Airlines Business Class, however, both air companies offer very comfortable and convenient seats. It is up to you, which one to choose. Appreciate your comfort and enjoy the services provided.
Top Destinations for Business Class and First Class Travel in 2021
Rome, Yangon, Lucerne, Frankfurt, Tokyo, Edinburgh, Dubai, Paris, Bangkok, Johannesburg, Budapest, Osaka, Taipei, Brussels, Stockholm, Barcelona, Amsterdam, Athens, Berlin, Helsinki, Vienna, Brisbane, Reykjavik, Venice, Guangzhou, Perth, Milan, Seoul, , Glasgow, Madrid, Munich, Nice, Beijing, Dusseldorf, Iceland, Cairo, Melbourne, Moscow, Shenzhen, Shanghai, Nuremberg, Spain, France, Germany, Italy, Sweden, Switzerland, Singapore, Tel Aviv, Israel, Norway
Cheap First Class will take you to London, Paris, Amsterdam, New York or Hong Kong cheap! Get to the global capital destinations easily and forget about the overly-priced services of the vast majority of air flight companies online! Save up to 70% of your money with Cheap First Class luxury travel!
Cheap First Class is Your Reliable Luxury Travel Partner
Travel with confidence, plan your luxury air trip, find the cheapest first class and business class flight deals and book great value fares to 60+ destinations with Cheap First Class!
Need help with your trip? Here are answers to FAQs for all your travel!