Emirates is the third largest international carrier in the world. The airline flies to more the 150 destinations over six continents. The comfort of the passengers is the main priority of the company. Both the first-timers and frequent flyers will enjoy the time spent on board one of the company's Airbuses or Boeings. Emirates guarantees high-quality services in all three sections of all aircraft. Today, we will compare the features of Emirates' first class and business class.
Emirates Business VS First Class

#
First Class
Business Class
Rating by Customers
8/10
7/10
Baggage Regulations
50kg
40kg
Lounges
Emirates Lounge access is exclusive to customers flying in First Class or Business Class.
Staying Fresh
1) Reawaken your senses in the onboard Shower Spa in air. 2) Spa, massage or beauty treatment in Dubai Lounges
Spa, massage or beauty treatment in Dubai Lounges
Dining Options
1. Satisfy your palate any time
Order room service to your First Class Private Suite, or visit our A380 Onboard Lounge to sample a selection of canapés and hot and cold drinks.2. Experience gourmet dining above the clouds
Taste the vivid flavours of regional menus, and try healthy meal options prepared by our award-winning chefs3. Bring out the flavours of your meal
Choose from a selection of fine wines and limited editions. Or raise a glass of vintage 2006 Dom Pérignon.
1. Explore the world with every bite
Savour the local flavours of your destination, with new menus updated every month.2. Taste a wine selection for the senses
Pair your meal with a fine wine, sip a glass of champagne, or visit our A380 Onboard Lounge for cocktails and canapés.3. Be good to yourself
Choose from our healthy meal options that are prepared without added saturated and trans fats, salt and sugars.

Cathay Pacific Business VS First Class In The Air

Seats/Suites
Own First Class Private Suite on most of our A380 and Boeing 777s.
Our flat-bed seats are on all of our A380 aircraft.
Fun and Work
External cameras
News and sport headlines
Airshow moving map
Award-winning monthly magazine
Wi-Fi in the sky
In-seat phone, SMS and email
Mobile phone and data roaming
ice TV Live
LinkedIn Learning
Suggest entertainment

Visual Differences between Emirates & First Class Cabins

#
First Class
Business Class
Seats




First Class Cabin Features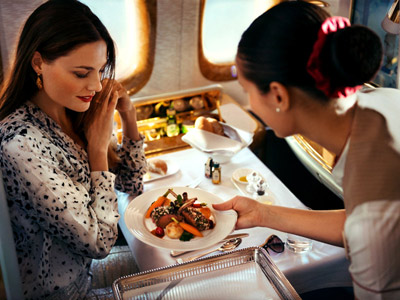 1) Private suites.
The Emirates official website has it: "Fly First Class and make every journey your own". Airline's first class cabins feature private suites with sliding doors that provide the highest level of comfort. The seat is converted into fully flat bed with mattresses to ensure a restful sleep. Each private suite is equipped with adjustable lighting, a mini-bar, vanity table, and mirror. First class private suites are available on all A380 and A340-500 aircraft and on most Boeing 777s. This is the main difference between business class and first class on Emirates.
2) Onboard shower spa.
Refreshing shower at 40,000 ft? Everything is possible in the A380 shower spa. Toiletries and spa products are provided. Its a second big emirates first class and business class difference!
Business Class Cabin Features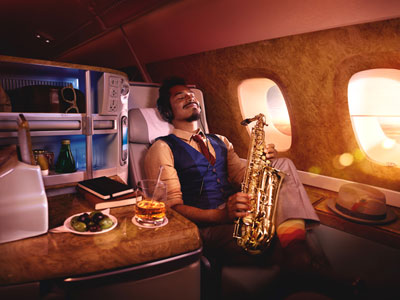 1) Flat-bed seats.
Work and relax in the business class flat-bed seats. There's in-seat power for a laptop or other devices and a side table for space to work. Also, there is a personal mini-bar and entertainment to relax. The seat is reclined into a fully flat bed so that you'll arrive feeling fresh.
Business Class vs First Class: Common Features
Exclusive dining service
Onboard chefs will prepare any dish for you, from the exquisite à la carte cuisine to a midnight snack based on your personal tastes. The sommeliers will help you select a fine wine for your meal or you can choose your drink from the list of complimentary drinks.
Onboard lounge
Stretch your legs and socialize in the A380 onboard lounge available for the first class and business class passengers. Sip a refreshing cocktail and communicate with people from all over the world.
In-flight entertainment
Relax in your suite watching TV-channels and movies on the ice digital widescreen. Listen to music from around the world, watch the latest news, or play fun games on your way to your destination.
Chauffeur-drive service
Book online a complimentary chauffeur-drive service and a company's driver will take you to and from the airport in over 70 cities all over the world. A car will pick you up from your doorstep and take you to the airport. Upon landing another car will take you from the airport to your meeting, hotel, or restaurant.
Airport luxury lounges
Relax before your flight in the exclusive lounges available both for first class and business class passengers. The lounge in the A380 hub in Dubai allows boarding directly from there.
Fast track cards
Passengers holding an Emirates Skywards Gold or Platinum member card or passengers flying first class or business class are given a fast track card. This card will speed them through immigration at most airports.
Bvlgari amenity kits
Emirates airlines partner with the luxury Italian brand. Together they have created designer kit bags that include signature Bvlgari fragrances and lotions, along with all the pamper essentials. There are bags designed for men and for ladies. Every nine months bags come in a new design with new Bvlgari fragrances. A kit bag is given to each first class passenger of all A380 flights to use it in the onboard Shower Spa. Both first class and business class customers get a kit on long-haul night flights and all flights over 10 hours.
20 Benefits of Flying Business & First Class to Europe in 2023
Enhanced health and safety measures.
Quick and easy pre-flight experiences.
Fast track security.
Dedicated check-in desks.
Priority boarding and deplaning.
Access to Business Class Airline Lounges.
Best Business & First Class Airline Seats.
Premium In-flight entertainment options.
A spacious seat, adaptable to your personal space.
Advanced LED lighting.
Delicious dine-on-demand cuisine.
Highest all-round performance of cabin staff
Access to best airport services.
A luxurious selection of amenities.
State-of-the-art communications system.
Early arrival to the airport.
Premium assistance to your departure, connection or arrival
Last minute schedule and ticket changes.
Extra luggage allowance.
Business class priority baggage.
Top Destinations for Business Class and First Class Travel in 2021
Rome, Yangon, Lucerne, Frankfurt, Tokyo, Edinburgh, Dubai, Paris, Bangkok, Johannesburg, Budapest, Osaka, Taipei, Brussels, Stockholm, Barcelona, Amsterdam, Athens, Berlin, Helsinki, Vienna, Brisbane, Reykjavik, Venice, Guangzhou, Perth, Milan, Seoul, , Glasgow, Madrid, Munich, Nice, Beijing, Dusseldorf, Iceland, Cairo, Melbourne, Moscow, Shenzhen, Shanghai, Nuremberg, Spain, France, Germany, Italy, Sweden, Switzerland, Singapore, Tel Aviv, Israel, Norway
Cheap First Class will take you to London, Paris, Amsterdam, New York or Hong Kong cheap! Get to the global capital destinations easily and forget about the overly-priced services of the vast majority of air flight companies online! Save up to 70% of your money with Cheap First Class luxury travel!
Cheap First Class is Your Reliable Luxury Travel Partner
Travel with confidence, plan your luxury air trip, find the cheapest first class and business class flight deals and book great value fares to 60+ destinations with Cheap First Class!
Need help with your trip? Here are answers to FAQs for all your travel!