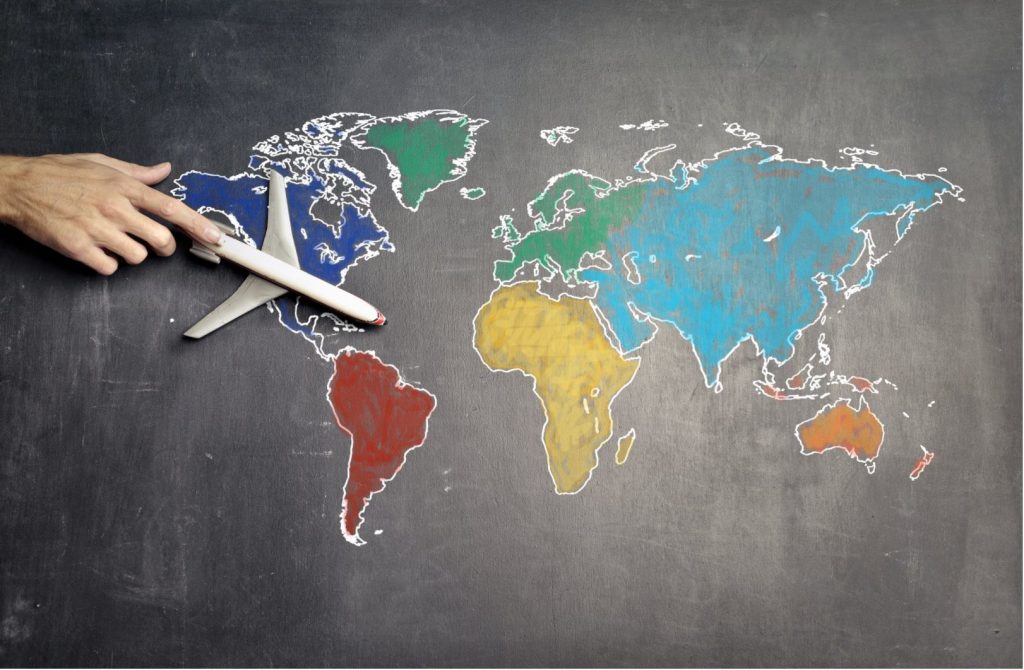 The question "how to stand through the long flight" seems to never fall out of use. Today, we will see how different are business class options provided by Asian and American airlines.
Korean Air is the South Korean largest airline and flag carrier; it is also one of the major air companies throughout Asia serving both passenger and cargo flights. In total, Korean Air operates on more than 100 international and domestic destinations.
Delta Air Lines also referred to as Delta Airlines or just Delta is one of the 3 major flight companies in the United States. They serve over 300 destinations in 54 countries worldwide.
So in the current article, I'm gonna compare Korean Air business class to Delta Airlines'. Note that business class at Korean Air is called Prestige Class; at Delta, it is called Delta One.
The table below presents the differences between Korean Air & Delta Airlines Business Class in brief – check out what is waiting for you on the ground and during the flight. Next, I will tell you in details about special features of Korean Air's and Delta's seats, onboard food and entertainment, and amenities provided.
Delta Airlines vs Korean Air Business Class
Delta Airlines vs Korean Air Business Class

On the Ground

#

Delta Airlines

Korean Air

Customer Rating

8/10

8/10

Booking Perks

Become a member of the Sky Priority program to get exclusive advantages and accrue miles

 

If you are a holder of a Global Upgrade Certificate from Diamond Medallion, you can upgrade to Delta One as well

Join the SKYPASS loyalty program and accrue miles

 

Reserve your preferred seat

24 hours before your flight takes off

Check-in

Exclusive area with many counters for pretty smooth check-in

Individualized check-in at the Prestige class counter

Baggage Services

Priority baggage service

Priority baggage service

Airport Lounges

Enjoy your stay at Delta Sky Club and SkyTeam partner lounges worldwide

Relax and work at Premium Lounge at the Incheon Airport

Staying Fresh

A number of shower suites and bathrooms at premium lounges

Premium Arrival Shower Service

Dining

Choose from a great number of fine meals, drinks, and healthy snacks at your lounge

Great selection of meals and drinks

 

at the Premium Lounge

Snacks and beverages on domestic flights from Seoul – Incheon

Boarding

On a priority basis

On a priority basis

Delta Airlines vs Korean Air Business Class

In the Air

#

Delta Airlines

Korean Air

Seats

Delta One Suites

Depending on the aircraft type: Prestige Suites, Prestige Sleeper, Prestige Plus, B737 Prestige Seat

Entertain and Work

Each seat is equipped with a power outlet and USB-ports, an adjustable screen, and worktable

Personal power outlets, LCD monitors, lighting-sound systems, and extra workspace

In-flight food

Top-class meals made from fresh regional ingredients by world-recognized chefs and exclusive alcohol

Premium-quality Western and Asian cuisine meals, French, Italian, German, and Californian wines and champagne

Amenities

Amenity Kit from the TUMI brand

 

Bedding accessories designed by Westin Heavenly

Amenity Kit from the DAVI brand available on longhaul flights to America, Europe, Oceania, and the Middle East

Lighting

Customizable lighting at every suite

Adjustable mood lighting with the option of gradual dimming or brightening

Other Services
 

Wake-up service

Special Facilities
 

Accessible restrooms

On-board Lounge
 

A380 aircraft host Dream Lounge "Celestial Bar"
Comparing business class seats on Delta Airlines and Korean Air
Delta One have completely reinvented their business class so all passengers now can have excellent trips in brand-new Delta One suites. Each suite features a flat-bad seat with the 180-degree reclining option, a full-height sliding door, and sliding privacy partitions. All seats are cushioned with the memory foam. Besides, there are large legroom, direct aisle access, and extra space for luggage.
In Korean Air's Prestige Class, there are 4 different types of suites depending on the aircraft model. Here they are:
Prestige Suites have a fully-flat seat inside and provide and direct aisle access
Prestige Sleeper suites are equipped with fully-flat seats with adjustable footrest and back support
Prestige Plus suites offer spacious bed-type seats
B737 Prestige Seat is found on Boeing 737 airplanes only. Not that a personal monitor may be or not be available depending on a concrete aircraft.
Differences of in-flight food Korean Air & Delta Airlines Business Class
When it comes to dining at Delta One, you are about to taste premium meals cooked from thoroughly selected and fresh ingredients. The menu may differ from one region to another but everywhere, you will find exclusive seasonal options made for you by restaurant chefs. Your dinner will be served on lavish Alessi tableware. There is also a perfect selection of exquisite alcohol available.
The first thing to know about Korean Air business class food is that it was twice the laureate of Mercury Award. So you're gonna have a very delicious experience as all dishes are made from organically grown ingredients. You can choose from a variety of Western and traditional Asian meals. As for drinks, world-famous wines and champagne are at your disposal.
Onboard entertainment and working options
If you travel business class with Delta, you will be able to explore all the perks given to you by Delta Studio. Each seat in a cabin is equipped with a 110W power outlet and USB ports of different kinds. To watch your favorite movies and shows in HD quality or listen to music, use an adjustable 18-inch screen, the largest among U.S. airlines. Good news: in-flight Wi-Fi is available! You will also receive a noise-restricting headset.
At Korean Air, all seats have 100-150W power outlets compatible with the majority of plug types. You will have a personal LCD monitor to enjoy audio and video on demand. If you are more into reading, they offer the Morning Calm magazine in Korean and English and e-book.
Comparing amenities at business class of Delta Airlines and Korean Air
Delta Airlines provide their clients with TUMI amenity kits that include lip balm, hand and body lotion, earplugs and eyeshades. You will also receive Westin Heavenly bedding accessories: a soft duvet and pillow.
On flights with Korean Air, you get an amenity kit from DAVI only if your trip lasts for more than 6 hours. There are 3 cosmetic items, a toothbrush and toothpaste, and eye mask.
Conclusion
Both Korean Air and Delta Airlines have done a great job in order to help their clients receive amazing onboard experience. Simultaneously, there are quite many differences between two business classes: Delta represents the American approach to comfort while Korean Air attracts customers with its Asian exotics. I would say Delta provides more options onboard since they give every single passenger an amenity kit and bedding set – at Korean Air, they do so only on extra-long flights. Yet the food and drinks are superb at both companies and the entertainment options are equal. Anyway, it is completely up to you which style to prefer!
Top Destinations for Business Class and First Class Travel in 2021
Rome, Yangon, Lucerne, Frankfurt, Tokyo, Edinburgh, Dubai, Paris, Bangkok, Johannesburg, Budapest, Osaka, Taipei, Brussels, Stockholm, Barcelona, Amsterdam, Athens, Berlin, Helsinki, Vienna, Brisbane, Reykjavik, Venice, Guangzhou, Perth, Milan, Seoul, , Glasgow, Madrid, Munich, Nice, Beijing, Dusseldorf, Iceland, Cairo, Melbourne, Moscow, Shenzhen, Shanghai, Nuremberg, Spain, France, Germany, Italy, Sweden, Switzerland, Singapore, Tel Aviv, Israel, Norway
Cheap First Class will take you to London, Paris, Amsterdam, New York or Hong Kong cheap! Get to the global capital destinations easily and forget about the overly-priced services of the vast majority of air flight companies online! Save up to 70% of your money with Cheap First Class luxury travel!
Cheap First Class is Your Reliable Luxury Travel Partner
Travel with confidence, plan your luxury air trip, find the cheapest first class and business class flight deals and book great value fares to 60+ destinations with Cheap First Class!
Need help with your trip? Here are answers to FAQs for all your travel!