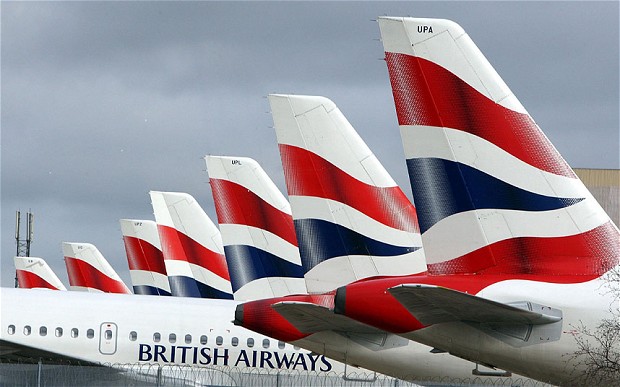 British Airways company, founded in 1972, called in short BA, is the largest airline company of UK and one of the biggest international airline companies of the world. At present days, British Airways has a very competitive business strategy and obvious advantages comparing to other international airline companies. British Airways is on the top shelf of international airline business and the business strategy of BA focuses on the service differentiation, which is planned to be continued and enhanced in many directions. The current business strategy of BA is to follow the principle of Total Quality Management. Being a part of the premium airline business, BA is aiming to the organic business growth. It never stops in investing in the fleet, in the modern technologies onboard, in its huge international staff training and in the airport facilities in order to provide the best customer service.
British Airways' Customer Service to Business & First Class Passengers
British Airways aims to offer a unique customer service. BA pays a big attention to the market research, it constantly studies the customers' needs and requirements to know them better and to undertake measures to offer the best service to them. Its current strategy is to upgrade customers' experience through the introduction of the program "Customer first".
Nowadays, British Airways focuses on the best quality standards, existing in this industry. It gives an additional competitive advantage to this organisation. The constantly improvement of technological quality include not only the renewal of BA's aircraft fleet, but to the complete both customers' and employees' satisfaction. BA plans of the vast scheme include the replacement or refurbishment of 99 % of the fleet by 2020, improvements of onboard entertainment and installations, further investments in digital technologies to provide an individual high class service.
Difference between Business Class & First Class Offers of British Airways
Let's discover difference between business class and first class British Airways. Company offers for travelers 4 classes or 4 types of cabins with different level of comfort: Economy Class, Premium Economy Class, Business Class and First Class. So, Business Class is an intermediary by offering services between both Economy Classes and First Class.
First Class, being the most comfortable and expensive class in the aircrafts, offers passengers various luxurious services. There are much less seats, then in the lower classes, situated in front of the aircraft. There is much more space and privacy. First Class is the highest class offered, although some airlines have introduced new classes above this.
All alcoholic beverages and meals are free in the First Class, and they are both of higher quality than in the Economy Class. First Class, Business and Economy Classes are isolated each from other by curtains. Passengers from Economy Class are usually not permitted to pass to the higher classes cabins.
Why First Class Flight Offers are hard to Get?
Many airline companies now offer Business Class as the highest level of service and exclude First Class from their offers. If it is available, First Class has some differences from other travel classes by quality of seats, food, drinks, service at departure and others. Obviously, the cost of air tickets is very different. Both First and Business Classes, adopted mainly for long flights, have much more advantages comparing to the Economy Class. In fact, Business Class is sometimes available on short flights too, such as regional or domestic flights, but it has much less comfort comparing to the same class at long distance flights.
British Airways First Class Review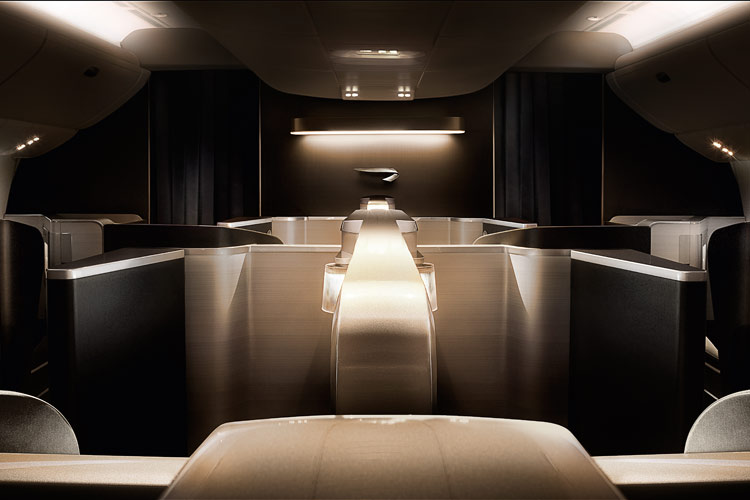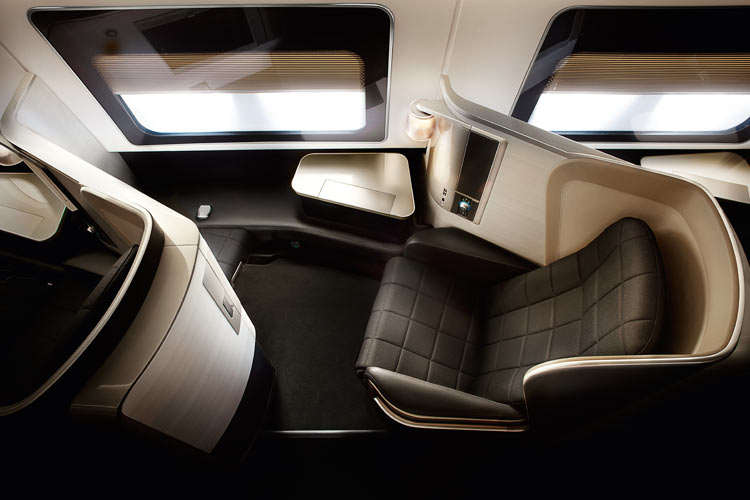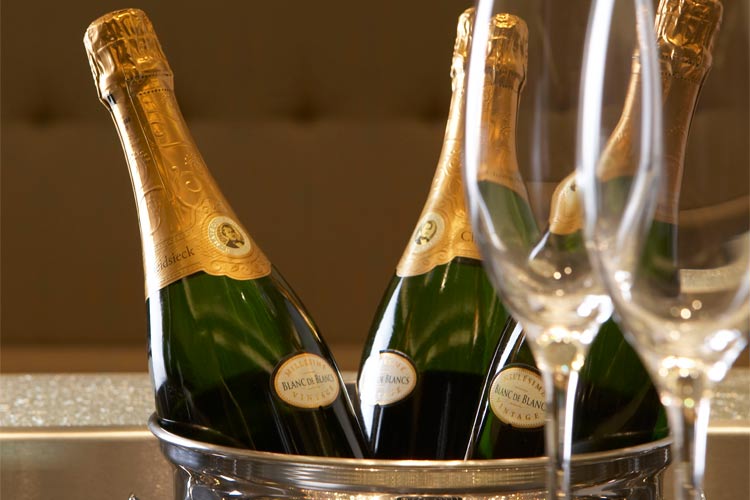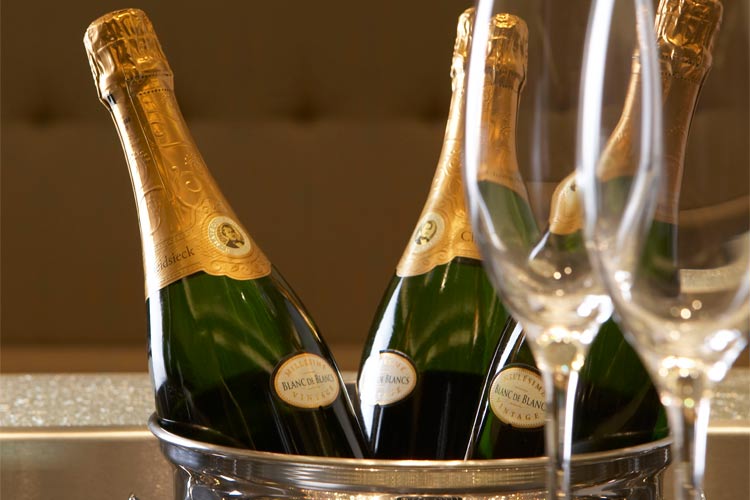 Recently, British Airways was named one of the best airline for First Class services in Europe in the World Travel Awards for 2020.
Check-in queues, restrictions with baggage weight, long expectation for standard food and drinks, no sufficient room for legs in Economy Class make the flight not pleasant at all.
British Airways' First Class onboard lounges offer a comfortable environment for relaxing, sleeping or working. First Class is your way to get an exceptional comfort and high level services. Having the First Class air tickets, you are offered a private, spacious suite, a fully flat bed with mattress and duvet, delicious food and luxury drinks at your choice and exclusive service of beautiful stewardesses. Attention to details and very attentive board staff will make your journey wonderful.
Every comfortable seat has an individual lightning, a large screen TV 15-inches screen and noise-cancelling headphones, that is a guarantee of exciting entertainments at passenger's wish: latest films, documentaries, video, television, music, audio books and games. Passengers can switch their laptops, iPads or digital cameras on the bigger screen with provided cables and charge their devices during the flight as well. The new 787-9 Dreamliner aircraft, which have only 8 suites in First Class compared to the usual 14, is equipped with even larger screens and touchscreen handsets. Along with the internet access, there are printers, copiers, and fax machines available to use.
The suites have a full asset of "wellbeing essentials". The seats can be turned into a completely flat bed with an offer of a luxurious quilted mattress, a white cotton duvet and pillow. The airline even provides First Class passengers with a new pair of soft cotton pajamas.
First Class Cuisine of British Airways
The First Class cuisine offer the perfect menu according to the best restaurant experience with the height of good taste. Customers can order food from an a la carte menu whenever they want during a flight. All food comes served on white linen tablecloths (to compare with plastic trays in Economy Class). All meals: delicious breakfasts, lunches, dinners and a classic English afternoon tea, maid only from the finest quality seasonal ingredients. The breakfast includes a full-cooked English breakfast with smoothies and yoghurts. For the afternoon tea, fliers can enjoy sandwiches, cakes, jams and clotted creams. For lunch or dinner, customers can choose from items like fresh fish and selected beef with different seasoning, cheese platters, fresh fruits and fine chocolates for dessert.
Beverages
You will be offered an impressive wine and Champagne selection: British Airways is the only airline that serves three different types of Champagne in its First cabin.
The complimentary service offers travel advice for passengers, offering them suggestions for restaurants and events at their destination. You can use the private concierge service (any travel query. taxi, restaurants, events and more) whenever you travel in First Class.
First Class passengers can bring on board more baggage than they can carry and 3 bags in the cabin. The baggage allowance includes one cabin bag plus a laptop or handbag on board and up to three bags in the hold.
Services & Amenities
The highest class service begins from the departure. There are always Fast Track departure, arrivals, security and priority boarding for First Class travellers everywhere. It is an idea of BA that no passenger of First Class should have to walk more than 5 minutes to get on the board of their aircraft.
Special check-in desks
Special check-in desks are for First Class customers at most airports: Fast Track security at London's Heathrow and Gatwick Airports, as well as New York's John F. Kennedy Airport. First class travellers enjoy the priority boarding everywhere.
The First Wing, a premium service department for exclusive passengers, will be open in spring 2017 at London Heathrow Terminal 5. Meanwhile, First Class passengers are invited to the Concorde Room, the most luxurious lounge, exclusive to London Heathrow Terminal, where are private booths with full waiter service, a business suite with a range of business facilities for when you need to work. The Concorde Bar also serves vintage Champagnes and cocktails.
On arrivals to many big airports, First Class passengers are welcoming into the Arrivals Lounge to freshen up and get ready for the day ahead. Facilities include more delicious dining options, showers and a clothes-pressing service.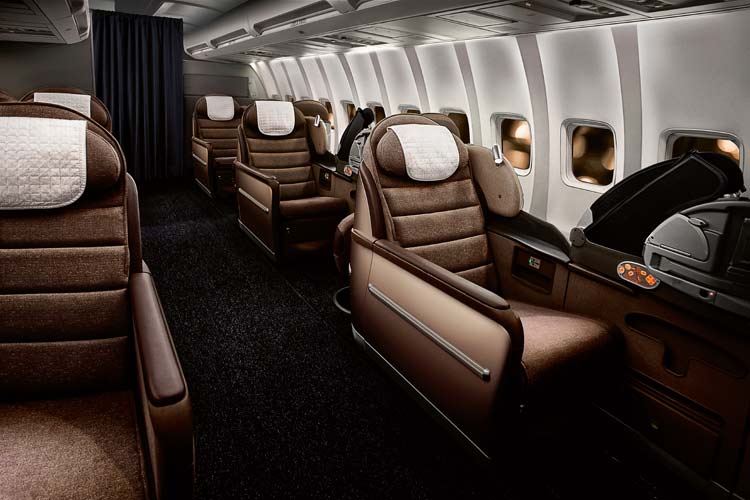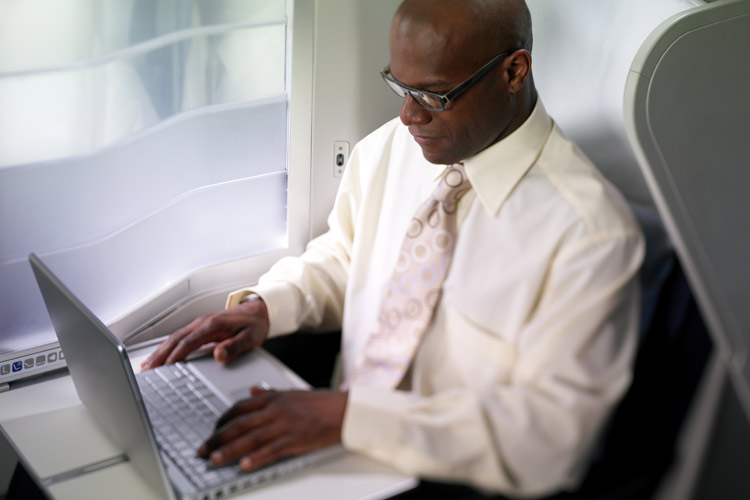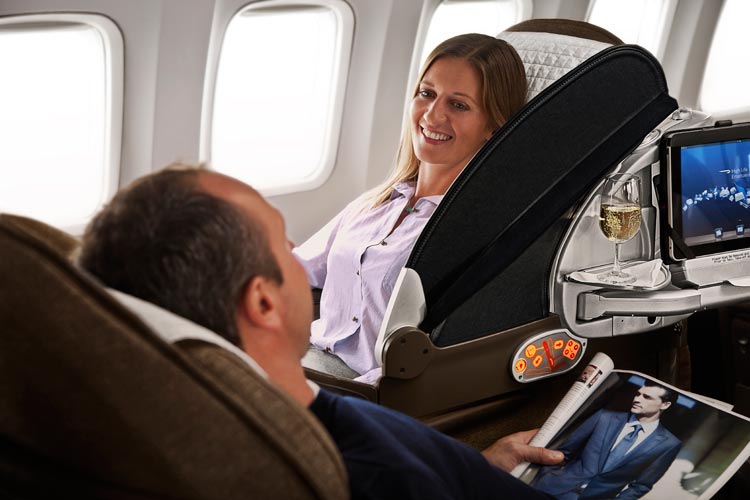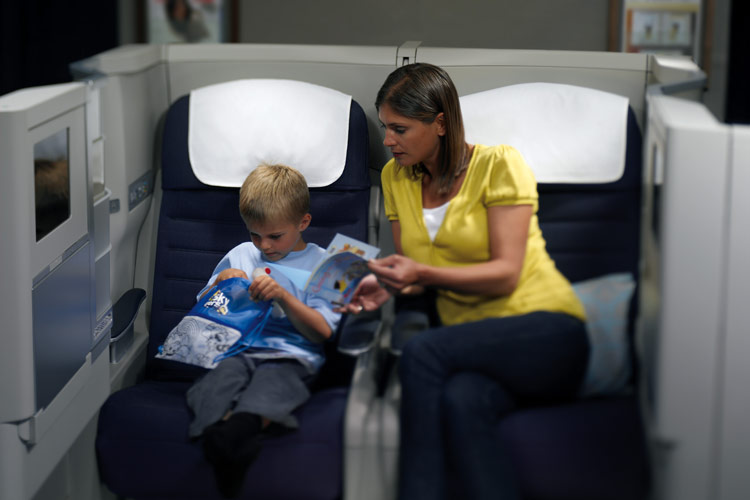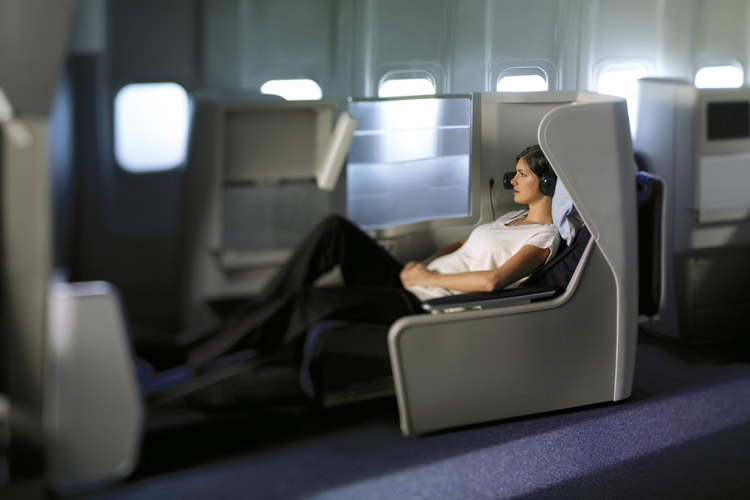 There are 2 types of Business Class on BA aircrafts: Business Class Club World and Business Class Club Europe. In addition, there is a special Business Club program, named Club World London City, especially developed to insure the best and easiest connection of the financial hearts of London and New York.
British Airways Business Class Club World
Business Class Club World combines the high standard of comfort and services with the privacy and flexibility to make every flight unforgettable.
Club World spacious seats with the passengers' names are adaptable to the passengers' needs and comfortable for working, sleeping, eating or relaxing. There are four preset seat positions plus fine adjustment buttons. They can be transformed into the fully flat beds. The two middle seats are kept free for more personal space. If you want be closer to your companion or you have a young child, then the central seat would definitely appeal. The architecture of the seat protects your head and feet from knocks as people walk along the aisle.
Business Class Club World Seats
Due to the recession in the beginning of 2000s, the seats were renovated in the Business Class. They became more comfortable and equipped with different gadgets, that were installed earlier in the First Class only. Such innovations in Business Class decreased the attractiveness of First Class with the ordinary double price for air tickets.
Entertainments
Every individual lounge is equipped by a fold out 15-inches flat screen with noise-cancelling headphones for different entertainments: movies, news, video games or use as computer monitor. A desk with in-seat phone and personal laptop power socket is also available. A personal locker is an ideal place for storing shoes, newspapers or laptop. With these arrangements, British Airways seems to have overcome the issue that troubles many Business Class flights at present time.
Club World menu is carefully designed for everybody's preference: for healthy eaters, for passengers with good appetites, for those who are restricted by diets and allergies. The Club World kitchen offers a selection of tasty snacks and beverages, including fresh wraps, salads, bite-sized sandwiches, delicious hot dishes a la carte, tasty soups, local ingredients, luxury cakes, fine wines from both old and new worlds, fruit smoothies, soft drinks and juices etc.
British Airways Business Class Club Europe
Business Class Club Europe is a specially designed formula of Business Class which goal is to provide all-round comfort and high level services for passengers, generally travelling to European countries and beyond by the aircrafts Airbus A380 and Boeing 787. BA offers a larger baggage allowance, then Euro Traveler system.
Special Check-in Desk
Patience may be a virtue but who really want to wait? Business Class passengers have the right to get access to the dedicated Club World check-in desk at most airports. They are provided with the special services: Fast Track departures, Fast Track arrivals and Fast Track security.
Higher Baggage Allowance
Normal baggage allowance for Business Class travellers is generous and flexible: 2 bags x 32 kg max are allowed in the hold and 2 handbags can be brought to the cabin. Many sporting items and musical instruments can be carried as part of the free baggage allowance, but some require special arrangements and an additional charge.
Fly Luxury with British Airways and Cheap First Class
British Airways remains one of the most elegant and sophisticated airlines in the world. According to annual reports of the last years, its goal is to be the "world's most responsible airline". The principles of careful operational and strategic management will surely allow to BA to achieve of the main goals. With a fleet of the most modern aircrafts and stunning premium cabins in them, you won't need to warry about the next long distance flight with BA. And having air tickets for First or Business Class, you'll be able to enjoy a priority check-in, cozy seats and beds, delicious food and drinks, high attention to your needs and full safety. Go ahead, select the British Airways to fly and relax in the lap of luxury.
Cheap First Class is Your Reliable Travel Partner!
Plan your trip, find the cheapest first class and business class flight deals and book great value fares to 60+ destinations with Cheap First Class!
Need help with your trip? Here are answers to FAQs for all your travel!