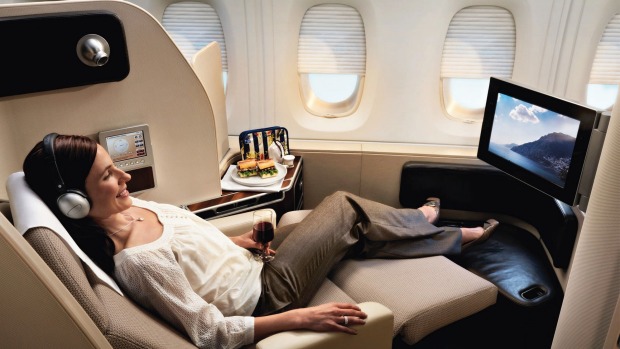 Here you are again, struggling to find the least painful position to survive through this 15-hour flight in coach. You have to try really, really hard to stop thinking about the fact that the only thing that separates you from those luxurious seats, multi-course meals and expensive wines at the front of the plane, is a mere curtain.
That, and a few thousand dollars.
Flying business class is ridiculously expensive, and most of us would probably have to save for ages to afford it.
However, there is a number of ways to travel in business class or get cheap international flight first class for less. Some hassle may be involved, but once you're sipping champagne in your cushy seat, the effort will be well worth it.
1. Be Loyal
The perks that airline loyalty programs offer these days aren't nearly what they used to be. But if you fly often anyway, the miles will add up eventually, and one glorious day, you'll use them to upgrade.
Don't forget to check the expiration dates and read all the emails the airline sends your way – you don't want to let those hard-earned points to expire before you've had the chance to use them.
2. Get the Right Credit Card
If you don't fly thousands of miles per year, getting a premium or a co-branded airline card is your best bet. Many of them offer a 50,000 mile sign-up bonus, which is more than enough to fly business class to Europe.
If you're flying with a companion, American Express Platinum card gives you two tickets for the price of one each year.
A World Elite MasterCard gets you as much as 15 percent off the majority of Austrian Airlines, Lufthansa, Swiss and Brussels Airlines flights; up to 30 percent off flights to South America on LAN and TAM; and up to 20 percent off fares to Asia on Cathay Pacific.
3. Spend Your Miles on an Upgrade
You've accrued plenty of miles but they don't qualify you for the elite status? They can still get you into business class or first class international flights, but you'll need to pay a cash fee for the upgrade as well.
The offer to upgrade will often pop up while you're making a booking. If it doesn't, contact the airline three or four days prior to departure. That's when airlines unload unsold business class seats.
4. Purchase Miles
Some airlines (including American Airlines) offer flyers to buy miles on their websites for approximately 2.5 cents per mile or less. But before you rush to buy all the miles you can, do the maths and calculate whether such a deal will actually result in you paying less than the regular business class fare.
You should also know that there's no shortage of third-party websites where you can buy and sell miles at attractive rates. However, none of the major carriers allow it, so we wouldn't recommend using them unless you want to lose your miles.
5. Upgrade Last Minute
If airlines have empty business class seats 6 hours before the flight takes off, they will most likely offer you to upgrade your coach ticket at a cheaper rate. You'll typically receive such offers via email, or they'll pop up while you're checking in online.
6. Bid Online
Over 20 air companies, including the Virgin lines, KLM, Austrian, and Etihad, offer coach ticket owners to bid for upgrades on their websites 75 hours prior to departure.
The way it works is very simple. Name your price, leave your credit card details, and find out if your bid was successful a few of days before the flight.
7. Buy Through a Travel Agency
Large-volume travel agents have access to impressive discounts (30 to 70 percent) on flights of certain airlines, so there's no reason why you shouldn't get their help landing a cheap business class seat.
8. Don't Miss Sales and Get Cheap First Class Flight
Occasionally, premium class tickets do go on sale – the hard part is not to miss them. Airlines send alerts via email, so subscribe to their newsletters and make sure you don't accidentally mark their messages as spam.
9. Travel When Business Class Flyers Stay at Home
A last-minute upgrade or a cheap fare is much more likely to come your way if you plan your journey for a time when business travellers normally stay at home. Saturday and Sunday mornings are great if you want to save on a business class seat, and so are Thanksgiving and Christmas.
10. Book First Class International Flight Well in Advance
Many carriers offer deep discounts on premium class fares two to three months before departure. So book early, and save 25 percent or more.