How to fly first class to Europe for the price of economy
First class flights is a niche for people who want to standout.They know the value of real luxury and comfort, and used to be first everywhere. The air carriers try to please such demanding customers, providing the elite services and products. Many prominent and famous airliners market their first class services as separate product with the brand name.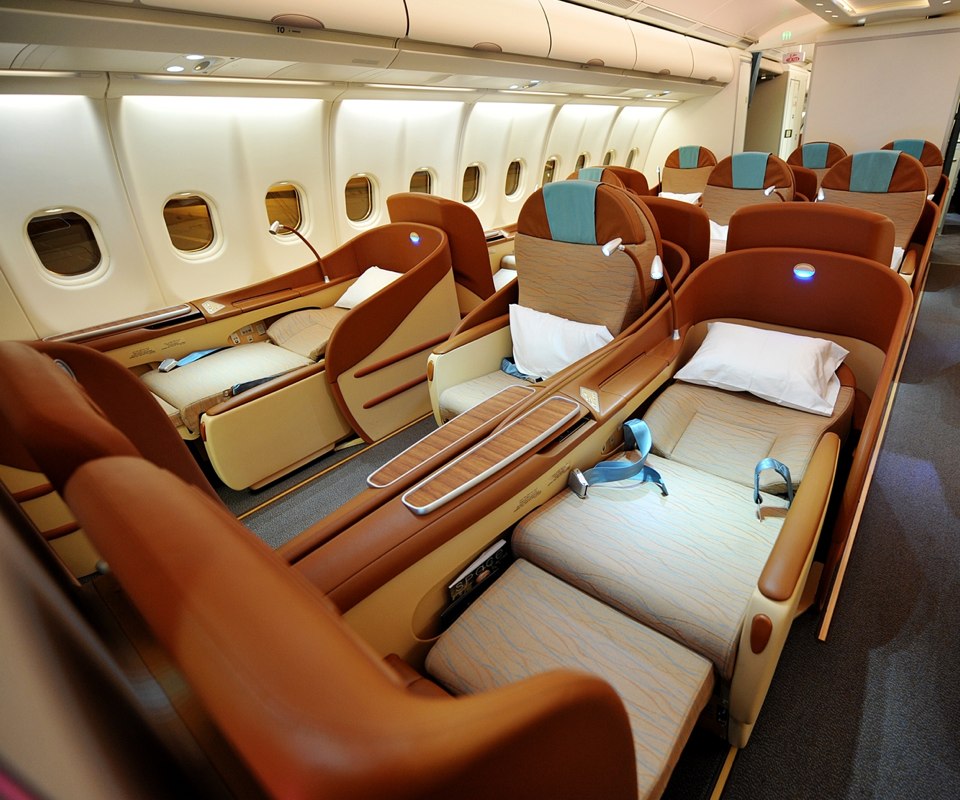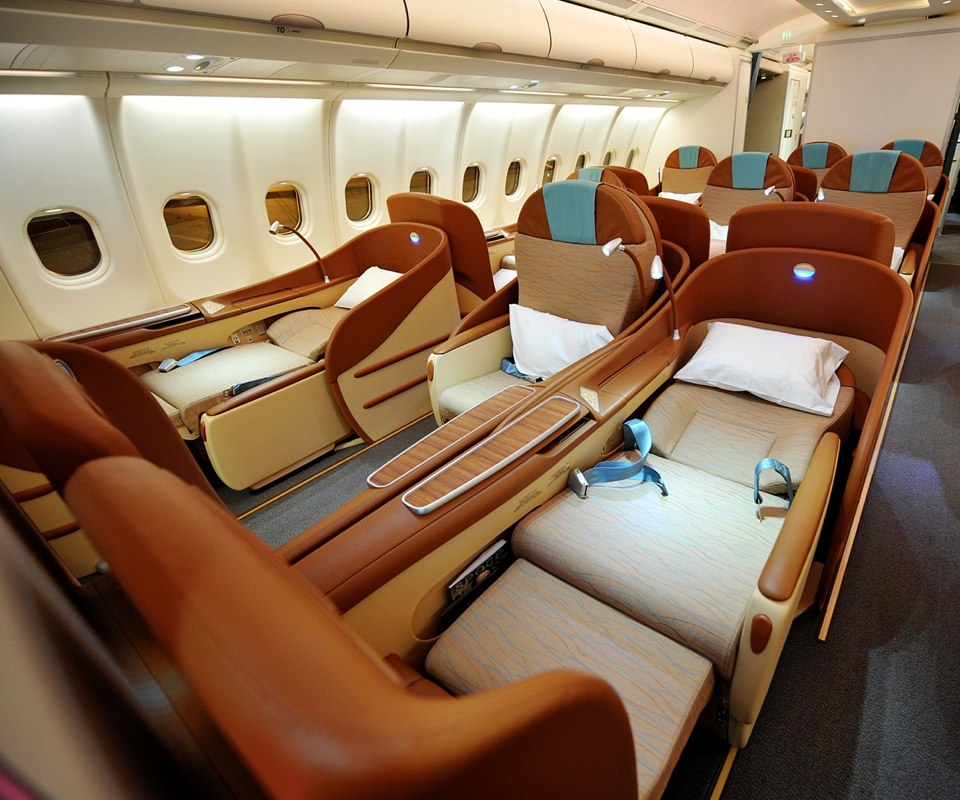 So, what are the key benefits of the first class? The realm of premium services is not limited to cabin in the aircraft. Most air companies can offer premium products to their passengers even on the ground. The numerous lounge areas can offer a scope of benefits to their elite customers. Exquisite cuisine, wide assortment of drinks and beverages, comfortable private space, spa or shower rooms and many other fancy options to make your travel experience as comfortable as possible. Some air carriers provide their elite passengers with personal attendants and even vehicles to transport to airport and aircraft.
Such a fairy tale continues in the air. The flight attendants welcome you in the comfortable leather seats of the first class. No comparison can be made between coach and luxury class, since these are two different worlds. Generally, the domestic first class looks good, featuring wide seats, touch screens and wonderful service. Nevertheless, if you are lucky to experience an international flight, you will see the difference. The seats are more the suites with all possible comforts. The seats itself have a bed mode, turning into fully lie-flat bed. Wi-Fi and interesting inflight entertainment are of no surprise. By the way, the meals for the first class customers on international flights are cooked under auspices of famous chefs!
Other benefits include amenity kits supplied by famous producers, access to satellite TV and numerous IFE, Wi-Fi on the board etc.
As you understand, the business class cabin is a special place in the aircraft, filled with luxury and comfort.
Airlines offering cheapest first class flights to Europe
Despite the fact that many air carriers reduce the amount of first-class seats or combine them with business class, there are still several truly airliners providing fabulous flights to Europe.
Singapore Airlines
Singapore Airlines offers a variety of routes and flights, including first class suites on the board of A380 aircraft. Each A380 is equipped with 12 suites in the arrangement of 1-2-1 (two seats in the middle can be combined into one large suite for a couples or people traveling together). The first class cabin was designed by the famous yacht designer of France. The main features of these suites are a power panel, a 23" flat display and sliding doors. The seat is rather wide with 130 degrees angle of recline. This seat turns into fully flat bed for comfortable rest during long flights. By the way, the bedding is provided by Givenchy. The meal service is of astonishing quality, offering an option of advance order of meals from around 60 choices created by the international chefs. The cost of such business class airfare to Europe may exceed $8,000.
Lufthansa
Lufthansa is the air carrier, offering one of the most beautiful first-class cabins. The previous first class in the Boeing 747-400 was located on the upper deck. The seats turned into a flat bed and were considered the most spacious among the competitors (pitch – 90 inches, width – 21 inches). Other options included a 17-inch inflight entertainment monitor. Passengers will be offered with Champagne and delicious courses.
Recently, Lufthansa introduced new premium class on the board of Airbus A330, A380, and Boeing 747-8. The new seats are suite-style chairs, which turn into beds. In addition, the first class cabin is equipped with comfortable duvets and noise-suppressing carpeting.
Lufthansa offers many elite class flights to Europe, servicing a large number of airports both in Europe and in the USA.
Emirates
Nowadays, Emirates is one of the most prominent airliners in the world, servicing a huge amount of airports worldwide and providing flights to almost all pieces of earth. The main attributes of this company are the superior quality and nonpareil service. The most opulent Emirates' elite suites are provided in A380.
The pitch of each suite is 86". The fully flat lie seats are 78" long and 23" wide. Suites are equipped with sliding doors and a wall-mounted flat screen with over 1,000 inflight entertainments. A private mini-bar and meal-on-demand service are at the passengers' disposal. In addition, the Emirates' A380 has a cocktail bar in the back of top deck, however, it is not the place, which everyone wants to visit. Such desirable place is the shower suite with spa services, which promises to be a splendid experience high in the air.
British Airways
British Airways is a prominent air carrier, nevertheless its premium options are not the most amazing compared to the competitors. The British Airways' seats for first class have 1-2-1 arrangement on the board of A380. The seats are fitted with ottomans, storage compartment, inside which a 110v power port, two USB ports, and the entertainment controller were housed. A large screen is located in a very convenient way and is foldable. Meal service is also on a high level. The main advantage of British Airways is a numerous destinations in the USA, providing very convenient flights.
SWISS Air
In 2009, SWISS Air introduced an ultra-sleek premium class cabin for A330s and A340s. Not many changes took place since then, though they are not really necessary. The seats have a cubicle-like view and were designed by PriestmanGoode. If you do not want to dine alone, a table can be converted. Other features include a large flat monitor and astonishing design solutions like cube-shaped lighters and perforated panels made of wood. SWISS Air services many US airports offering its premium services for almost all of them.
Air France
Recently, Air France introduced its new premium class called "La Première". It is available only on a few Boings 777-300ER for a limited number of destinations. However, it is planned to provide La Première in the entire fleet of the French air carrier.
The seats in La Première cabin converts into a flat bed of 78" long and 30" wide. The characteristics of the bed include a large pillow, a futon mattress, and a duvet by Sofitel My Bed. The first class customers can enjoy IFE on a 24-inch HD monitor, and a menu created by most famous chefs of France, including Guy Martin and Joël Robuchon.
How to Find Cheap First Class Tickets to Europe
Europe is popular destination, which causes the increase in prices for most elite class seats. However, if you want to try the benefits of premium class or if it is the only way to get to Europe, you should consider the following advices:
1. The first and main option is to collect miles. Most of the airliners offer fly programs, which allow you traveling for discounted prices. The same thing refers to loyalty programs. Being a frequent customer increases your rank and your chances to be upgraded to an elite customer status.
2. Dispose airline or elite credit cards, which provide real benefits. Such cards include Chase Sapphire Preferred, Delta SkyMiles American Express and many others. Many co-branded cards offer big bonuses on some terms.
3. Browse online to buy and sell points, but be careful, since major air carriers forbid such activities. You will have no problems when purchasing points directly from the air company.
4. Fly on weekends and holidays, when the first class travelers usually stay home. That might cause a significant reduction of business class seats.
5. You may also push luck and buy an upgrade at check-in. If any first class seats are available, they will be offered by the air carrier at a discounted rate.
Regular and Discounted Prices for Cheap First Class to Europe and How Much You Can Save
Europe has various destinations, therefore various price fluctuations. The airfare also depends on the airliner, date and many other factors, however, it may be always a possibility to find a discount, which may reach 60% of the ticket value. Let's review the most popular destinations and discounted first class flights to Europe.
Europe Destinations

Regular Price

Possible discounted price

1. London, England

2. Paris, France

3. Rome, Italy

4. Dublin, Ireland

5. Madrid, Spain

6. Barcelona, Spain

7. Frankfurt, Germany

8. Milan, Italy

9. Athens, Greece

10. Amsterdam, Netherlands

$10,855

$8,508

$12,125

$7,433

$8,743

$9,162

$7,870

$7,856

$8,496

$7,559

$6,348

$5,945

$6,885

$4,853

$5,541

$5,502

$5,564

$4,890

$5,472

$4,545
The data above are the average cheap first class tickets to Europe destinations, headed by London. The difference between the regular price and the possible discounted is not strict, as the discounted price may be even lower, considering various factors.
Sites Where You Can Find Cheap First Class Tickets to Europe
The best online services to find cheap first class airfares include only three websites, which work in cooperation. Here they are:
Cheapfirstclass.com is the portal, collecting data on cheap first class deals. On average, it is possible to save around 65% of ticket cost, using this website.
Cheapoair.com is another tool, which uses the state-of-the-art algorithms and technologies to find cheap first class tickets. This service help not only search air tickets, but also other necessary things for vacation such as hotels, cars, cruises etc.
Onetravel.com is a resource for searching cheap tickets to travel around the world. You can choose a variety of options for your search. In addition, you may choose a particular air carrier and perform your search for flights of the selected airliner only.