A trip from the USA to Europe can be a romantic once-in-a-lifetime occasion for a couple of honeymooners or a routine monthly chore for a senior company manager.
Whichever the case, the trip can take from 12 to 19 hours, so it is a huge part of the overall travel experience. This is why spending 5-7 minutes reading this piece on top business class airlines to Europe may save you 19 hours-worth of headache and hundreds of dollars in savings too.
Why fly to Europe: sightseeing, destinations, top vacation spots?
For an American, Europe is a bit of a Terra Incognita: the patchwork of cultures and histories so diverse, rich and vibrant. It offers endless options in terms of cultural tourism, adventure tourism, recreational & health tourism.
History lover much?
Mercado servantino held in October in Spain attracts 200 000 visitors.
Medieval Christmas Market in Provins, France, features an artisan market, a Santa chalet & a skating rink.
Störtebeker Festspiele 2020 has ongoing games Mon-Sat 20 Jun- 5 Sep.
Looking into cultural immersion?
Fringe Festival in Edinburgh [3-27 Aug 2020],
Flamenco Fair in Spain [20-24 Sep 2020],
Amsterdam Light festival sounds like ultimate family fun.
European beaches to enjoy in 2020
Zlatni Rat, Croatia offers not only stunning views, sea breeze, and smoothest tiny pebbles, but also windsurfing & jet-skiing.
Baia Delle Zagara in the town of Mattinana on the spore of Italy's boot across Dubrovnik on the shore of the Adriatic sea will take your breath away. And steal your heart.
Ribadesella Beach in Asturias on the shores of the Cantabrian Sea offers amazing views, sand beaches, and sports activities. Delicious food & divine wines are a default setting in Spain. Muy deliciosa.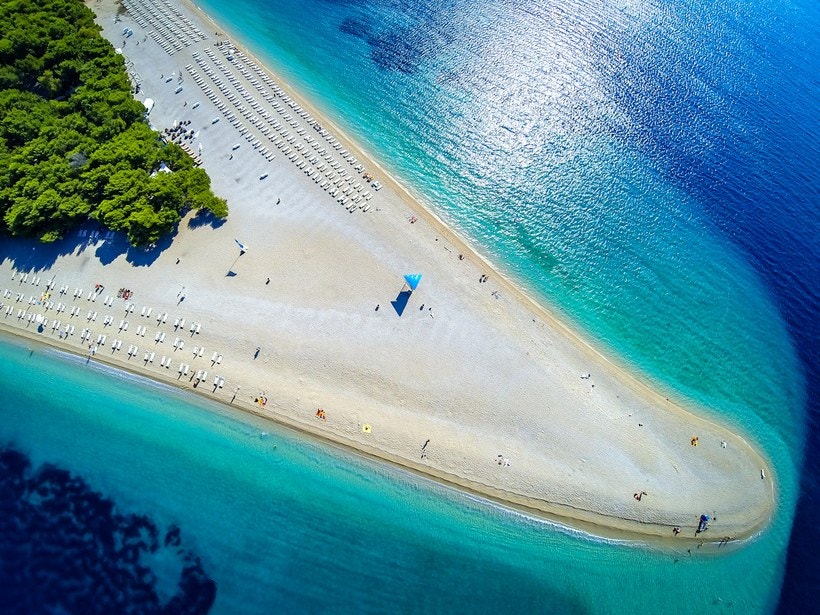 Europe is too much for a life-time to travel, explore & savor. But in the era of the internet, it is so much easier to choose the European destination, perfect time and event that match your interests and budget.
Reasons to choose a Business Class flight to Europe vs economy
Why fly in business class to a European destination over the economy?
Metaphorically speaking, most arguments are bordering on the same spectrum of reasoning as the answer to Infinity vs Nissan Micra: both get you from A to Z, but there's a difference.
Comfort. Status. Points. Those are just on the surface of why people choose to fly business class when it comes to long-haul flights like USA-Europe.
But the great news is: with the immense difference in the comfort levels, Business class ticket prices are not that far away from economy class for a savvy traveler. More on this later in this cost-effective travel tricks read.
These are exactly why travelers opt to fly Business Class to Europe:
Seats vs Beds
The number one reason to choose business class travel vs economy is sitting vs lying. Do you arrive fresh and rested into Europe, storming into the business meeting, ready to seal the deal? Or do you need a day off to regain your energy after an exhausting flight heavily jet-lagged?
Lie-flat seats are a find for a person having to spend long hours flying and expected to work during the flight itself. Increased privacy in the form of partitions and specially designed cabins will make sure all your confidential information stays confidential. Wi-Fi connection, USB ports, and plugs to charge your devices are all part of the business class experiences crucial for top management positions.
Reclining seats and plenty of legroom are the major factors for the higher price of the Business class tickets – as one person takes up as much space as 4-6 people in the economy.
Check-in & boarding: faster & comfier
Short lines, extra service, fast process are a pleasant bonus business class travelers enjoy.
Business-class lounge: ultimate comfort & usability
Access to the business class lounge may mean nothing if you are right on time for your flight or have no time to kill between 2 legs of the journey. But if you are caught up in the airport for a few hours, the comfort of the business lounge is something to make your day. Immaculately-appointed workstations, drinks & snacks from the bar & buffet and the lavish seats designed for long hours of wait.
Business-class cabin: The Hudson Yards of the plane
Hidden at the front of the plane, away from the noise and disturbances. Spacious & intimate, club-like and exclusive. With fewer passengers per square meter and easier reach, travelers get access to a higher level of service.
Menu & drinks: truly heavenly
For all the gourmets out there the sky is not the limit. It is the time to experience the new height of the culinary mastery. At least true for the business class travelers. An exquisite 3-course meal served on the fine china kitchenware, epicurean wine & coffee experience.
Amenities: trifles that matter
The toiletry kits, a sleeping mask may all seem like too tiny a detail to fret about, but on a long-haul transatlantic flight, those things help to stay refreshed and sleep well.
Design & usability: beauty and functionality
The business class travel is expected to be both: easy to navigate even for a newbie and be visually appealing. The number of switches, buttons, their configurations & design, the engineering thinking that goes into all the modes of the reclining bed. They all make a huge difference to the business class experience – specifically when it comes to competition.
Points
Business class tickets get cost more, so they allow accruing more points for the same flight. In the case of business travelers, when a company picks up the bill, the benefits are a bonus.
Most popular destinations in Europe for Business class
Fly to Barcelona from the USA Business class to see Gaudi.
Fly Business class to Vienna to get lost in Albertina.
Fly Business class to Rome, Italy, for a perfect doppio & a lousy selfie next to Coliseum.
Fly Business class to Paris for a guaranteed "Yes" from her.
Fly Business class to Brussels from the USA for that bite of crispy caramel waffles.
Fly to Budapest by Business class to party 24/7.
Fly to Amsterdam from the USA just because.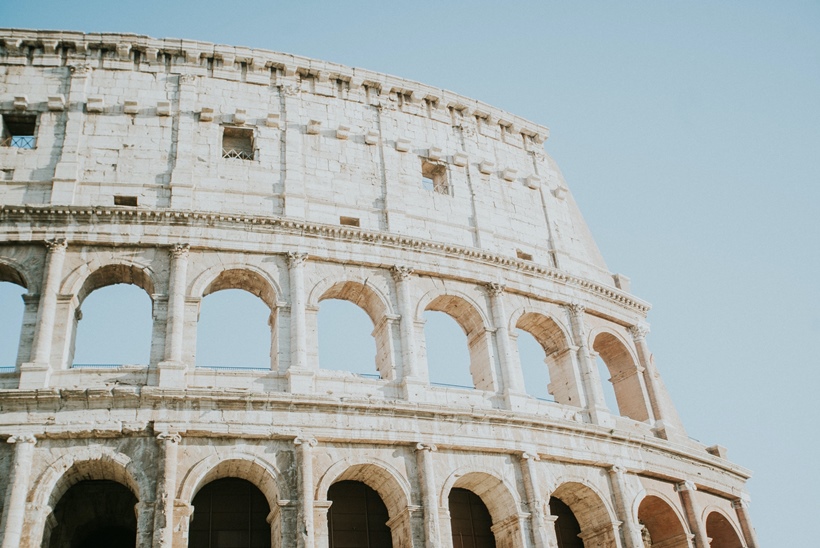 Review & comparison of 5 top Business class airlines to Europe
1. Qatar Airways
Planes servicing EU destinations
Boeing 777, Boeing 787, Airbus A330, Airbus A350, Airbus A380
Business-class Baggage Policy
Carry-on luggage: 2 pieces of the total maximum weight of 15kg and max weight of 1 piece of luggage of 7kg.
Carry-on luggage max dimensions are: 50x37x25cm.
Checked baggage allowance:
2 pieces, each of the check-in baggage pieces not to exceed 32kg and a maximum dimension of 157cm.
Lounge Area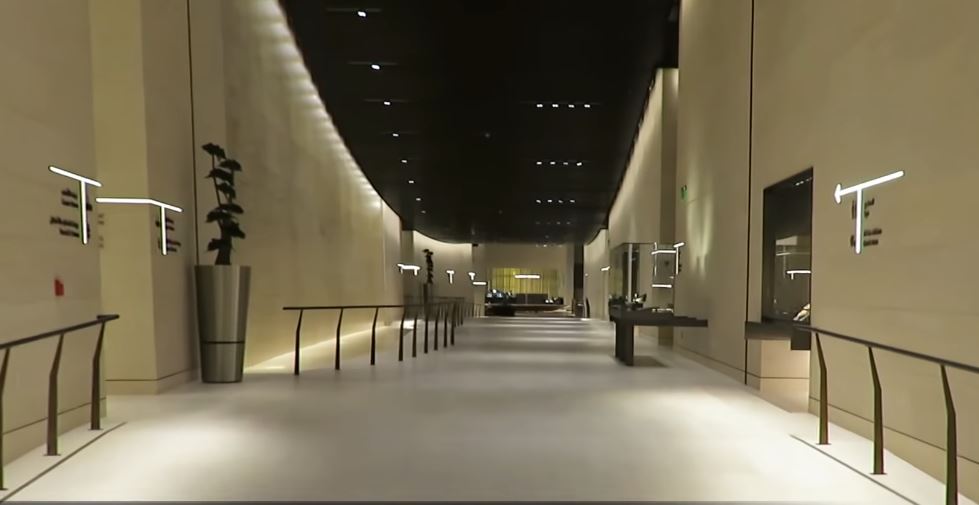 The new standard of business class lounges world over. Offering a truly 5-star experience during the pre-arrival time at Hamad International Airport, London Heathrow Premium Lounge, Paris Premium Lounge, Beirut Premium Lounge among others. The lounges offer expansive waiting, recreational and business spaces, extensive diverse menu options and refreshments.
If you are looking for seclusion [maybe even a nap], time with your family or a business meeting, you are sure to find a perfect place with that much lounge space.
Seats
When in a bed mode, seats are 55cm by 2m. The Boeing planes are equipped with the 2-2-2 configuration offering flatbed seats with 180 degrees recline. Unless you are longer than 2 meters, you may as well wish to sleep in the sky more after a night with Qatar Airways.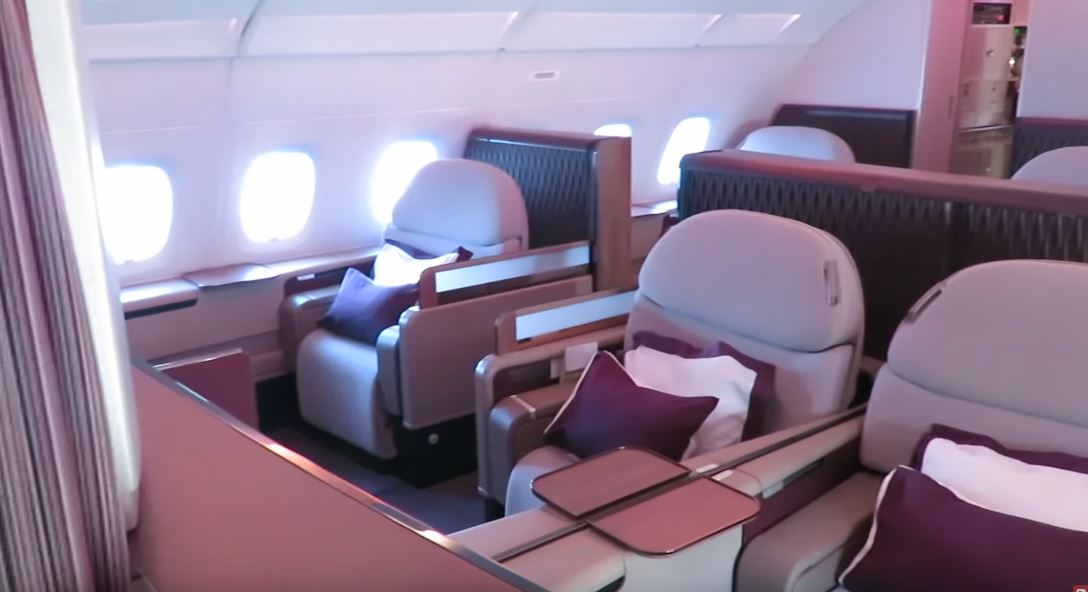 Flight Comfort
Qatar has been named number 1 in the industry for multiple times for multiple reasons, one of them is ads with Jenifer Aniston, another one is comfort. Qsuites have redefined premium sky travel and every detail is created with luxury in mind.
Dining & Menu
If Michelin's rating was not created by the tire company, which initially promoted driving to places to eat, Qatar Airlines would get a star or two. Dietary requirements are all accounted for and there is no request that is too much for the team. Pre-selecting your meal is also an option if you are no fan of surprises.
Freshly baked bread, silky soups, delectable starters & exquisite mains are followed by heavenly desserts [the chocolate fondant is on the menu too]. Refreshments & drinks are stocked in a manner not to be caught off guard by a request of demanding guests thousands of feet up in the sky.
Amenities
Amenities include a V-neck pajamas & sleepers so that the sky feels even more like home. Amenity kit includes an eye mask, socks, earplugs, and some cosmetics, like a travel-sized lip balm, a facial mist, and a moisturizer.
In-Flight Entertainment
On-board connectivity Wi-Fi is offered on all major long-haul flights by Qatar Airlines. Oryx One is the in-flight entertainment program. All but few of the A320 planes feature the personal seat-back infotainments screens.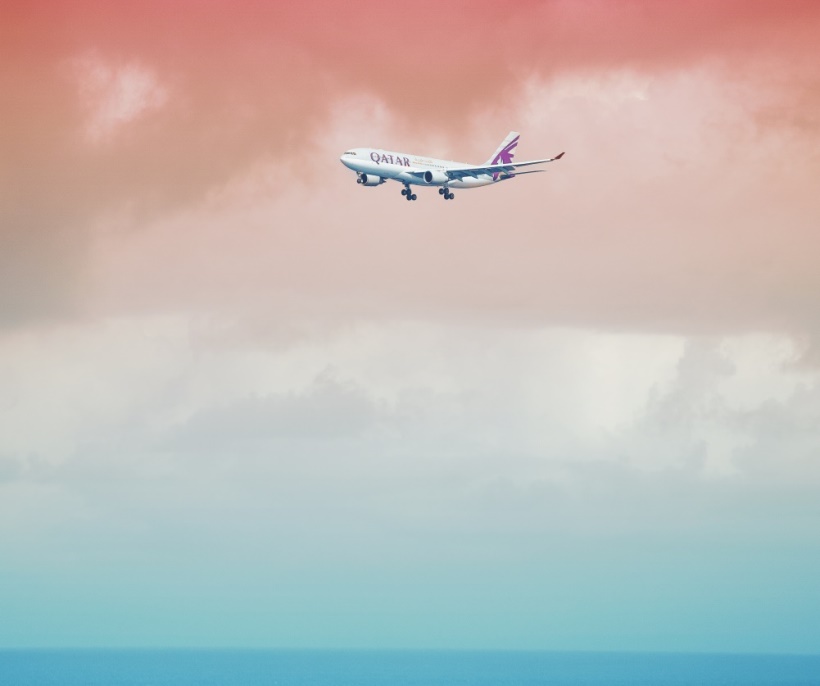 2. Delta
Planes servicing EU destinations
Boeing 717, Boeing 757, Boeing 767, Airbus A330, McDonnell Douglas MD-88, McDonnell Douglas MD-90.
Baggage Policy
Carry-on luggage: 1 carry-on bag and 1 personal item are allowed as carry-on. A personal item could be a laptop, a purse or a diaper bag.
Carry-on luggage max dimensions are: 50x37x25cm.
Checked baggage allowance
2 pieces, each of the check-in baggage pieces not to exceed 32kg and a maximum dimension of 157cm.
Lounge Area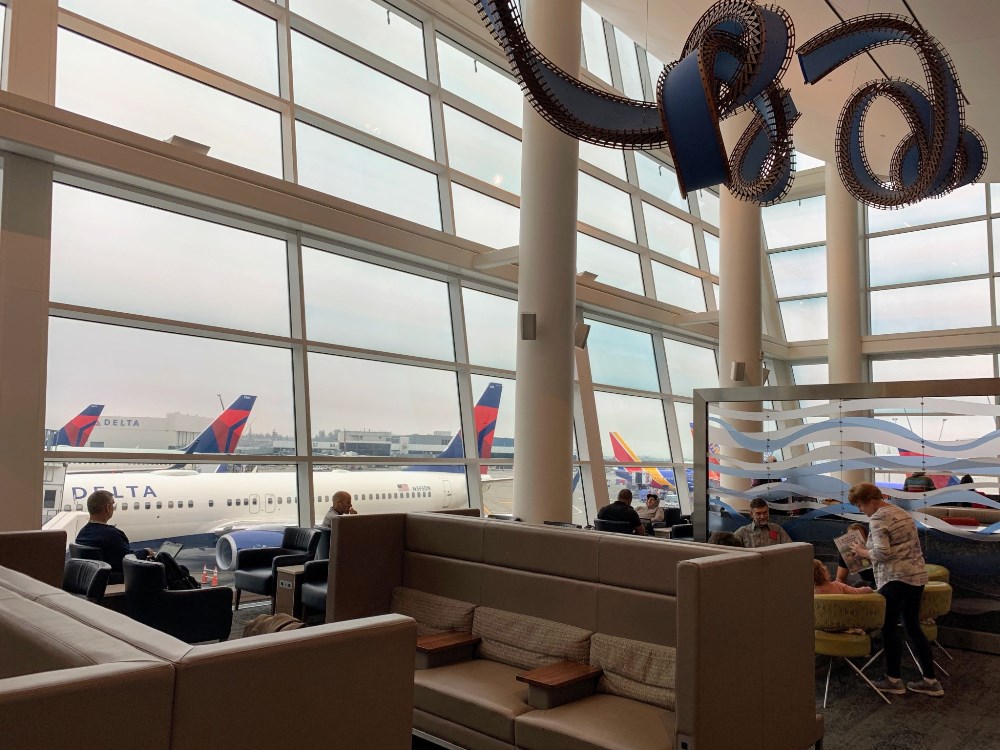 Delta Sky clubs offer passengers world over exceptional service and an atmosphere to relax while awaiting your flight. Complimentary Wi-Fi, first-class meals and top of the shelf refreshments also await travelers in the 250 partner lounges world over.
Seats
Delta One experience is one of the most sophisticated products out there in the league of premium business class sky travel. Their slogan "Let time fly" sums up the concept perfectly. The seat is designed for the level of comfort lullabying enough that a long haul flight passes real quick.
Easily adjustable 180-degree flat-bed seat, with direct aisle access, are great for sleep & work.
Comfort
Depending on the product you choose with Delta, your comfort levels will vary. The gradation is gradual so anyone can find the match for their needs and budget. Looking for more legroom? Delta Comfort + is awaiting. Are you after the fine dining experience in the sky and increased privacy? Welcome to the First class. Need a great sleep in a proper bed? Delta One is awaiting.
Dining & menu
The dining experience is nothing short of a trip to a legendary restaurant in a posh neighborhood. Usually designed by celebrity chefs with tones of experience, those menus are capable of raising the brows of the most demanding clientele.
Western menu with classics familiar to American palette is available at all flights and they are likely to be interspersed by the culinary inserts from the cultures of the destination. Prepare yourself for a full-fledged meal with impeccable presentation, warm plates, and all the 5 star standards.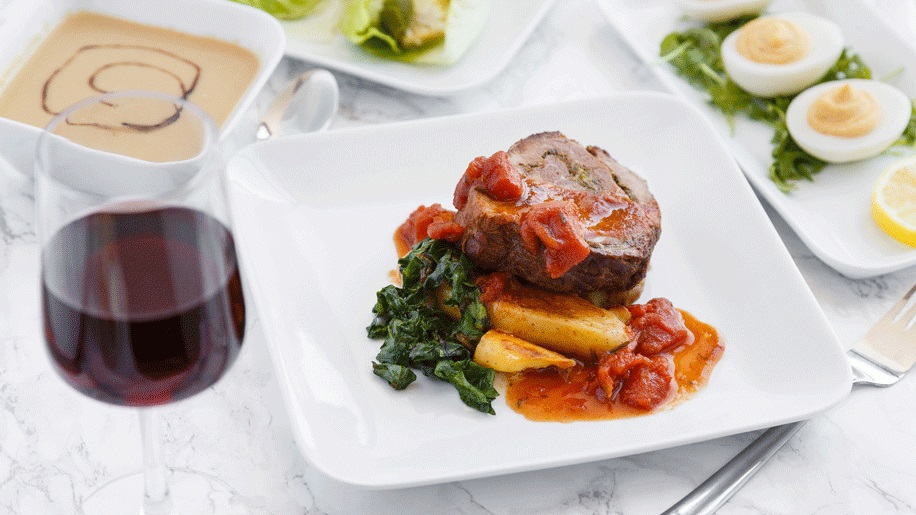 Amenities
The noise-canceling wood-finish Headphones by LSTN are a delight to one's ears. Tumi amenity kit includes a pair of socks, a Tumi facemask, a pen and some basic toiletries of non-basic quality: mouthwash, hand sanitizer, lip balm, a hand pomade, toothbrush & toothpaste.
In-Flight Entertainment
All seats are equipped with personal, on-demand in-flight-entertainment (IFE) system. The menu of the available shows is diverse and pretty fresh: if you are looking for a Hollywood blockbuster, classic or a TV show to binge-watch – the options are an endless myriad.
3. ANA All Nippon Airways
Planes servicing EU destinations
Boeing 777, Boeing 787, Boeing 767, Boeing 737, Airbus A380
Business-class Baggage Policy
Carry-on luggage: 1 piece up to 10kg. Carry-on luggage max dimensions are: 55x40x25cm. 1 personal item like an umbrella, handbag or camera is allowed too.
Checked baggage allowance
Up to 2 pieces, max 32kg each and a maximum linear dimension of 157cm, inclusive of wheels & a handle.
Lounge Area
With a characteristically Japanese minimalistic approach to design, Ana lounges offer the understated take on luxury and comfort. Passengers will find the spaces for relaxation, business meetings, and fine dining outlets on the premises of ANA lounges.
The distinguishing feature, that builds on the company's brand and heritage, is the Ana Original Aroma spaces for ultimate relaxation. The aroma includes a mix of 12 natural smells that include rosemary, Japanese umbrella-pine, and Yoshino cedar notes.
Seats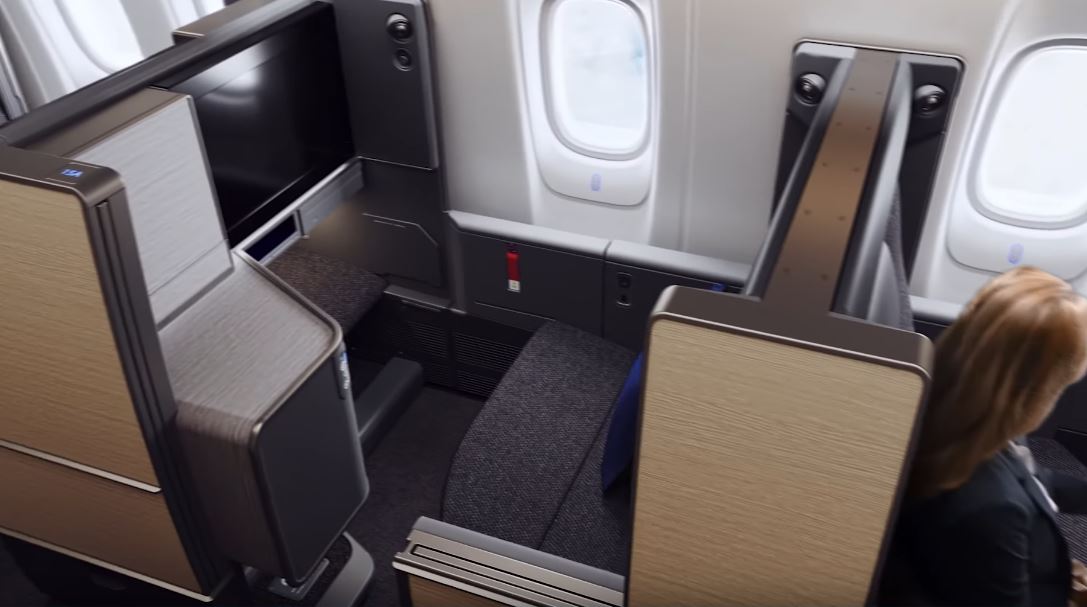 Business Class seats vary depending on the plane and the flight, for example, A380 features fully flat seats in a staggered arrangement, equipped with the 18-inch touch panel LCD screen, large side table & personal storage space.
The Boeing B787, on the other hand, is equipped with the lie-flat seats with a staggered arrangement with direct aisle access, 150% enlarged sliding table, shoe storage space, 17-inch touch panel screen, PC power port, and the USB port.
Comfort
Comfort levels are on par of the solid business class product. Despite the beds being somewhat older than the comparable business-class products, like Delta One and Qsuites, the overall long-haul flights are full of traditional business-class pleasantries and niceties.
Dining & menu
ANA named their dining experience the Connoisseurs, which is pretty justifiable, as they engaged 18 celebrity chefs world over to throw together their menu.
If you choose from the Western menu or the Japanese one – disappointment is not what's waiting for you as the food is heavenly in its subtlety and nuance. Drinks offered will leave your taste buds jumping with joy from the old oak hints or the finest of bubbles.
Amenities
Noise-canceling headphones, sleep mask, slippers, a small shoe horn, toothbrush & toothpaste, earplugs are provided to travelers as part of the complimentary amenities.
The cosmetics in the amenity kit itself are worth a separate mention: Neal's Yard skincare included the following items of the impeccable quality: a shea nut and orange lip balm, hand cream with honey fragrant, and a facial mist spray.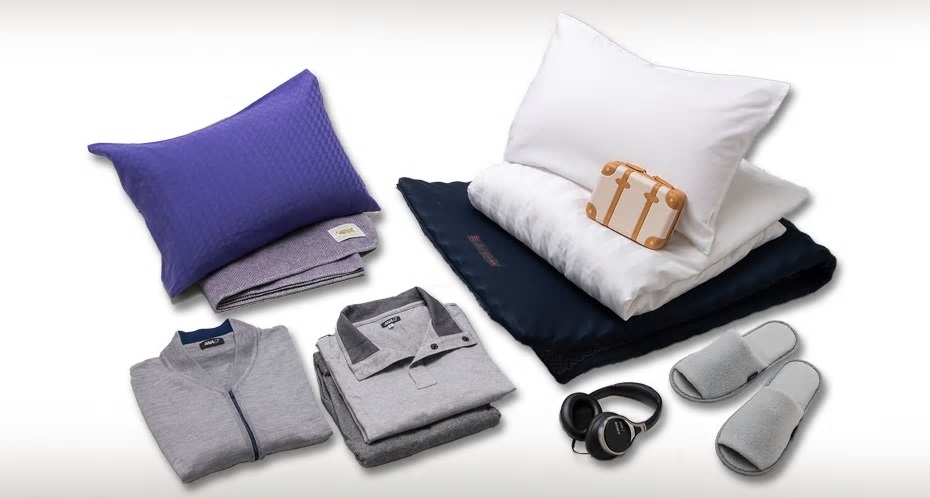 In-Flight Entertainment
The in-flight entertainment on Ana flights has some good mix of Hollywood's megahits and TV shows with a slightly disproportionate inclination towards the Japanese culinary arts assortment.
The Wi-Fi service is unavailable to the Business Class guests and only limited to the First class passengers as a complementary inclusion. The full flight access to the Wi-Fi is 19.95 with a 100 MB limit, with a minimum period of 30 minutes at 4,95$.
4. Lufthansa
Planes servicing EU destinations
Boeing 747, Airbus A330, Airbus A340, Airbus A350, Airbus A380
Business class Baggage Policy
Carry-on luggage: 2 items of the total maximum weight of 15kg and max weight of 1 piece of luggage of 8kg.
Carry-on luggage max dimensions are: 50x37x25cm.
Checked baggage allowance
2 pieces, each of the check-in baggage pieces not to exceed 32kg and a maximum dimension of 157cm.
Status passengers, like Senators/HON Circle Members/Star Alliance Gold members, get to check in 1 more item of up to 32 kg free of charge, totaling 3 bags of checked luggage.
Lounge Area
Business-class gets access to Lufthansa lounges, offering relaxation areas, buffets, and bars, reception area stocked with newspapers and magazines as well as a well-appointed business area with state-of-the-art workstations. Those needing to refresh can take advantage of the shower cubicles, that are stocked with all the necessary toiletries and towels.


Seats
The business class seats are rather comfortable but are admittedly beyond the competitive offers in the business class travel.
With 2-2-2 configuration the aisle is not guaranteed and the seats are somewhat arrow to start with at 50cm by 193cm in the bed mode. Nonetheless, they are fully lie-flat, so even though somewhat narrow, with a mattress topper, pillow & sheets provided, the sleeping experience is relatively comfortable.
Comfort
For the extra comfort on Lufthansa Business class flight, pick a middle seat. It might not quite give you the privacy of the window one, but you always have access to the aisle, which is a huge benefit on its own for a long haul flight. Waking somebody up when you need to refresh yourself is awkward for the most ardent of the extraverts out there.
Dining & menu
The distinguishing feature of the Lufthansa approach to fine dining is that they went to the length of hiring a marketing research company, that surveyed passengers for their favorite dishes for sky fine dining. Thusly the airline had a chance to create a menu specially crafted to suit customer's tastes.
The menu alternates every 2 months to provide enough culinary diversity for regular travelers as well as to be able to incorporate seasonal offerings. Fine wine selection & local specialties will complement the professionally crafted meals in the sky.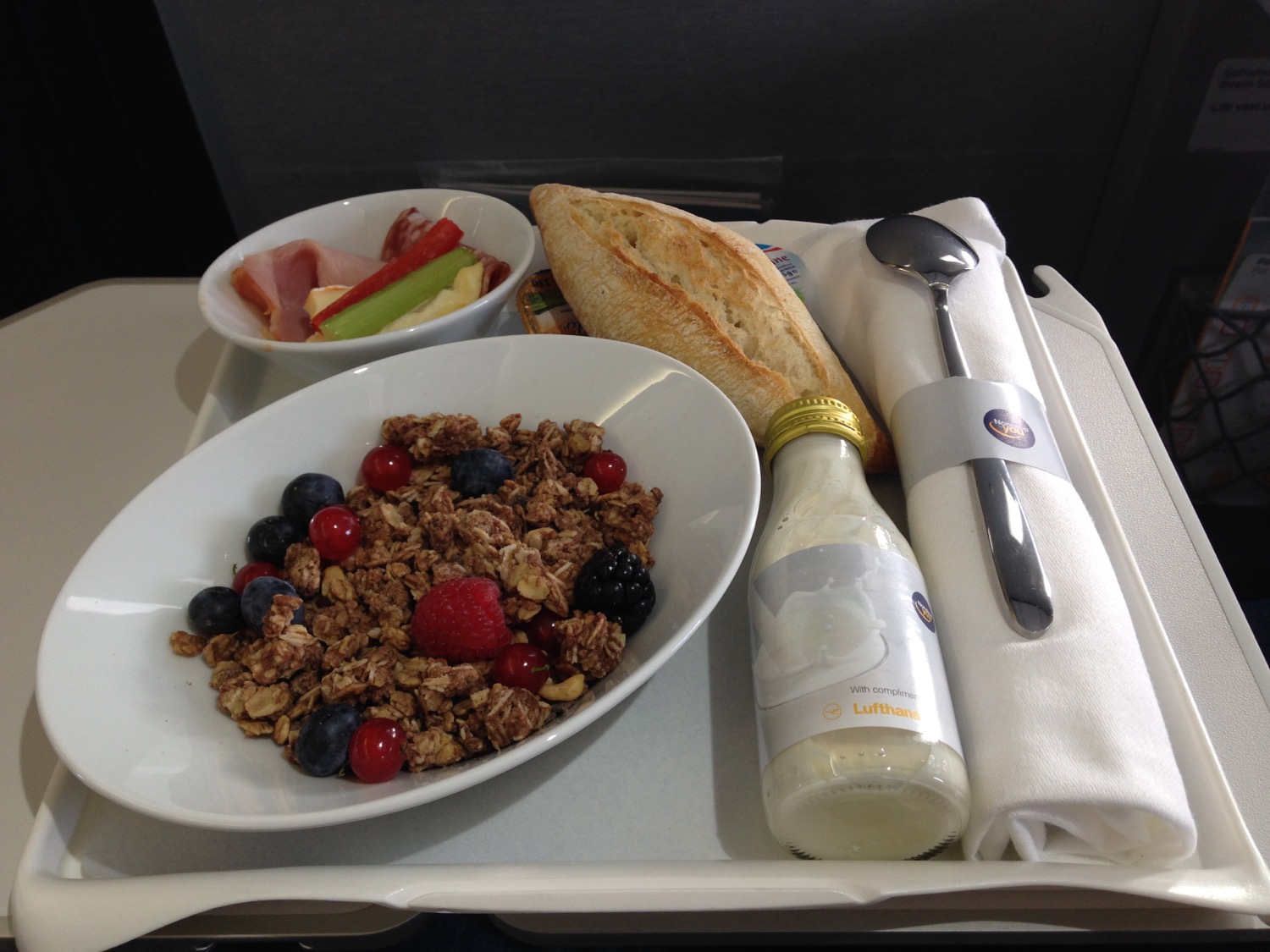 Amenities
The amenities are nothing out of the ordinary and include the average set of items, like a toothbrush and toothpaste, an eye mask, socks, cream, lip balm, earplugs, and headphone covers. Slippers are provided on certain long-haul flights.
In-Flight Entertainment
Lufthansa FlyNet® on-board Internet allows those needing to stay in touch with offices on Terra Firma to send messages and email, check news and more.
In-flight entertainment features an assortment of 180 movies, 270 TV shows, 50+ audiobooks in German and English. For sports fans, Live TV is available to watch matches.
4. Singapore Airlines
Planes servicing EU destinations
Boeing 777, Boeing 787, Airbus A330, Airbus A350, Airbus A380
Business class Baggage Policy
Carry-on luggage: 2 pieces with a max weight of 1 piece of luggage of 7kg.
Carry-on luggage max linear dimensions 115cm.
Checked baggage allowance
2 pieces, each of the check-in baggage pieces not to exceed 32kg and a maximum dimension of 157cm.
Lounge Area
Business-class passengers get access to a spacious Business class lounge when flying with Singaporean airlines. This is great when the lines are short and you got through passport & customs cue in no time, but this is amazing when you have 5-7 hours to kill while changing the flights. A life-savior, if you are traveling with smaller kids, that need more than an iPad to stay silent.
A selection of foods and drinks at a cozy buffet and bar, a place to relax, charge your devices and even to take a quick shower.
Seats
Seats are massive, huge or gigantic – whatever you prefer. With space being the most valuable asset in the clouds, no wonder why so many favor Singaporean airlines – they are way too generous with this precious amenity.
The pitch is 76 by 121 cm, which could probably fit 2 adults.
When the time comes to sleep, though, some passengers may find the unfolding process somewhat complicated – so they may use instruction video or some helping hand from the staff. On the other hand, the bed only allows to sleep diagonally really in its unfolded state – so not the most comfortable of the beds in the sky.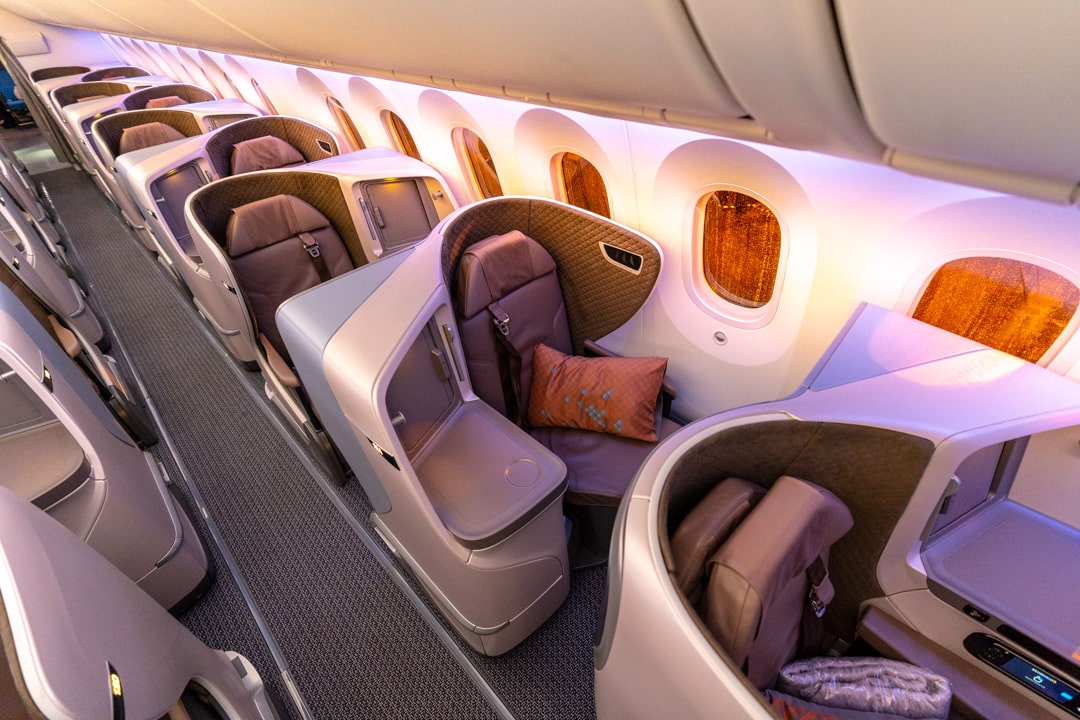 Comfort
If you like to sleep on your side, this particular bedding will hardly make it to the top of your charts. But the seating space is simply gigantic – so a perfect choice for families with kids.
Dining & menu
Singaporean Airlines hired 8 world-class chefs to join the International Culinary Panel [IPC] to elaborate their menus with geography ranging from US, Italy, France, Australia, India, to China and Japan. So passengers can expect to see all of that fusion in the menu.
Book the Cook service allows you to pre-order your meal 25 hours in advance. Kosher and other dietary requirements need 48 hours before booking.
Wines are selected as per the advice by the legendary Oz Clarke and the first-to-be-awarded Asian Master of Wine, Jeannie Cho Lee. So you can keep your most snobbish expectations high and not be disappointed. The staff is instructed to keep the serving temperature by the book too.
Amenities
Headphones are there for you on the flight, but they are not included to take home with you.
The amenity kit as the business class traveler is accustomed to is not part of the business class deal though. Only the Frist class passengers get access to that.
This being said, you don't need to carry all the small toiletries with you, as all of them are available in the business class toilets for guests to use.
In-Flight Entertainment
45 cm LCD screen and 1000 options of TV programs, movies, games will keep you well-entertained throughout the flight.
Wi-Fi is available but will cost you from $11 per hour or $21 for the duration of the entire flight.
With the Companion App, you can plan your inflight entertainment before you even board the plane – which could be a convenience, specifically when traveling with kids.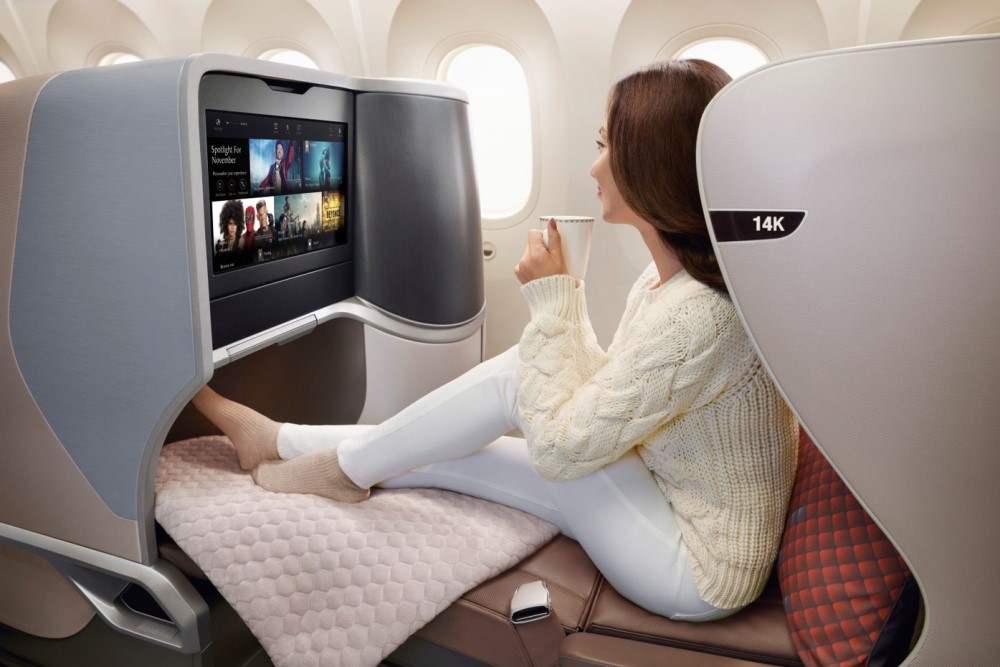 Business class top airlines Skytrax comparison table
In order to provide you with a general overview please find a quick table we put together for you to compare how SkyTrax users reviewed the top 5 airlines with business class flights from the USA to Europe.
The information is scraped on the 2nd March 2020 from the screen like the example below for the Qatar airlines.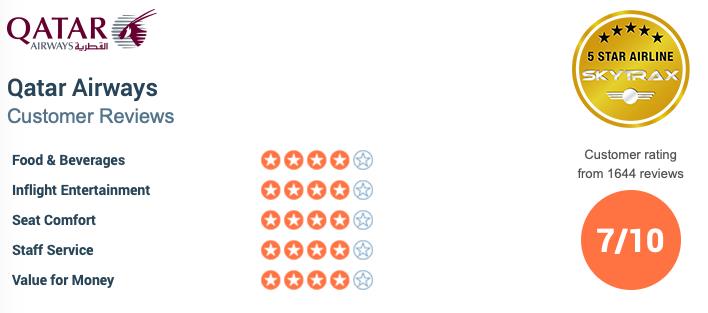 Credit: Airlinequality.com

Which airline to choose for the Business class flight to Europe in 2024?
Some of the things to consider will be your existing memberships of course, who is paying, preferred dates of travel, purpose of visit, company for your travel, budget, accumulated points and so on. Any of those aspects may become a filter, that will leave you with just one or two options to choose from – this is the stage when we advise you to go and check out our review on the top 5 business class airlines in more detail.
But if you don't have that much experience in booking your Business class tickets to Europe, you might still be limiting and ripping yourself off by booking your tickets yourself.
So is there a way out of this catch22? Read on to see the light at the end of this funnel.
How to get a Business Class flight ticket at the best price?
Buying tickets for your trip to Europe is not rocket science, but it is a plane science for sure.
The intricacies of the pricing are multiple, depend on the myriad of factors, like seasonality, day of the week, hour of the day, conferences, force majeure [like coronavirus spread of the early 2020], macro-economic aspects, brand awareness, sales period, sales channel, historic booking patterns, booking window and so much more.
Knowing all of the nuances will take you days of research online. Days, that you could spend making some money on the Business class trip to Europe.
This is why we suggest you contact out rate-savvy flight tickets concierge service to book your flights in accordance with your preferences. We will suggest a few options, check all the data points, that may influence the price of the travel.
Try our quick, reliable and efficient service to get there with the same comfort at a lower – much lower – price.
Fill out the contact form and get your best quote in under an hour!
Top Destinations for Business Class and First Class Travel in 2024
Rome, Yangon, Lucerne, Frankfurt, Tokyo, Edinburgh, Dubai, Paris, Bangkok, Johannesburg, Budapest, Osaka, Taipei, Brussels, Stockholm, Barcelona, Amsterdam, Athens, Berlin, Helsinki, Vienna, Brisbane, Reykjavik, Venice, Guangzhou, Perth, Milan, Seoul, Glasgow, Madrid, Munich, Nice, Beijing, Dusseldorf, Iceland, Cairo, Melbourne, Moscow, Shenzhen, Shanghai, Nuremberg, Spain, France, Germany, Italy, Sweden, Switzerland, Singapore, Tel Aviv, Israel, Norway
Cheap First Class will take you to London, Paris, Amsterdam, New York or Hong Kong cheap! Get to the global capital destinations easily and forget about the overly-priced services of the vast majority of air flight companies online! Save up to 70% of your money with Cheap First Class luxury travel!
Cheap First Class is Your Reliable Luxury Travel Partner
Travel with confidence, plan your luxury air trip, find the cheapest first class and business class flight deals and book great value fares to 60+ destinations with Cheap First Class!
Need help with your trip? Here are answers to FAQs for all your travel!