Even though many top international airlines have discontinued the first-class service after Covid-19, business-class seats and facilities have achieved new heights of luxury in 2021.
Front-row passengers can now anticipate suite-style seats with closing doors, premium bedding, celebrity chef-created meals, and elegant amenity kits filled with items from some of the industry's greatest brands.
Many passengers may believe that premium class benefits, like lie-flat seats, fancy airport lounges, and endless free drinks and meals, are out of reach. After all, round-trip business class tickets may easily cost $3,500.
But that doesn't imply you'll need a business card or a lot of points to enjoy the best of air travel.
Travelers may get cheap business class and first-class air tickets by monitoring for international first and business class flight deals, such as airline promotions and mistake airfares, airfare auctions, and shopping with the best air ticket providers like Cheap First Class, whether they're seeking for a business class or first-class ticket.
Flying first or business class may seem expensive, but when you have a great travel partner, it's surprising how nice it can be, and here are some of the most luxurious first-class and business-class trips.
The Top 15 Airlines for Best Business & First Class Flights are as follows:
First Class Dining Experience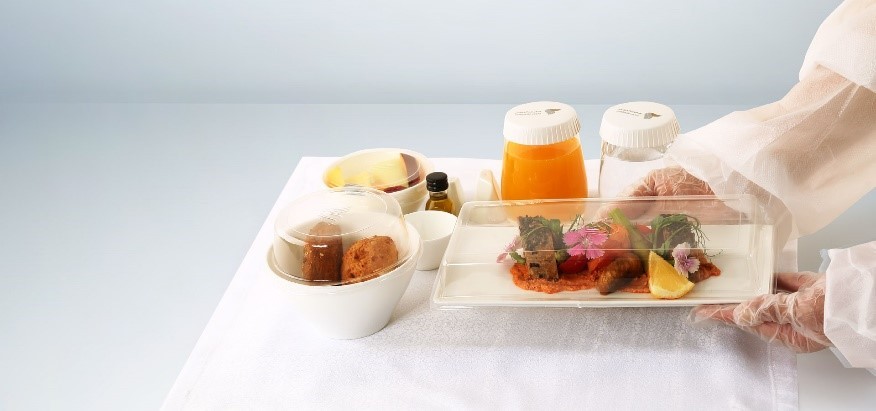 The First Class and Business Class dining and drinks menu is developed and executed by famous chefs from all over the world and is made with the best and freshest seasonal ingredients for an unforgettable flavor. Sit back and relax onboard with one of the best First Class beverages, while well-trained staff members serve you each offering.
First Class Drinks
The first-class and Business class wine selection is usually put together by onboard employees and external sommelier advisors.
The first round of selections for the lineup may include over 10,000 kinds of wine from 30 countries. Wines that survived the initial screening are then noted in blind tastings for the final selection, which can take around six months to complete. Wines that scored well in the wine selection team's blind tastings are offered onboard on the luxury flights.
A Luxury Cabin Tailored to Your Needs
The cabin class is a luxury option for any traveler to consider. It offers comfort and space throughout your business class trip with Air France. The First and Business Class cabin ensures your comfort and well-being. Your personal area can function as an office, a restaurant, a lounge for entertainment, and a spacious bedroom. It's entirely up to you how you use the space!
From the beginning to the end of your luxury journey, the First Class cabin will inspire you. With laptop power, USB plug, and on-board Wi-Fi, you can turn your space into a pleasant work location that meets all of your demands.
The Air France Business seat is perfect both for solo travelers and partners traveling together. It offers a significant amount of privacy, modern style, and understated elegance. Looking for a place to unwind, sleep, or work? You may simply select the most comfortable reclining position for your requirements.
Business-class seats deliver a luxury travel experience:
A completely flatbed
Each passenger has direct aisle access.
A multi-purpose space with complete privacy (work, restaurant table, and bed).
A Luxury Bed For a Full Night's Sleep
Before you go to bed, your flight attendants will lower the temperature of your bed. Your seat converts into one of the sky's largest completely flatbeds, complete with exquisite organic bedding: a thick mattress, 600-thread-count bed linen, a variety of soft pillows, and a relaxing pillow mist.
You'll get a restful night's sleep in your seat, which converts into a complete bed. Your bed, which is nearly 2 m / 6.5 ft long, is composed of soft materials and has a fully retractable armrest. With this extra room, you can discover the most comfortable sleeping position for you.
There are also items to help with jet lag, such as an ultra-soft cushion and a beautiful charcoal blue blanket.
Luxurious First Class Seats: The Details That Make the Difference
First Class seats provide unrivaled luxury and convenience for the first-class and business class passengers. These chairs have completely flat seats, privacy doors, big LCD wide-screen displays, storage closets, and more.
Smartphones, tablets, and laptops, to name a few… Every personal item in the Business cabin is readily stored in designated storage areas. A separate power outlet and USB port allow you to recharge your personal gadgets whenever you need them.
Noise-blocking headphones and a cosmetic mirror are included in your own locker. You may also use it to keep your regular goods so that they are always within reach.
All accessories are cleaned and disinfected regularly for your safety.
Your personal lighting may be adjusted to your preferences. Air France provides you ultimate control over your business class travel with fully customizable reading lights, ceiling lights, and mood lights.
A Perfect Working Space
The Business Cabin has all you need for a comfortable work environment:
a power socket where you may charge your laptop or phone
a reading lamp that can be adjusted and does not annoy other passengers
headphones with noise cancellation
documents or a laptop can be stored there.
Make Your Decision… Book Your Cheap First or Business Class Flight and Take Off!
Turn on your 18,5-inch HD touchscreen to turn your room into an entertainment lounge, complete with movie classics and blockbusters, foreign films in their native language, concerts, documentaries, TV shows, music, games, and more. Our wide range of programs allows you to unwind and enjoy yourself. As soon as you board, your vacation begins!
Cheap First Class is Your Reliable Luxury Travel Partner
Travel with confidence, plan your luxury air trip, find the cheapest first class and business class flight deals and book great value fares to 60+ destinations with Cheap First Class!
Need help with your trip? Here are answers to FAQs for all your travel!
Discover the World with Cheap First Class