Upgrading to first class is more beneficial than just buying a first class ticket. However, getting a cost-effective upgrade offer is usually a tricky task. Here are a few simple tips and tricks that will help you upgrade to first class without paying for it.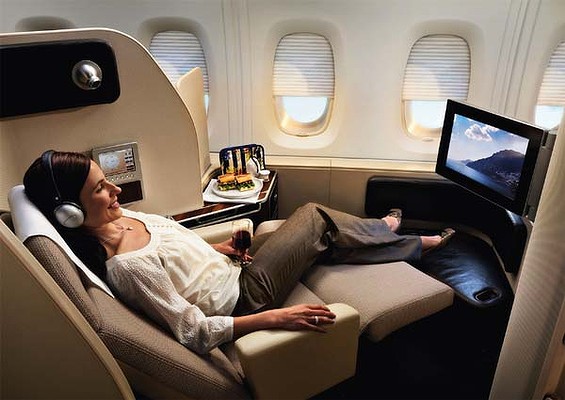 Loyalty Programs
The more you fly and the more money you spend with one carrier, the more money you will save in future. So, if you fly a lot just join a frequent flyer program and start earning miles. Loyal customers are the first to be offered upgrades when airline carriers are oversold.
Look for Breakages
Passengers can be upgraded to premium class if their belts or seats are broken. However, this does not mean you should start causing any damages, but checking for these damages can be your lucky chance to get a free upgrade. You can also ask for an upgrade if your seat doesn't recline or in case the entertainment system does not work properly.
Sit Near a Baby
Even if you are not a great fan of the little crying creatures, sitting near one of them increases your chances to get an upgrade. If a child next to you does not stop crying and screaming, do not hesitate to ask to be reseated to a more quiet place. Remember, however, that there is a chance to get a seat near the loo. In case all economy class seats are occupied you will be offered a first class seat and usually a complimentary drink.
Late and Early Check-in
Sometimes, due to various operational reasons, passengers need to be moved between cabins. This information emerges several hours before the flight, consequently the first few passengers to check-in have better chances to be chosen for an upgrade. Likewise, passengers who check-in the very last moment can be offered an upgrade in case of overbooking.
Fly on Your Birthday
Of course, your birthday does not guarantee an upgrade, however, sometimes airliners give birthday presents by way of upgrading a seat to business or first class. However, you need to understand that getting such present is only possible when free business/first class seats are available.
Be Ready to Switch Flights
Do not get nervous if your flight is overbooked. Just offer to switch flights rather than causing a scene. Your patience and readiness to suffer certain inconveniences can be generously rewarded. This reward can be nothing else but a free upgrade to the business or even first class seat.
These simple tips will help make your flight more comfortable and unforgettable. Good luck with your free upgrades!
Top Destinations for Business Class and First Class Travel in 2024
Rome, Yangon, Lucerne, Frankfurt, Tokyo, Edinburgh, Dubai, Paris, Bangkok, Johannesburg, Budapest, Osaka, Taipei, Brussels, Stockholm, Barcelona, Amsterdam, Athens, Berlin, Helsinki, Vienna, Brisbane, Reykjavik, Venice, Guangzhou, Perth, Milan, Seoul, , Glasgow, Madrid, Munich, Nice, Beijing, Dusseldorf, Iceland, Cairo, Melbourne, Moscow, Shenzhen, Shanghai, Nuremberg, Spain, France, Germany, Italy, Sweden, Switzerland, Singapore, Tel Aviv, Israel, Norway
Cheap First Class will take you to London, Paris, Amsterdam, New York or Hong Kong cheap! Get to the global capital destinations easily and forget about the overly-priced services of the vast majority of air flight companies online! Save up to 70% of your money with Cheap First Class luxury travel!
Cheap First Class is Your Reliable Luxury Travel Partner
Travel with confidence, plan your luxury air trip, find the cheapest first class and business class flight deals and book great value fares to 60+ destinations with Cheap First Class!
Need help with your trip? Here are answers to FAQs for all your travel!