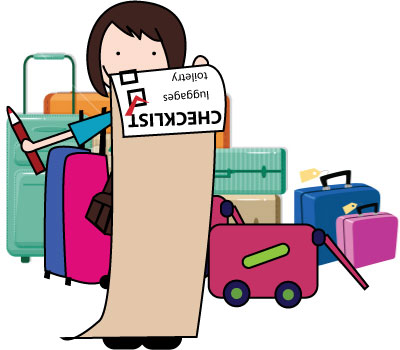 Traveling is fantastic, period. But sometimes it can also get messy, and stressful, and not enjoyable at all. Don't let a lost phone charger or spilled shampoo ruin your trip. Use our travel hacks and travel like a pro!
1. Book flights and hotels using the incognito mode in your browser
You may or may not have noticed that the longer you search for a flight, the bigger the price of a ticket gets. The same thing often works for hotels. The thing is that travel websites often track your search history and think that you get more and more likely to make a purchase with every click. So they raise the price. But if you switch on the incognito mode, your browser as well as travel websites will not be able to record your internet activity. Problem solved.
2. Organize your chargers and cables
Carefully fold your chargers and cables and keep them in one safe place. A glasses case, for example. This way they won't get lost in your suitcase and you will easily be able to use them as soon as you reach your destination. You might also want to use a string from an old pen to protect chargers and cables from bending and breaking, but this step is rather optional.
3. Keep your toiletries and skin care products in travel size containers
You are going to need an extra bag if you pack all your toiletries in their original size. Fill small travel size bottles with shampoo, hair conditioner, shower gel etc. Same goes for face creams and other skin care products. Many drugstores sell travel kits, and you can always purchase them online. You can also just keep the containers of trial shampoos, body lotions and so on. Make sure to put a patch of plastic film before you screw the lids on the bottles to prevent ugly spills in your luggage.
4. Don't fold. Roll!
You are probably used to folding your clothes when you need to pack them into your suitcase. But try rolling your clothes for a change, and you'll see that it saves tons of baggage space. Plus, rolled clothes are not so likely to get all wrinkled while they are in your bag. You could go a step further and use vacuum sealed bags to save even more space in your suitcase. Cramming ridiculous amounts of stuff into your carry on has just got a little more real, right??
5. Scan important documents
You may be the most cautious and careful traveler ever, but it doesn't mean you are safe from theft. Having a copy of your ID cards, passport, flight itinerary and any other important documents can save your life if they get lost or stolen. Print the copies out or save them on your phone or tablet. Or do both!
Top Destinations for Business Class and First Class Travel in 2024
Rome, Yangon, Lucerne, Frankfurt, Tokyo, Edinburgh, Dubai, Paris, Bangkok, Johannesburg, Budapest, Osaka, Taipei, Brussels, Stockholm, Barcelona, Amsterdam, Athens, Berlin, Helsinki, Vienna, Brisbane, Reykjavik, Venice, Guangzhou, Perth, Milan, Seoul, , Glasgow, Madrid, Munich, Nice, Beijing, Dusseldorf, Iceland, Cairo, Melbourne, Moscow, Shenzhen, Shanghai, Nuremberg, Spain, France, Germany, Italy, Sweden, Switzerland, Singapore, Tel Aviv, Israel, Norway
Cheap First Class will take you to London, Paris, Amsterdam, New York or Hong Kong cheap! Get to the global capital destinations easily and forget about the overly-priced services of the vast majority of air flight companies online! Save up to 70% of your money with Cheap First Class luxury travel!
Cheap First Class is Your Reliable Luxury Travel Partner
Travel with confidence, plan your luxury air trip, find the cheapest first class and business class flight deals and book great value fares to 60+ destinations with Cheap First Class!
Need help with your trip? Here are answers to FAQs for all your travel!