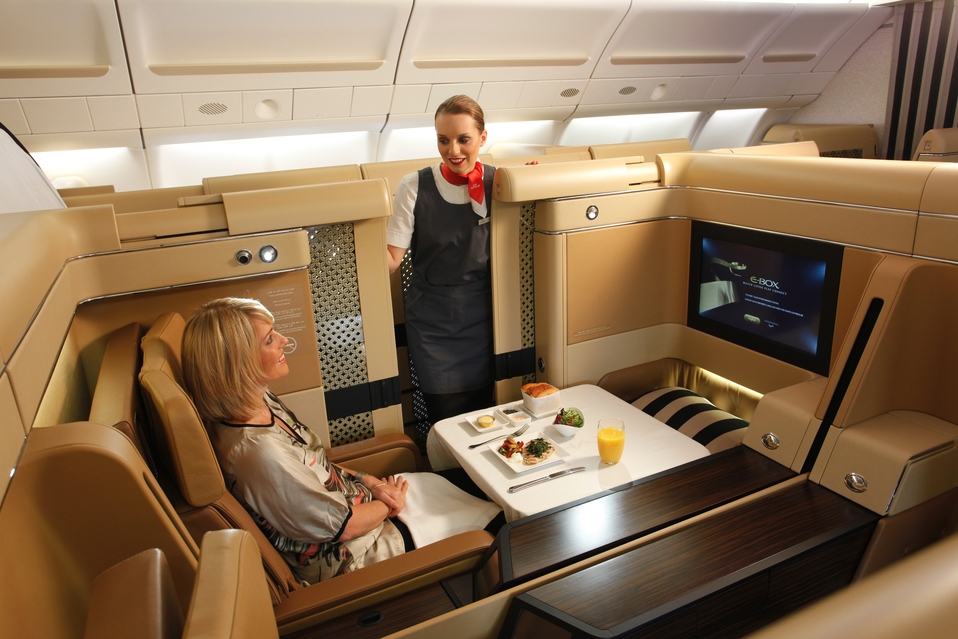 We all travel and buy airline tickets. All the time we would like to spend minimum possible money for the flight, because we all know that the prices for flights may vary considerably depending on many issues. You can buy cheap first class airline tickets and save on flights. If you have a good job and you have to go for a mission every now and then, the company can pay extra money for your comfortable flights. It is excellent, you are lucky. Maybe you can afford expensive airline tickets just for your pleasure. You know what you are paying for: better service, free food, comfortable seats and feeling of the self-respect. In the business class the passengers are served Champagne and the food tastes much better. Even the air is purer in some business class cabins. Recently, Lufthansa airline announced that it installed humidifiers in the business class on their "Airbus A-380".
Well, in many case we would prefer to save money. For that, you need to know how to buy the airline tickets properly. You can find a lot of first class special offers in the Internet.
Book Your Flight in Advance
There are a lot of Internet sites where you can monitor air lines and their prices. It would be better if you could start selecting the flight in a month or even two months before the expected dates of departure. Remember also that flight prices on Thursday, Friday, Saturday are much higher than on Sunday evening, Monday, Tuesday and Wednesday. So, if your dates are flexible, you better chose the day of the week. Many flights search engines have calendars of low prices and different options. Spend your time and learn about it. As you know, the cost of the round-trip tickets is much cheaper than one-way ticket. Even if you don't know the return date, always book the round-trip. Maybe you could change the date later by calling to the airline company or as the last result, you simply forget about it.
Check out for First. Class Air Tickets Promotions
It would be also useful to visit social networks, forums, blogs and see what they say about that direction and airlines. Different airlines carry out promotions, sales almost every day. For example, recently it was possible to book round-trip tickets from Berlin to New York for 350 USD only!
When you buy first class tickets in the Internet, use the incognito mode (combination Ctrl + Shift + N for browsers Opera and Chrome and Ctrl + Shift + P for Firefox and Explorer). It can be better for you. When you are ready to buy the tickets. Remember: the cheapest first class tickets can not be refunded. Therefore, if you are not sure about the date of the flights or your plans can be changed, it is better to think about the insurance or to select tickets with changeable dates for free or for minimum loss. Searching for economy class air tickets, don't forget about business class as well. You may be lucky and get business class air tickets for good price.
Buy First & Business Class Air Tickets with Discounts
Actually, some airlines offer first & business class air tickets with discounts for coach booking option, which can be much cheaper than selecting directly for business class prices. There are airlines company's booths at airport and they also can offer you cheaper upgrades of your air tickets already bought. You may be offered also an upgrade for miles or for purchase at a cheaper rate. Getting miles is much more difficult actually to earn. many airlines have modified their miles program, so those who pay the most earn the most. Anyway, it's better to enquire if you're eligible for an upgrade. You may also call the airline company for cheaper upgrade opportunities.
Find Your Reliable Business & First Class Travel Partner
Besides Internet search and booking, there is an option to talk with the air tickets agencies or your tourist operators. The matter is that there are many different classes or reservations. You can't choose it when you are purchasing tickets in the Internet. The specialized agent can do it and they are able to select tickets with good price and good terms according to your needs. In many cases your agent can advise you something useful or to warn you about useless loss of money. For instance, it is better to check out the aircraft listed for a flight, because some small planes may not have business class cabins and you have not to pay for something you will not get. Then with the assistance of your agent, you may be offered special corporate programs. Many agencies have special rates from airlines to save up to 20% of regular prices.
In the end, "hot ticket" may be offered the day before the flight or even the same day. But it is not mandatory, so no one will wait for the last minute with the hope to get jackpot. Be wise and take care!
Cheap First Class is Your Reliable Travel Partner!
Plan your trip, find the cheapest first class and business class flight deals and book great value fares to 60+ destinations with Cheap First Class!
Need help with your trip? Here are answers to FAQs for all your travel!