As the epidemic continues, Greece hopes to capitalize on last year's surprising success of garnering more than 6 million tourists and over 4 billion euros in earnings despite the crisis.
A new digital COVID-19 certificate issued by the European Union will assist Greece's tourist sector to recover from yet another summer's loss owing to the Coronavirus and make travel easier for those interested in visiting.
It is impossible to list all of the places to visit in Greece. This is a breathtakingly beautiful land with an infinite variety of landscapes. Greece has something for everyone, from rugged snow-capped mountains and ancient ruins to turquoise waters and white sandy beaches.
Aside from the breathtaking Greek Islands, some of the best places to visit in Greece are the country's incredible historical sites.
Greece is both the birthplace of democracy and the cradle of Western civilization. Greece is one of the world's most popular tourist destinations because of its combination of breathtaking natural beauty and fascinating history.
If you're planning a trip to Greece soon, be sure to read our comprehensive Greece travel guide. This is not only one of the cheapest places to visit, but it is also one of the best countries to visit for food and wine travel.
1. Santorini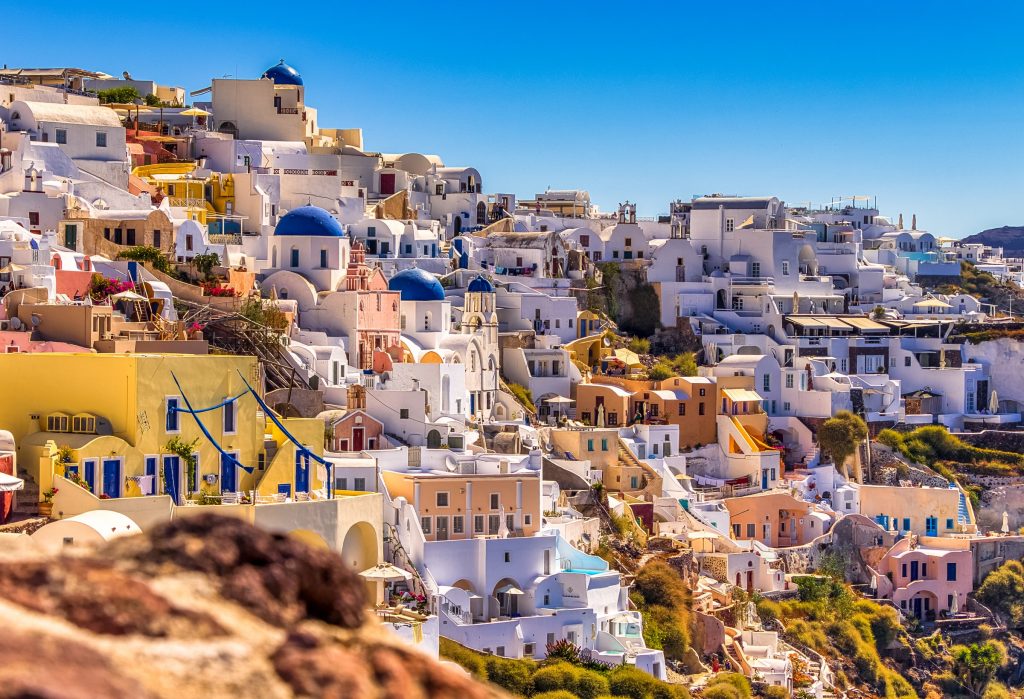 This breathtakingly beautiful location is one of the most scenic in all of the Greek Islands. Santorini is a breathtaking and world-renowned destination that must be seen to be believed.
Travelers from all over the world flock to the Santorini archipelago in the Aegean Sea. When it comes to romantic getaways and honeymoons, Santorini is a top choice for those seeking a sun-drenched destination that combines a rich cultural heritage with relaxation, well-being, and gastronomy.
Santorini's Beaches
It's hard to believe that this island has so many beautiful beaches. The colors span from black to red, beige, and white, with a touch of beige. As a result of the Mediterranean Sea's crystal clear and turquoise blue waves, swimming is a delight.
Wineries and Food
On Santorini, you may visit eight wineries. Take advantage of some complimentary red and white wine sampling and a tour of the estates and cellars.
Many tourists go to Santorini for its romantic atmosphere and stunning sunsets. Santorini will capture your heart if you take a plunge in the turquoise seas, stroll through the picturesque towns, and dine in the exquisite restaurants.
There is nothing like a romantic evening. In addition to the white buildings, sunsets, and vineyards, Santorini is a great destination for couples to spend time together. On this island, it's impossible not to sense romanticism.
2. Corfu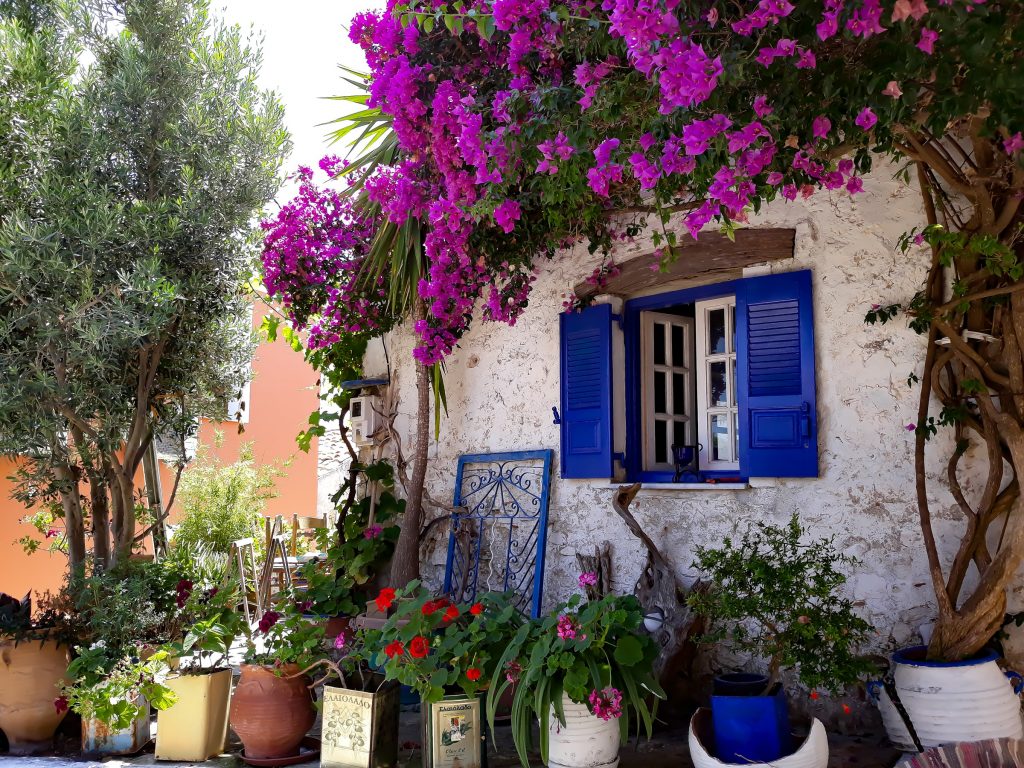 Corfu is a Greek island located just off the coast of the western coast of Greece. In Corfu, you'll find a temperate Mediterranean climate. As a result, you may expect a lot of tourists throughout the summer months. All of this adds to the excitement.
Beautiful mountains, over 200km of coastline, plenty of sunlight, beaches, ouzo, and souvlaki, to name just a few of the attractions of Greece. Due to its lushness, Corfu is regarded as Greece's emerald island. Olive trees grow in abundance on Corfu, adding to the island's lushness and food availability.
Corfu has direct flights from major European cities into the Ioannis Kapodistrias Airport in Corfu. In addition, there are flights between Athens and Thessaloniki to the rest of the country. As well as ferries, several cruise ships stop at Corfu.
Wine and Food in Corfu
suburban lines. Buses in green are used for longer excursions on Corfu.
Greeks love to eat, and they want their visitors to enjoy it as well. In this wonderful Mediterranean environment, lengthy, leisurely dinners are to be expected.
Corfiot cuisine, or the food of Corfu, is heavily inspired by Greek and Italian traditions, so you receive the finest experience. Sofrito, a beef dish with garlic and wine, bourdeto, a fish cooked in red wine and pepper, and some of the most wonderful fetta cheese, olives, and wine are some of the delicacies to watch out for.
Corfu's Beaches
Corfu's seas are crystal clear and vibrantly colored. Kontokali Beach is close to town and has a long, sandy beach lined with colorful umbrellas and deckchairs, as well as a wide range of water activities available on the beach itself.
On the island of Sidari, you'll find several sand beaches with beautiful sandstone structures. There is an entertainment park and boats available to transport you to the Diapontia islands daily if you choose.
3. Rhodes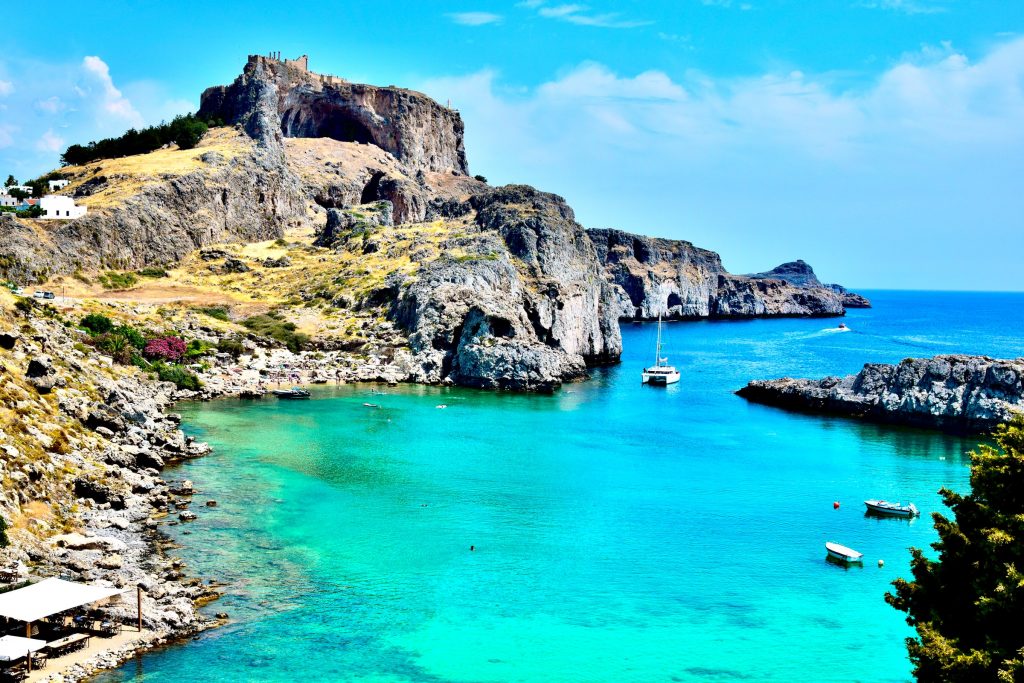 If you're searching for a relaxing vacation but also want to have some fun, Rhodes is the perfect destination for you! Rhodes, with its brilliant green hills, lush green valleys, an unbroken stretch of golden beaches, is really a fortunate location. As a result of the outstanding tourist infrastructure, the island's unique combination of cosmopolitan and traditional culture, as well as the abundance of historical landmarks, makes for an ideal vacation location.
Palace of the Grand Master of the Rhodes Knights: one of the first castles erected by the knights. The Knights of Rhodes built the Palace of the Grand Master. Discover a Rhodes History Museum, as well as the spectacular mosaic-floored Grand Master's residence. When a stockpile of munitions burst in 1856, the furniture was mostly destroyed along with it.
Street of the Knights (also known as "auberge" or "palatial palace"), where each language had its own inn. Discover the French Inn of the Tongue, or England's Inn of the Tongue, for example.
Within the historic Hospital of the Knights on Rhodes, you will find the Rhodes Archaeological Museum. Numerous antique artifacts from Rhodes may be discovered here.
The Valley of the Butterflies is one of Rhodes' most popular attractions. In the north of Rhodes, between Paradisi and Theologos, it's 26 kilometers from the city.
4. Mykonos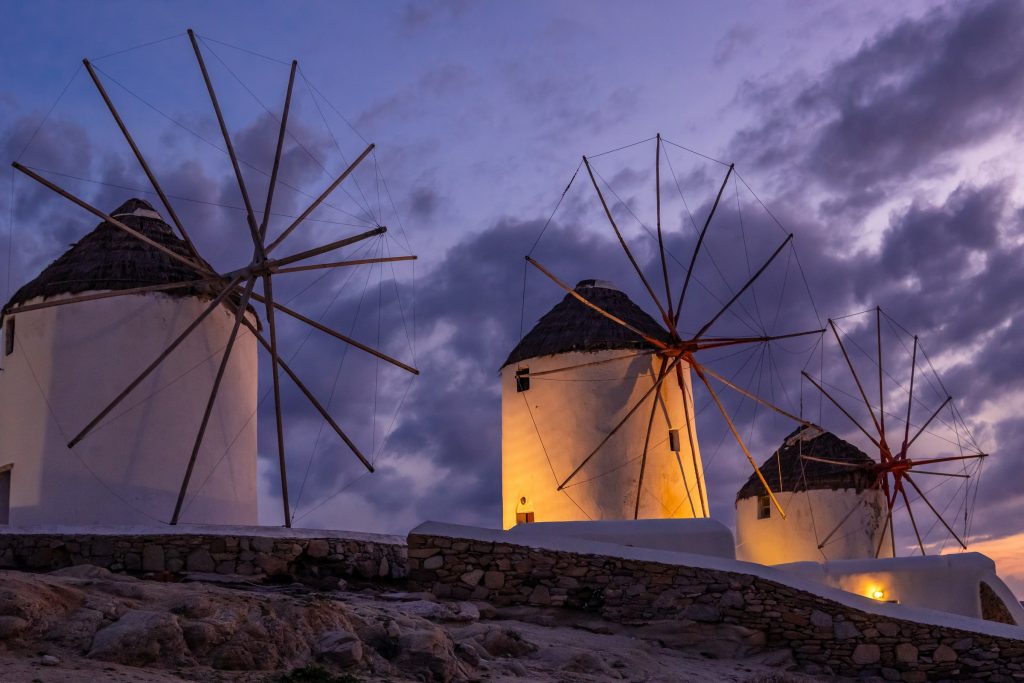 A cosmopolitan island, Mykonos is also rugged and filled with historical charm. Legend has it that Mykonos was created by Hercules from the remains of giants he had killed. In addition, the island has been ruled by the Greeks, Romans, Venetians, and Turks, which has resulted in a wealth of historical sites. There are also its 16th-century windmills and Mikri Venetia, its Little Venice.
Most picturesque island amid a sea of Greek islands! As trendy and sophisticated as it is, Mykonos is nevertheless ruggedly beautiful. Everybody should want to go to Mykonos this summer because of its windmills, vast stretches of sandy beach, and frequent influx of celebrities.
Food of Mykonos
Food in Greece is delicious: grilled meats with a light salad, and rich moussaka with plenty of feta. In contrast, Aegean cuisine increases the bar. Imagine kopanisti, the island's pride, or louzes, a fiery pork dish. Amigdalota (little almond and rosewater cakes) and honey pie, frequently accompanied by tinkling glasses of Ouzo or Tsipouro, may also grab your attention.
Beaches of Mykonos
Even though Kalafatis is a tiny beach, it is nicely shaped and gives lots of chances for sunbathing. While Mykonos' golden-sand beaches are primarily found along its southern shoreline, you should realize that each one attracts a different sort of tourist. Remember, though, that Agrari is best for quiet swimming, Korfos is best for sports fans, and Platis Gialos is best for families.
5. Crete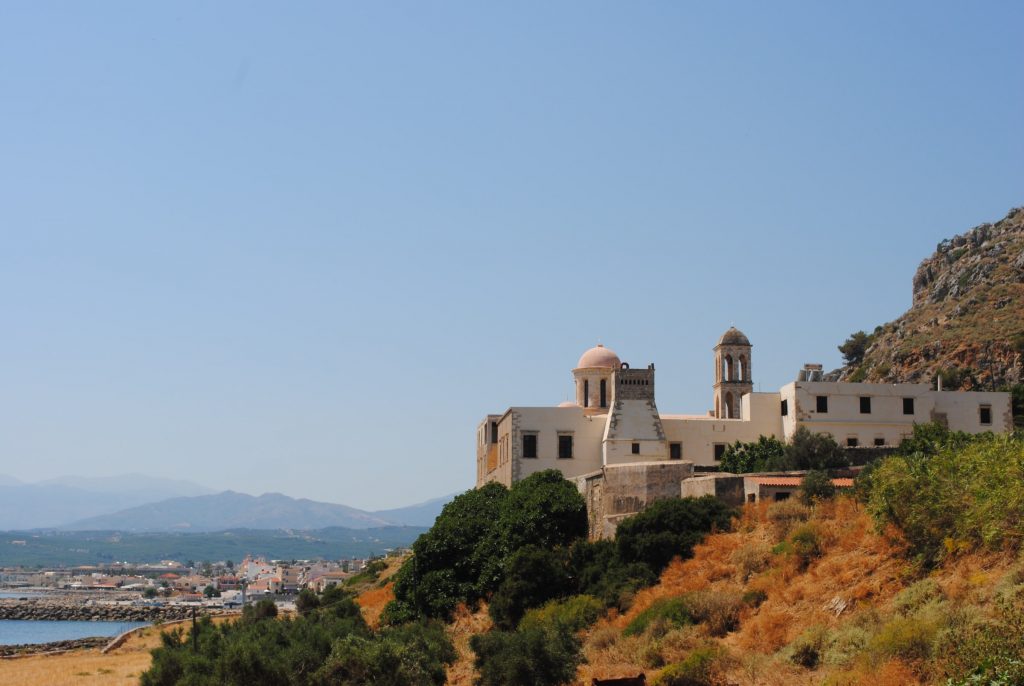 Crete is the biggest island in Greece and the sixth largest in the Mediterranean Sea. Here, you may see the ruins of ancient civilizations, visit beautiful beaches, breathtaking mountainscapes, lush valleys, and deep canyons, and immerse yourself in the island's rich culinary culture. Crete is indeed a microcosm of beauty and riches that will take a lifetime to discover!
Cretan capital Heraklion is one of Greece's largest cities. After the 9th century AD, the island's growth began (Knossos was the island's most significant center, followed by Gortyn). Eventually, Heraklion was ruled by the Arabs, Venetians, and Ottomans, and its conquerors gave it the name Khandaq or Handak, which became Candia. Heraklion was one of the sites for the football event at the 2004 Olympic Games.
Minoan Civilization centered on the beautiful city-state known as Knossos, one of the world's most impressive civilizations. It is the biggest and most typical archaeological site in Crete. Amidst olive trees, vineyards, and Cypress woods, it is located 6 kilometers SE of Heraklion. According to mythology, the fabled king Minoa lived there. As the royal family's palace, it also served as the administrative and religious center for the whole region, according to National Geographic.
Wine Production
Wine production has been going on for thousands of years in this region of Europe. While in Chania and Heraklion, you may also visit numerous wineries and become acquainted with Cretan terrain, local cuisine and – let's not forget it! – the exceptional Cretan friendliness! Aside from that, wine is a component of the island's culture and daily life. In Crete, alcohol is usually offered with food; no one drinks alone. They like to do it while conversing, laughing, and eating local food!
In the vineyard, great wines are born! Cretan wine-growing areas are located on Crete's north coast while grapevines grow close to olive trees in the south, shielded from the warm breezes of the Libyan Sea. Winds blowing across Crete's northern coasts and the Sea of Crete create perfect circumstances for the production of top-quality Cretan wines. Throughout the ages, grapevines and the winemaking process have flourished in this region, which is steeped in local culture, including everyday life, food, and hospitality. Take a whiff of each wine and reminisce about the lush vineyards where it all started.
Let yourself be captivated by enticing scents emanating from oak barrels as you tour the island's wineries. The Cretan winemakers have continued to use the old traditional methods while incorporating new information gained from technological advances and market preferences. To make fine wines for every taste, oenologists evaluate varietals, experiment, and come up with novel smells and flavors!
6. Zakynthos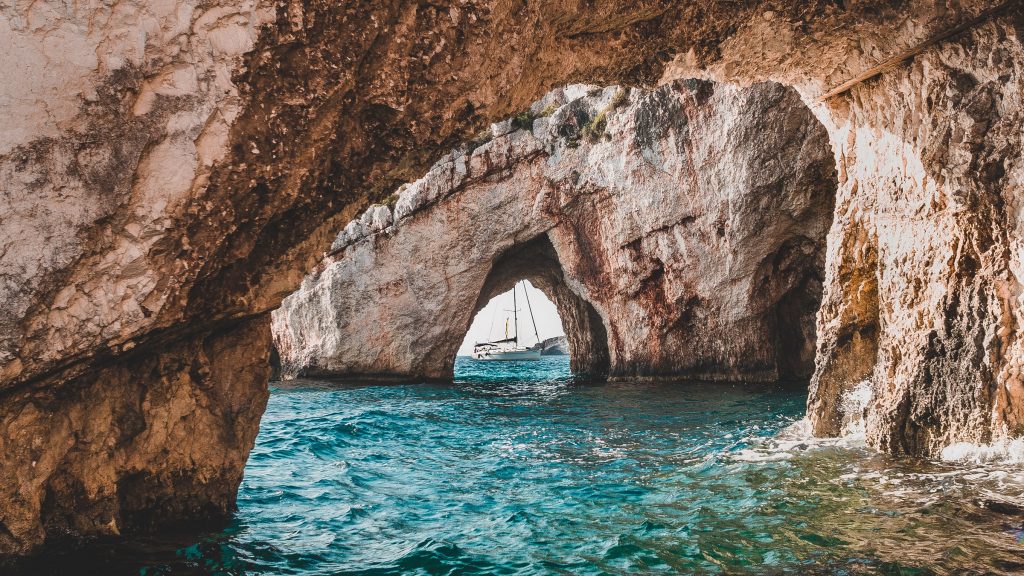 Zakynthos, called Zante to Italians, has been a popular tourist destination in recent years. Athens isn't just known for its gorgeous coastline. Once you leave the long, sandy beaches and begin exploring the remainder of the island, you'll discover the ideal natural beauty and typical rural towns. if you're looking for a summer getaway.
Beaches of Zakynthos
Zakynthos has some of the best beaches in the world, and if that's what you're looking for in a holiday destination, you're in luck. It's hard to miss the iconic Navagio (Shipwreck) Beach, with its rust-colored rocks rising from the powdery white sand. The limestone cliffs and blue water add to the striking color contrast. Families with young children may wish to steer away from Navagio in the northwestern section of the island because it is unserviced and surrounded by rough waves.
Zante's Venetian architecture
Despite the devastation caused by the earthquakes, Zante's Venetian architecture has endured. Due to the devastation caused by the 1953 earthquake and fire that followed, several historic structures and churches were destroyed. As a result, the priceless artifacts housed in these buildings were destroyed. On a rigorous anti-seismic basis, the town was reconstructed while maintaining a major portion of its original architectural structure.
On Zante, the caretta aretta sea turtle and the monachus monachus seal are protected with utmost diligence.
Top Airlines With Great Business Class to Greece
Enjoy comfort, attention to detail, and personal care on your luxury flight to Greece!
Benefits of Flying Business and First Class to Greece
1. Enhanced health and safety measures.
2. Quick and easy pre-flight experiences.
3. Speedy security clearance.
4. Dedicated check-in desks.
5. Priority boarding.
6. Access to private lounges.
7. In-flight entertainment options.
8. A spacious seat, adaptable to your personal space.
9. Advanced LED lighting.
10. Delicious dine-on-demand cuisine.
11. A luxurious selection of amenities.
12. State-of-the-art communications system.
13. Early arrival to the airport.
14. Premium assistance to your departure, connection, or arrival.
16. Extra luggage allowance.
Top Destinations for Business Class and First Class Travel in 2021
Rome, Yangon, Lucerne, Frankfurt, Tokyo, Edinburgh, Dubai, Paris, Bangkok, Johannesburg, Budapest, Osaka, Taipei, Brussels, Stockholm, Barcelona, Amsterdam, Athens, Berlin, Helsinki, Vienna, Brisbane, Reykjavik, Venice, Guangzhou, Perth, Milan, Seoul, Glasgow, Madrid, Munich, Nice, Beijing, Dusseldorf, Iceland, Cairo, Melbourne,Moscow, Shenzhen, Shanghai, Nuremberg, Spain, France, Germany, Italy, Sweden, Switzerland, Singapore, Tel Aviv, Israel, Norway
Cheap First Class will take you to London, Paris, Amsterdam, New York, or Hong Kong cheap! Get to the global capital destinations easily and forget about the overly-priced services of the vast majority of air flight companies online! Save up to 70% of your money with Cheap First Class luxury travel!
Cheap First Class is Your Reliable Luxury Travel Partner
Travel with confidence, plan your luxury air trip, find the cheapest first class and business class flight deals to Europe and book great value fares to 60+ destinations with Cheap First Class!
Need help with your trip? Here are answers to FAQs for all your travel!