We want to share our strategy for flying business and first-class to Dubai for cheap. Whether you fly Business Class or First Class, fly with Cheap First Class to Dubai for a great way to travel. We will help you find our best fares on your next flights from the US to the heart of Arabian dream Dubai and beyond, with a fantastic choice of food, drinks, and entertainment.
Whether you fly Business Class or First Class, fly with Cheap First Class to Dubai for a great way to travel. We will help you find our best fares on your next flights from the US to the heart of Arabian dream Dubai and beyond, with a fantastic choice of food, drinks, and entertainment.
How to Fly First and Business Class to Dubai for the Price of Economy
Here are the 5 essential preconditions you have to meet to be able to fly first and business class to Dubai.
You have to be willing to pay a little bit more for the coach and economy class on your first few flights. Invest in the first few luxury trips.
You need a good amount of flexibility when it comes to business and first-class travel dates. 
You need some patience in researching the flights and waiting for the right flights for you.
You need appreciation for luxury traveling.
Find cheap first-class flights, book them with ease with Cheap First Class, and slide into a more comfortable seat for your first-class or business-class flight.
Luckily there is a way to rekindle the golden age of those flying days. Enjoy the most memorable flying experience in the world with our 14 perks of flying Business and First Class to Dubai that will make you see why it is absolutely worth every penny spent.
1. You arrive to Dubai well-rested and refreshed
Let's board our first-class flight to anywhere and experience firsthand why you should always fly first class. 
You arrive well-rested and refreshed. Have you ever waited to pick someone up from the Dubai airport and watched the people leaving the luggage collection spot? There is a stark difference between those who flew first class and those who didn't.  First-class flyers look like they've had a great night's sleep and are ready to tackle whatever the world throws at them. Economy passengers look shattered, rumpled or red-eyed, and majorly irritated. Tantrums are being thrown and not by children, and you know it's going to take a day or two before you feel the semblance of their former selves.  
Not enough can be said about arriving at your destination feeling awake, that means you can start your vacation immediately and not waste any time trying to catch up on sleep.  Many first-class beds will rival the best hotels and some even offer double beds. So joining a mile-high club would be a far more enjoyable manageable experience. So be sure to make use of your Do Not Disturb sign.
2. The 10 best First Class amenity kits
To combat the dryness in the first-class aircraft cabin, airlines offer premium amenity kits which include a lip balm, moisturizing lotion, and hydrating facial sprays. If it's a long flight, stow away an eye mask to shut out the light, and earplugs to avoid being awakened by unnecessary chatter. The kit also contains toothpaste, a toothbrush, and facial wipes that will allow you to freshen up before you land.
3. Absolute Comfort. Impeccable Service when Flying First and Business Class to Dubai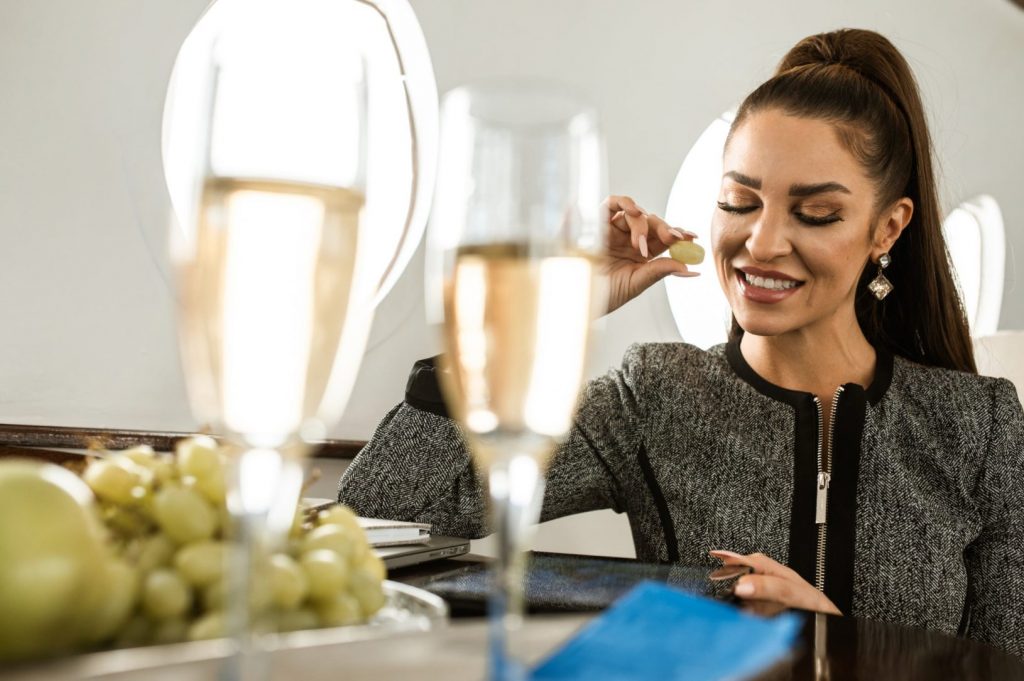 The top world's airlines finely select in-flight facilities to serve any passenger need. And only first-class thinking people choose flying first-class to Dubai. Dealing with low-budget flyers is not your problem. We are certain you have a story or two to share with us about truly awful passengers you've had to deal with on a flight.
Fly first class to Dubai and you don't need to worry about the crying babies, kids running up and down the aisles, people getting it on right next to you, dirty toes poking through the gap in your seat, movie screens not working, long hair being flipped over your screen, and the most annoying someone flipping their seatbacks so far your laptop is officially poked.  We can go and on, and on… but we'd rather hear about your experiences a bit later. 
And on a side note just because someone can afford to fly first class doesn't necessarily mean they'll behave any better. The difference is those bad situations are just less likely to happen in the first class.
4. First and Business Class Passengers Disembark First in Dubai
As a first or business class passenger, you board and disembark first. When you fly first class you are treated first class, which means you are the first to board the plane, which you don't mind because you are stepping onto luxury and the first to disembark.  It's all part of the first-class experience. Boarding early gives first-class passengers a calm environment to stow away their luggage properly, have something to eat and drink whilst waiting to get themselves settled before other passengers board the flight.  
You know how it goes when your are boarding. You are standing in a narrow aisle desperate to find your seat. People squeezing past you smacking you in the face with their luggage, sitting in the wrong seats, taking your window seat, is all kinds of stress there which you can avoid in first-class. 
Disembarking first is another great reason to fly first-class because you land yourself at immigration and customs before other passengers saving you a lot of time and effort. And another bonus: many first-class and business-class passengers get their luggage stored in a separate hold, so it is unloaded first. If you travel first class, you think first class.
5. First and Business Class Bathrooms Are More Spacious
Bathrooms in the first-class aircraft are more spacious. We can list a fair amount of issues you can encounter in lavatories on planes – bad odors, wet floors. We sincerely hope it's just water …. The terrible smelling hand soap, the severe lack of space, etc. 
Flying first class ensures you have a game-changing bathroom experience. You get high-end amenities, like gorgeous creams, high-quality hand soap, perfumes, shaving cream that works!
Many first-class bathrooms have a shower, they are luxuriously fitted and individual hand towels. But of course, these are airline-specific with some having more offers than others.
6. Work While You Fly First and Business Class to Dubai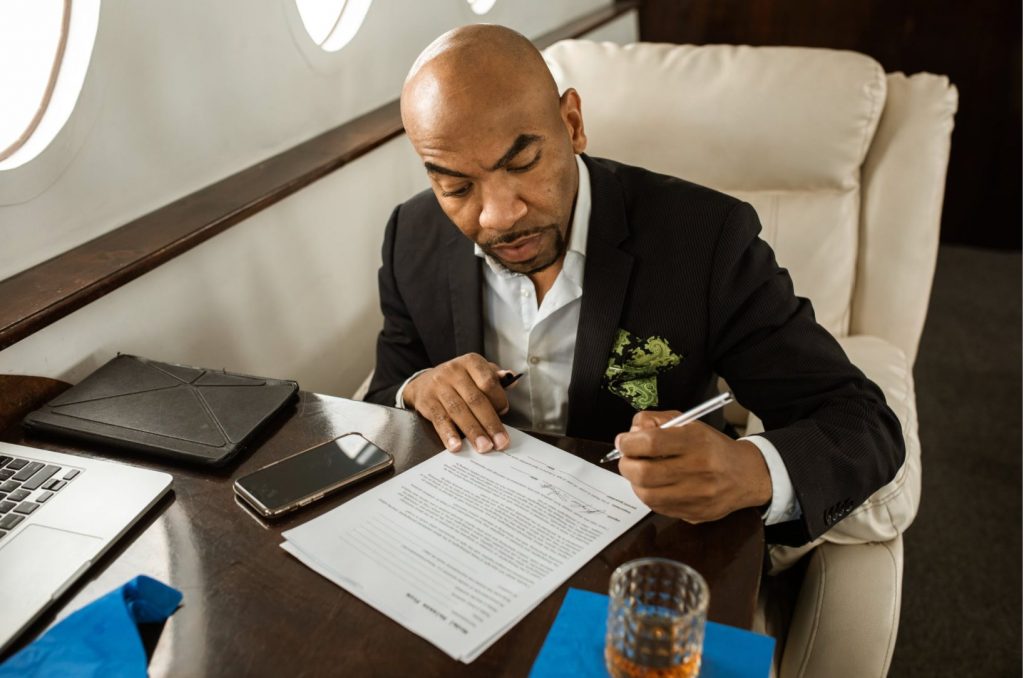 You can get some work done. In first-class it is so much easier. The obvious is that you have far more space to set up your workstation. Have you ever dropped your laptop on the floor when flying in the economy? We can assure you it is not something you would like to do twice. You can gain stress-free productivity time while working in first-class even more than you would at home because your every need is catered for. Water – still or sparkling? A slice of lemon or cucumber? Coffee, tea, snacks, anything else? Anything you need is brought right to you leaving you free to work uninterrupted.
7. First-class Networking
Networking is a breeze. Flying first-class to Dubai means sitting next to a better class person and having more opportunity to meet the right contacts in first-class than the economy unless the person flying in first-class got given a free ticket or was upgraded. It's fair to say that that passenger bought their ticket or the company paid for it. Either way means the person is successful. Network in the airport lounges and the waiting areas before the flight and we can guarantee that when you fly first class even these are fantastic as we'll explore next.
8. Enhanced Entertainment on Business and First Class Flight to Dubai
Stay super entertained on your flight with Emirates inflight entertainment services. Choose from a wide selection of movies, TV shows, music, games, and much more… Every business and the first class seat is fitted with an individual touchscreen, providing you with an exceptional inflight entertainment experience with over 4,500 channels when flying to Dubai.
9. First and Business Class Travel Before and After You Fly to Dubai
You have access to the first-class lounges. If you think that most standard lounges at airports offer Wi-Fi, comfortable seats, workstations, drinks, snacks, and reading materials, can you just imagine what the first-class lounges offer? Expect shower rooms and wellness facilities. For example, Cathay Pacific has a meditation and yoga room at their Peer Lounge in Hong Kong. 
10. Better Rest with Business Class beds
Many have a range of complimentary SPA treatments available, as well as places to have a small power nap, gyms, private restaurants, cigar bars, jacuzzis, entire private bedrooms, which you need to book beforehand, and sprawling views of the runway while you sip your champagne, cocktail or networking. 
Each airline has its special offering like chauffeur pickups and collections from Air France or the experience you'll have at Etihad Residence Lounge at Abu Dhabi airport, where the buttler does everything for you, including your check-in. And he is all yours until you get your next buttler when you board your flight. 
11. Fine Food with Premium Inflight Dining
Dining in Business Class is a culinary experience designed to create pleasure. Your meals will be recognizable and you won't have to pay for beverages. Award-winning menus crafted by famous chefs, an onboard cafe service, and boutique wine lists are just the start when you fly business or first-class to Dubai. 
These days many flights make you pay for everything.  There is no such thing as a free bag of peanuts or a juice box, and the price of everything is sky-high. When it comes to mealtime you will not be asked "chicken or beef" and you'll certainly recognize the meal you'd be served. You won't be seated next to someone cramming the dinner roll into their purse or the yogurt into their carry-on, and you'll not be eating with plastic cutlery and out of styrofoam containers. 
So what kind of dining experience can you expect on your first-class flight to Dubai? All fine dining experiences are yours when flying first-class. Many airlines have their iconic dishes or have a celebrity chef creating the menu. 
Here are just some of the delectable meals you can experience in first class. 
Cathay Pacific inflight meals mandarin oriental roast chicken. Each month they have an executive chef to prepare their first-class menu. And this is an example of a one-month meal. 
Virgin Atlantic: The Upper Class dining experience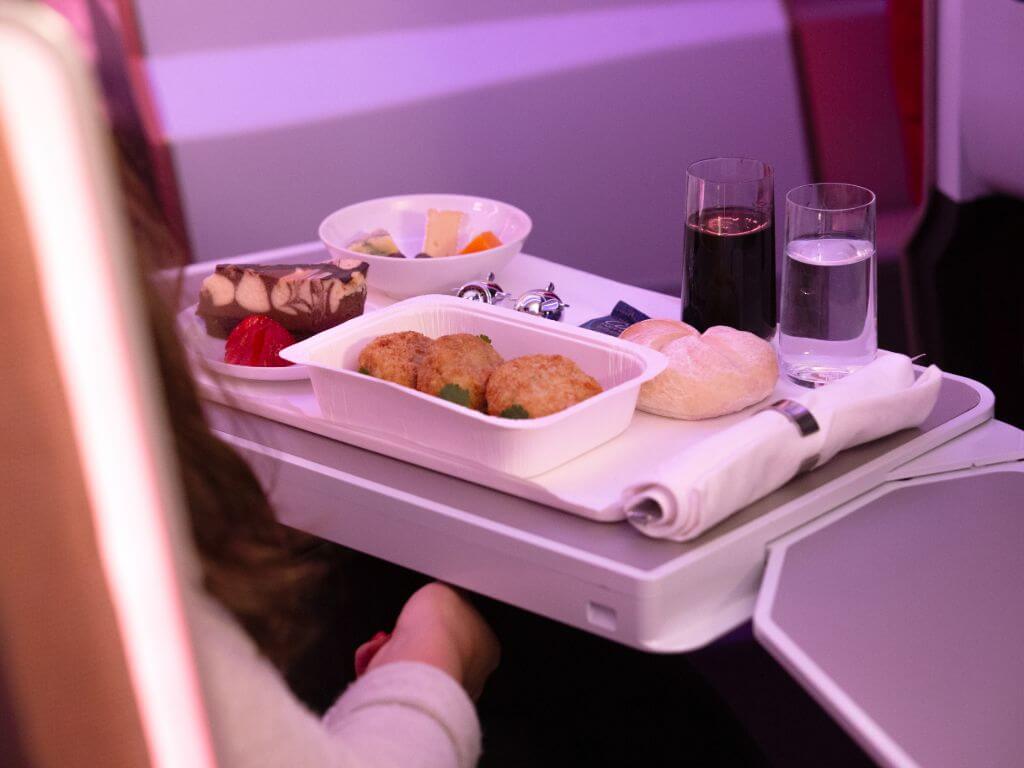 Cheap First Class is always ready. to help you discover first-class and business-class flights to Dubai with Virgin Atlantic. With the cheapest fares Dubai, you get a great choice of food, drinks, onboard entertainment, and Wi-Fi.
Virgin Atlantic has recently brought back hand-plated meals in Upper-Class flights. These include roasted chicken breast with braised cannellini beans, chanterelles, and lemon confit, and Virgin Atlantic upper-class afternoon tea. Here you'll be treated like royalty when you enjoy a proper English tea. This includes cucumber sandwiches, little cakes, scones, jam, and clotted cream.
Hawaiian Airlines' first-class beef car-car is a meal you can expect from a five-star restaurant served 30,000 feet in the air.  This was one of the first-class menu items on Hawaiian Airlines: an oxtail stew with tripe and pork legs simmered in a cashew sauce with asparagus roasted potatoes, and carrot. 
12. Get More Space when Flying First and Business Class to Dubai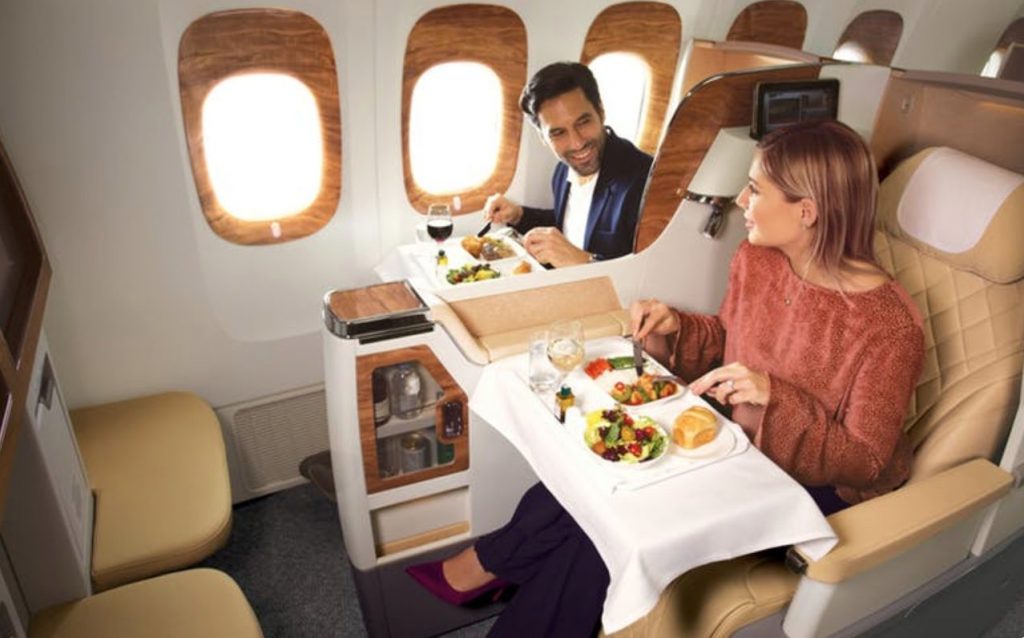 Extra legroom allows you to experience a new level of comfort when flying first class and business class to Dubai. It is a squash and squeeze when you fly the economy class today. Splash out on extra Legroom seats for up to two extra inches on your seat pitch and enjoy the space throughput the entirre flight.
13. What's the difference between Business Class vs First Class flight to Dubai?
Today the best Business Classes offered by top airlines flying to Dubai are as good, or even better than First Class once was, so what's the difference? Many airlines now sell many more seats in Business Class than First Class, with some having removed First Class completely.
Lufthansa's first-class seats have a pitch of 90 inches and there are seats of 31 inches in width. Size does matter after all.
10. You get treated exceptionally well. You don't need to be a celebrity to be treated like one in first-class. The best thing about flying first-class was that you could be as nutty as a fruit cake and would still be treated like a queen.  Flying first-class to Dubai means you get more individualized attention.  Flight attendants ensure you don't just fly from point A to Dubai but the entire trip is an experience of luxury, fine dining, and relaxation. Your every need is taken care of. Have you ever traveled first class? What was the experience like for you?
Last-Minute Deals to Dubai: First & Business Class Flights
Travel in elegance to Dubai with Cheap First Class business class flights. Whatever your needs, our hand-picked airline services offer all of the luxuries of luxury travel at an affordable price. Whether you're looking to unwind, sleep, or get some work done, you'll find everything you need for a nice trip.
With our affordable last-minute business class flight deals, it's never been easier to travel in luxury. Simply explore the offers on our website. We've worked hard with our business partners to get the lowest travel fares for you, so you can focus on preparing for that crucial presentation, meeting, or training knowing you're getting great value.
Cheap First Class is Your Reliable Luxury Travel Partner
Travel with confidence, plan your luxury air trip, find the cheapest first class and business class flight deals and book great value fares to 60+ destinations with Cheap First Class!
Need help with your trip? Here are answers to FAQs for all your travel!
Talk to a Cheap First Class Business Travel consultant about Business Class flights to Dubai: 800 818 2451