The pandemic has reshaped the business class and first-class flying experience, with changes to how airlines board planes, scaled-back in-flight service, and even when you go through the airport security. Some airlines blocked middle seats to give travelers more space onboard. However, the aviation industry seems to start getting back to a high level of normality in 2024.
U.S. airlines carried 9.5% more scheduled service passengers in April 2024 than in March 2024 (preliminary) but 39% fewer passengers than in pre-pandemic April 2019, according to data filed with the Bureau of Transportation Statistics (BTS) by 18 airlines that carry more than 90% of the passengers.  
The large airlines carried 46.6 million passengers in April 2024 (preliminary), compared to 3 million passengers in April 2020, which was the lowest monthly total in BTS records dating back to 1974.  The previous low was 14.6 million passengers in February 1975.
Now, many aspects of flying have returned to normal – or something close to it. The appeal of these affordable but luxury seats — particularly among travelers who would normally be crammed into the economy — is an unexpected advantage for airlines struggling to recover from the pandemic consequences that are predicted to cost them $174 billion by the end of 2024. The number of upper-class travelers increases as vaccinations roll out at a rapid pace all over the world, especially in Europe, the Middle East, the United Kingdom, and the United States. Cheap First Class offers business class and first-class flights to all top global destinations as an affordable refuge from COVID-19.
Traditional business travel, on the other hand, may recover faster than expected if vaccines in numerous countries make quarantine-free travel practicable. Premium first and business class cabin fares would undoubtedly rise as a result, putting some leisure travelers out of business. Recently a flight corridor between New Zealand and Australia opened.
Navigating Through Post-pandemic Air Travel Restrictions
After a year of canceling trips and staying at home, travel is slowly but surely coming back. People are traveling again, and people are booking tickets again. However, travel has significantly changed in the last year. Let's explore what it is like in airports and airplanes.
As you prepare for your summer trip you won't necessarily need a Covid-19 test or proof vaccination just because you are getting on a plane.  It depends on where you are going. Many countries and even some states like Hawaii require a negative Covid-19 test for entry. And if you are leaving a country you still may need a negative test to board your flight home. But these rules constantly change, so double and triple-check before you leave.
How Busy Are Airports in Summer 2024?
This time last year most airports looked like absolute ghost towns, but that has started to change and they are started to fill up again. But it depends on which day you fly. Want to make sure you are not battling through crowds and long lines? Follow our recommendations and fly on a Tuesday, Wednesday, or Saturday. Those are the least busy days you will find in airports and on airplanes. Do your best to avoid Sundays, Mondays, and Fridays. 
Checking Your Baggage
Checking a bag is so hot right now. Business travelers are still at home and vacationers are out. That means almost everyone is checking a bag, so you may run into some long lines when dropping off your luggage. If you can, it's worth trying to pack in a carry-on bag, so you can skip it. But the actual process of checking a bag has not changed much at all. 
Just check in for your flight at home or the airport, get your baggage tag, slip it on and drop your bag off – it will take just a few minutes. 
Get Ready to Go Through Airport Security
The least favorite part of the airport is getting through security. As always just how long or short your lines are is going to depend pretty heavily on when you are traveling. The biggest post-pandemic travel change at security is a good one. Rather than hand over your ID and a boarding pass, just show your face. Many airports now allow you to simply stick your ID in a reader, get it back and go on your way.
What definitely goes in the bins in the airport security? 
Make sure you don't carry these items to which TSA is very sensitive:
Hair driers
Curling Irons
Electric Razors
iPods / Music players
Connecting cables and wires
Battery chargers.Personal electronics
Shoes (especially shoe soles)
Restaurants and Retail Stores in Airports
Most but not all restaurants and convenience stores are open inside airports these days. So you should not struggle to get a bite or a cup of coffee or buy some drinks and snacks before your flight. But many airport restaurants and shops have limited hours, so if you are flying late, you may be out of luck. 
Food courts at the airports remain open, but passengers are required to follow social distancing guidelines and to maintain at least six feet of separation between other people.
Many retail stores in the airports remain closed, however, the concessions are adjusting their working hours and opening status daily.
So if you want to shop, your options are probably pretty limited. If you have got the right credit card for top airline status you can still get into an airport lounge or at least to some of them. While many airline lounges are back open some remain closed after more than a year of the Covid-19 pandemic.
Business and First-class Lounges
If you find an open one just what you get inside may vary. After emptying business and first-class lounges are filling up again. Luckily most do a pretty good job keeping people spaced out inside. Many airlines have cut back on a lot of their food even for the upper-class passengers, so it may still be mostly pre-packaged snacks like in Delta Sky Club. But you can almost always count on an open bar. Others like AmEx Centurion Lounges are nearly back to normal with great meals and drinks for free. 
Before long it is time to head to the gate. All airports are definitely getting busier. You still should not have a hard time finding space nearby to sit while waiting to board. Many gates are being used these days. Usually and the airport is a hustle and bustle, where everyone is moving around and rushing. 
How Boarding Has Changed in 2024?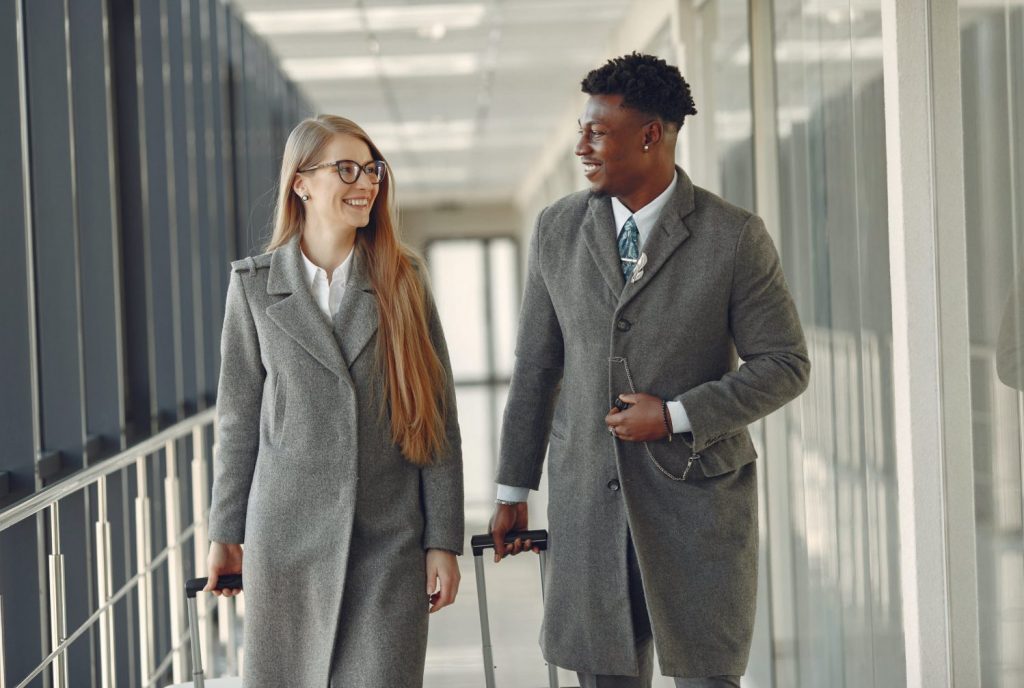 Getting through the airport does not really matter which airline you are flying with. But so much of the travel experience does depend on what you are flying – from boarding to onboard service to blocking middle seats. Every airline has responded to pandemics in different ways. And it all starts at boarding. Your traveling can be very much different depending on what airline you are flying with. 
Some airlines begin boarding planes from back to front. United did that for a year but it is back to boarding planes and zones now. You may find social distancing markers and the queue on the jet bridge but people still tend to get bunched up. Delta is still boarding planes from back to front, while other airlines are boarding planes as normal.
Back to the future? Don't hope for an empty flight
Hoping for an empty flight? We've got bad news. Those days from early in the pandemic are over. These days you should pretty much assume your flight is going to be near if not full. Throughout the pandemic, some airlines block middle seats to get passengers more space on board. One by one they all have gone back to filling planes to capacity. Delta was the final holdout but even they started filling middle seats as of May 1st, 2024. 
Face Mask Requirements During All Air Flights
Masks are still required in airports and on airplanes. And even as millions of more passengers get vaccinated every day that is unlikely to change anytime soon. 
Wondering if your fellow flyers will be good about wearing a mask during the flight? It varies by flight and who you are flying with, of course. Airlines have banned thousands of passengers who refused to mask up in the last year. But those incidents are few and far between.
Airlines including Delta and United constantly remind passengers to keep their masks on, saying that the Federal Law requires everyone except for children younger than two to weak a mask properly over their nose and mouth at all times throughout the flight including boarding and de-flighting. Refusing to wear a mask is now a violation of Federal Law that may result in removal from the aircraft, loss of your travel privileges on future flights with air carriers, along with other fines and penalties by the Federal Law. 
In-flight Service Is Evolving Post-pandemic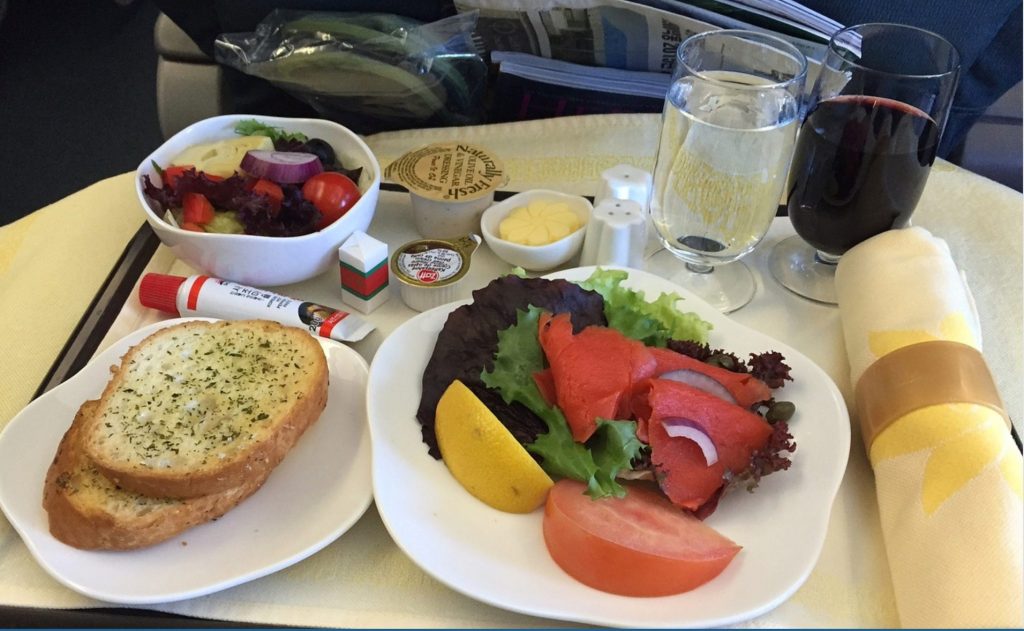 When the pandemic first hit many airlines stopped their usual drink cart routine and stopped serving alcohol altogether. But in-flight service is coming back. Still what you get is going to vary by airline and how long your flight is. Some airlines offer a choice of drinks including coffee. But no matter who you are flying with don't expect to see your flight attendants too much aside from handing out drinks and collecting garbage. 
Despite their best efforts at social distancing, getting off the plane still tends to be a pretty disorderly affair. United in particular has done a lot calling out row by row to sit up and de-plane. However, it still a mad dash to get off. 
Heading Home from the Airport
If you checked the bag, nothing has really changed when it comes to picking it up. But you should expect the crowd at the baggage carousel. That is the beauty of packing at carry-on as you can walk off the plane and head home. 
There is no question that travel has changed in the last year. Believe it or not, though, a lot of aspects of the flying experience are pretty much back to normal or at least pretty close to it. But that does not mean that your first trip whether it is next month or sometime next year is going to feel normal. It is definitely going to be a strange experience for a while as you adjust to knowing flying during and after the pandemic.
Post-pandemic Business Class Seat Designs: Get Extra Space
Many air carriers have re-worked both business and economy class, focusing on hygiene and personal space for that all-important passenger confidence that will be so important to get people flying again. There appeared some pretty unusual seat designs tailored towards a post-pandemic flying in the future.
10 best airlines for flying Business Class
Top Destinations to Travel to with Cheap First Class
Rome, Yangon, Lucerne, Frankfurt, Tokyo, Edinburgh, Dubai, Paris, Bangkok, Johannesburg, Budapest, Osaka, Taipei, Brussels, Stockholm, Barcelona, Amsterdam, Athens, Berlin, Helsinki, Vienna, Brisbane, Reykjavik, Venice, Guangzhou, Perth, Milan, Seoul, Glasgow, Madrid, Munich, Nice, Beijing, Dusseldorf, Iceland, Cairo, Melbourne, Moscow, Shenzhen, Shanghai, Nuremberg, Spain, France, Germany, Italy, Sweden, Switzerland, Singapore, Tel Aviv, Israel, Norway
Cheap First Class will take you to London, Paris, Amsterdam, New York, or Hong Kong cheap! Get to the global capital destinations easily and forget about the overly-priced services of the vast majority of air flight companies online! Save up to 70% of your money with Cheap First Class luxury travel!
Cheap First Class is Your Reliable Luxury Travel Partner
Travel with confidence, plan your luxury air trip, find the cheapest first class and business class flight deals and book great value fares to 60+ destinations with Cheap First Class!
Need help with your trip? Here are answers to FAQs for all your travel!