The difference between economy and business/first class cabins is obvious. But when it comes to comparing business class flights with first class, an inexperienced traveller will say that both of them are luxurious and that's it. Sitting in the "cattle class" cabin, you cannot stop thinking about how you would feel if you were sitting in one of those premium cabins. If economy class is not for you, you may wonder which one to choose – business or first? Of course, it's all about the level of comfort. And the price.
Today's business and first class seats don't differ much. Moreover, many airlines tend to remove first class due to its high maintenance cost and decreasing popularity. Although business and first class cabins differ from carrier to carrier, there are some basic characteristics that will help you understand the difference between them.
First and Business Class Seats
If it's an international long-haul flight, be ready to spend up to 15 hours in the air. The quality of your flight directly depends on the convenience of your seat.
The best first-class cabins feature enclosed suites with sliding doors that provide a high level of privacy. Depending on a particular airline and its aircraft, the number of seats in a first class cabin may vary from 8 to 20. Privacy is great but what about the seats? In most cases, there are flat-bed seats that become horizontal when fully reclined. Some airlines, Lufthansa in particular, offer a seat and a bed for each passenger in their first class. All first class seats are spacious, with enough legroom and many storage options. They are equipped with power outlets so that the passengers can use their laptops and other devices. A first class suite usually features a mini-bar, adjustable lighting, and a vanity table.
International Business Class Flights Seats
Business class seats on international flights are not very different from first class ones. One can find fully flat seats and angled lie flat seats. Some business class cabins feature self-contained seats that resemble suites typical of first class. The seats in business class cabins are arranged in different ways. One of the most popular configurations is a "herringbone" layout that provides an easy access to the aisle for each passenger. The seats have adjustable positions, plenty of legroom, laptop power, storage compartments, a side table for work, etc. Business class seats differ from airline to airline, so before booking a plane ticket, it's advisable to compare business cabins of different carriers paying attention to seat width and pitch:
Business class seats on international flights sizes: 18"-34" width and 55-65" pitch.
First class seats on international flights sizes: 19"-35" width and 58"-94" pitch.
Virgin Atlantic First Class Seats. Upper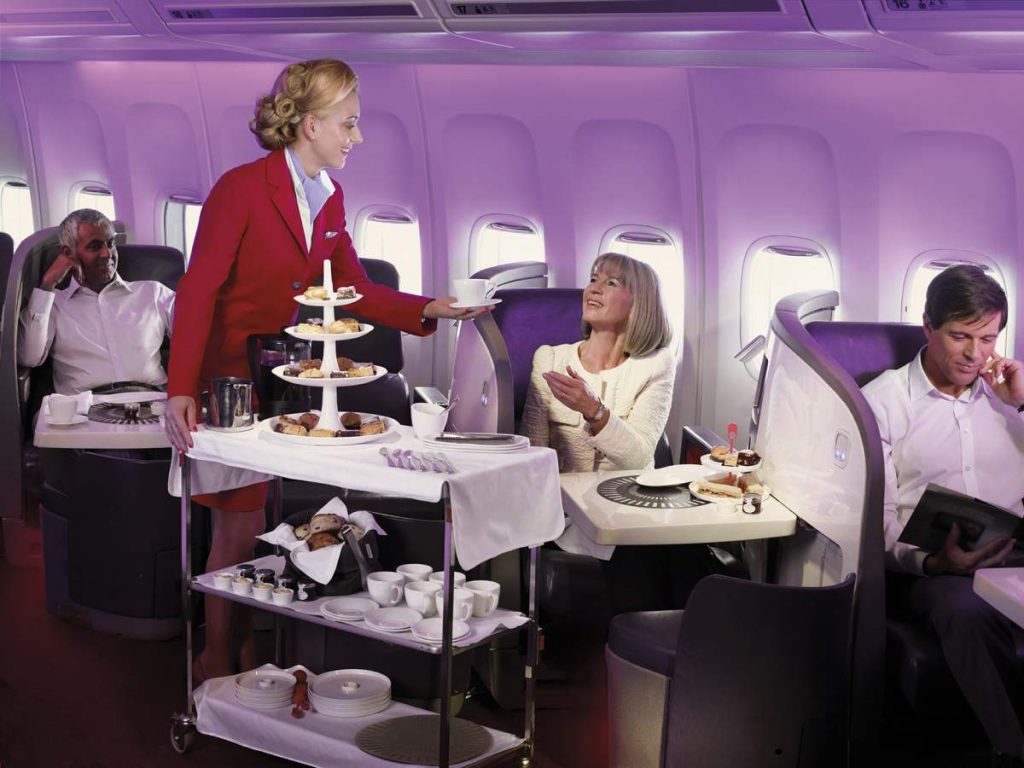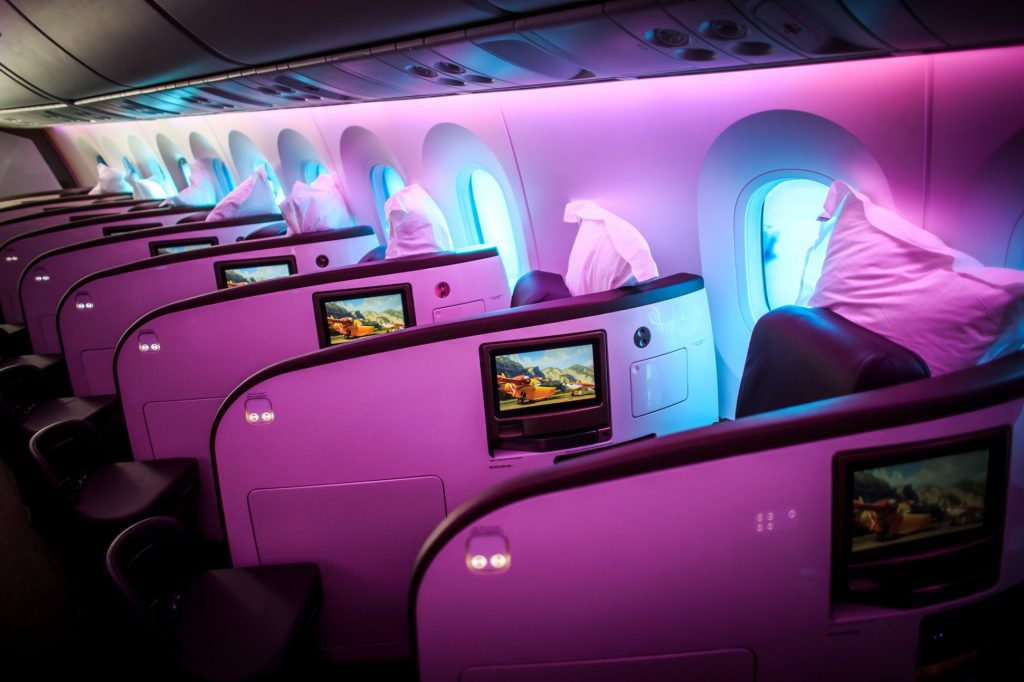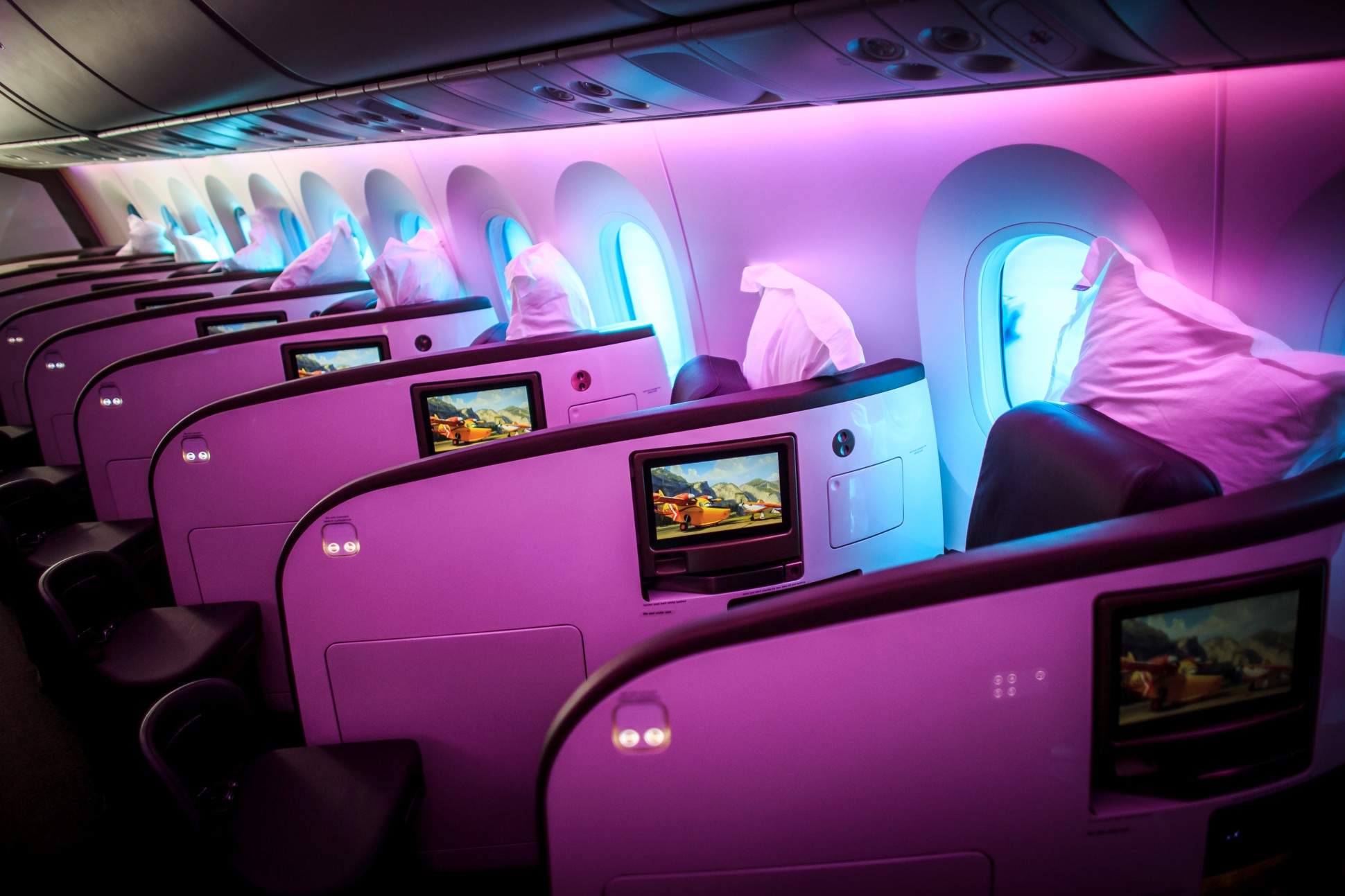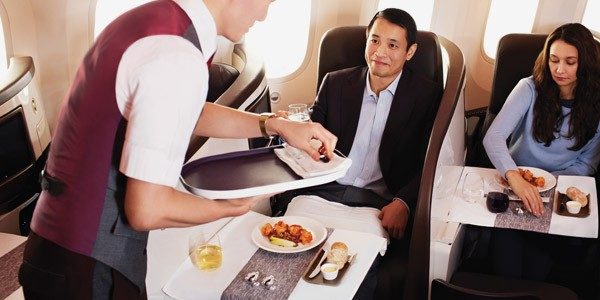 Virgin Atlantic Business Class Seats. Premium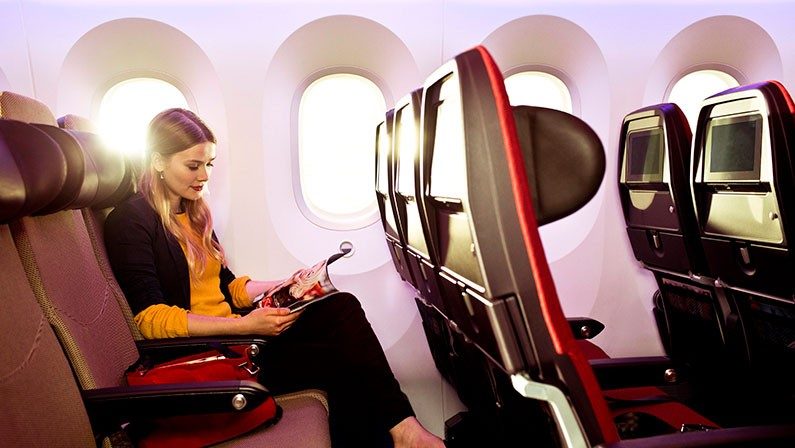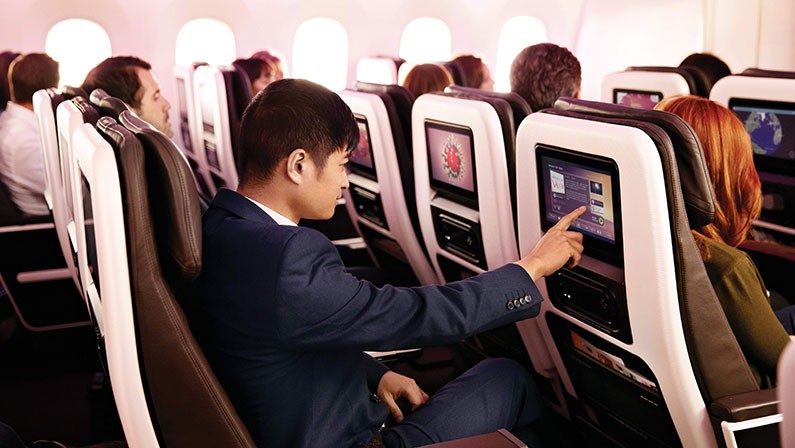 Airport Lounges for Business & First Class Passengers
Passengers flying business or first class have access to airport lounges where they can relax and have a snack before a flight. They say travel experience begins already at the airport. Basically, the difference between first and business class lounges is in the quality and variety of food and services provided. The lounges for first class travellers have more waiters per person. Some first class lounges feature luxury SPA salons, where passengers can indulge all their senses before a long trip.
Priority Check-In and Boarding
Both business and first class passengers can enjoy the privilege of having access to a separate check-in line. On this account, it doesn't matter which class you travel in. However, some airlines (Air India, for example) offer their first class passengers truly amazing boarding privileges – the airline staff will escort them to the lounge and then to the departing flight carrying their bags.
On-Board Dining Experience
The major divergence between first and business classes lies in the food served onboard. Business class meals are generally just an improved version of the ones served in economy. They are quality and tasty but not as much as the ones cooked in first class. The menu is prepared by famous chefs and drinks are picked by experienced sommeliers. Anyone for caviar and Dom Perignon 2004? Nevertheless, business class cabins have their perks. Some airlines (Emirates, Qatar Airways, and Virgin Atlantic) have onboard bars where their business class passengers can grab a drink with their co-travelers and interact a bit.
Amenities
Although both classes provide their passengers with amenity kits, their quality is a far cry from one another. An average business class amenity kit contains a sleep mask, skincare products, and an assortment of toiletries. Apart from being designed by famous brands, amenity bags for first class passengers are filled with various stuff – perfumes or colognes, lip balms, shoe horns and shoe polishes, travel mirrors, etc. Many airlines provide their passengers, traveling overnight, with silk pajamas.
These days, the line between the first and business class cabins is becoming more and more blurred. Many airlines have already upgraded their business class cabins and removed first class ones. Virgin Atlantic went even further. They merged two classes, or in other words, combined the features of both, to get a brand new cabin – Upper Class.
Virgin Atlantic Upper Class
Are you ready for the best travel experience you've ever had? Being an Virgin Atlantic Upper Class passenger, you'll start enjoying its perks already at your doorstep. You don't need to worry about how you're going to get to the airport because airline's chauffeur will come to take you there. When you arrive at your destination, company's chauffeur service will already be waiting for you to take you to a hotel or the place where you have a business meeting.
If your journey starts in London at Heathrow T3, you'll arrive there in your chauffeur car. The airline's staff will greet you and help you handle your luggage. You'll be escorted to the Upper Class Wing to check-in without standing in long lines and do it up to 50 minutes before the departure time. After that, you'll be guided to the Virgin Atlantic's lounge called the Clubhouse where you can relax before your flight. You can even have a nap – attentive and friendly staff will not let you miss your flight. If you arrive at Heathrow, you can take a shower and get a spa treatment in the Revivals lounge.
Privacy at Virgin Atlantic Flights
Irrespective of whether you're going to work or sleep during your flight, with the Upper Class seats, you'll make the most of your journey. If you travel solo, you'll definitely appreciate the privacy of your seat. When you feel sleepy, touch a button to transform your seat into a 6'6" flat bed (one of the longest in the industry). Thanks to the herringbone configuration of seats (single seats are angled in from windows) every passenger has access to the aisle. If you have much work to do, there are a spacious table, the laptop storage, and in-seat power for you.
As to in-flight entertainment, every suite has its own 10.4" TV, along with a vast choice of movies, TV shows, and games for all ages.
Once you boarded, Virgin Atlantic Flight attendants will welcome you by a glass of champagne. If you feel it's time to eat, there are plenty of meals to choose from. There are even separate menus for day and night flights.
Frequent fliers can join Flying Club to start earning miles.