What are the characteristics of a high social status? As a rule, these include the luxurious vehicles, five-star hotels or elite apartments, tailored toilette etc. And what about the air travel? In fact, if a person promotes from the coach it is an evidence of shifting to the next social level. You are not obliged to agree with me but I try to explain. The customers who are ready to pay two or more times more for an airfare opt for the improved and advanced conditions like an increased privacy or the privileged services. Money is not the point. It refers to a customer's attitude to the conditions of an air trip.
There is a common opinion that a distinction of a premium class from the regular one is a trifle. Some say that paying twofold for an enlarged seat and for entering and leaving an aircraft prior to the coach passengers is not worth it. This statement is not applicable for the modern times since the situation has drastically changed. Now the difference between these classes is like an abyss.
If you are committed to this outdated claim, the present 2017 review of Emirates business class will be the tool to change your opinion and reveal all the benefits of traveling in the upper class.
Seats Review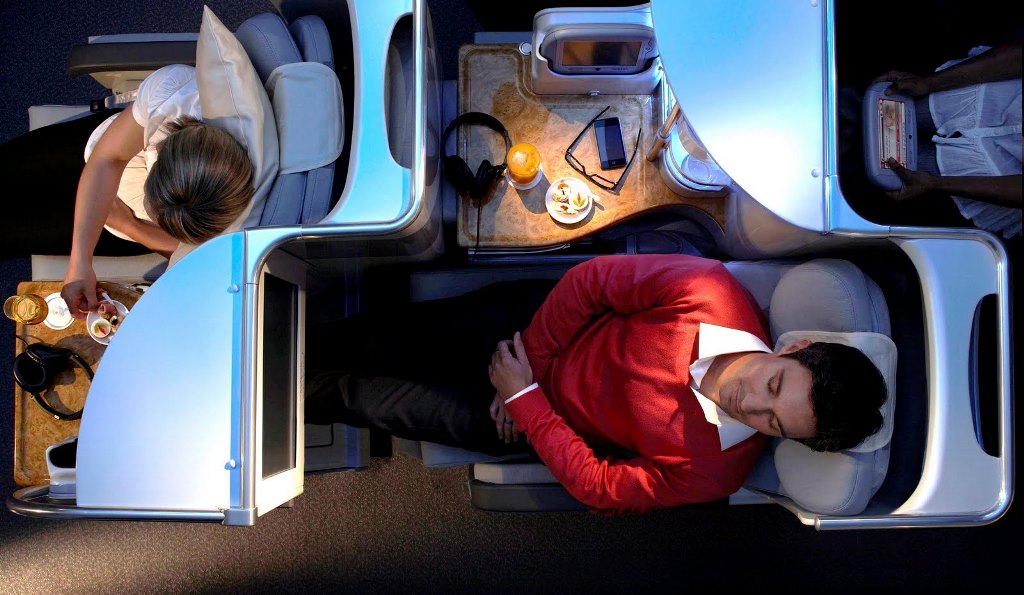 Do you remember the former premium class seats that a regular passenger was walking past while heading to the coach? This old-fashioned configuration still can be observed on the old Boeings winging somewhere in the remote areas of the globe. I have nothing against this American airplane manufacturer but nowadays the leading air companies opt for the Airbus models. So, its representative will be the main character of this Emirates A380 business class review.
The first thing to be noted is the location of the elite cabin. The premium passengers will fly on the upper floor in one of two rooms designed for the business class. By the way, if you feel more comfortable in the smaller rooms, it is recommended to seat in the second cabin accounted for 18 passengers.
In spite of the dimensions, the arrangement of the seats is the same in both rooms. It is known as a herringbone or pine pattern. Regardless the name, the configuration envisages three rows of seats consisting of one middle and two window rows. The advantage of such scheme is obvious – a passenger does not need to ask his or her neighbor to let out. Every customer can freely come out to the aisle without any disturbance. Does it sound impressive? And that is only the beginning.
Being inside the cabin provides a sense of luxury and expensiveness. Each detail is made with taste and high quality. Do you need some practicability? No problems. A lot of storage places, a minibar (without alcohol beverages), and a side table for comfortable working on a laptop or with papers.
The most staggered feature is coming next. Everyone would agree that flying for more than six hours is more comfortable in a horizontal position. For this reason, Airbus Emirates business class offers such opportunity to its customers. Each seat can be spread out to form a flat bed. After such transformation, this class can be called a luxurious sleeping class.
Lounge Review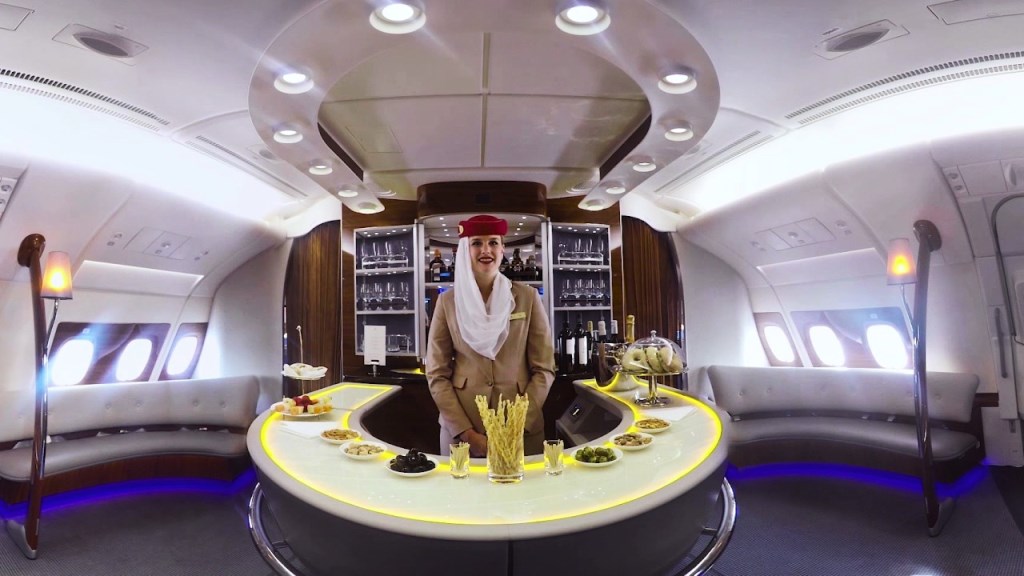 I suppose that this first argument in favor of the current upper class is decent. However, some critics or opposing parties can be unsatisfied with the only point. So, let's continue. The next step of our travel across the premium class benefits is on the ground. Actually, we should have started with this point. A plunge into the world of the advanced services starts in the lounge area. This place is where the premium customers can have a rest before a long trip. Emirates is the company that takes care of any aspect of a customer's comfort and the lounges are not under-serviced.
As a rule, the lounge areas at any destination are rather big. Nevertheless, if you happened to visit a lounge in a wee time, you might be surprised with a flow of passengers. At the same time, the selection of hot and cold food and beverages is more than sufficient. It is a special pleasure to relax with a bottle of champagne before a flight. But be careful and do not abuse. Those who cannot be detached from work even during a trip can take advantage of the working rooms and various office facilities.
Food Review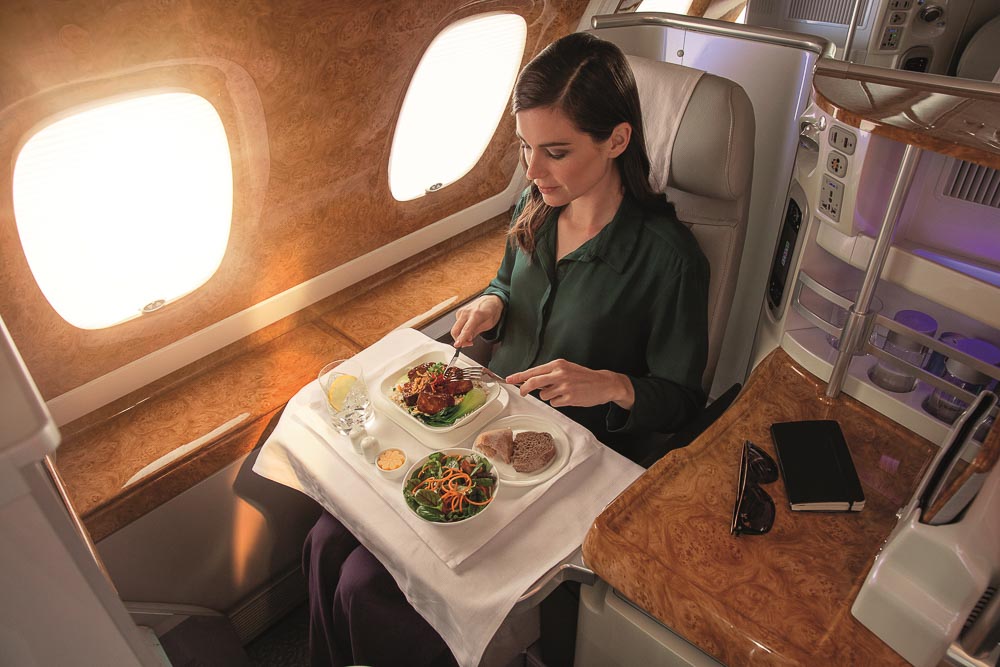 Until recently, the onboard food was not of special attention. Nevertheless, the times have changed and now the quality of the dining services has become one of the major characteristics of the airline's status. If you choose Emirates Airbus business class in 2017, you are a lucky devil. Do you wonder why?
Your air trip will start with a welcoming beverage at choice. Give yourself a treat and enjoy a glass of a superb champagne, for example, Veuve Cliquot. When a plane is already in the air, you can expect two more meals (of course, if your air trip is long enough).
The dining service resembles a top-rated restaurant. The customers receive the menus to make choice. It should be noted that the range of dishes varies according to the season and destination. It is a great way to get familiar with a cuisine of a country, to which you are traveling. I hope you will excuse me for the absence of the dishes examples in this review of Emirates A380 business class due to the enormous amount of food options.
In one word, you will hardly find any business class customer dissatisfied with the dining on the Emirates board.
Amenity Kit Review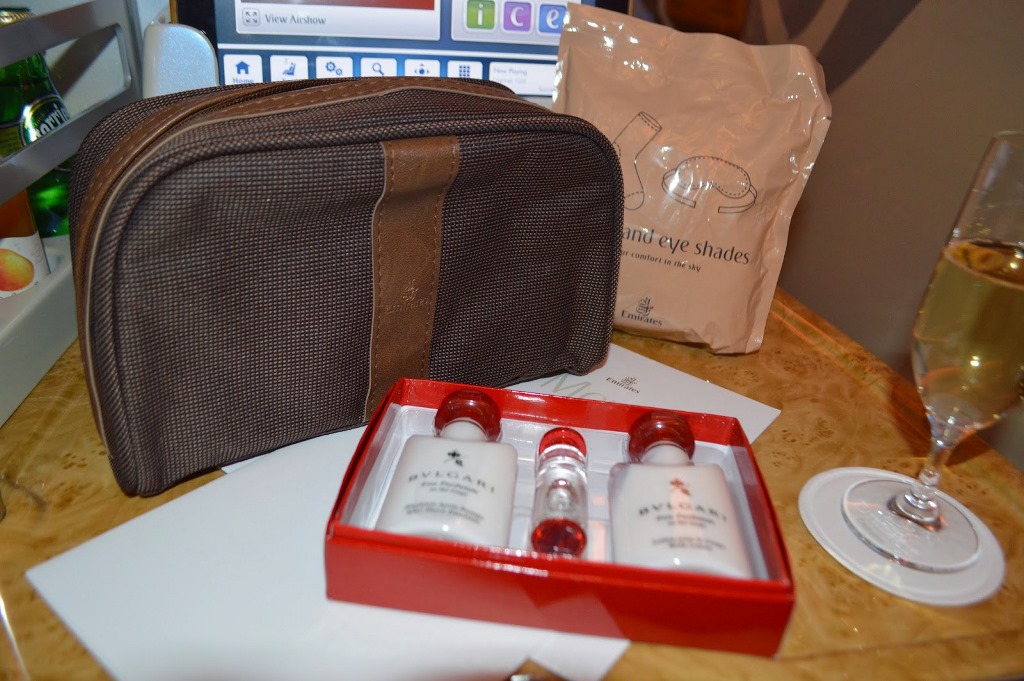 This point is the evidence of a high attention to any detail for the premium customers. Great food, enormous private space, privileged service – what else can a business class passenger dream about. However, Airbus Emirates new business class 2017 does appreciate the customer's loyalty and makes efforts to meet the expectation of any passenger.
An amenity kit is a set of tools designed to release the passengers from an extra care related to the toiletry. However, it does not look like a simple pack of some creams or personal care items. Nowadays, an amenity kit is a hallmark of a respectful air carrier. For this reason, you can often find a branded set of toiletries on the board of a premium class cabin.
The same thing is about Emirates. The company cares about its brand and status. Therefore, the content of amenities consist of various well-known brands and differs by the gender identity. The kit designated for the male passengers has one distinction – set of shaving tools (Gillette shaving foam, aftershave by Bulgari, and a razor by Truefitt and Hill). The other components include a dental set by Colgate, a deodorant by Rexona, a body lotion by Bulgari, and a comb. Frankly speaking, such set of branded accessories is usually found in the first class cabin. This shows the Emirates' attitude to the customers of a bit lower grade.
Baggage Review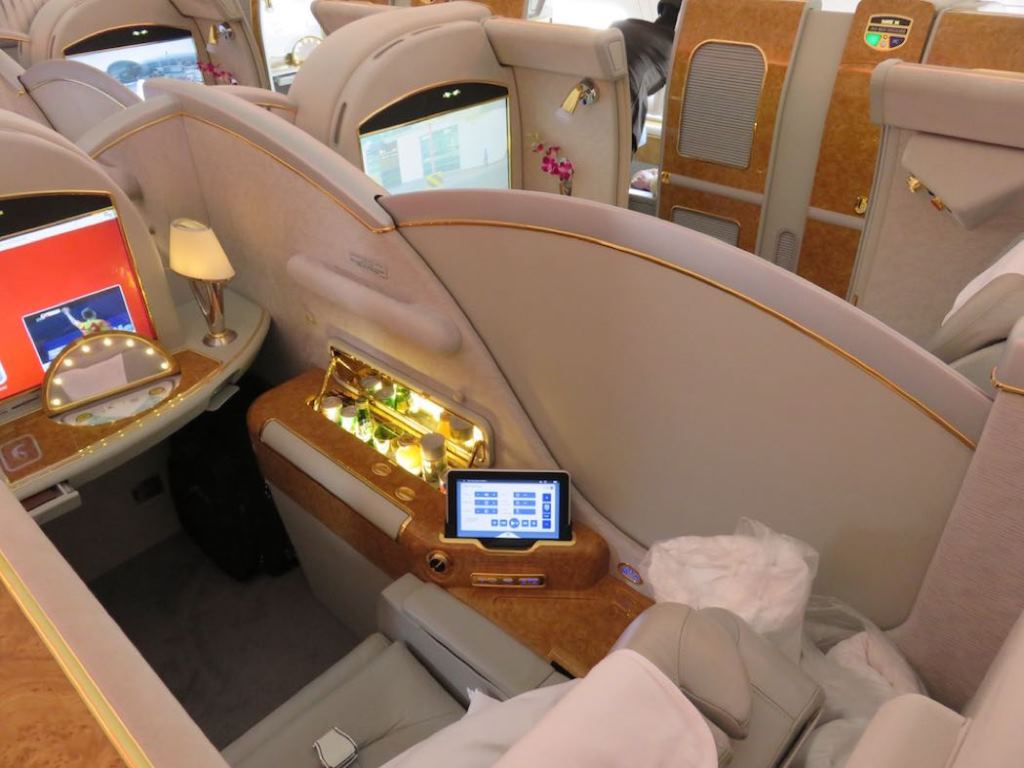 We are going to finish heaping praises upon the business class review on Emirates Airbus with a practical and usable issue. Even if you prefer traveling without extra luggage, this information will be useful and necessary depending on the conditions.
The limited weight for the premium passengers' checked luggage is 70 pounds in the amount of two pieces. It is a mean value quite widespread among the other air carriers. If you travel without a heavy luggage but with some hand-carried items, the weight of your carry-on should not exceed 26 pounds for maximum two pieces (garment bag and briefcase).
I hope that after you read the above you will not argue that the level of the premium class has leaped far and away compared to the coach class. Moreover, some airlines begin to refuse from the separation of premium classes and make the combined elite products eliminating the distinction between the comfort and luxury. You have a lot of destinations to discover and it is you to decide in what class of cabin you are going to do this.
Top Destinations for Business Class and First Class Travel in 2021
Rome, Yangon, Lucerne, Frankfurt, Tokyo, Edinburgh, Dubai, Paris, Bangkok, Johannesburg, Budapest, Osaka, Taipei, Brussels, Stockholm, Barcelona, Amsterdam, Athens, Berlin, Helsinki, Vienna, Brisbane, Reykjavik, Venice, Guangzhou, Perth, Milan, Seoul, , Glasgow, Madrid, Munich, Nice, Beijing, Dusseldorf, Iceland, Cairo, Melbourne, Moscow, Shenzhen, Shanghai, Nuremberg, Spain, France, Germany, Italy, Sweden, Switzerland, Singapore, Tel Aviv, Israel, Norway
Cheap First Class will take you to London, Paris, Amsterdam, New York or Hong Kong cheap! Get to the global capital destinations easily and forget about the overly-priced services of the vast majority of air flight companies online! Save up to 70% of your money with Cheap First Class luxury travel!
Cheap First Class is Your Reliable Luxury Travel Partner
Travel with confidence, plan your luxury air trip, find the cheapest first class and business class flight deals and book great value fares to 60+ destinations with Cheap First Class!
Need help with your trip? Here are answers to FAQs for all your travel!