With its quickly growing fleet and regularly improved onboard services, Qatar Airways is undoubtedly in the list of world's most reputable airlines. Qatar's business and first class products are highly appreciated by customers. The company sets best leg foremost to provide their passengers with superior services and the most enjoyable flying experience.
Since Qatar Airways has a huge fleet of diverse aircrafts, their premium class products on different planes can vary greatly. Apparently, there is some difference between their first and business class products. Thus, when choosing between first and business class, lots of passengers are puzzled, as they just do not know the difference between the two products. In this article we'll point out the main distinctions between Qatar's first and business class flights.
Qatar Airlines First Class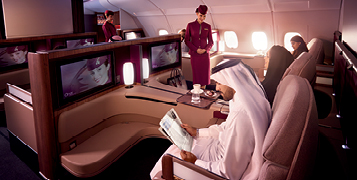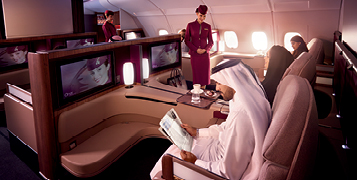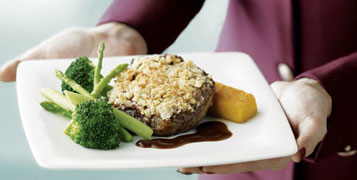 Qatar Airways first class flights offer their passengers a number of exclusive offerings, carefully selected to guarantee you the most enjoyable and luxurious flying experience. Their large first class cabins and cozy flat-bed seats are designed in a way so that each passenger could get a maximum level of privacy and comfort during the journey. An ample storage space is another valuable advantage you will get when choosing Qatar's first class. All first class seats have a built-in massage function and up-to-date entertainment system, offering a wide selection of entertainment options on private 26-inch TV screens. Moreover, with an on-air mobile service, USB plug and a small table for a laptop, you can easily transform your sitting area into a comfortable working place.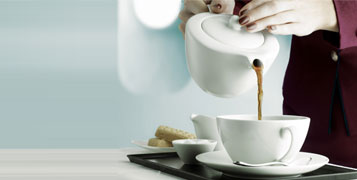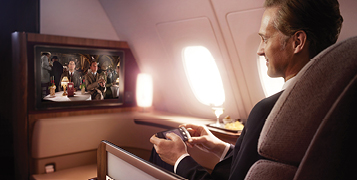 During the flight first class passengers are served with delicious meals cooked by two Celebrity Chefs. A diverse menu will meet the needs of even the most sophisticated gastronomers. An exquisite food should be accompanied by a perfect beverage, and so Qatar Airways offers their first class passengers a great selection of beverages.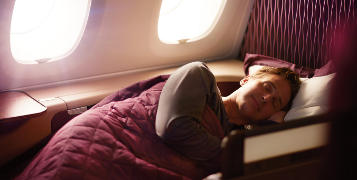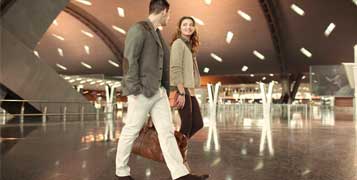 It goes without saying that Qatar offers its passengers outstanding onboard services. Caring and friendly flight attendants will do their best to help you enjoy the flight and will eagerly help if you face any difficulties.
Qatar Business Class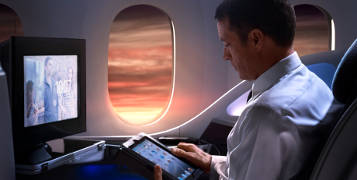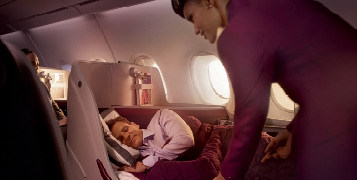 Qatar Airways offers two types of business class seats: flat horizontal beds on their Boeing 777 and seats with a recline angle of 172 degrees, on board their other aircrafts performing long-haul flights. Recently the company has announced absolutely new business class seats aboard their A320 aircraft. These seats are equipped with IFE seat-back PTVs. In 2012 Qatar introduced a new business cabin on board their new Boeing 787. This cabin is equipped with flat-bed seats configured in a 1-2-1 layout. Such arrangement of seats gives each passenger a free access to the aisle. Speaking short, the difference between first and business class seats is not dramatic but the price may vary significantly.
Meals offered to business class passengers are also of the highest quality and, according to the company's official website, are cooked by two celebrity chefs. There are hot and cold beverages to suit any taste. Champagne and wines are also served to business class passengers.
Most Qatar's aircrafts offer their business class passengers a variety of entertainment options, as well as on-air mobile and Wi-Fi services that will help you catch up with work or stay in touch with your family, colleagues or business partners even in the air.
As you can see, the difference between Qatar Airways first and business class products is insignificant. Both products offer comfortable and spacious seats, high-quality services, as well as other amenities, aimed at giving you the most pleasant air travel experience. To choose the best value for you money, just take time to make a little research and find out what exactly you will get for your money. Just compare prices and services on first and business class flights and then make your final choice. Good Luck and have a good trip with Qatar Airways!