Would you believe that the flight time on the same aircraft might be different for the passengers of first class and the coach? Probably not. Nevertheless, the comfortable and convenient conditions often could cause such a feeling of a fast flight. In addition, even the crew of an aircraft prefer to work in business/first class.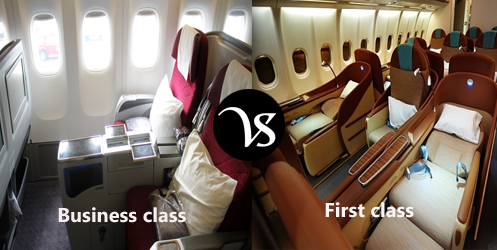 Difference between Business & First Class Seats?
There are not so significant differences between these classes, but still they are present and might be essential for you to make a choice.
Nowadays, the majority of airline companies prefer to increase the number of business class seats and to eliminate the first class.
However, some air companies provide more superior business class options than in the first class. Various routes and various aircrafts also provide better business or first class conditions than the others. British Airways, Etihad, Emirates and Singapore attempt to supersede the other companies in the quality of their premium class services.
Some airlines, including Air Canada, Delta, do not differ business and first class. They may use the name "BusinessFirst" or "Upper Class". First class is mostly used for international routes, while business is provided for domestic flights.
Boarding Time
The business or first class passengers usually wait for boarding in comfortable lounges. The best lounges are not in the USA, but in in Asia, Europe and Australia. Usually, the lounges provide all means of comfort: fast Wi-Fi, convenient chairs and snacks.
E.g., in Frankfurt an exclusive lounge is offered for the first class customers of Lufthansa. It features a separate terminal, from which the passengers are driven in a Porsche or Mercedes to the aircraft.
Business & First Class Cabin Privileges
The privileges for boarding of first class customers on some airlines are magnificent. E.g., Air India offers personal escort from to the lounge and to the departing flight, consisting of three airline employees.
Seats Come First
The best seats are enclosed, equipped with TVs, dividers and aisle access. The size and pitch (distance between a seat and a seat in front) of a seat are also essential. There are long-haul and short haul seats, the characteristics of which are also different depending on airline or route.
The difference between sleeping in aircraft or other place is enormous. In this case business and first-class offer many improvements. Nevertheless, the services in the first class go even further to make your comfort even greater. The following options may be provided:
Seat, which turns into a bed (one can lie flat)
Special configuration of first class cabins
more distance from other passengers or more private space
double bed available on Singapore Airlines (Singapore A 380)
private "apartment" (Etihad A380)
separate seat and bed (Lufthansa 747-400 aircrafts)
The very customers single out the fully lie-flat bed to be the key difference in comfort. Many air companies still offer angled flat beds for the first class and this is quite not the same as fully lie-flat. If you want to find out what kind of a seat is provided for a special route, you may address to online services, like Seatguru.com. You need to type in the airline and flight number in order to see the provided conditions.
The configurations for any flight may differ according to the market. E.g., the first class on Emirates aircrafts doesn't differ much compared to the business class.
Meal and Beverages
A meal of restaurant quality is offered to the business class customers. Nevertheless, the meal in the first class is often prepared under the direction of a famous chef.
The menus, containing exquisite and exclusive items is a hallmark of the first class. E.g., Singapore Airlines offer such brands as Krug Grande Cuvée. Such companies as Virgin Atlantic, Emirates, Qatar Airways, or Korean Air provide aircrafts with onboard bars to spend your time with pleasure.
Business & First ClassFlight Service Quality
So, what air companies can offer the best and most comfortable options for their customers? All long-haul cabins of premium class on the British Airways flights have fully lie-flat beds. Singapore and Etihad offer aisle access and lie-flat seats in addition to an onboard chef. Emirates can boast of private "suites" and onboard showers. It should be noted that it goes about the international routes.
Factors to Consider
The actual difference between first and business class includes not only the seats and services, but also the options, which depend on airlines, routes and aircraft models. Talking about the differences between these classes, we cannot but mention the price level. All the privileges and comfort of first class seats would cost twice more than the business ones. Therefore, it is recommended to make sure that your requirements will be fully satisfied.