Italy has always been one of the most attractive business travel destinations throughout Europe. There are a great many wonderful spots and each of them has a unique atmosphere. Milan, the capital of the Lombardy region, is the country's most populous metropolitan area. It definitely belongs to prominent gateways so many U.S. travelers wonder if it's possible to find cheap first class flights to Milan. I prepared 17 tips on how you can do it – read and upgrade!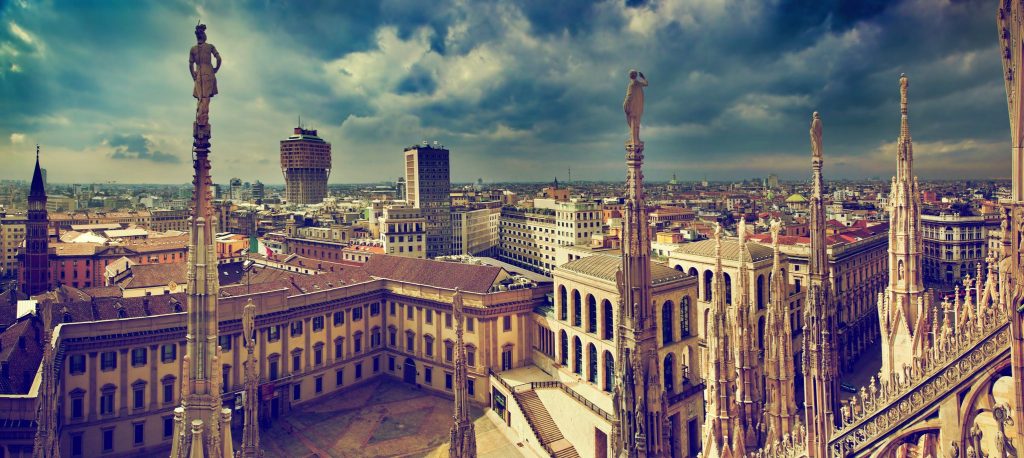 1. Buy a ticket of a special type
I'm talking about Y-UP, or K-UP, or Q-UP fares now. They are available for purchase within the USA and Canada only. You book a seat in coach class online and if there are free seats in first/business class, you get an automatic upgrade. Tickets of this type are rather difficult to find so you'd better ask your airline.
2. Pay partly for a round trip
All major U.S. airlines allow their regular customers to accrue miles. If you have enough, use those to buy a first class ticket to Milan. Then, book a return ticket – also in first class because it will cost two times cheaper. This option only works if you travel back from outside the USA.
3. Save money on domestic flights
Sometimes, it's not enough to just find cheap first class deals to Europe: you have to travel to the gateway city as well. To cut your expenses for a domestic trip, look for cheap coach class tickets. Hence, you will save money to book a first class airfare to Milan.
4. Use your special credit card
Major airlines provide co-branded credit cards to their flyers – get one and earn miles to upgrade your coach ticket to first class. Likewise, there is a number of travel-themed credit cards e.g. Discover it Miles, Chase Sapphire Preferred, or Capital One Venture Rewards that work for various airlines.
5. Choose the right time
If you plan to travel to Milan on vacation, take into an account that people who always fly business or first class tend to stay home on big holidays and weekends. So there will be many first class seats available during these periods. Booking your trip in advance, you can get a large discount.
6. Don't travel alone
It is believed that upgrades are available for single travelers mostly. But the opposite variant works too. Travelling with your romantic partner or a friend, you can buy two first class tickets for one low price – or simply get upgraded by your airline if the situation allows.
7. Be first-class
If there are no other opportunities for you to get upgraded, use your charms. The frontline staff doesn't offer anybody to fly first or business class. Only passengers who demonstrate certain manners might be favored. Dress up, work on your speech, and be extremely nice to everyone around – what if they notice your efforts?
8. Are you entitled to compensation?
You have a legal right to claim compensation if something is wrong about your trip due to the airline's fault. Say, your flight has been delayed or cancelled, or your seat is broken, or your baggage is lost. Just make sure the air company is indeed responsible for these inconveniences.
9. Get bumped from your flight
An option for those who love risking. Air carriers, in fact, oversell flights as they know some passengers will miss those for some reasons. However, cabins are packed up sometimes and stuff members have to ask for volunteers. Though I can't guarantee you'll get upgraded for free, try if you want.
10. Become loyal to your airline
Whatever field a company operates in, it does everything to attract frequent customers as they bring a sufficient part of revenue. So if you participate in a loyalty program offered by your airline, you get many perks including cheap seats in a first class cabin.
11. Use the Internet
All air companies send newsletters – subscribe and receive handy information on your email. You will always know when sales kick off and what interesting proposals you can accept. Moreover, airlines sometimes offer their passengers to upgrade their tickets a few hours before a flight takes off. You can also participate in online bids and monitor particular forums in searches of discounted airfares.
12. Chat up a check-in agent
Since it never hurts to ask, you are free to do so. There likely won't be the 100% probability but you can try. For various reasons, there might be first class seats available. Of course, you should ask in a right way – be very polite, friendly, and initiative. Build a connection to make a check-in agent fall in love with you a little bit!
13. Pay more and get rewarded
Here, I mean you can pay an increased fee for particular services like baggage check-in. Your company might appreciate this and provide you with a free or cheap upgrade to first class. Your chances of getting rewarded grow if you are a frequent flyer or travel in a couple – keep this in mind.
14. Ask your travel agent for help
Doing everything by your own may be cheaper than going to a travel agency. However, your agent probably knows where to look for cheap first class tickets to Milan. As a rule, travel managers have access to exclusive offers and can book premium seats at lower prices on a priority basis.
15. Buy two one-way trips on different airlines
If there are no discounted round-trip deals available, search for two one-way flights. Normally, there are not so many unsold seats in first class cabins. When you ask two airlines about such an option, your chances grow.
16. Arrive too early or too late
Here is another way to gain from underbooked flights. If there are a few seats available, frontline employees might offer those to clients who arrive for check-in first. Te earlier you come, the higher your chances are. And vice verse, you might get an upgrade if you show up several minutes the plane takes off.
17. Upgrade when a flight is undersold
If this happens, the airline loses a certain part of expected revenue. It's natural that staff does everything to avoid it. One of the ways to fix the situation is to sell first and business class seats at a minimal rate – this won't fully compensate the loss but will cut it at least.
Top Destinations for Business Class and First Class Travel in 2024
Rome, Yangon, Lucerne, Frankfurt, Tokyo, Edinburgh, Dubai, Paris, Bangkok, Johannesburg, Budapest, Osaka, Taipei, Brussels, Stockholm, Barcelona, Amsterdam, Athens, Berlin, Helsinki, Vienna, Brisbane, Reykjavik, Venice, Guangzhou, Perth, Milan, Seoul, , Glasgow, Madrid, Munich, Nice, Beijing, Dusseldorf, Iceland, Cairo, Melbourne, Moscow, Shenzhen, Shanghai, Nuremberg, Spain, France, Germany, Italy, Sweden, Switzerland, Singapore, Tel Aviv, Israel, Norway
Cheap First Class will take you to London, Paris, Amsterdam, New York or Hong Kong cheap! Get to the global capital destinations easily and forget about the overly-priced services of the vast majority of air flight companies online! Save up to 70% of your money with Cheap First Class luxury travel!
Cheap First Class is Your Reliable Luxury Travel Partner
Travel with confidence, plan your luxury air trip, find the cheapest first class and business class flight deals and book great value fares to 60+ destinations with Cheap First Class!
Need help with your trip? Here are answers to FAQs for all your travel!