By the number of the offered flights and covered destinations, Thai Airways can easily compete with any other airline company in the world. Indeed Thai Airways provides more flights to more destinations than other airlines. However, the company can boast not only of the number of provided flight, but also of their excellent first and business class products on their Boeing 747-400s, Boeing 777-200s, airbus A380s and 787-8 Dreamliners. Their ground services also deserve a high praise.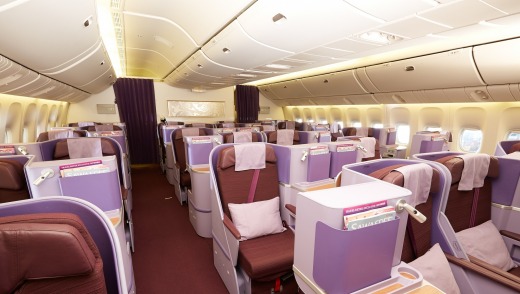 Thai Air business class is presented by Royal Silk business class seats aboard their Boeing 777-200s and Boeing 747-400s. Boeing 777-200 carries passengers on medium and long-haul routes. Thai Airways business class cabin is located in the aircraft nose section. It is equipped with 5 rows of cosy seats with a 30-degree recline angle. The seats are located in a 2 x 2 x 2 configuration. Each seat is 18 inches wide and has a 32-inch pitch. At the back of each front seat you will find a 9-inch monitor that will not let you feel bored during a long flight.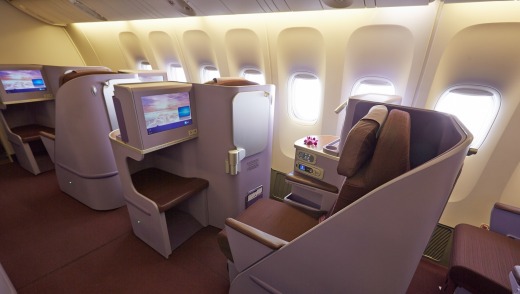 Business class Flight Amenities
Business class seats aboard Boeing 777-200 are definitely not the most comfortable and luxurious ones, but the onboard services are excellent. Passengers are provided with noise-reducing headphones, pillows and blankets. It goes without saying that business class tickets on such seats are significantly cheaper in comparison to more luxurious offers, however business class seats on Boeing 777-200 are a lot more comfortable than economy class seats. This type of business class in Thai Airways is the best choice for passengers who want to fly with comfort but cannot afford more luxurious services.
Boeing 747-400s for Long-haul Flights
For long and medium haul flights Thai Airway also uses Boeing 747-400s. This is a good choice for passengers who are looking for a more comfortable flight experience and can afford more expensive business class airfares. The plane consists of three class cabins: Royal Silk (business class), Royal First (first class) and economy class. It goes without saying that Thai Air first class is the most comfortable and expensive.
Royal Silk or business class is located on the the lower and upper decks. On the upper deck you will find a main business class cabin. A smaller business class cabin that has only 14 seats placed in 2X2 configuration is located downstairs. These seats are worse than those located in the main cabin, as they are located between two sets of lavatories. These seats also come with a smaller storage space. Consequently, Thai Air business class airfares on seats in the main cabin are usually more expensive.
Business Class Cabin Features
The main business class cabin includes 26 seats configured in a 2X2 layout. Seats on Boeing 747-400 are marked as "angled flat", but in fact these are angled-recliner seats. According to the Seat Guru, the seats offer 170 degrees of recline, but in reality the recline angle a much smaller. The seats are 20 inches wide and give a pitch of 60 inches. Each seat is equipped with a lumbar support, universal power outlets, seat massage, 2 USB ports, foot rest and a 15-inch in-flight entertainment monitor. Business class passengers of the upper deck are provided with a spacious storage space. Two passengers, sitting together, are separated by a small partition.
Meals served aboard both aircrafts are versatile and delicious. To save money on a business class flight, it is recommended to looking for Thai Airways business class tickets well in advance.
Thai Airline first class that is also called Royal First is located on the upper deck of the company's airbus A380. The cabin consists of only 12 seats, spread across 3 rows and configured in a 1-2-1 layout. Middle seats are ideal for passengers travelling together. For solo passengers there are single seats at the window.
First Class Seats
First class seats on the airbus A380 are one of the widest in the air. They are 26 inches wide and offer a pitch of 82 inches. Each seat offers 180 degrees of recline and is equipped with 3 lamps for reading, 2 USB ports and a universal power outlet.
Passengers taking first class flights to Thai, as well as to any other destination are treated like kings. They are provided with amenity kits richly filled with Rimowa and L'Occitane products. The kit includes a sleep mask, ear plugs, toothpaste and toothbrush, mouthwash and a lip balm. In addition to amenity kits first class passengers are provided with pyjamas.
Meals are beverages served during first class flights to Thai are undoubtedly beyond all praise. Even the most demanding passengers will not stay hungry aboard A 380.
Although Thai Airways deals on First and business class flights are not cheap, the comfort you get deserves every penny you spend. Moreover, you can always save money by joining a frequent flyer program or grabbing discounted deals.
Top Destinations for Business Class and First Class Travel in 2021
Rome, Yangon, Lucerne, Frankfurt, Tokyo, Edinburgh, Dubai, Paris, Bangkok, Johannesburg, Budapest, Osaka, Taipei, Brussels, Stockholm, Barcelona, Amsterdam, Athens, Berlin, Helsinki, Vienna, Brisbane, Reykjavik, Venice, Guangzhou, Perth, Milan, Seoul, , Glasgow, Madrid, Munich, Nice, Beijing, Dusseldorf, Iceland, Cairo, Melbourne, Moscow, Shenzhen, Shanghai, Nuremberg, Spain, France, Germany, Italy, Sweden, Switzerland, Singapore, Tel Aviv, Israel, Norway
Cheap First Class will take you to London, Paris, Amsterdam, New York or Hong Kong cheap! Get to the global capital destinations easily and forget about the overly-priced services of the vast majority of air flight companies online! Save up to 70% of your money with Cheap First Class luxury travel!
Cheap First Class is Your Reliable Luxury Travel Partner
Travel with confidence, plan your luxury air trip, find the cheapest first class and business class flight deals and book great value fares to 60+ destinations with Cheap First Class!
Need help with your trip? Here are answers to FAQs for all your travel!