The United Kingdom of Great Britain and Northern Ireland (UK for short) is the island country right off the coast of Europe, with ancient and rich history and no less interesting and bustling business and cultural life. Flying is probably the easiest way to reach UK from many points of the world, and it can take from 12 hours from another continent to an hour from, say, France to land in Heathrow, the legendary London airport. Economy trip is fine if you have only one hour to spend in the air, but an overnight flight definitely needs more comfortable settings, and so it becomes obvious why book business class seats to UK. Below find the review of the best business class flights to UK that will take you there fast and with comfort.
Key Reasons To See The United Kingdom – More Than Once, Preferably
UK is the dream destination for every kind of tourists and people willing to step on the legendary soil of King Arthur, Shakespeare and Sherlock Holmes. The country offers every possible attraction, from rich cultural and entertaining opportunities to magically beautiful landscapes and castles.
History and architecture
London alone is worth a trip with its treasures of the Tower, London Bridge, Westminster Abby, Buckingham Palace, Hyde Park, antique narrow lanes and glorious Piccadilly, red buses and telephone booths. The city breathes history, so borrow an audio guide and discover the darker and brighter sides of it. Beyond London, pay tribute to Stonehenge, go to Kent to see the famous white chalk rocks or roam the countryside where every field is crowned by an ancient castle or church.
Culture
UK is the seat to many world famous museums, like Tate Gallery or Natural History Museum. Visiting them solely is worth a trip. Concerts, theatre performances, public events all lure tourists from around the world, so join them to feel pulse of Britain. The country of the Beatles, punk and swing just cannot leave you indifferent to its cultural assets.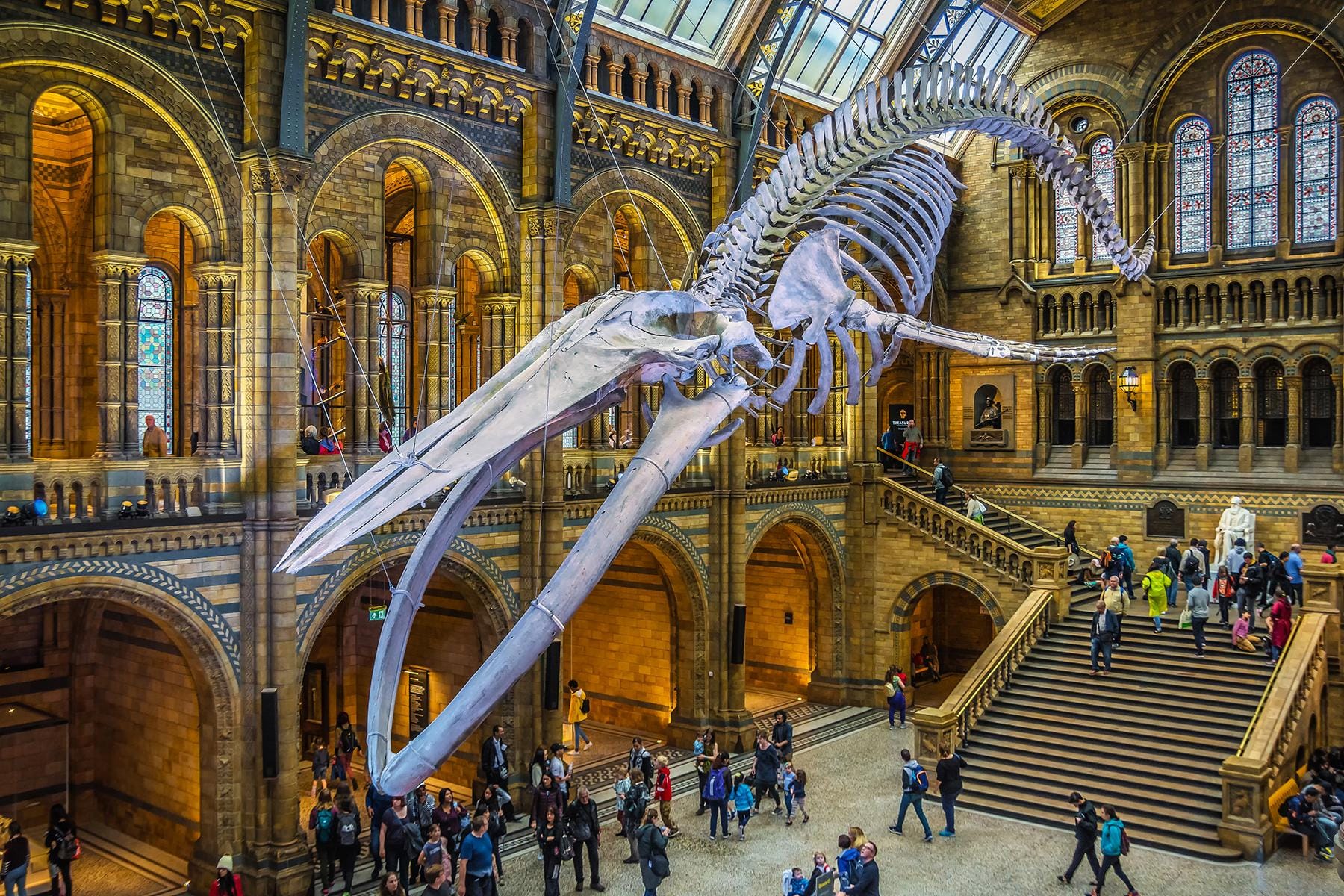 Sport
Say UK – mean football (soccer), and vice versa. If you are a fan of Mancunians or Liverpool boys (no, not the Beatles), then take a trip to see them play on their domestic field and, if lucky enough, share a beer with them in some classic Brutish pub. For tennis lovers, Wimbledon Championships are a celebrity occasion of its own, of course.
Countryside and landscapes
The emerald-green hills of UK have long become legendary, due to its unique geography with soft winters and plenty of rains. Gentle rolling fields and valleys, rocks and lakes look like belonging to some fairy land, but they are fully available to you, under condition you have good hiking boots and are ready to walk long hours. And this is not to mention the famous estates with elegant parks that were imitated all around the world.
9 UK Destinations You Should Pick For the First Trip
London, definitely. This is the heart of Britain, if you have seen it, you can imagine England.
Windsor Castle and Royal Ascot (near London). Bring the fascinator, naturally.
Stonehenge (near Salisbury). Dance with the stone giants and feel the magic that made Tolkien create his Hobbit.
Shakespeare's hometown, Stratford-on-Avon. The world's the theatre, so see the backstage where it all has begun.
Oxford and Cambridge.
Canterbury.
Bath with its Roman baths.
Dreamy countryside, like the Cotswolds area.
Lake District.
Best Business Class To Uk: Why Not Economy?
To be able to make the most of the time in UK, you need to arrive refreshed and energized. Economy flights are cheap, but that's the only advantage. Comfort is close to zero, and you arrive exhausted. Bad flight can spoil the taste of the whole trip, especially if it is bad both ways. So now that you know what to do in UK, pick the best business class deals to UK to travel with comfort and not to spend a fortune.
Comparative Review of the Best Business Class To UK by World Airlines
American Airlines
Aircraft Fleet
The parental company American Airlines (AA)with its filial companiesuses 875 planes, mainly Boeing and Airbus, which makes it the largest commercial fleet in the world.Daily, over 6,700 flights are made to about 350 destinations located in 50 countries around the globe. AA is one of the founders of ONEworld alliance.
Baggage Policy
For American Airlines business class to UK (transatlantic), checked baggage policy includes up to 10 bags/cases (2 for free, to others conditions apply) with measurements (length + width + height) of 158 cm in total. Weight allowance is 32 kg (70 lbs) per bag.
Lounge Area
Business class lounges are available all around the world, and the member of AA clubs and programs can use lounges in airports freely even without actually flying anywhere. Lounges are comfortable, with refreshment area and convenient seating arrangements that ensure good rest or business activity, if necessary.
Seats Arrangement
Seats are extra comfortable, about 20 inches wide, with a great headrest and ample space for legs. This space plus a small opposite bench are easily converted into a full-length lie-flat sleeping bunk. Each seat is surrounded by a high spacer that provides sufficient privacy (other passengers are neither seen nor heard).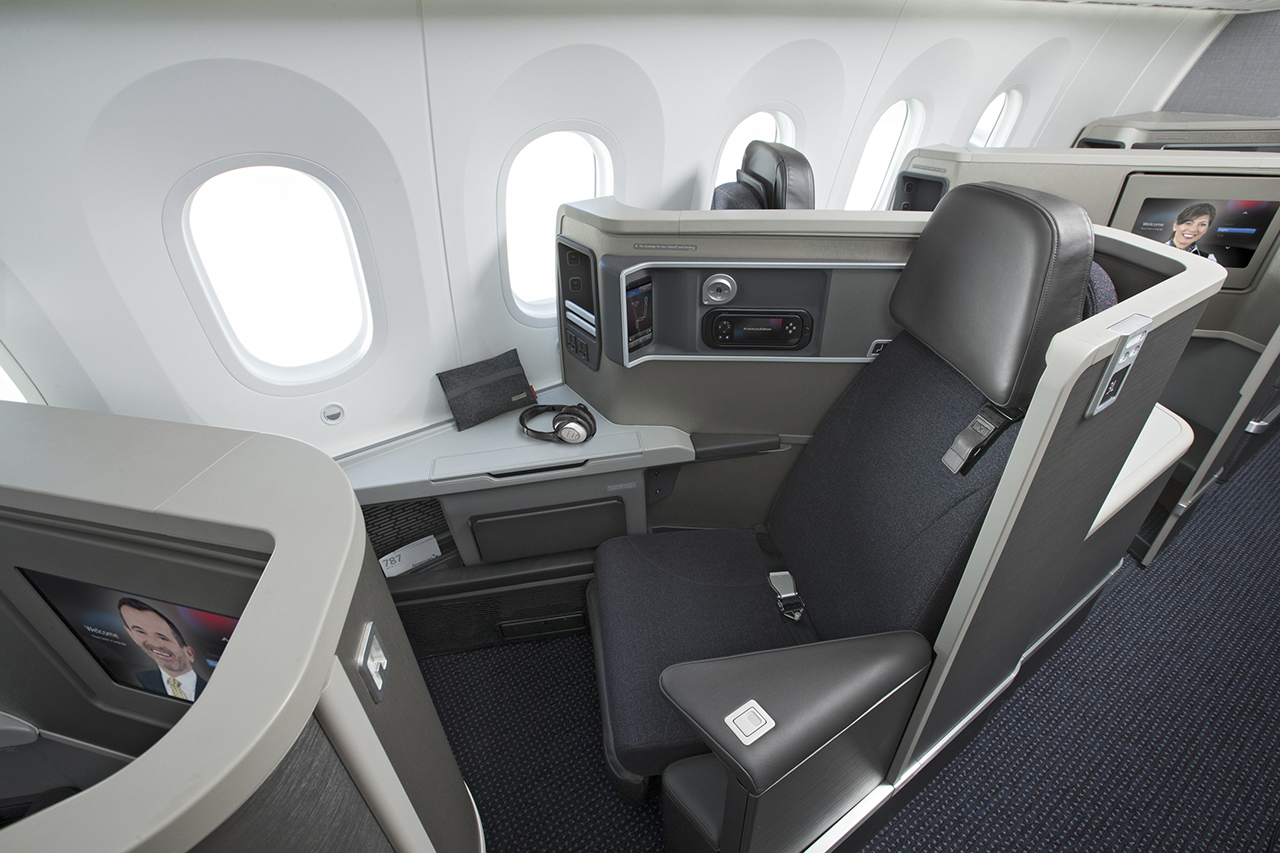 General Convenience
The seating space is equipped with everything necessary for convenient travel, including electronics, table, tiny compartments for passengers' possessions, bedding (already waiting on the seat), and a set of basic hygiene and cosmetics products. Attendants are professional and friendly. A traveler can push a button and have an attendant come over and take an order or provide assistance.
DiningOptions
Dining options are vast, food and beverages included. Passengers can choose several sorts of wine, soft drinks, tea or coffee, chicken, beef, mutton, vegetarian food, starters, and desserts, mainly of European cuisine. Meal is served to each passenger individually. The common buffet of snacks and soft drinks is available later. However, now with health precautions in place, food is served prepackaged only, so the menu may be limited. Please follow the AA website for updates.
Amenities
Bathrooms are convenient, equipped with basic skincare products and full-length mirror.
In-Flight Entertainment
Magazines, TV with pre-programmed movies (the latest ones), shows and audio files, USB port and headphones make the flight really convenient and meaningful. Wi-Fi access can be purchased for additional fee.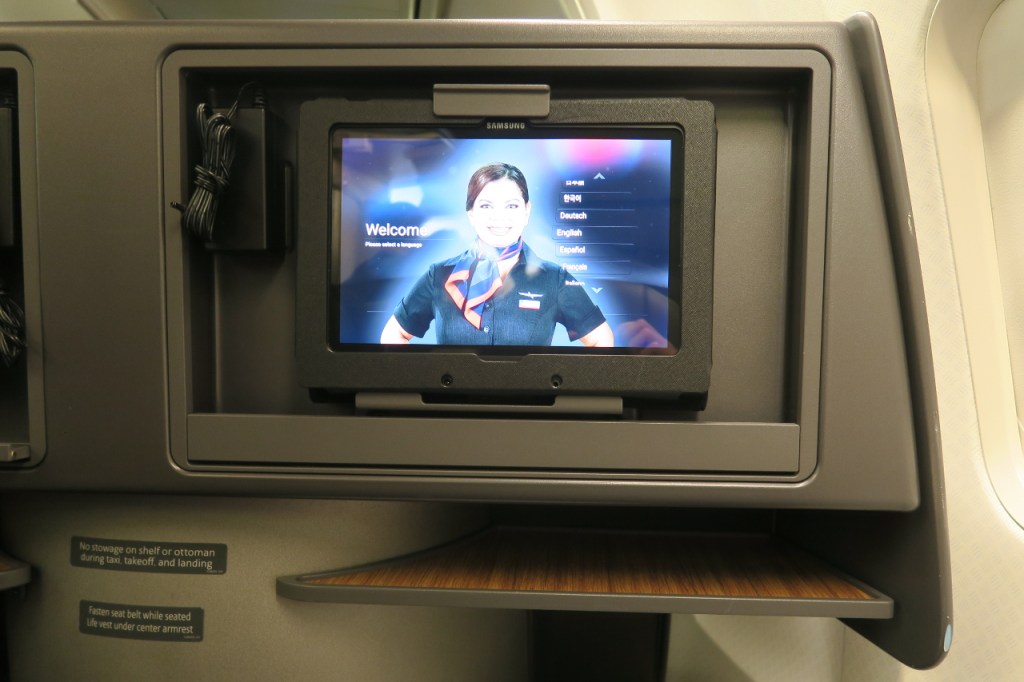 British Airways
Aircraft Fleet
If you want to experience England even before you land, fly the best price business class to UK with British Airways. They operate 250 modern Boeing and Airbus planes. The famous supersonic passenger carrier Concord made the final flight in 1997 and was then withdrawn from operations. Daily, the planes make up to 850 flights to all corners of the world, safely transferring 97,000 passengers. British Airways is the member of IATA.
Baggage Policy
For adults (over 12 years), checked baggage policy in the best business class to UK includes 2 bags. Weight allowance is 32 kg (70 lbs) per bag. For kids, 2 bags, and for infants, 1 bag is allowed, but you can take additionally 2 items from the list: collapsible stroller, cot for travel, carrying harness or car seat.
Lounge Area
Lounge areas for business class are luxurious, featuring Galleries and Terrace styles. There, refreshment and full dining are available, and relaxation and working zones are organized with maximum comfort.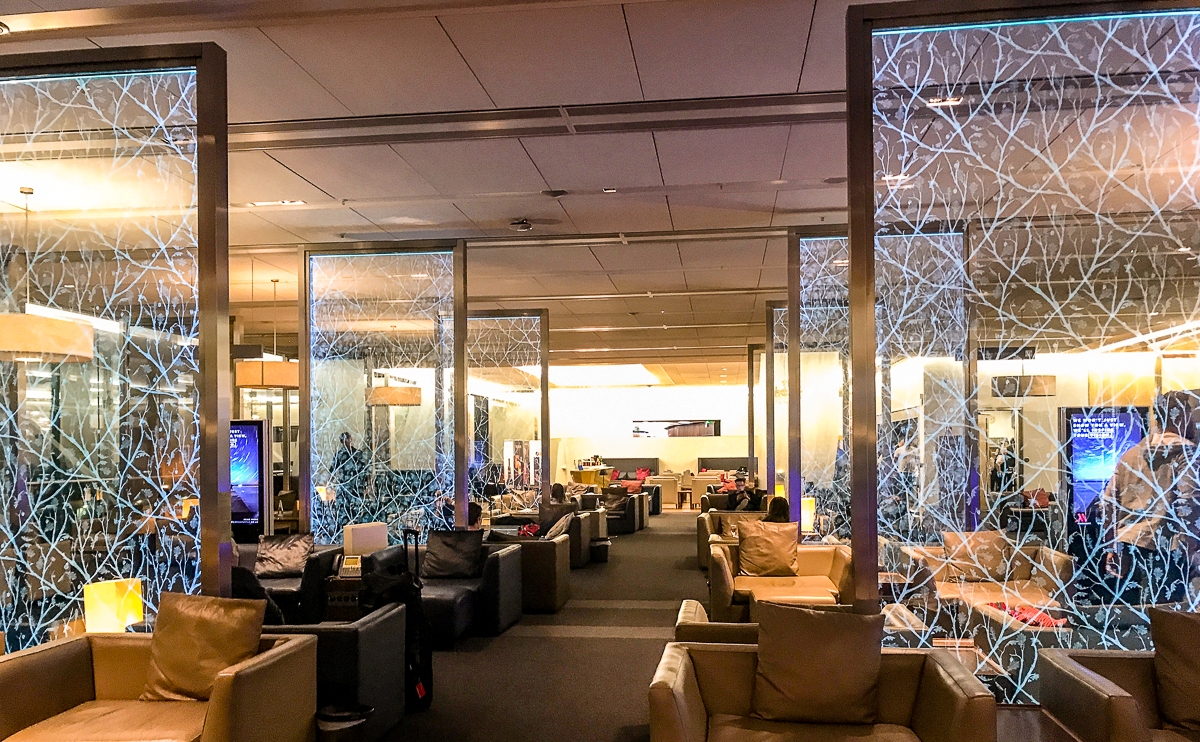 Seats Arrangement
After refurbishing, all business class seats follow 1-2-1 pattern, so everyone has the access to the aisle. Double seats are perfect for couples or a parent traveling with a kid, and solo seats are excellent for tired people on business trips. Seats are wide enough, with extra big space for legs. The additional length is also great when a seat is turned into a lie-flat bed.
General Convenience
Privacy is ensured by mid-height spacers with closing doors, storage space is surprisingly big, there are conveniences like additional holders, shelves, a mirror, a reading light and a table. Bedding is provided right from start, together with a pouch full of hygiene mini-products. Attendants are ready to assist and friendly.
Dining Options
Food includes selection of international and typically British main course dishes, as well as starters and desserts. Both vegetarian and non-vegetarian options are available. Drinks include an impressive selection of wines, spirits and soft beverages. Usually everything is served on proper tableware, but due to health concerns please check their website for updates and possible temporary limitations in the menu.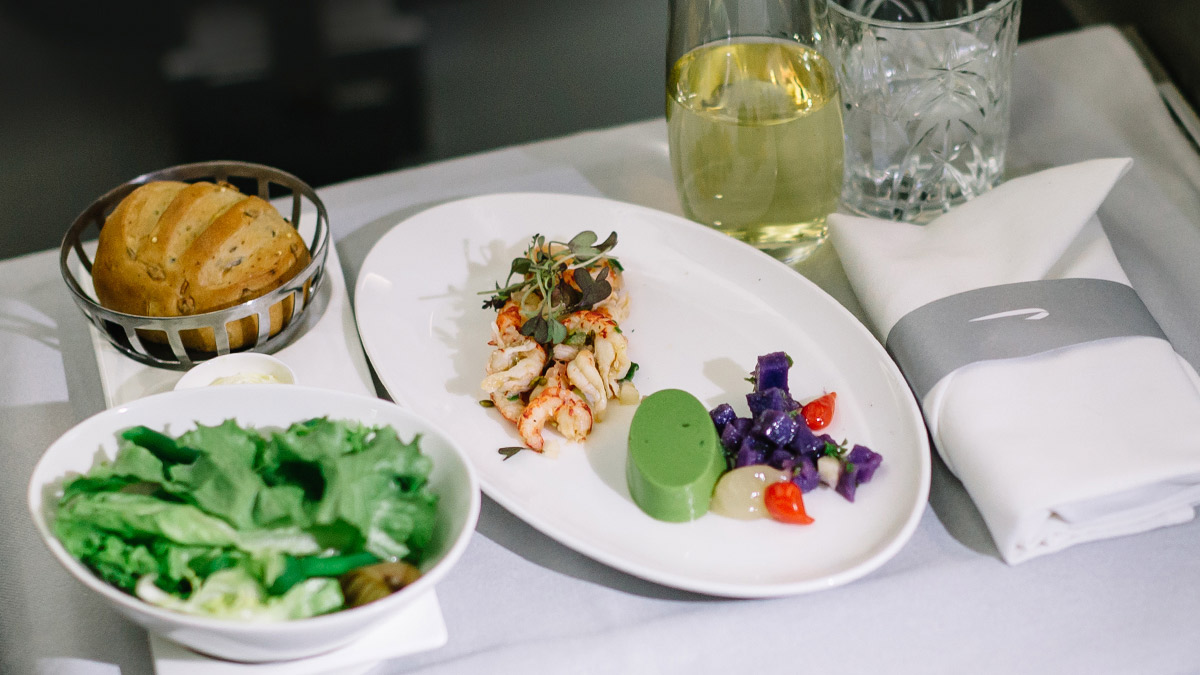 Amenities
Bathroom is standard in size, yet equipped with additional products like hand cream.
Flight Entertainment
The seat has an 18 inch screen, headphones and a selection of the latest movies, kid's content and shows. Wi-Fi is not free, and you should buy a package in Mbs if you need it for work.
United Airlines
Aircraft Fleet
This is of the biggest American airlines. The company has the fleet of 843 aircrafts, mainly Boeings, and flies to 342 destinations across 6 continents. The company is the founding member of the Star Alliance.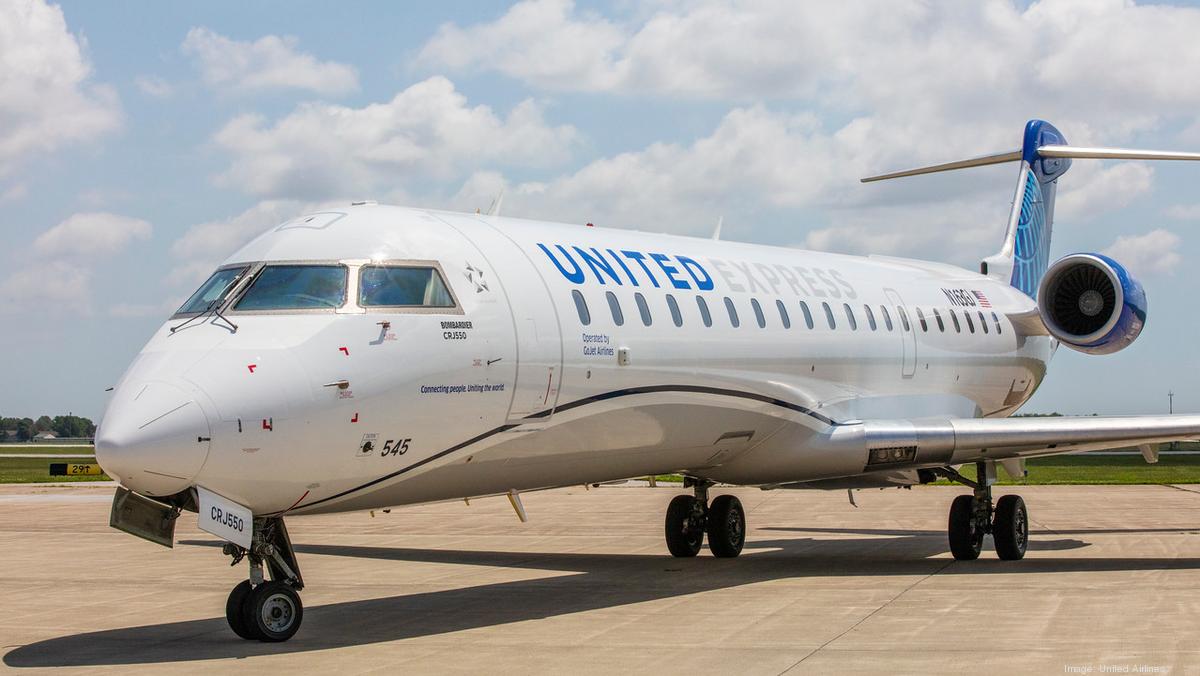 Baggage Policy
Usual number of two bags (157 cm in total dimensions and 32 kg each) is allowed for free. The rest of baggage needs to be paid for. Additional conditions apply to special equipment like items for kids (strollers and cots), wheelchairs, sports equipment, etc.
Lounge Area
Lounges are simply decorated yet convenient, with upgrade towards the Polaris standard being underway across all destinations. It means you can enjoy rest and working areas with high-speed internet, meals and snacks, a family room for kids, and even a shower room.
Seats Arrangement
Now all seating cots (or pods) are being replaced with Polaris pods for all routes, both short ones and transatlantic. They ensure privacy and easy in/out movement due to 1-2-1 location, plus seats are roomy with their width of 22/23 inches. When lowered into flat position, they are great for sleep even for high passengers. A or L marked seats are near windows. Thank us later.
General Convenience
The flying 'kit' includes bedding (two pillows included), a pouch of hygiene products and pajamas on request. There is enough space for possessions, including a laptop, shelves, holders, a mirror and a dining table. Attendants are particularly helpful and polite.
Dining Options
Dining options include vegetarian and non-vegetarian meal courses of European and global background, desserts, snacks, beverages and an option of putting together your own sundae (ice-cream selection). Yet, due to the current situation, all meal is now sold prepackaged only, so individual order may not be available now.
Amenities
Bathroom is clean and convenient, basic hygiene products included.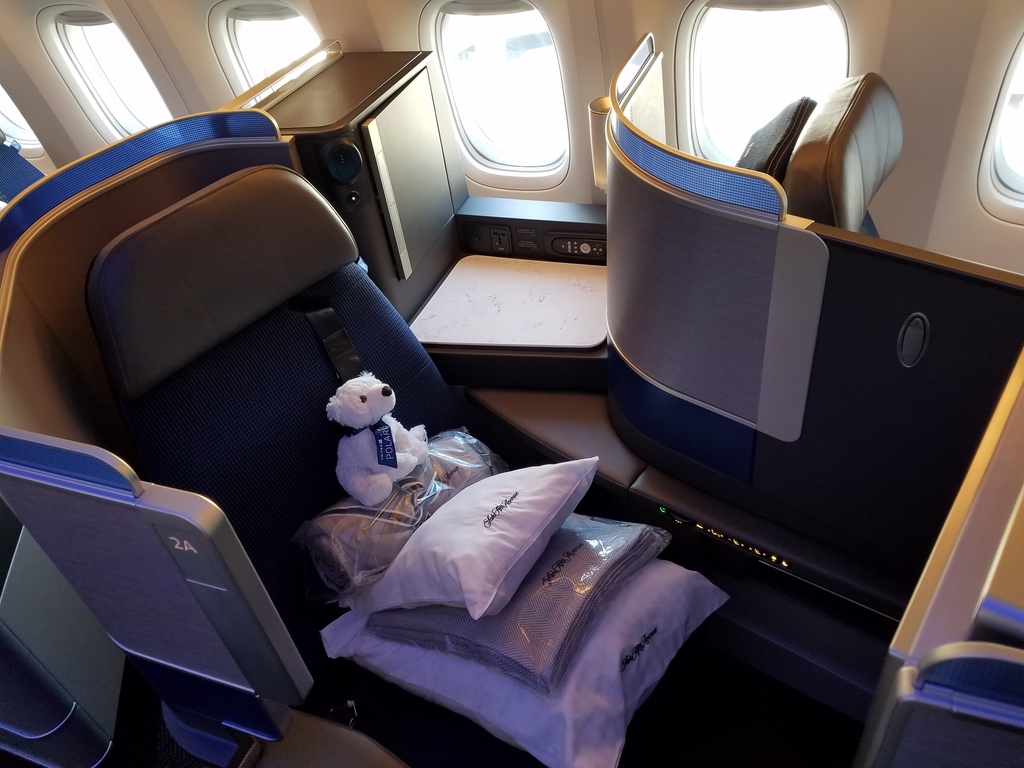 In-Flight Entertainment
The use of TV and entertainment options may be a bit tricky, yet when sorted out, it provides for an interesting flight. New movies, TV programs and audio files are available together with some magazines.
Singapore Airlines
Aircraft Fleet
The company features 132 aircrafts, all new Boeings and Airbuses. They fly to 90 airports in 40 countries, across East Asia and around the globe.
Baggage Policy
For travel to UK, passengers are allowed to take 40 kg of checked baggage. For infants, 10 kg are allowed plus two items out of four – cot, stroller, car seat or pushing chair.
Lounge Area
Lounges are comfortable yet often busy. The staff is very responsive and attentive, so overcrowding does not create much problem. Meal is served on demand, and there are conditions for work or relaxing.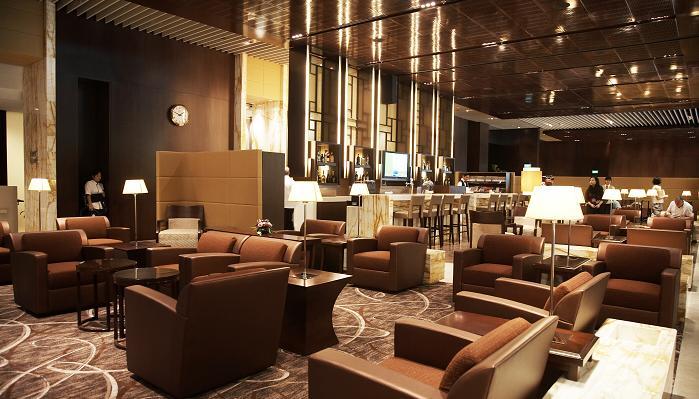 Seats Arrangement
Seats arrangement is 1-2-1, are wide enough with their 25 inches and convertible to a full bed. The length is decent for passengers of every height. They are traditional cocoons that provide enough privacy, so pick a double seat if you travel with a partner (a spacer can be lowered so you enjoy a shared space).
General Convenience
The Singapore airlines business class to UK has to be as great as all services delivered by the Singapore company. The space is very clean, the staff is extremely helpful and proactive. The seat features all necessary compartments and holders, a mirror and a collapsible table. Bedding, a mask and socks are provided at the beginning, but pajamas are not provided any more. Amenities bag has also disappeared – you just have to ask for specific items you need.
Dining Options
Dining selection features European and East Asian cuisine, including a range of wines. Everything is of sublime quality and tastes excellent, according to testimonies of travelers. You can have a full meal and later ask for an additional food or drinks in the middle of the flight. Yet now please check the dining rules on the website, since they may change due to health concerns.
Amenities
Bathroom is convenient and very clean, with basic skincare product available.
In-Flight Entertainment
TV with new movies and programs is available for every seat. Wi-Fi is available in limited amount (30 Mb), for the rest you need to pay.
Emirates
Aircraft Fleet
The Dubai-backed company is the biggest in the Middle East and is known for the luxury of its service. It operates the fleet of 250 aircrafts, most beings Boeings and Airbus A350-900 and A380-800. The legendary double decker Airbus A380 is currently being replaced by Boeing, and so will be no more on the list by 2035. The company runs 2,500 flights weekly to 74 countries.
Baggage Policy
The policy is traditional – a checked bag must weigh up to 32 kg, dimensions being in total 300 cm. Number of free checked bags depends on the departure point to UK – from the USA it is 1 bag, from Europe or other closer destination it is 2 bags.
Lounge Area
Lounge areas are excellent, and the cost of the ticket already includes free snacks. Passengers can use business or relaxations zones with a bar and dining location and even take a shower.
Seats Arrangement
Previously the seat patterns was 1-2-1, but now with Boeings being the main carriers the pattern is 2-3-2, which denies the passenger in the middle direct access to the aisle. Otherwise, seats are comfortable, roomy and long, with spacers, headrests and full bed option. Each seat has an inbuilt mini-bar.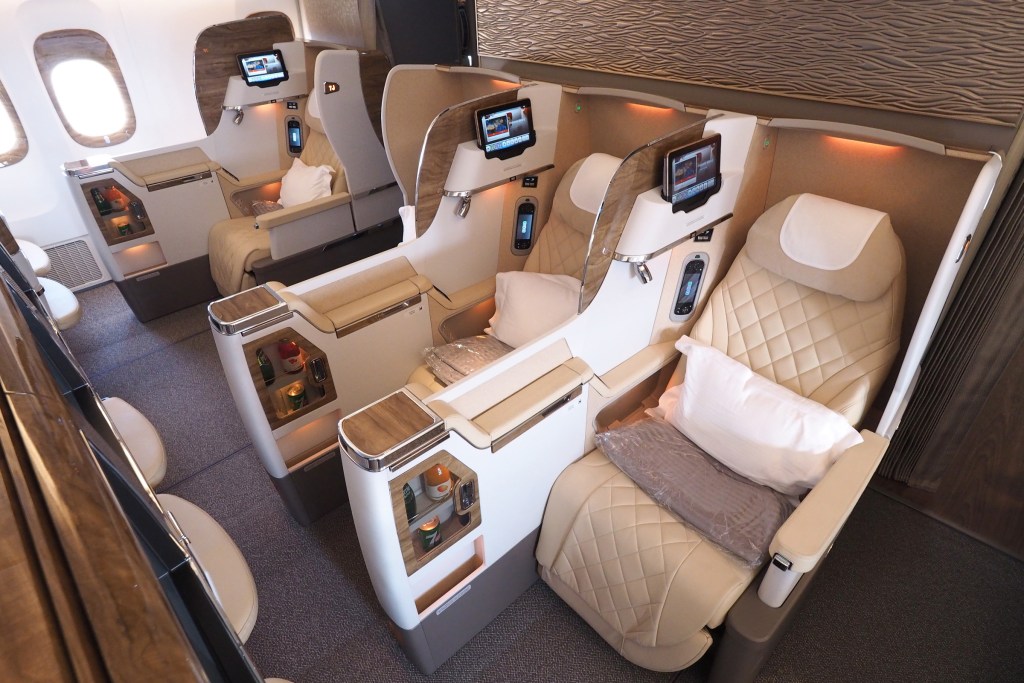 General Convenience
The overall service for the Emirates business class to UK is excellent. It begins with a free transfer to the airport on the company's car with a private driver. Onboard the business class features a real bar with a barman. Materials of the salon are luxury, the staff is perfectly polite and attentive, the seat features a lot of compartments and holding sections. Bedding and an amenities bag are provided at once. The driver service is also available upon arrival.
Dining Options
Meal is of gourmet quality, wines belong to the premium segment. You can pick from European, Asian and global cuisine and have several meals during the flight. Now please be sure to check if any restrictions to menu apply due to health concerns.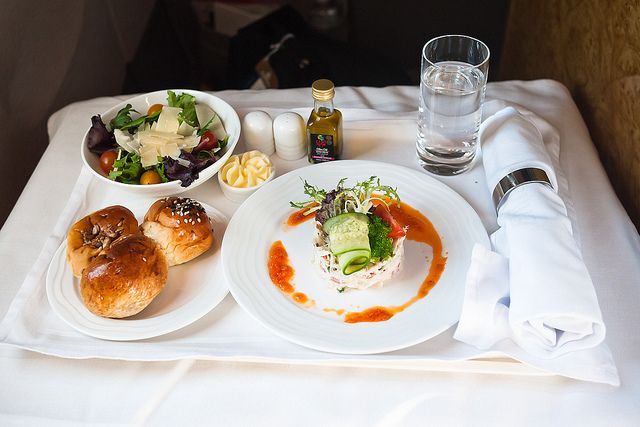 Amenities
The bathroom is great, you can even find a bunch of fresh flowers in vase there.
In-Flight Entertainment
The feature is amazing in scope, since you can choose among 4,500 entertaining channels, including movies in various languages, shows, music and radio. You can even watch the recipes of meals served on board and try them at home.
Qatar
Aircraft Fleet
The company operates 234 aircrafts, Airbuses and Boeings. It flies to over 160 destinations around the globe. The company has a 5 star service rating and is a member of ONEworld alliance.
Baggage Policy
This is traditional for checked baggage: 2 bags of 32 kg and 158 cm (w+l+h).
Lounge Area
Lounges are fine and clean, with business and relaxation zones.
Seats Arrangement
Seats follow 1-2-1 pattern but have no spacers or walls, so no privacy for passengers. Seats are comfortable, yet there is quite little room for legs. Seats are convertible to full beds, though.
General Convenience
Qatar business class to UK service is excellent, there is a bar on-plane, with a real barman. The stuff is exceptionally groomed, professional, polite and friendly. The seat has plenty of storage compartments and holders. Bedding and an amenity bag are waiting on the seat. Environment on the plane is great, very clean with regularly replaced air. Lighting imitates real time to help jetlag passengers.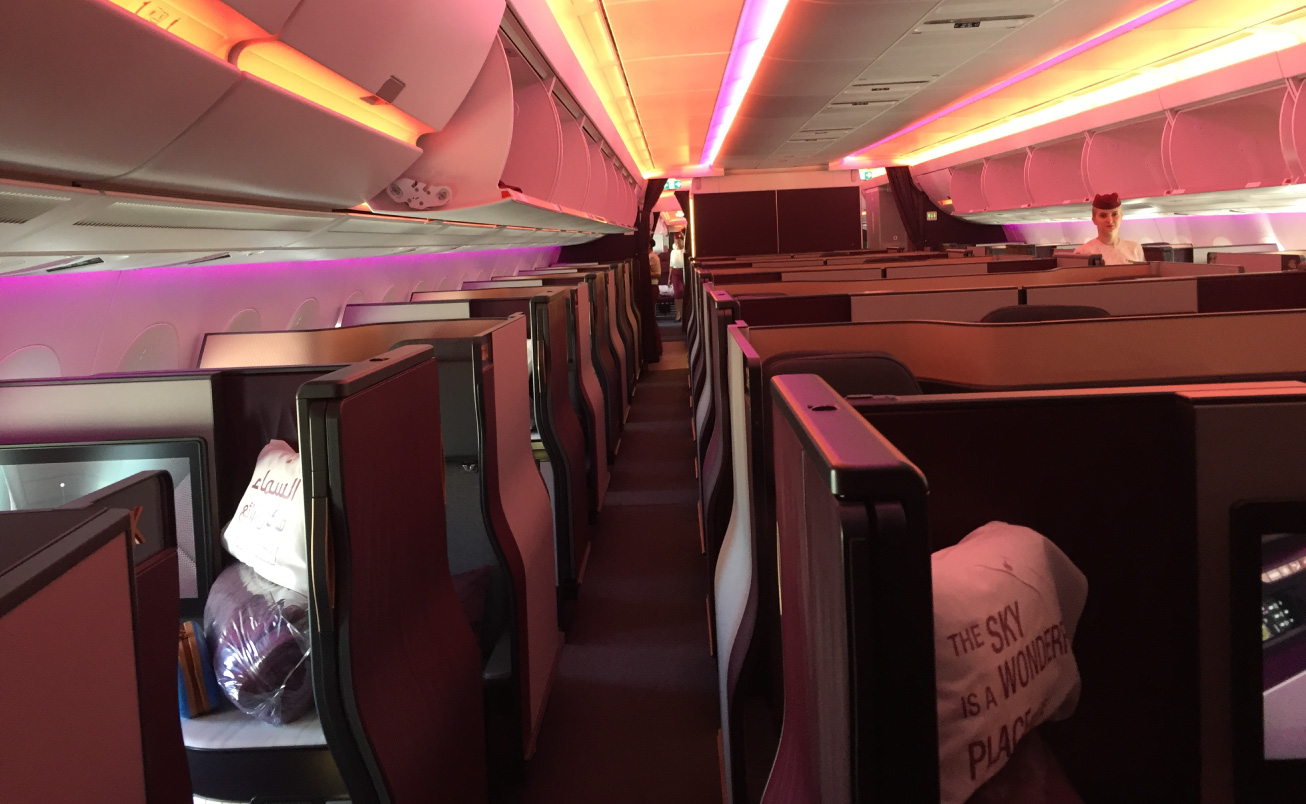 Dining Options
Dining includes selection of European and Asian dishes, from starters to desserts. The meal tastes great, no flavorless stuff. Beverages are of high class: wines, spirits and soft drinks, as well as a variety of Asian teas and coffee kinds. Please check the website for meal updates in regard to current health concerns.
Amenities
The bathroom is very clean and convenient, personal toiletry kits wait for every passenger.
In-Flight Entertainment
The selection of entertainment is great, including movies, shows mad music, and big TV and headphones make them even more enjoyable.
Iberia
Aircraft Fleet
The largest Spanish airline operates the fleet of 84Airbuses (not counting the affiliate fleets). It flies to 128 destinations, both domestic and global. The member of ONEworld alliance.
Baggage Policy
General baggage bag weight is 23 kg, dimensions being 158 cm in total. For business class one more bag is allowed, with weight up to 32 kg (for cardholders only).
Lounge Area
Lounges are fine, clean and provide space for work and relax as well as serve meals.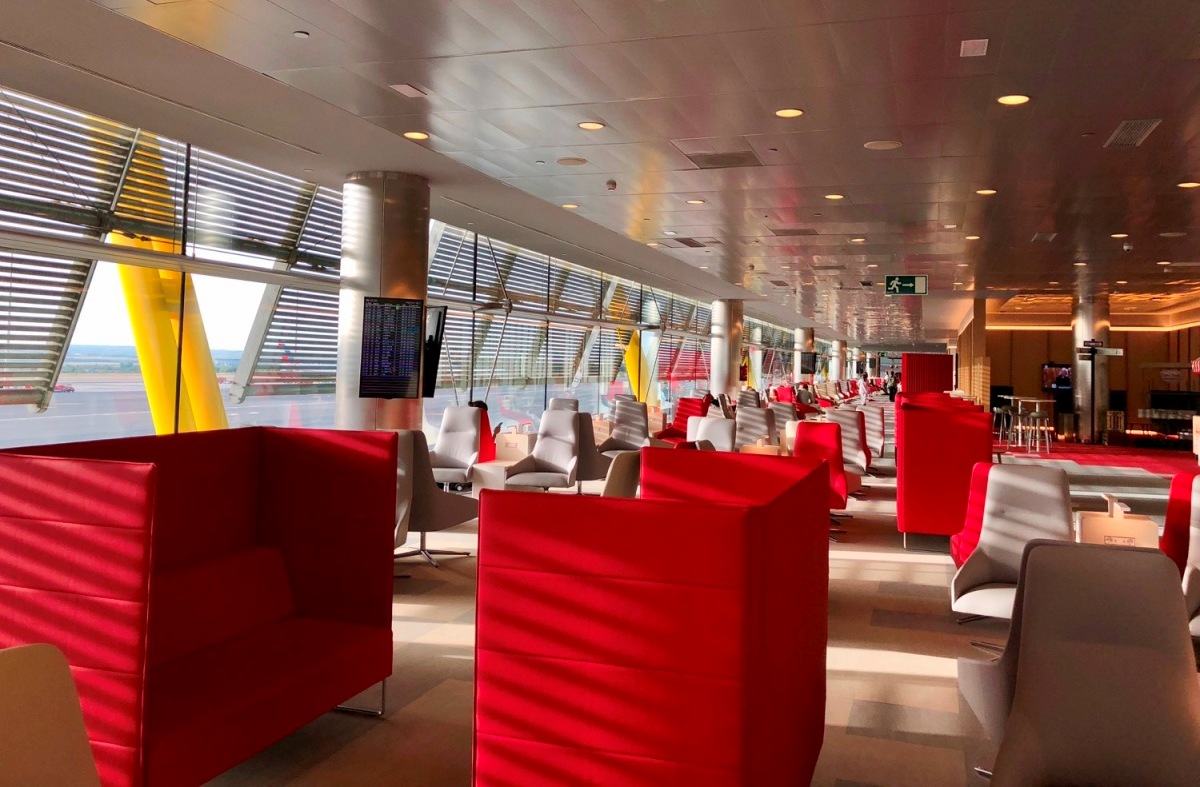 Seats Arrangement
It all depends on the departure point. If the flight is domestic and short (e.g. Madrid – London), seats will be the same economy premium but with middle row blocked. If the flight is long-haul, classic business seats are 'staggered' to provide a full ottoman (not just a corner) for feet of every passenger. They also convert to a full bed. Middle double seats do not have a spacer, so no privacy guaranteed.
General Convenience
The interior is ordinary, the staff professional and polite. The seat has a set of compartments, a table and a set of outlets for charging or connecting Apple devices. Bedding and amenities are provided by default. At night it is quite warm, but no individual ventilation point is available.
Dining Options
Meals include European cuisine, both vegetarian and non-vegetarian options. Food is delicious, both soft drinks and spirits are available (but no champagne at the takeoff). Breakfast before landing can be eaten onboard or in the destination lounge.
Amenities
The bathroom is clean but average in appearance.
In-Flight Entertainment
The selection of movies, shows and music to watch and listen on the TV is impressive. Yet the complimentary 4 Mb of free Wi-Fi looks ridiculous, to put it mildly.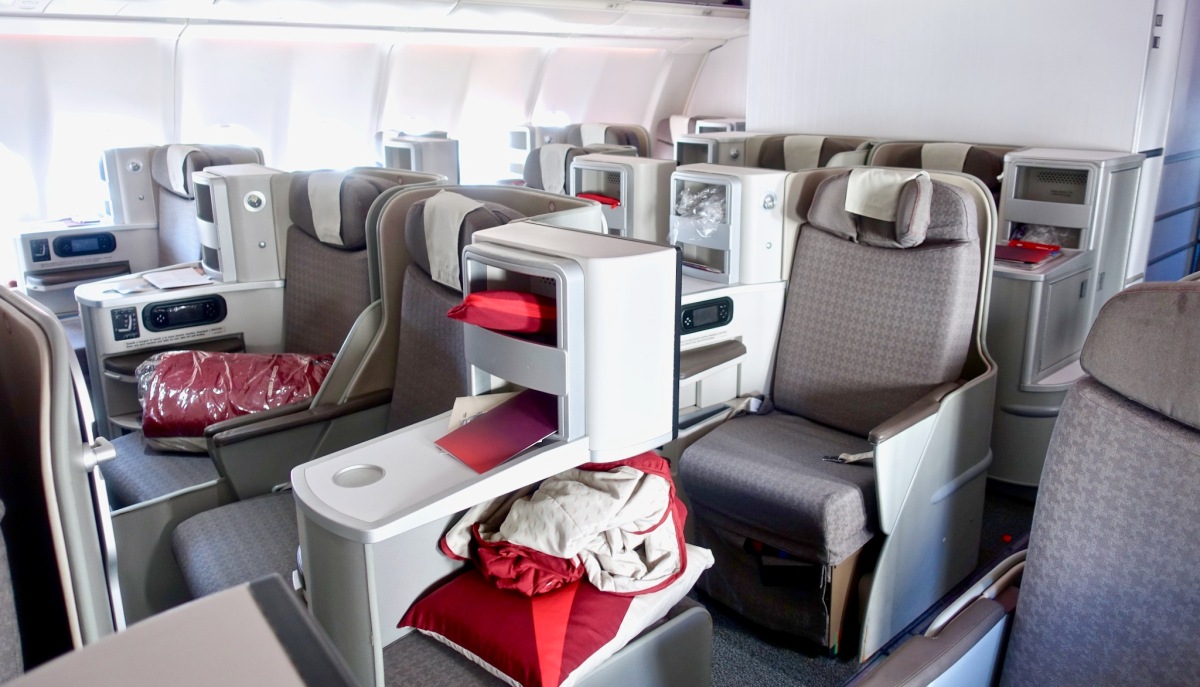 Virgin Atlantic
Aircraft Fleet
The British company operates 35 aircrafts, namely, Airbuses and Boeings. It transfers passengers to 30 destinations around the world from London and Manchester and back. The company is the member of IATA and ICAO.
Baggage Policy
The company's business class is called Upper Class, and the baggage allowance for checked baggage is 2 bags (32 kg each, up to 2 meters of total dimensions each).
Lounge Area
Virgin Atlantic is known for its particularly funky design of lounges (called the Clubhouse) and cabins. Lounges are really impressive, with very friendly and efficient staff. Both work and play amenities are provided.
Seats Arrangement
Please be attentive what planes you use, because seats arrangement differs significantly. Boeing 787 for shorter flies basically resembles economy, in that it provides little privacy and the herringbone placement makes your feet basically stick into the aisle. There is very little storage capacity and a very small feet ottoman. The seat itself is quite narrow. The seating in A350-1000 also features the herringbone pattern, yet the seats have cocoon walls with a door. Storage room is also small in comparison to other business class options.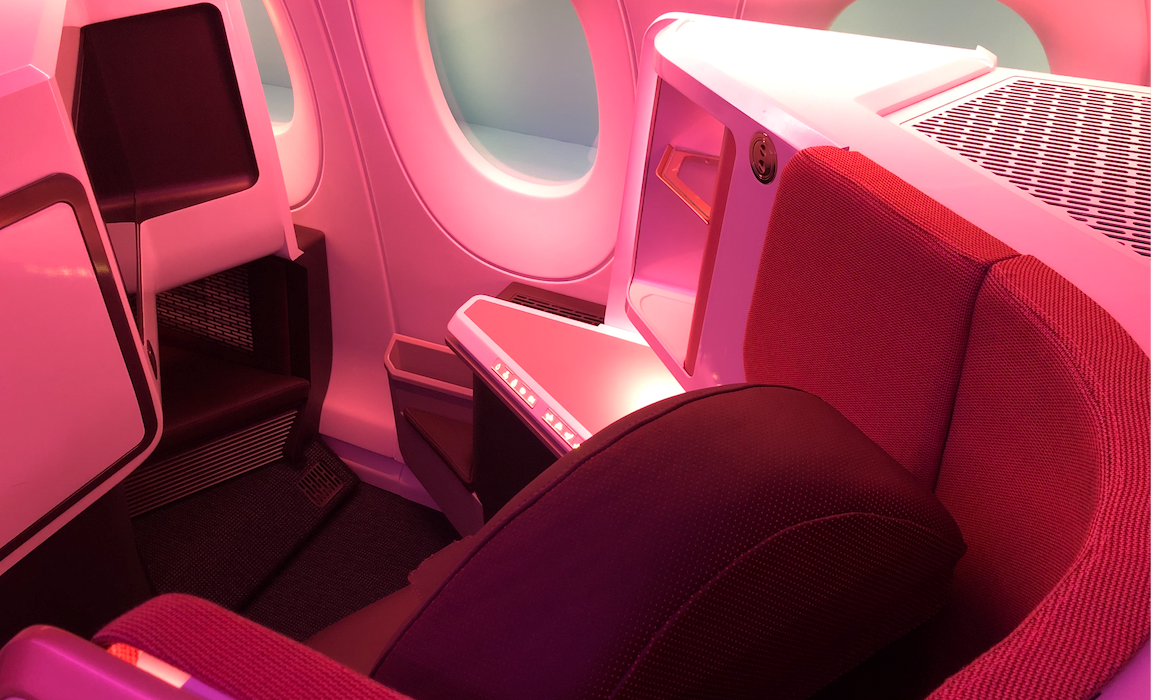 General Convenience
The cabin has a real standing bar, but it is not divided from the main space, so passengers sitting close to it may be exposed to noise. Otherwise, the cabin has funky lighting, the staff is polite and efficient. Bedding and an amenities kit are waiting on the seat, together with pajamas.
Dining Options
Dining options include European style meals, from starters to desserts and wines, and menu is interesting in that it explains what beverage or meal to choose for, say, better sleep or for sufficient nourishment and energy boost. The food is fine, served fast and on real tableware.
Amenities
The bathroom is standard and clean, with basic hygiene products.
In-Flight Entertainment
The seat features TV (but quite small) with a selection of about 150 movies and 40 channels. Wi-Fi has to be purchased but the package is big enough for the price and sufficient for daily business purposes (the biggest package being 500Mb for roughly $40).
Delta Airlines
Aircraft Fleet
Delta Air Lines is one of the largest airlines companies both in the USA and in the world. Its own fleet comprises 443 aircrafts, and together with affiliate companies 1144 aircrafts. They are Boeings, Airbuses and the signature McDonnell Douglas. The company operates flights to more than 460 destinations around the globe. Delta is one of the founding members of SkyTeam alliance.
Baggage Policy
The policy is traditional: passengers can bring for free up to 2 checked bags of 32 kg and 158 cm in total dimensions.
Lounge Area
Lounges are not particularly fancy but nice and fit with everything necessary for rest and work. Food selection is rather limited there.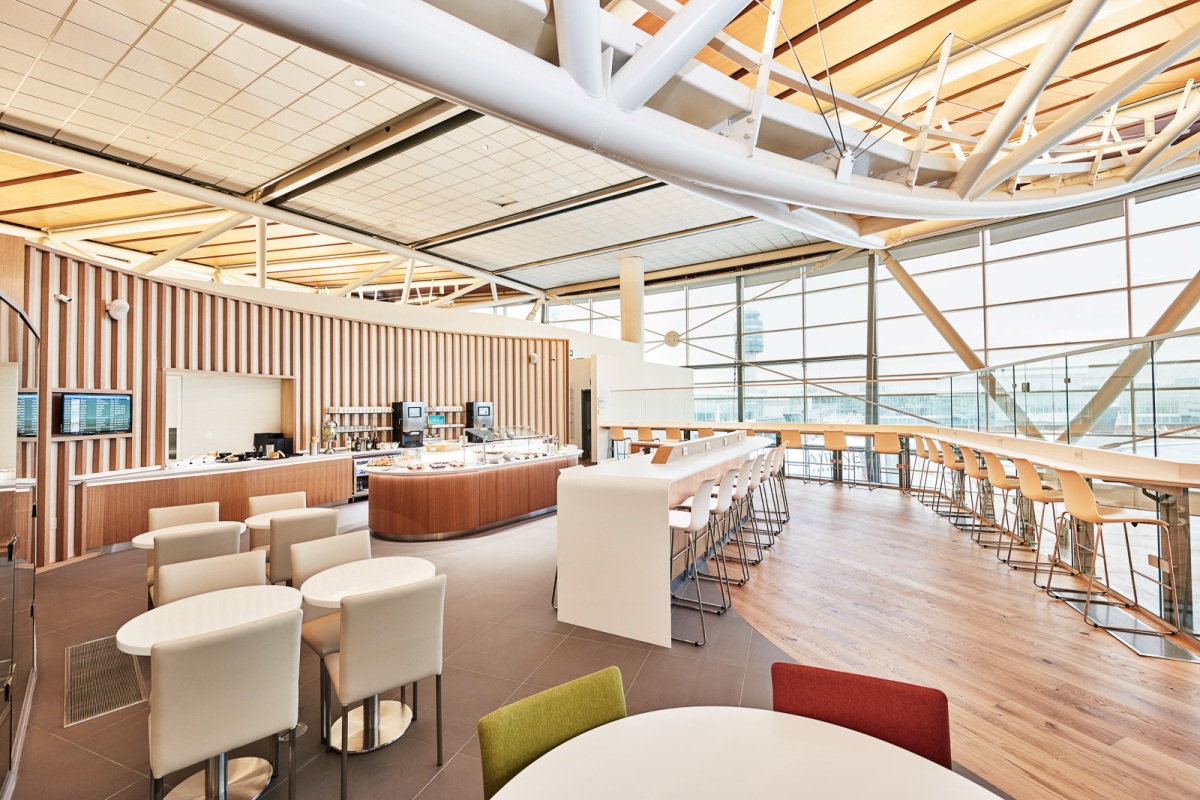 Seats Arrangement
The seat pattern is herringbone. Seats are fully enclosed and with doors (cocoon like seat). Width is about 19 inches, improved head support and lower back support. Leg space is rather long, with option of flipping into a full bed. Storage room is sufficient enough. Each seat has an air nozzle and a light.
General Convenience
The staff is really friendly and personalized, so to say, efficient and polite. Lighting is dimmed for meal time, which is great for those who just plan to sleep. Bedding is good and an amenities bag is available, together with slippers. Headphones, charger and other convenient are in place.
Dining Options
Dining includes decent food selection together with sommelier-selected wines. Vegetarian and non-vegetarian options are provided, including starts and desserts. Soft beverages are also available.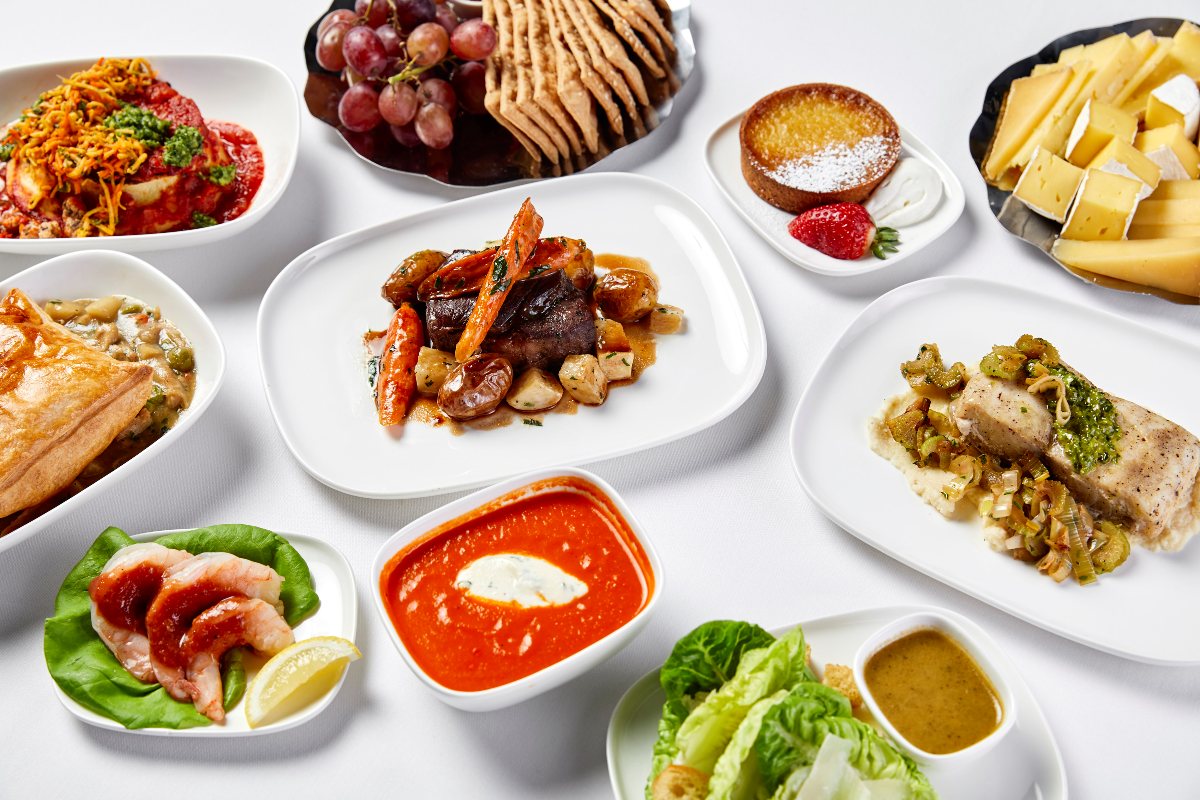 Amenities
The bathroom is regular, clean, without any signature options.
In-Flight Entertainment
TV screen is wide and selection of content is great. It includes movies (374) and series (711), as well as music. Wi-Fi has to be paid for, but the offer is generous – free stream for the whole all-night flights costs $40.
| | | | | | | | |
| --- | --- | --- | --- | --- | --- | --- | --- |
| | Fleet | Baggage | Lounge | Seat | Comfort | Food | Entertainment |
| American Airlines | 875 planes, 350 destinations | Free: 2 bags (32 kg, 158 cm w+l+h). | Good, accessible to no-fly club members | 1-2-1, very wide, full bed | Service is good, staff is efficient | Veg and non veg, soft beverages and spirits | Decent selection of content, wide screen |
| British Airways | 250 planes, 850 flights daily | Free: 2 bags (32 kg, 158 cm w+l+h), plus kids items. | Luxury, Galleries and Terrace style | 1-2-1, wide, plenty of leg space, fill bed | Privacy, the staff is helpful, service is fine | European and British meals, wines soft drinks selection | 18 inch screen, selection of movies, shows and kids content |
| United Airlines | 843 aircrafts, 324 destinations | Free: 2 bags (32 kg, 158 cm w+l+h), kids items. | Rather modest but comfortable | 1-2-1, Polaris cot, 22/23 inches wide, plenty of leg room | Privacy, helpful staff, good service | European and global cuisine, veg and non veg, wines and softs | Tricky content navigation, yet the selection of content is fine |
| Singapore Airlines | 132 planes, 90 destinations | Free: 1 bag (40 kg). | Comfortable yet sometimes over-crowded | 1-2-1, 25 inches wide, long enough, full bed | Privacy, amazing staff, cleanliness, air conditioning | European and East Asian food, wine, soft drinks | Decent selection of movies and programs t watch |
| Emirates | 250 planes, 74 destinations | Free: 2 bags (32 kg, 158 cm w+l+h). | Lounges are great, free smacks included into ticket price | 2-3-2, roomy and long, minibar, full bed | Free ride to airport, luxury cabin, onboard bar, efficient staff | Global cuisine of gourmet quality | Excellent, up to 4,500 content channels of different types |
| Qatar | 234 aircrafts, 160 destinations | Free: 2 bags (32 kg, 158 cm w+l+h). | Good, with relaxation and business zones | 1-2-1, no walls, little room for legs, full bed | Bar onboard, ventilation, cleanliness, imitation of natural lighting regime | Big choice of European and Asian food and beverages of high quality | Big TV screen, big number of content options |
| Iberia | 84 aircrafts, 128 destinations | Free: 2 bags (32 kg, 158 cm w+l+h). | Clean and convenient | Depends on the route. Can be improved economy or real business class type (herringbone) . | Staff is good, hot at night, no individual air nozzle | European food, veg and non veg, soft beverages and spirits | Content selection is impressive, movies, shows and audio |
| Virgin Atlantic | 35 aircrafts, 350 destinations | Free: 2 bags (32 kg, 158 cm w+l+h). | Funky design, great service | Seats differ for different aircrafts. Boeing seats resemble economy, and airbus seats are cocoon type, both have little storage space | Real onboard bar, cleanliness, efficient staff | Proactive approach to menu offering, great food, European cuisine | TV is small, selection of entertainment content is sufficient, generous Wi fi package |
| Delta Airlines | 443 aircrafts, 460 destinations | Free: 2 bags (32 kg, 158 cm w+l+h). | Convenient and clean | Herringbone pattern, cocooned with doors, 19 inches wide, back support, full bed | Enough storage space, air conditioning, dim lights for night flight, very polite and efficient staff | European cuisine and beverage and global flavors, good quality food | Impressive choice of films and series, browse and stream Wi fi packages are reasonable priced |
Choosing the Best Business Class Airline to Fly to UK
Depending on the departure point, select the company that provides most comfort for both long and short flights. Flying with the domestic British airline may bring you the cheapest business class fares to UK than, say, Emirates pricing, but it will be equally convenient experience in many aspects.
Can I Find Really Cheap Business Class Seats?
Yes, you can, but the lower the cost of business class flight to UK, the lower the service, mind that (in reasonable limits, we mean). Prestigious and world-known companies like Qatar and Emirates will definitely charge more for the premium services. So if you do not plan to use an onboard bar or are not offended by upholstered seats instead of leather ones, select more democratic variants with cheap business class flights to UK, like United, British Airlines or AA. Date of flight and time of purchase (in advance or just before the flight) also matter in price calculation.
The Best Business Class To UK Flights: How Can I Get Them?
We offer you the great service that aggregates offers of the best business class fares to UK sorted by companies and service included, and so you can pick and choose what to spend your money on. You do not have to research painstakingly every company, just click a button and see it all offered to you.
What Is The Price of Flying Business Class?
Prices can range from several hundred bucks to several thousands, depending on many factors. Weight all options and pick what suits your wallet best.
Use our service to compare all available tickets in the best price business class to UK and decide if you are ready to save or splurge on a luxury trip.
How to Use Your Service to get the Best Business Class to UK?
It is more than easy: enter the departure and destination points, date and number of passengers – and voila, you see all available options from the cheap business class to UK to star-studded options with royal service. You may also apply filters to pick airlines with specific options, like transfer or special meals order.
Why Pay More If You Can Fly Cheaper And Get The Same Great Experience?
Hope now you realize that you do not have to pay a fortune to fly comfortably to the United Kingdom. You have the great solution how to fly business class to UK cheaply and with amenities, so use it!
Can I Book A Ticket Directly From Your Service?
Yes, if you have found a ticket that suits you and are ready to purchase it, you can do it right through our service. Fill the required fields and pay, and it will be stored in your account as well as in the airline system. It will be perfectly valid and will save you a ton of time and efforts. Now it is time to make your dream trip true, so start browsing great business class options right now!
Top Destinations for Business Class and First Class Travel in 2021
Rome, Yangon, Lucerne, Frankfurt, Tokyo, Edinburgh, Dubai, Paris, Bangkok, Johannesburg, Budapest, Osaka, Taipei, Brussels, Stockholm, Barcelona, Amsterdam, Athens, Berlin, Helsinki, Vienna, Brisbane, Reykjavik, Venice, Guangzhou, Perth, Milan, Seoul, , Glasgow, Madrid, Munich, Nice, Beijing, Dusseldorf, Iceland, Cairo, Melbourne, Moscow, Shenzhen, Shanghai, Nuremberg, Spain, France, Germany, Italy, Sweden, Switzerland, Singapore, Tel Aviv, Israel, Norway
Cheap First Class will take you to London, Paris, Amsterdam, New York or Hong Kong cheap! Get to the global capital destinations easily and forget about the overly-priced services of the vast majority of air flight companies online! Save up to 70% of your money with Cheap First Class luxury travel!
Cheap First Class is Your Reliable Luxury Travel Partner
Travel with confidence, plan your luxury air trip, find the cheapest first class and business class flight deals and book great value fares to 60+ destinations with Cheap First Class!
Need help with your trip? Here are answers to FAQs for all your travel!