Brisbane is the capital of Queensland – Australia's most populated state. With a population of 2.3 million people, this huge metropolis has a bustling and eventful life. As a tourist destination, it is less popular than Melbourne or Sydney, however the number of tourists, coming here to catch a few rays is quickly increasing. Tourists are attracted by the beauty of this city that has turned into one of the most stylish and sleekest cities in Asia Pacific, in the last few years.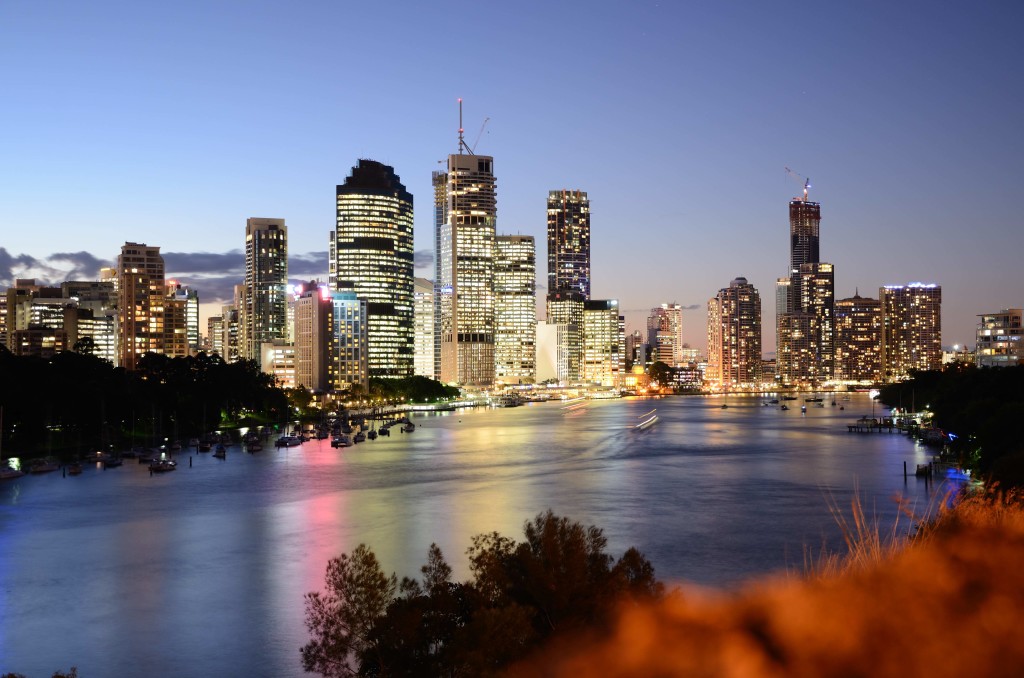 Travel destination
Being a perfect vacation and getaway destination, Brissie (as the city-folks call it) offers a wide range of tourist sights, live music festivals, world-class exhibitions, as well as numerous cultural events. Varied and exciting cultural and social life, against the background of magnificent Scenic Rim, Islands, Country Valley and Moreton Bay, coupled with the natural charm of this modern city, make unforgettable impression on tourists. Luckily, getting to Brissie is pretty easy nowadays, as there are lots of regular economy and premium flights to Brisbane.
Cheap first and business class tickets to Brisbane start from $2999
In recent years, business is looking up in Brisbane and the city has got a world recognition as a business destination. Thus, the World Bank has ranked Australia the 7th easiest country for launching a business. Brissie is also in the list of cities with the most favourable environment for business growing. Having a quickly growing economy, well-developed infrastructure and strong ties with various Asia-Pacific markets, the city offers numerous opportunities for business persons from all across the world. It is also a perfect place for international scientific, technological and cultural meetings, conferences and exhibitions. In 2014, the capital of Queensland was a host city of the G20 Leaders Summit.
When going to Brisbane, whether for business or pleasure, it is recommended opting for business or first class flights, as these are the most comfortable types of air travel. Faster check-in and security control, cozy lounge area, with a good selection of snack and drinks, pre-boarding, sophisticated inboard services, multiple entertainment options, restaurant-like meals, comfortable flat-bed seats, capacious storage space and an enhanced comfort and privacy level are the main advantages of Brisbane business flights. Only by flying premium class, you can reach the destination relaxed, in a good mood and with no signs of tiredness.
Cheap business class flights to Brisbane
Finding cheap luxury flights to Brisbane has become a lot easier in recent years, as many airlines offer various discounts. If you are currently in search of a low cost business class to Brisbane, our company is ready to help you. We can easily prove that cheap 1st class tickets to Brisbane are not a fiction and will help you purchase them and discover the benefits of premium flights for less. Achieving this is possible even if you are looking for last minute first class airfares to Brisbane. Just fill in our quote form and we will provide you with multiple business class deals to Brisbane. This is undoubtedly the easiest way to look for affordable premium class flights.
Top Destinations for Business Class and First Class Travel in 2024
Rome, Yangon, Lucerne, Frankfurt, Tokyo, Edinburgh, Dubai, Paris, Bangkok, Johannesburg, Budapest, Osaka, Taipei, Brussels, Stockholm, Barcelona, Amsterdam, Athens, Berlin, Helsinki, Vienna, Brisbane, Reykjavik, Venice, Guangzhou, Perth, Milan, Seoul, , Glasgow, Madrid, Munich, Nice, Beijing, Dusseldorf, Iceland, Cairo, Melbourne,Moscow, Shenzhen, Shanghai, Nuremberg, Spain, France, Germany, Italy, Sweden, Switzerland, Singapore, Tel Aviv, Israel, Norway
Cheap First Class will take you to London, Paris, Amsterdam, New York or Hong Kong cheap! Get to the global capital destinations easily and forget about the overly-priced services of the vast majority of air flight companies online! Save up to 70% of your money with Cheap First Class luxury travel!
Cheap First Class is Your Reliable Luxury Travel Partner
Travel with confidence, plan your luxury air trip, find the cheapest first class and business class flight deals and book great value fares to 60+ destinations with Cheap First Class!
Need help with your trip? Here are answers to FAQs for all your travel!