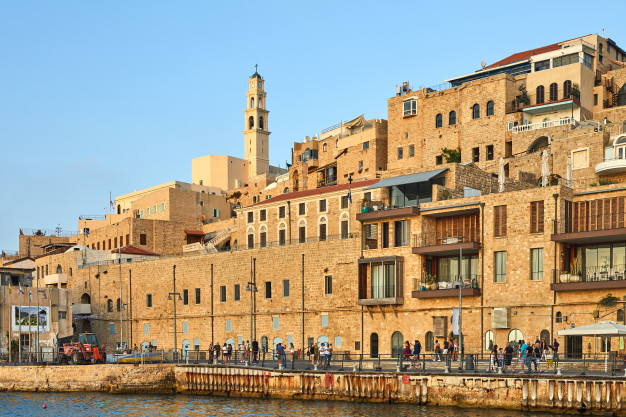 People don't decide on a travel destination out of the blue. Their decision ripens feeding on snatches of books they have read, pictures they have seen, movies they have enjoyed, and stories they have heard. In some destinations wrapped in legends, these deeply embedded mental triggers blend to form a powerful magnet that will draw in tourists year after year.
Tel Aviv is one such place. The mentioning of Biblical narratives and medieval history are quite enough to ensnare antiquity fans. Old Jaffa where Jonah began his ill-fated journey and Richard the Lionhearted kept at bay the advancing ranks of Saladin's army is epic incarnate.
Yet, the fabled past doesn't hold sway over the present-day Tel Aviv, and the City which never sleeps has plenty of modern attractions to cater to the most fastidious visitors coming by business class flights to Tel Aviv, Israel.
What's Interesting in Tel Aviv?
The city sports a unique combination of picturesque old (but carefully restored) sites and state-of-the-art neighborhoods, so it is up to you to choose where to begin exploring Tel Aviv from.
For history admirers, the starting point would definitely be the port of Old Jaffa, which is considered one of the most ancient in the world. A gradual transition from the remote ages to the recent past will take you to Neve Tzedek and the White City neighborhoods with their two-story sandstone and Bauhaus-style buildings which earned the city UNESCO World Heritage status in 2003. And you just can't miss Tel Aviv's modern swank associated with Park Tzameret and Sarona districts with their impressive skyscrapers, some of which are residential houses!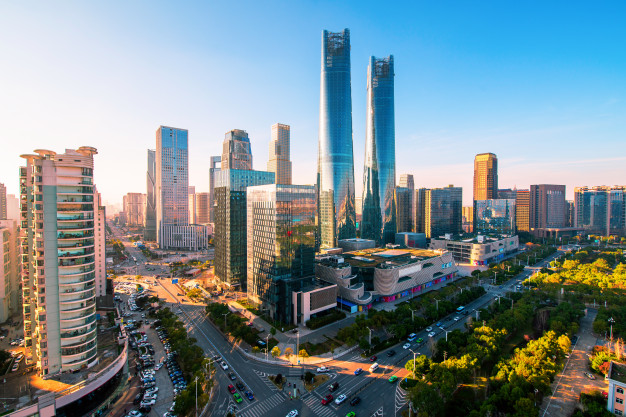 But it would be too boring a vacation were it all spent in gazing at architecture specimens (however quaint of magnificent they might be) or visiting museums strewn all over the city. As an Israeli adage puts it, "While Haifa works and Jerusalem prays, Tel Aviv plays". So it would be an unforgivable mistake not to partake in the city's vibrant nightlife and not to taste its incredible food.
And in the morning you can enjoy basking at one of the innumerable beaches of the Mound of Spring (that's what Tel Aviv in Hebrew stands for). Relaxing in a beach chair after a wonderful swim, squint a little and you will be able to see Templar cavalry thundering after a group of Mamluk horse archers over the dazzling sands of Holy Land. Or is it just another daydream? Book business class tickets to Tel Aviv and find out by yourself.
Why Fly Business Class to Tel Aviv?
If you want your trip to Tel Aviv to be a travel of your dream, a business class flight is a must. Besides a grand-sounding name, it has numerous advantages in comparison with economy class.
Two Check-in Bags
If you are of the snail breed (no speed-associated offense – meaning you like to carry your entire house with you) business class flights are a fantastic boon, since you can have two check-in bags while in economy class only one piece of baggage is allowed. And if your things don't exceed the maximum weight limitation, additional luggage allowance is graciously extended to you. Yes, international flights do that!
Chic Airport Vehicles for Business Class Passengers
Don't wish to run loaded with your paraphernalia from the airport parking lot to the terminal? Well, as a business class passenger you don't have to. The best business class airlines to Israel (or to any destination, for that matter) provide their clients with chic vehicles driven by a personal chauffeur that will deliver you to the threshold of the airport terminal.
Priority Check-in
Once inside the terminal, you will see a formidable check-in queue of annoyed passengers and, according to Murphy's law, they are all anxious to board your very flight. But your business class status allows you a priority check-in. And even if you have come to the airport way before your flight is due, you won't have to sit in a hard chair. You are entitled to enjoy the facilities of the business class lounge where you can relax in more comfortable conditions, taste some excellent refreshments, and even take a shower.
The last word in comfort will accompany you on the plane too. First of all, it is once again about seats (and it's no wonder, since you will spend a great part of your day sitting). Business class seats are larger than those in economy class, and some airlines are proud to provide their customers with reclining seats or even a lie-flat bed. Secondly, spending long hours on an international flight will be more satisfying in business class with its bigger TV screens, extra channels access, in-seat power sockets, and USB ports. And the seat trays can be transformed into desks, which is an important boon for what you will read next.
Food
And the last, but not the least. Guess what – food, of course. While economy class passengers have out-of-the-box meals, you will get a great chance to relish dishes created by high-profile chefs. And even before the mealtime, you will be able to enjoy a glass of champagne served to welcome you onboard.
The benefits speak for themselves, so booking a business class ticket to Tel Aviv will provide you with maximum comfort on this long flight. But, naturally, business class solutions differ depending on the airline you use.
Review of Best Business Class to Tel Aviv
We offer business class ideas from 5 top airlines.
1. El Al
El Al Airlines is the largest carrier of Israel, and the conditions it provides to passengers who travel to Tel Aviv business class are nothing but luxurious. All the comforts are carefully thought out, from the muted pastel coloring of the business class cabin to the very placement of seats that look more like cozy private cocoons.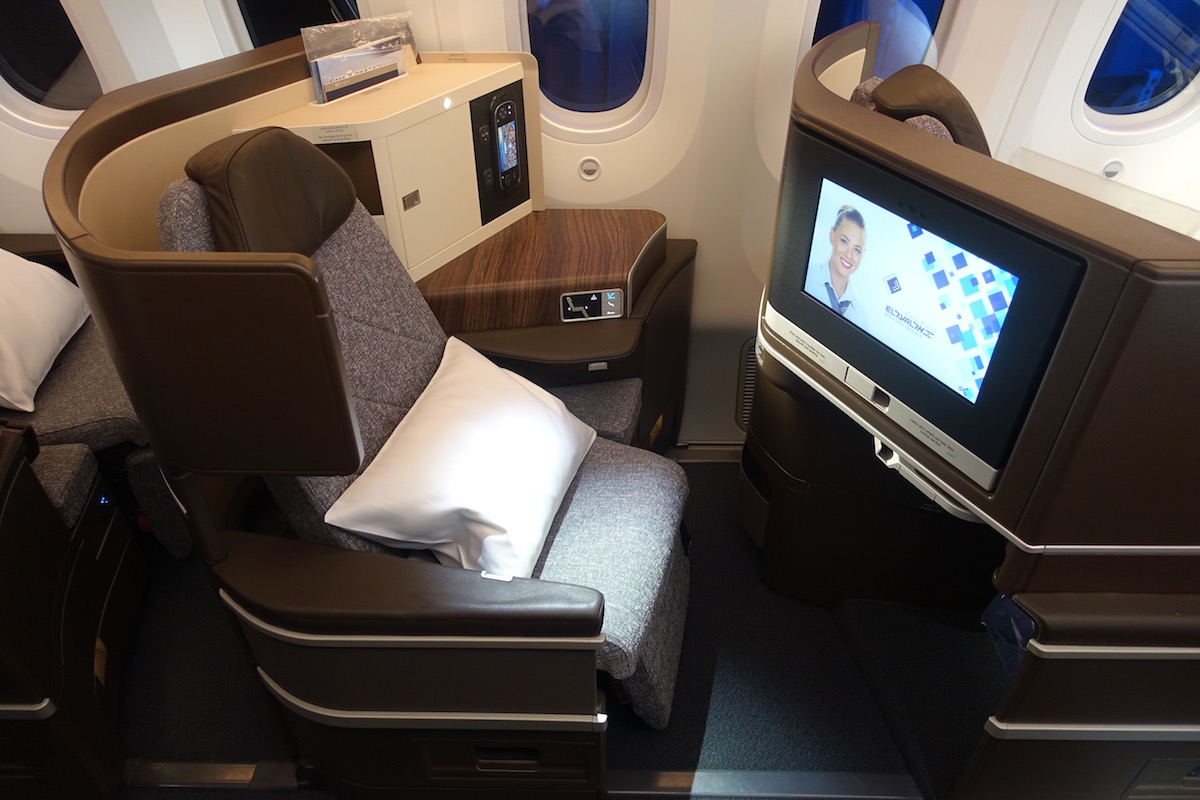 These are furnished with a spacy counter and a console with earphones jacks, entertainment controllers, USB outlets, seat controls, and some storage compartments. A monitor is integrated into the back of the seat just in front of you so you can enjoy watching movies or TV, listening to music or playing computer games to make the flight time literally fly by.
During the flight, business class passengers are provided with pillows and blankets, amenity kits, and noise-canceling headphones. The food offered in business class is exquisite Israeli cuisine that can delight even the most finicky clients.
2. American Airlines
American Airlines business class to Tel Aviv is about to be launched in September this year, and on its long-haul flights, the company offers the same basic amenities and comforts other airlines do. The booths have everything to make the trip comfortable including the side bin and the sturdy foldout table.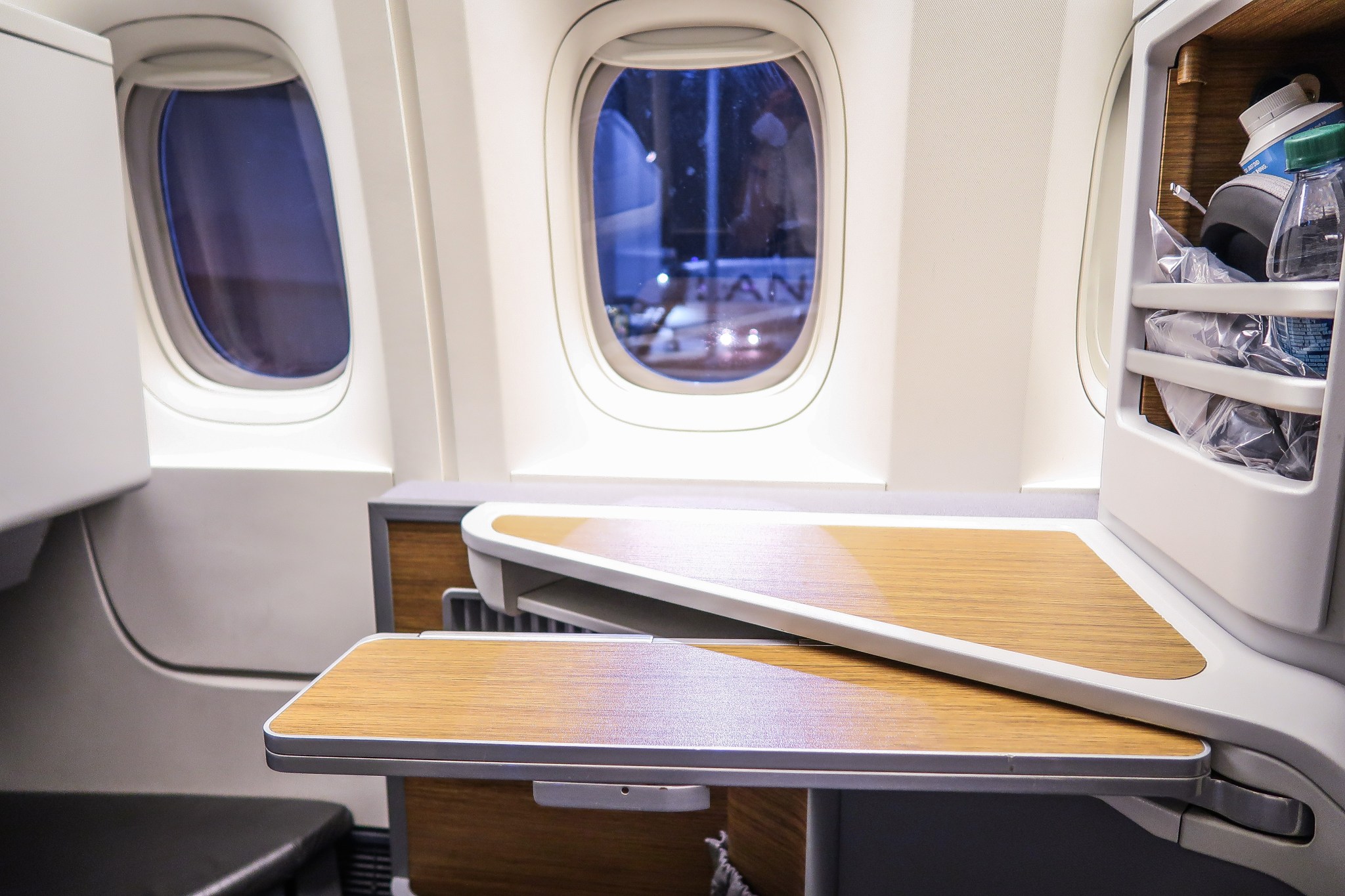 The aircraft employed by the company have rather large lavatories where passengers can feel a touch of luxury making use of a moisturizer and (imagine that!) a facial toner.
3.Delta airlines
The company offers 14 weekly flights to Israel from JFK airport, so booking Delta business class to Tel Aviv wouldn't be a problem. What differs Delta business class from others is the 34 fully flat-bed seats that provide the opportunity to spend the long hours of the flight in the position natural for a sleeping person.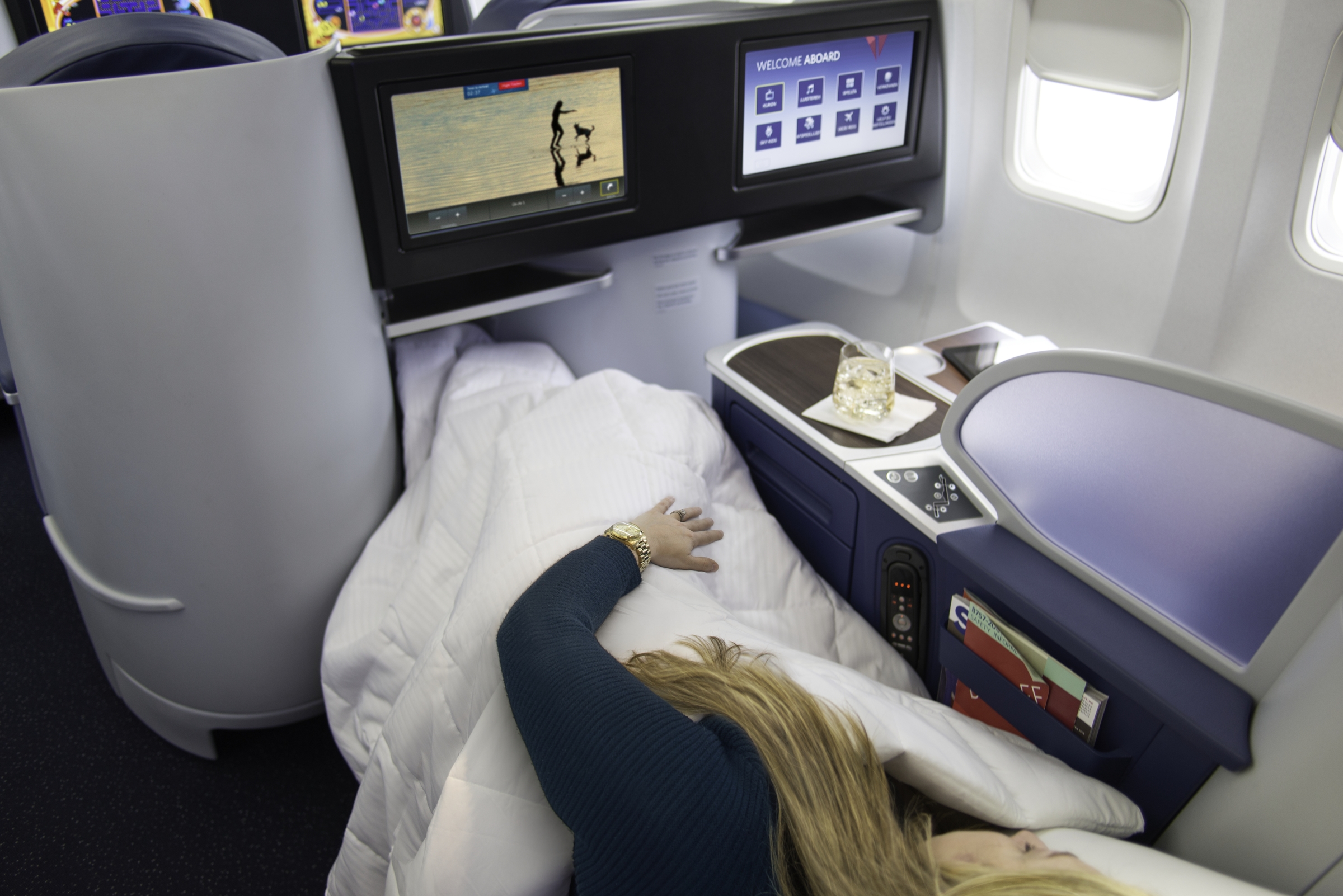 Moreover, the complete privacy of your trip is ensured by dividers and full-height doors separating your booth from the rest of the cabin if need be.
4. United Airlines
This carrier has a 20-year experience of providing flights to Israel from all over the USA. About 4 years ago they launched the United Polaris service aimed to offer elevated comfort to tourists who acquired United business class to Tel Aviv. The business class seats possess large footwells so you won't have to awkwardly tuck your feet under the seat in front. If you travel alone or just value your personal space, choose the odd-numbered seats which are placed at an angle, allowing for more privacy.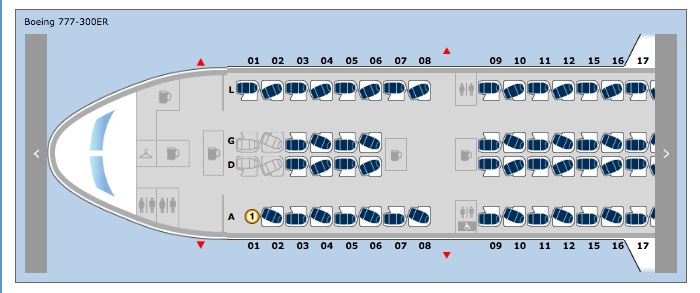 Among other features that guarantee extra comfort are two pillows instead of the regular one, and pajamas to create a homey home feeling on the flight.
5.Swiss Airlines
Swiss Airlines business class service starts before you actually board the plane when the airline personnel come to your residence to collect your luggage and give you a boarding pass.
Since flights from Europe to Israel last under 4 hours, there hardly seems to be a necessity to take excessive care of the comforts on the flight even in business class. Yet, with Swiss Airlines it isn't the case. Their business class cabins feature lie-flat beds so you can reach your destination fully rested and ready to explore the unknown.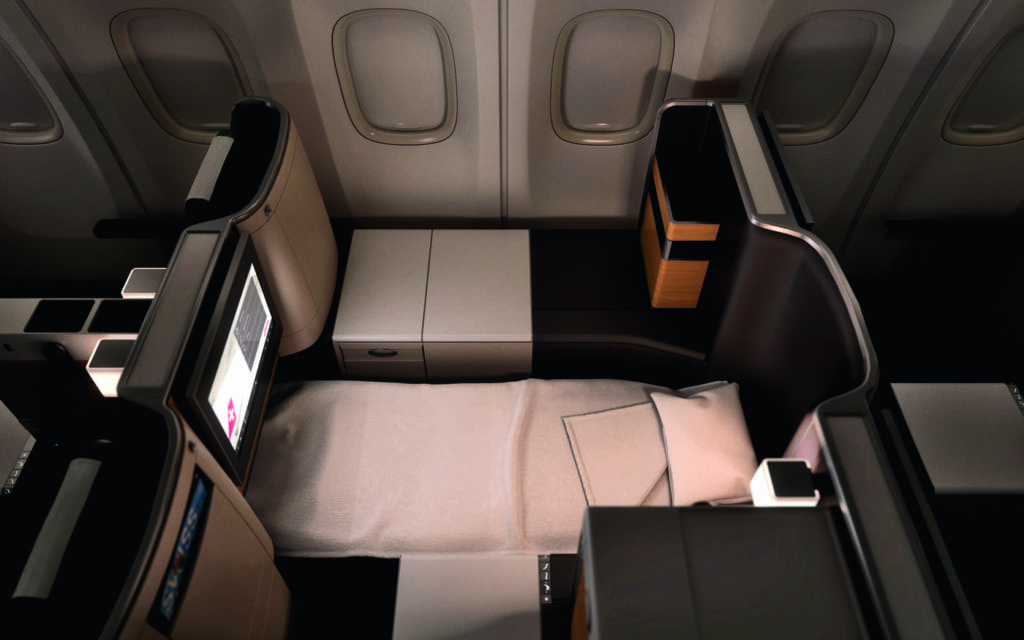 Tel Aviv Airport Info
Selecting an airline to your taste, you can reach Tel Aviv from almost any part of the world. Yet whatever your starting point may be, the destination is the same: Ben Gurion airport. It has two terminals (Terminal 1 and Terminal 3) to handle incoming flights, but today Terminal 1 primarily serves low-cost carriers while Terminal 3 has become the principal international gateway to Israel. With its 110 check-in counters and 40 gates, it is a huge hub that dealt with about 25 million passengers last year.
Business class passengers have four lounges at their disposal. King David lounge by El Al is available for frequent flyers, while privileged and paying flyers can make use of three Dan lounges.
Business Class Airfare to Tel Aviv
It is in no way possible to make a generalization as to the business class prices to Tel Aviv since they depend on the flight duration. Thus, if you start from Newark you will definitely pay more than if you start from Zurich. But anyway, flying business class is naturally more expensive than economy class. Business class tickets were never a bargain-price item, but on a long-haul flight comfort is not a thing to compromise on. But there is no reason to pay more if you can find cheap business class tickets to Tel Aviv.
How to Get a Ticket at the Best Price?
There are some lifehacks on how to book cheap business class flights to Tel Aviv. You should keep track of the information airlines publish on sales and discounts (including offers to get two tickets at the price of one), pick the right date and time for your trip (on some days tickets are cheaper), split the journey into two, follow loyalty programs or try less known carriers, and use booking engines and consolidators. But the most sensible solution is to employ the services of Internet resources that can help you clinch the best deals. CheapFirstClass.com spares you the trouble of searching for offers personally. Instead, you can delegate the ordeal to the customer service (either by phone or email) and receive the discount within a short time. Thus, both your money and time will be saved.
Conclusion
With its 300 sunny days a year, active nightlife, impressive architecture, and delicious cuisine, Tel Aviv is an excellent destination to spend your vacation in. Being tech-savvy and stick-to-it-ive is the surefire recipe to find affordable business class tickets so that you could have as comfortable a flight as might be.
Top Destinations for Business Class and First Class Travel in 2024
Rome, Yangon, Lucerne, Frankfurt, Tokyo, Edinburgh, Dubai, Paris, Bangkok, Johannesburg, Budapest, Osaka, Taipei, Brussels, Stockholm, Barcelona, Amsterdam, Athens, Berlin, Helsinki, Vienna, Brisbane, Reykjavik, Venice, Guangzhou, Perth, Milan, Seoul, , Glasgow, Madrid, Munich, Nice, Beijing, Dusseldorf, Iceland, Cairo, Melbourne, Moscow, Shenzhen, Shanghai, Nuremberg, Spain, France, Germany, Italy, Sweden, Switzerland, Singapore, Tel Aviv, Israel, Norway
Cheap First Class will take you to London, Paris, Amsterdam, New York or Hong Kong cheap! Get to the global capital destinations easily and forget about the overly-priced services of the vast majority of air flight companies online! Save up to 70% of your money with Cheap First Class luxury travel!
Cheap First Class is Your Reliable Luxury Travel Partner
Travel with confidence, plan your luxury air trip, find the cheapest first class and business class flight deals and book great value fares to 60+ destinations with Cheap First Class!
Need help with your trip? Here are answers to FAQs for all your travel!