Paris. The magnificent capital of France. One of Europe's key-centers of diplomacy and finance, fashion and science and, surely, arts. The city is constantly in the top ten of the most visited places every year and sometimes even tops the list. The City of Love and Romance, the City of Lights. Its marvelous architecture, breathtaking landscapes, worldwide renown museums and monuments, as well as the amazing atmosphere that fills the city won't leave you indifferent once you get there.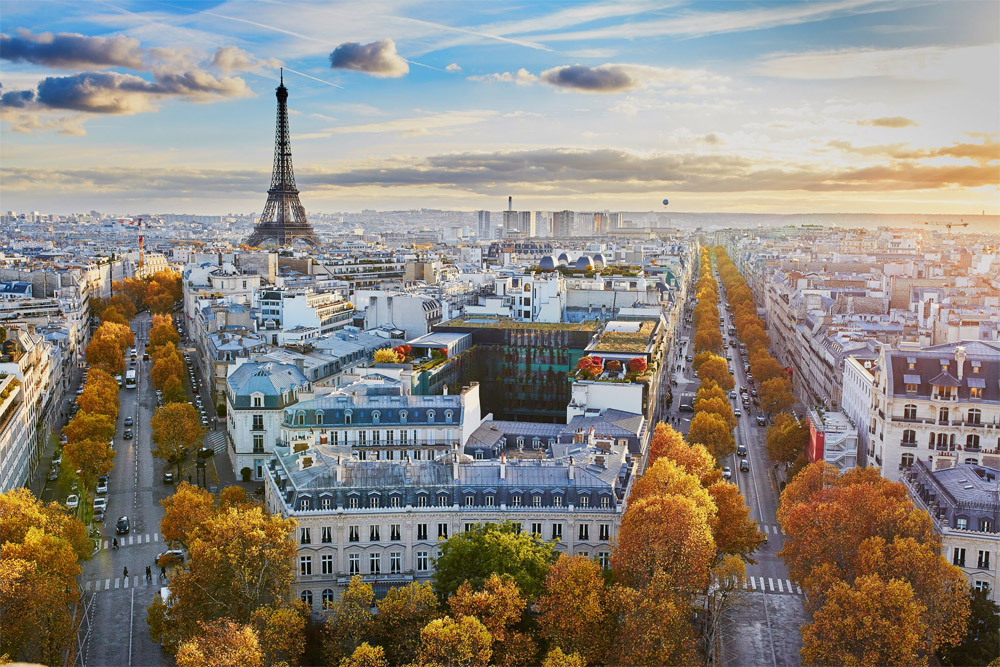 Things to Discover in Paris
Paris is definitely a very rich city. It's hard even to imagine covering everything in one single trip. Even the citizens agree that seeing every famous sight, every important piece of history, every gorgeous work of art is a mission impossible even in a lifetime.
If it's your first time in Paris you might want to cover the basics. Start exploring the city with the symbolic Eiffel Tower, go to the world-famous Louvre, visit such wonders as the Musée d'Orsay, the Luxembourg Gardens or Le Marais. Discover Sainte-Chapelle, the Sacré-Coeur, the Jardin des Tuileries, the Place de la Concorde and the marvellous Montmartre step by step. The list could go on forever, just rest assured that Paris won't disappoint you.
Best Time to Fly to Paris
As for the weather, the optimal time to visit Paris is from April to June and from October up to the first week of November. July and August might be too hot to walk around. The weather is quite delightful, the skies are clear, the temperatures are pleasant and compared to summer it's not as crowded. The most budget-saving time when it's easier to get cheap business class tickets to Paris is winter: early December, January, and February.
The perfect time for your romantic honeymoon is from May and June, or from early autumn to the end of October. But if you are coming to Paris to experience its nightlife you can do it all year round.
Airports in Paris and Transportation Information
Paris' transportation system is highly developed. The city is a railway, highway and air-transport hub. Its Métro can take you anywhere within the city. The public transport system includes Tram, buses and RER.
Paris is served by two international airports:
There are also a couple of airports that serve budget airlines:
Beauvais–Tillé Airport;
Paris–Le Bourget Airport;
Châlons Vatry Airport.
Is it Hard to Find Cheap Tickets?
You might be planning your first trip and already feeling terrified by the business class airfare to France. Or you might be sick and tired of paying an enormous amount for money tickets. Anyway, you must be wondering if there is a way to make it any cheaper and if it's possible for an ordinary mortal.
The answer is that it's totally possible, but you'll need to put some effort into it. Interested? Then read on to find out how to maximize your savings when buying airline tickets.
Where to Search for Cheap Business Class Tickets?
Before booking the tickets, spend some time searching and comparing prices. Keep in mind that all search engines inflate flight prices because they get a share from the airlines.
There are some special ticket search sites for booking cheap business class tickets to Paris.
Business Class Fares to Paris
Best business class flights to Paris are pricey. Here're some of the most popular flights:
Munich to Paris – $533
New York to Paris – $4,245
Warsaw to Paris – $836
London to Paris – $435
Ultimate Guide for Finding Cheap Business Class Tickets to Paris
Now we've come down to the most interesting and useful part of this article: how to book the cheapest business class to Paris with no difficulty and no additional stress. There are a number of tricks that will definitely cut the price.
Be flexible
If the dates of your flight aren't carved in stone, being flexible gives you a big advantage. Always consider the airline company's busiest days. As a rule, traveling on weekends is more expensive, so if it makes no big difference to you, flying mid-week saves you a lot.
Avoid traveling during the winter holidays, the day before Thanksgiving, and over spring break. Try to plan the flight as early as you can, follow the company on social media and wait for a sale or special offers for subscribers.
Not everybody takes into account that sometimes landing near your destination city and renting a car from there is way cheaper than flying straight to the destination. So, you might want to consider it next time when planning your trip.
Book with low-cost carriers
If you want to travel with comfort and save your budget, low-cost carriers are your perfect solution. These airlines provide low fares though you won't get some of the traditionally included services and amenities.
ScootBiz, for instance, provides its passengers with 30kg baggage allowance, reclinable leather seats, premium meal service, increased legroom and "Bring Your Own Device" entertainment streaming.
Business Class Upgrade
Another effortless way of getting low-priced business class tickets is online auctions. Don't be too skeptical of this: airlines often provide these opportunities so that they could attract clients and fill unsold seats in the business class area.
Often there's also a possible option of paying for a fixed price upgrade when you check in. Such carriers as Malaysia Airlines (MHUpgrade) or Cathay Pacific (Enhance) offer their passengers to bid the amount they've prepared to pay for upgrading to the next class.
Our advice here: try and win.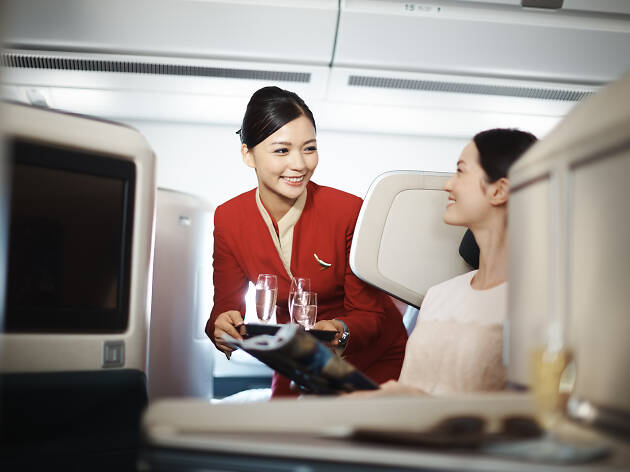 Upgrade with Frequent Flyer Loyalty Programs
If traveling and flying, in particular, are becoming your way of life, don't neglect to sign up for the Frequent Flyer loyalty program. The points you get every time you fly can be spent on upgrading your seat or even flying for free.
Wait for Sales on Business Class Flights Airfares
When you're planning your trip ahead, don't rush to buy the first business class seats to Paris you've found.
There are times when airlines have sales on their best seats. All you need to do is to follow your chosen airline on social media to monitor the upcoming deals.
Travel Alone
Flying alone gives you higher odds of getting a free upgrade. Several seats being available for an upgrade isn't that common.
Solo traveling is cheaper, however you look at it.
Dress Nicely and Be Polite
It's old as the hills. Even when you have economy class tickets, looking good never hurt anyone. Besides, sometimes a staff member gets to organize an upgrade and has to pick someone because some business class passenger didn't show up.
Get prepared, make sure you wear your Sunday best, roll out the manners your mother would be proud of, and ask politely. These are the keys to success.
How to Book Tickets
Many travelers get frustrated when it comes to booking the tickets. So many sites, airlines, and multiple travel agencies to choose from. Prices are fluctuating, which makes the process even more confusing.
In fact, there are several methods to book the tickets:
booking your ticket online;
researching your journey;
asking a travel agent to help you.
Airlines That Fly Business Class to Paris, France
You can book business class flights to Paris, France from these airlines:
Air France. France's commercial airline company is a leading world flight corporation specializing in passenger and cargo transport, and aircraft maintenance.
American Airlines. This company provides air transportation for passengers and cargo. It operates about 6,700 flights per day to nearly 345 destinations in more than 50 countries.
British Airways. It's a full-service, world-known airline that offers year-round low-cost fares with a widespread global route network.
United Airlines. United Airlines operates approximately 4,900 flights a day to 356 airports. United is proud to have the world's widest route network, including U.S. mainland hubs in Chicago, Denver, Houston and others. United has almost 800 mainline aircraft, and the airline's United Express carriers have more than 560 regional aircraft.
Delta Air Lines. One of the world's biggest airlines annually helps more than 180 million travelers get to their destinations.
Norwegian Air. Norwegian has been named the world's best low-priced airline for several years. It transports over 30 million people per year to numerous destinations.
Each of these airlines fly business class to Paris. They offer inexpensive non-stop flights to Paris as well as connecting flights to Paris through various airports situated in the US, Canada, the UK and Europe. These are considered to be the best business class airlines to Paris.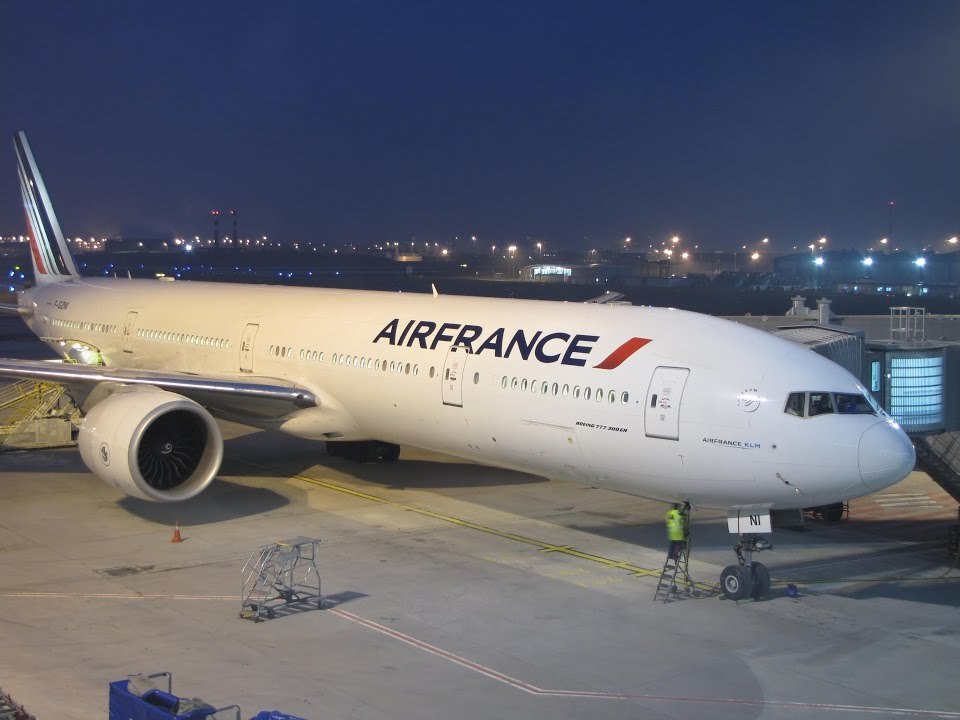 When Are Business Class Tickets the Cheapest?
There are a few reasons for the business class airfares to drop:
You are choosing to fly midweek, not during the weekend.
It's not holiday time.
There are no local celebrations or festivals going on in the country you are planning to visit.
The weather during this period isn't so good for being outside.
Sales and discounts.
Last-Minute Deals to Paris | Business Class
Booking last-minute tickets is not for the faint of heart. You never know where you are going to end up: in the Alps or on a five-day trip across America. It's all about spontaneity.
You won't spend time on planning or researching, and you might also get a huge discount on the accommodation, as many hotels cut the prices the closer it gets to the arrival date.
Nowadays there's a wide selection of budget airlines that minimize your spendings.
If you're a student or a budget traveler, low-cost airlines might be very helpful for the cheapest flight options to your chosen destination.
Round Trip Business Class Tickets  to Paris
As a rule, airlines prefer that their passengers fly round trip rather than purchase two one-way tickets. It's easier for them to organize their schedule system.
That's why a one-way ticket is more expensive than the cost of half of the same round-trip journey. So, it's better for you to decide exactly when you are going to return in order to save up on business class airfare to Paris.
Cheap Business Class Flights from Paris
A non-stop flight from Paris to Barcelona can cost you $570, a route with a transfer $370.
A route with a transfer from Paris to Berlin costs $290
A non-stop flight from Paris to Warsaw costs $784, with one transfer $530
Tips For Finding Cheap Tickets
Search in "Incognito" mode. Because of the tracking tool called "cookies", you might not see the lowest airfare unless you book the ticket immediately.
Compare prices on different sites. Believe it or not, the prices may differ a lot, so make sure you've seen all of the options to choose the one that suits you.
Use award miles. If you fly a lot with one airline, you might get enough points to cover the whole price of the ticket in a while.
Fly with a budget airline. They can be a big help when you're on a budget.
How Cheapfirstclass Can Help You
Flying first class is always a pleasant experience. Whether you're a businessman or an occasional traveler, the flight itself could be one of the most memorable and significant parts of your trip.
With cheapfirstclass, you can find the best tickets for business class flights to Paris France at the lowest price without having to monitor the deals on your own. Just fill in a form with details and get a list of the best and cheapest offers to choose from.
Fly Business Class to Paris with Cheap First Class
Life is too short to fly economy class when there's a whole range of opportunities to find first class tickets at an affordable price. Entrust the search to us, and pick your tickets at the lowest possible price.
9 Most Affordable Airlines to Fly in Business Class to Paris
Hawaiian Airlines
Conclusion
It's totally possible to get cheap business class flights to Paris at a very pleasant price, and sometimes even for free.
Follow the guide and tips above to spend your future flights in a soft luxury chair drinking your favorite beverages without paying an insanely high price.