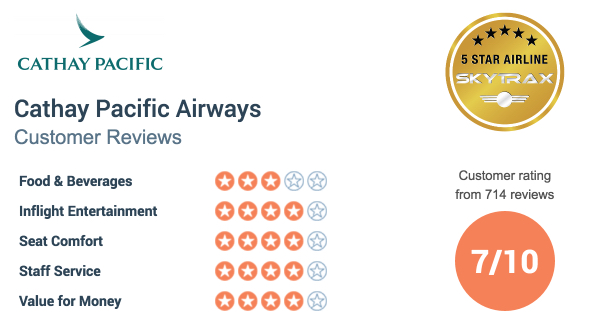 People from all over the globe have always been charmed by the East, and nobody can argue Hong Kong is one of the most exciting destinations in entire Asia. This city is named "Pearl of the Orient" not for nothing: it has been attracting visitors from all over the world since the dawn of the last millennium. During its history, the city used to be a part of Imperial China and a colony of the British Empire. Today, holding the status of Special Administrative Region of the People's Republic of China, it combines old traditions and the latest achievements of the human civilization.
What Modern Hong Kong Offers to Business Class Tourists in 2021
Modern Hong Kong is a prosperous economic, financial, cultural, and educational centre south from the Mainland China. It encompasses four districts: Kowloon Peninsula and Hong Kong Island, where the city life concentrates, along with the New Territories and the Outlying Islands that embody relaxed living in Nature`s lap.
The Hong Kong area provides plenty of travelling options as it is full of entertainment zones, landscape parks, temples dedicated to all possible religions, and crowded markets offering numerous exotic goods. Everyone will find here something special to do and to see. Avenue of Stars, Kennedy Town, Wet Land Park, Nathan Road, Hong Kong Disneyland, and Victoria Peak are only a few significant attractions you can discover. Apart from spending your leisure time, in Hong Kong, you can gain from numerous business and educational opportunities.
Long-haul Business Class Flights to Hong Kong
When it comes to a far trip, a plane seems to be the most obvious choice. In the aspect of air travelling, Hong Kong is a pretty convenient place: Hong Kong International Airport situated on the Chek Lap Kok Island is the main passenger and cargo gateway in the city. This is actually one of the world`s largest and busiest airports. Besides, it is the main hub of Cathay Pacific, the Hong Kong`s flag carrier.
Cathay Pacific is currently the biggest and most profitable international airline on the globe. It offers more than 200 routes to over 50 countries. Founded in 1946, the company now follows the latest trends in flight services. It widely uses electronic systems for self-check-in via kiosks and mobile check-in, social media tools to interact with clients, and provides a comprehensive guide to your trip before you even get on board. According to your preferences, you may take the economy, premium economy, or first- and business-class flights in sophisticated cabin interiors and benefit by onboard entertainment.
Advantages of Flying Business Class with Cathay Pacific
Let's now answer the question: why exactly Cathay Pacific business class seats are better than the rest categories? First, if you don't live in China or nearby, a flight to Hong Kong will take you over 12 hours. Of course, you must spend that time with comfort, and business class suits this purpose the best. Second, a few years ago, Cathay Pacific totally modernized their business class, so you will fly in perfect conditions: check-in on a priority basis, brand-new aircraft cabins, complete privacy, and cozy seats featuring PTVs with AVOD are awaiting you.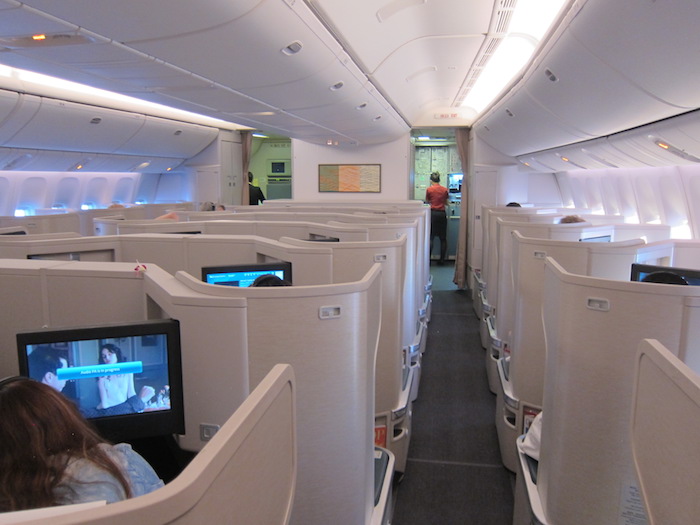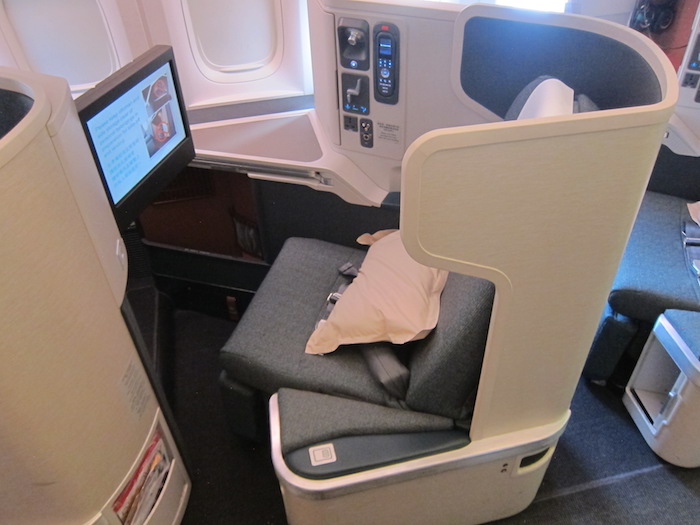 Yes, business class seats may be expensive. However, you can always use some tips and tricks to get cheap Cathay Pacific business class. In this case, you will really enjoy your long flight like you have never been able in economy class. High-quality service will amaze you in the very beginning thanks to exclusive check-in counters provided at any airport working with Cathay Pacific. One more useful feature of the business class is higher luggage allowance – so bring as much stuff as you need.
Cathay Pacific Premium Lounges
You will have access to Cathay Pacific`s premium lounges. Those are located both in Hong Kong International Airport and globally, and provide exquisite services in terms of everything. Here, you may take a shower, manage your business tasks at workstations, have lunch or dine on the best meals of Asian and European cuisine, relax in a private suit, or even visit spa procedures.
Privacy & Amenities
What's waiting for you throughout the flight? The ergonomic design of the Longhaul cabin will help you refresh your mind, relax, and work productively. Reverse herringbone seats can be transformed into comfortable beds with a single touch of a button. To successfully manage your business tasks, use privacy partitions and power outlets just like at your office. If you want to kill some time, the in-flight entertainment system is at your disposal. Watch the latest films, TV shows, or listen to your favourite music. In addition, you will have access to hygiene rooms equipped accordingly to the latest technologies and enjoy the finest selection of food and drink. Professional flight attendants will provide you with the fully personalized service, a lavish amenity kit including all necessary products, as well as soft pillows and duvets.
How to Upgrade to Business Class with Cathay Pacific
We hope that you are aware of all the Cathay Pacific advantages now. But how about the prices? There is still a popular stereotype that business class flights aren't for "regular people". And we could argue! In fact, there are many ways to upgrade your Cathay Pacific ticket to business class.
For instance, you may become a member of their loyalty programmes – Marco Polo Club and Asia Miles. Another trick is to use last-minute Cathay Pacific business class offers when you arrive at the airport too early or too late. This means, you become the first or the last passenger in the entire queue and may win kind of a reward. Quite an easy way is to track Cathay Pacific business class specials online. All you have to do is to subscribe to the newsletter. And the last but not least – you may contact some travel agents working with the airline. As a rule, they provide some Cathay Pacific business class sales.
As you can see, getting a discounted Cathay Pacific business class is completely real. Right now, let's figure out what real clients say about their flight experience.
Cathay Pacific Passenger Feedback
Janet, 27, from Sydney: "I flew from Hong Kong to Sydney, and must admit it was just great! Flight attendants and check-in personnel were organized and well-trained, and cabin crews were extremely helpful. I also enjoyed the meal; especially the ice cream. All I have to say is that Cathay Pacific really do put their customers first!"
Peter, 34, from Toronto: "I travelled to Bangkok via Hong Kong. This wasn't my first experience with Cathay Pacific, but I'd never taken such long trips before. Although we had a short delay from Toronto, the boarding completed strictly on time and the flight was nice. The service was fascinating: everyone was friendly and acted professionally. Cathay Pacific definitely meet my expectations!"
Leon, 25, from Chicago: "The service and the food were just awesome. I flew from NYC to Hong Kong, by the way. So you see, the trip was long enough. I'm delighted with the seat especially – it was flat and comfortable, so I had a good sleep."
Wendy, 37, from Beijing: "Well, it wasn't the cheapest trip of my life, but that was worth trying! The check-in staff did an amazing job. I'm impressed with the spacious seat and all those smart systems. The cabin crew was extremely polite, and the meals were pretty fine. I also stayed at the Arrival Lounge (in Hong Kong) – it was fabulous, I must admit."
Cheap First Class is Your Reliable Travel Partner!