Singapore business class specials
Singapore Airlines have a legendary reputation in the airline industry. Their luxurious first and business class cabins, premium services and graceful Singapore Girls excite general admiration. For 22 years running, Singapore Airlines have been named the best airline company. It goes without saying that their first and business class airfares are one of the highest.
Passengers start experiencing the benefits of premium flights right at the airport. The absence of queues at the check-in counters is a real blessing for many people. Business and first class passengers wait for their flight in special lounges, that look more like a lobby of a luxurious hotel rather than like an airport lounge. Though Singapore Air first class lounge looks more spacious, both are super cozy and offer lots of amenities like free WiFi, a fully-stocked bar with a wide variety of bar snacks and a buffet area where you can find cereals, fruits, yogurts, pastries and sandwiches. You can also order hot food available on the menu.
Singapore Airline business class is presented by three types of business class seats:
1.Long Haul
2. New
3. Other
Long Haul Business cabins
These are the most spacious seats the world has ever seen and they can be found aboard Singapore Airline's Boeing 777-300ER, re-equipped 777-200ER and A380. Wide and comfortable seats are easily transformed into fully flat beds.
New Business seats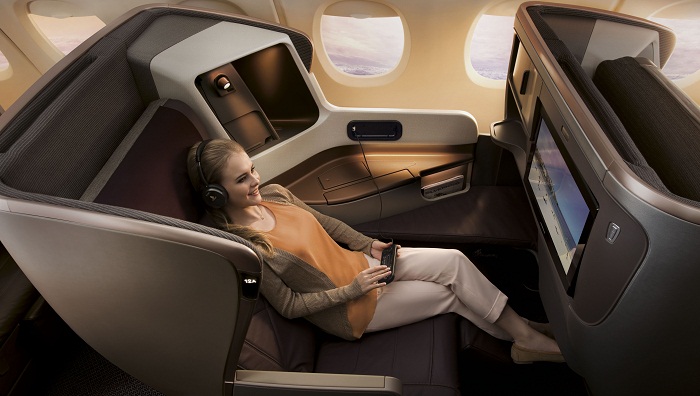 These seats were designed for passengers who need an extra level of comfort and privacy. All seats have ergonomic seat cushions, offer two new sitting position and a greater recline degree – 132. New luxury seats are available at SA's new 777-300ER.
Other Business seats (Short and Medium Haul Flights)
These ergonomically designed, premium leather seats give maximum comfort on short and medium haul flights. The medium and short haul business class cabins are available onboard Boeing 777-300 and 777-200 aircraft and A330-300.
Whatever business flights in Singapore Airlines you chose, you can be sure of getting the maximum level of comfort, flawless inboard services, delicious meals and a number of high-end entertainment options. Otherwise saying, Singapore Air business class is worth every penny you pay.
Singapore Airline first class is undoubtedly beyond praise. Here passengers can also choose between two types of cabins: New First and Other First seats.
New First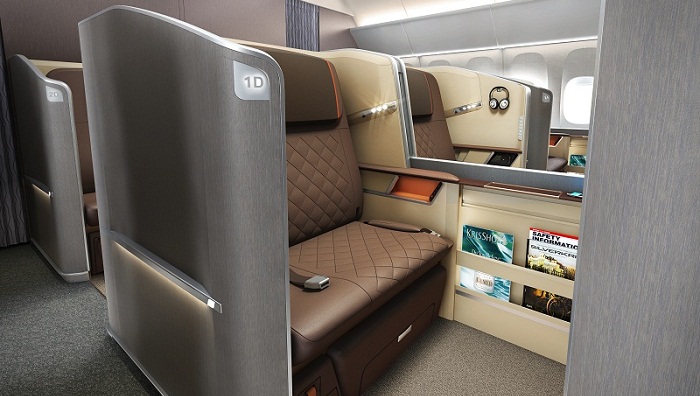 Welcoming and soigne cabins of New First deals offer passengers privacy and superior comfort.
With the new seats, designed in cooperation with BMW Group DesignworksUSA, first class flights to Singapore have become even more comfortable. Ergonomic design of seats is thought out to the last detail. Being 35 inches wide, and 82 inches long, these are the most spacious first class seats in the sky. Outer walls of the seating area are designed in a way so that each passenger could enjoy the maximum level of privacy.
Other First
Inside a carefully designed cabin, even long-haul first class flights to Singapore go too quickly. Once you get into your 35-inches wide seat, you will quickly forget you are 11 thousand meters above earth. A unique design of seats gives the freedom of stretching in any position. In other words, everything here is made for your comfort and satisfaction.
Both business and first class cabins of Singapore Airlines were designed with a special care to the needs and wants of every customer. Special attention should be also given to Singapore Airlines' flight attendants, known as Singapore Girls. These charming flight hostesses will make every passenger feel at home even in the air.
First and business class tickets are not cheap. Indeed, Singapore Airlines charge pretty much for their services. However, passengers are not scared away by high prices, as they know what exactly they are paying for. An increasing number of people prefers flying in comfort and style and this is exactly what Singapore Airlines can offer
Cheap Business Class and First Class Deals to Singapore
Singapore Cheap Business Class Fares to Europe from USA start from $2985
Singapore Business Class Deals to London from USA start from $2785
Tickets to Sydney from USA start from $3973
Singapore Airlines Flights to Melbourne from USA start from $3984
Singapore Airlines business class flights to Australia from USA start from $3781
Cheap Singapore business class to Hong Kong Start from from $3781
About Singapore Airlines
For more than 22 years in a row, Singapore Airlines business class flights are considered to be the best in the airline industry. Indeed, the company's business class product is above all praise. Their aircrafts are equipped with the most comfortable and luxurious seats, this is why Singapore business class fares are pretty high. However, passengers who can afford this level of comfort claim that it is worth every single penny you pay.
To save some money on Singapore business class tickets specialists recommend booking them in advance. So, if you are flexible with your travel dates, you should definitely test this method. Singapore Airlines know how to impress their passengers and if you are looking for style and comfort in the sky, this airline is the best choice for you.
Finding last minute Singapore Airlines cheap business class tickets is possible, however you need to invest some effort to find discounted offers.
Top Destinations for Business Class and First Class Travel in 2024
Rome, Yangon, Lucerne, Frankfurt, Tokyo, Edinburgh, Dubai, Paris, Bangkok, Johannesburg, Budapest, Osaka, Taipei, Brussels, Stockholm, Barcelona, Amsterdam, Athens, Berlin, Helsinki, Vienna, Brisbane, Reykjavik, Venice, Guangzhou, Perth, Milan, Seoul, , Glasgow, Madrid, Munich, Nice, Beijing, Dusseldorf, Iceland, Cairo, Melbourne, Moscow, Shenzhen, Shanghai, Nuremberg, Spain, France, Germany, Italy, Sweden, Switzerland, Singapore, Tel Aviv, Israel, Norway
Cheap First Class will take you to London, Paris, Amsterdam, New York or Hong Kong cheap! Get to the global capital destinations easily and forget about the overly-priced services of the vast majority of air flight companies online! Save up to 70% of your money with Cheap First Class luxury travel!
Cheap First Class is Your Reliable Luxury Travel Partner
Travel with confidence, plan your luxury air trip, find the cheapest first class and business class flight deals and book great value fares to 60+ destinations with Cheap First Class!
Need help with your trip? Here are answers to FAQs for all your travel!