Korean Air offers business class flight services every bit as good as services provided by their European and American peers. I have learnt this at first hand during my flight from Los Angeles to Seoul.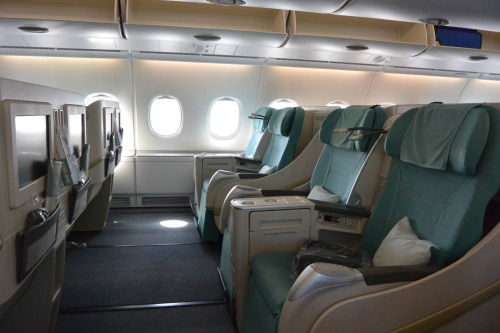 For my last trip to Seoul I have chosen Korean Air and purchased a business class (or Prestige Class) seat aboard one of their most beautiful A380. That was my most comfortable and luxurious flight! The first impression is made by the beautiful flight attendants that are very smiley and friendly. Saying short, I was totally satisfied with everything, starting with quick professional services and mouth-watering meals to fully flat sleeper seats that turned a 13-hours flight into an unforgettable adventure.
Check-in
I do not know whether it is a common practice for Korean Air, or whether that was my lucky day, but when I came to the Korean Air Business Class check-in line at Tom Bradley Terminal, I saw only two people ahead of me. My check-in lasted for no longer than 5 minutes. Isn't an awesome start of a long-haul flight?
Lounge Area
After passing the security line (which was also pretty quick, with only seven people in front of me), I took the elevator and got to the Korean Air Lounge, located on the fifth floor. On one of the walls there is a beautiful photo, taken by the Mr. Y.H. Cho, chairman of the Korean Air. That's very creative!
The lounge is divided into First and Business Class areas, both of which have an excellent selection of cold and hot drinks and food.
Boarding
After boarding, that started about half an hour prior to the take-off, I appeared in a spacious Business Class cabin. My curiosity made me peep into the economy class cabin, located on the lower level. Though it is hard to compare Prestige and Economy class, I must say that economy class passengers are offered decent services. There were even a few open seats for the luckiest passengers to stretch out in.
Just as the rest prestige class passengers I was provided with pre-boarding newspapers, beverages, slippers and amenity kit of a popular skin care brunch DAVI.
The Seats
These are beds rather than seats! My seat was very comfortable and it easily turned into a bed when I've decided to have a nap. In front of me there was a large screen, so I watched a few movies between the naps. Next to the seat there were two bins that fit all my carry-ons. A capacious storage space is undoubtedly a valuable advantage.
The Flight
A 13-hours flight went very quickly. A friendly cabin crew was always ready to help. We were served with two delicious meals, the first of which was offered about an hour after the flight and the second followed approximately 4 hours before landing. Everything, including the dessert was very tasty.
When it comes to entertainment, you will be offered a wide collection of movies. On the upper deck there are two beautiful lounges, equipped with TV, couches, a wide variety of drinks and reading materials.
By the lavatories at the lower deck, there is a Duty Free showcase where I filled the time, waiting till the lavatory gets free.
The most amazing part of the flight was landing. The plane is equipped with the landscape camera that allows seeing the pilot's view of the landing site. That's really cool!
Putting everything into a nutshell, I want to say that I've made the right decision, having chosen Korean Air's A380. I'll definitely fly with Korean Air again and again. I would recommend this airline company to everyone!