Though Dubai is a comparatively new tourist destination, popularity of this Arabian city grows with an enormous speed. Being a desert city, Dubai has an excellent infrastructure and is famous for its exquisite tourist amenities and amazing sights.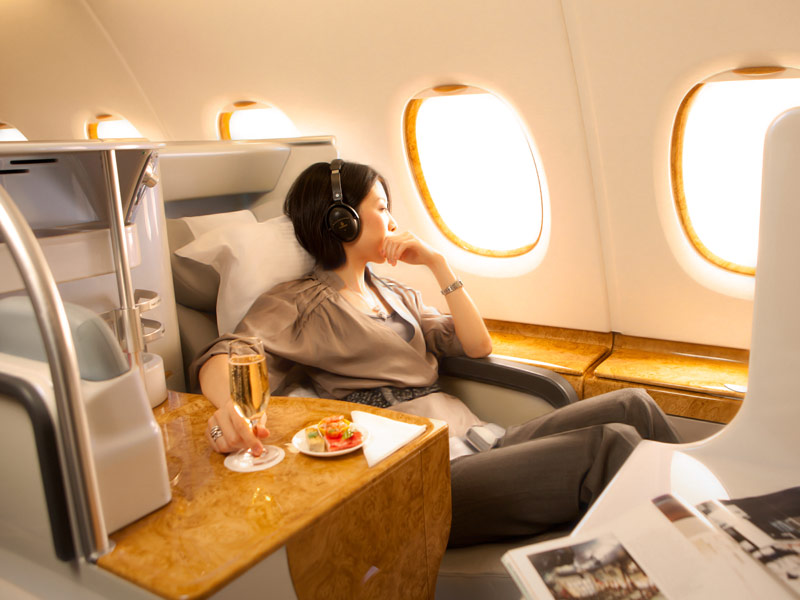 The luxury of this huge Arabian city cannot but impress. This is the most progressive, modern and fastly developing emirate in the United Arab Emirates (UAE). A former fishing village has quickly turned into a global city. Today it is the second largest emirate with a prosperous tourist industry that attracts visitors from all around the world. Manmade islands, the tallest tower in the world, underwater hotels and seven-star property is just a miniscule proportion of all wonders located in Dubai. Undoubtedly, this emirate is attractive not only for tourists. Being a huge business and transport hub, Dubai is also a very lucrative spot for business persons.
Whether you are flying to Dubai to enjoy your vacation or meet business partners, you need to arrive there relaxed and inspired. Since you plan a trip to one of the most luxurious places on earth, you should arrive there in style. Wonder how to do that? Just choose Emirates airline and their business class service. You will never regret choosing this airline, as business class cabins of all their A380 aircraft are nearly all Boeing 777 are equipped with flat-bed seats.
Aboard a luxurious premium class cabin, with comfortable seats, that you can recline to a flat bed, you will forget about the discomfort of long-haul flights and therefore will concentrate on more pleasant or important tasks. You can surf the Internet, send emails, watch movies or just read your favourite book. Do not worry that your laptop will get uncharged in the most inopportune moment, as all chairs are equipped with the in-seat power. Moreover, you will have a side table and your personal mini-bar.
Premium class passengers are offered mouth-watering meals and a large collection of exclusive wines. All dishes are cooked by the best chefs who use only locally sourced ingredients. The company's sommeliers will help choose the best wine to match your meal. Moreover, you can choose diverse cold and hot drinks, spirits, cocktails, beers and champagne from their huge list of complimentary drinks.
Another exceptional feature of Emirates and their A380 aircraft is the Onboard Lounge that allows business and first class customers socialise and make new acquaintances at a height of 40 thousand feet. You will be offered an excellent collection of hot and cold drinks. Time will go too quickly in a company of interesting people. Who knows, may be you will find new friends, true love or a reliable business partner in the A380 Onboard Lounge.
With Emirates airline you will start experiencing the benefits of premium class flight from the very moment you leave your home, starting with the Chauffeur-drive service, available in more than seventy cities, and finishing with exclusive lounge area and a privilege of boarding directly from this lounge.
Business class flights with Emirates airline will make an unforgettable impression on you. Whether you prefer Arabian or other airlines, cheapfirstclass.com will help you find the cheapest business class tickets. With CheapFirstClass you will see that premium class flights can be affordable. The company's specialists have a deep knowledge of the market and will offer cheap first class deals on flights to Dubai, as well as to other Arabian, European and African countries. Discover the benefits of cheap business class flights with Cheap First Class.
Top Destinations for Business Class and First Class Travel in 2024
Rome, Yangon, Lucerne, Frankfurt, Tokyo, Edinburgh, Dubai, Paris, Bangkok, Johannesburg, Budapest, Osaka, Taipei, Brussels, Stockholm, Barcelona, Amsterdam, Athens, Berlin, Helsinki, Vienna, Brisbane, Reykjavik, Venice, Guangzhou, Perth, Milan, Seoul, , Glasgow, Madrid, Munich, Nice, Beijing, Dusseldorf, Iceland, Cairo, Melbourne, Moscow, Shenzhen, Shanghai, Nuremberg, Spain, France, Germany, Italy, Sweden, Switzerland, Singapore, Tel Aviv, Israel, Norway
Cheap First Class will take you to London, Paris, Amsterdam, New York or Hong Kong cheap! Get to the global capital destinations easily and forget about the overly-priced services of the vast majority of air flight companies online! Save up to 70% of your money with Cheap First Class luxury travel!
Cheap First Class is Your Reliable Luxury Travel Partner
Travel with confidence, plan your luxury air trip, find the cheapest first class and business class flight deals and book great value fares to 60+ destinations with Cheap First Class!
Need help with your trip? Here are answers to FAQs for all your travel!