Flying business class is not just about food and wine and entertainment. The most important thing for passengers on a plane is the seats. Whether it's just a two-hour trip or a long-haul flight, the quality and comfort of a seat should be prioritized over other amenities. Moreover, you need to arrive at your destination looking fresh, especially if your meeting starts in an hour after landing.
Seat types available in business class cabins vary from airline to airline. Generally, there are four major types of business class seats:
Recliners
The seats of this type don't go flat or transform into beds. They are more like chairs with a reclining back and footrests. They are comfortable and spacious enough but now they are mostly superseded by angled lie-flat and flatbed seats.
Angle lie-flat seats
Passengers find these seats extremely comfortable for working and relaxing but not for sleeping. This is due to the awkward angle of these seats when being fully reclined. Airlines promote these seats saying that they have 180 degrees of recline when in fact they are slightly reclined.
Flatbed seats
Being fully reclined these seats take a horizontal position and make a fully flatbed. They are highly appraised by passengers for their comfort both as seats and beds.
Suites
Suites are mini-cabins featuring a fully flat bed, work station, and TV. They provide a high level of privacy and comfort.
Here is an overview of business class seats offered on popular European airlines.
British Airways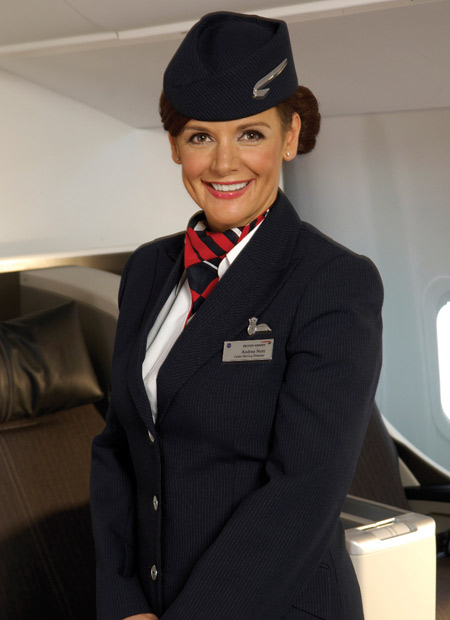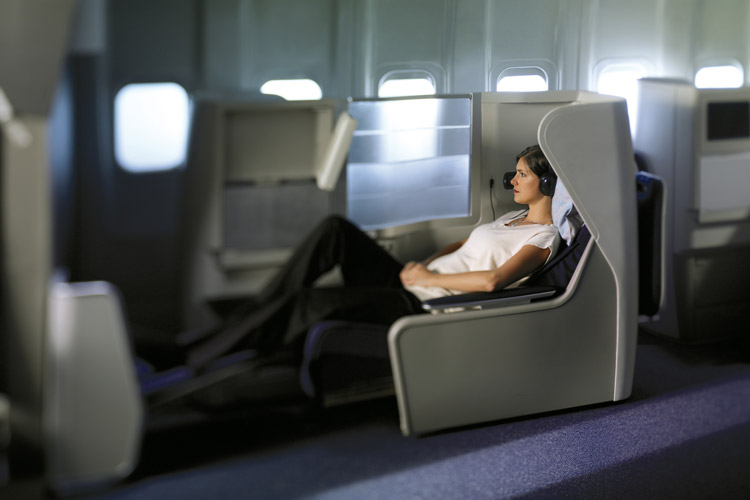 British Airways business class is branded as Club Europe or Club World. Each Club Class seat is a comfy chair that converts into a 183cm (6ft) fully flatbed. All Airbuses and Boeings that have a business class section feature flatbed seats (except for Boeing 767-300 (763) V4 and Boeing 767-300 (763) V5 which have standard seats). All flatbed seats are equipped with laptop power.
Seat pitch: 72-73
Seat width: 20
Air France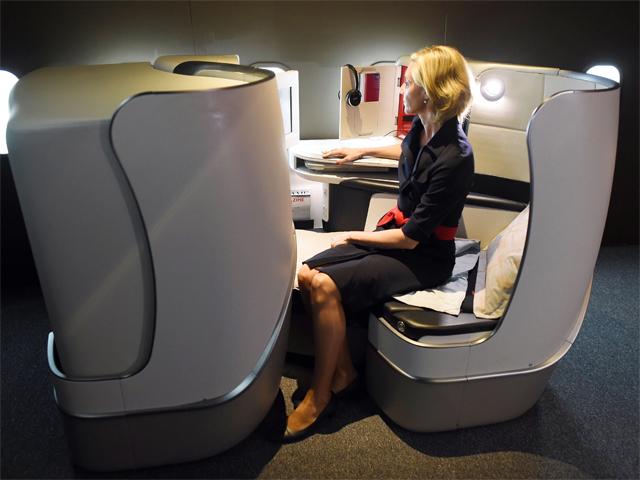 Business class seats on the Air France are of four types: standard and recline (on narrow-body jets), angle lie-flat and flat bed (on wide-body jets). Laptop power is available in all seats except for the standard seats on Airbus A318 (318) Europe, Airbus A319 (319) Europe, Airbus A320 (320) Europe, and Airbus A321 (321) Europe.
Seat pitch: 55-79 (angle lie flat), 32-34 (standard), 36 (recliner)
Seat width: 21-24 (angle lie flat), 17.5-18 (standard), 19 (recliner)
Lufthansa
Lufthansa offers these types of business class seats on wide-body jets: angle lie flat and flatbed. All seats are equipped with laptop power.
Narrow-body jets have standard and recliner business class seats. Regional jets feature only standard seat types. None of the standard and recliner seats are equipped with laptop power.
Seat pitch: 64 (angle lie flat), 64-78 (flat bed), 30-32 (standard, recliner)
Seat width: 20.5 (angle lie flat), 19.7-26.4 (flat bed), 18 (standard, recliner)
Virgin Atlantic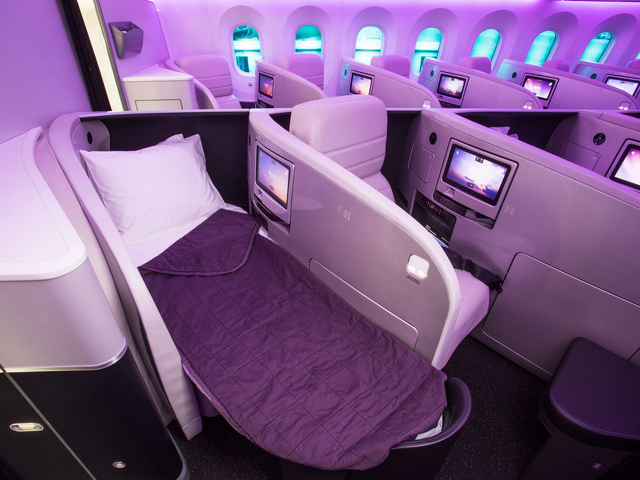 Business-class cabins of Virgin Atlantic aircraft feature open suites and flatbed seats. All seats have laptop power.
Seat pitch: 79.5-82
Seat width: 22
Turkish Airlines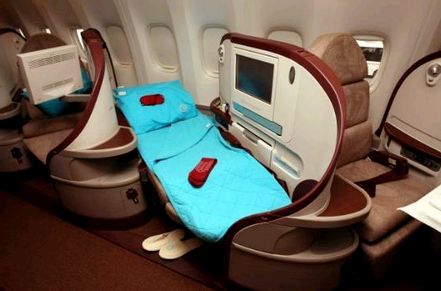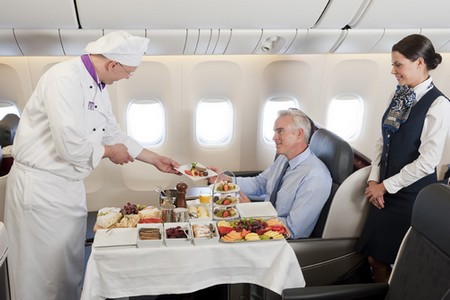 Turkish Airlines offer brand new B777-300 and A330-300 fleets feature business class seats (flatbed and angle lie flat) with ottomans that create a 75 inch (188 cm) long sleeping space when in the fully reclined bed position. The armrest serves as a privacy screen and is controlled by a touch button. The large table is located in the center console and moves forward and backward as well as swiveling to allow more freedom of movement. All seats are equipped with laptop power.
Seat pitch: 60-78
Seat width: 21-22
Business-class sections of the narrow-body jets feature standard and recliner seats. None of them have laptop power except for recliner seats on Boeing 737-900ER (739).
Seat pitch: 33-45
Seat width: 17.2-21
Top Destinations for Business Class and First Class Travel in 2023
Rome, Yangon, Lucerne, Frankfurt, Tokyo, Edinburgh, Dubai, Paris, Bangkok, Johannesburg, Budapest, Osaka, Taipei, Brussels, Stockholm, Barcelona, Amsterdam, Athens, Berlin, Helsinki, Vienna, Brisbane, Reykjavik, Venice, Guangzhou, Perth, Milan, Seoul, , Glasgow, Madrid, Munich, Nice, Beijing, Dusseldorf, Iceland, Cairo, Melbourne, Moscow, Shenzhen, Shanghai, Nuremberg, Spain, France, Germany, Italy, Sweden, Switzerland, Singapore, Tel Aviv, Israel, Norway
Cheap First Class will take you to London, Paris, Amsterdam, New York, or Hong Kong cheap! Get to the global capital destinations easily and forget about the overly-priced services of the vast majority of air flight companies online! Save up to 70% of your money with Cheap First Class luxury travel!
Cheap First Class is Your Reliable Luxury Travel Partner
Travel with confidence, plan your luxury air trip, find the cheapest first class and business class flight deals and book great value fares to 60+ destinations with Cheap First Class!
Need help with your trip? Here are answers to FAQs for all your travel!