The time spent on the road is the most carefree time. The main thing is to spend it as comfortably as possible, especially, if we are talking about traveling by air. In the following article, we will discuss which best business class airlines to Europe provide their passengers going to Germany the best flight conditions.
Why Visit Germany?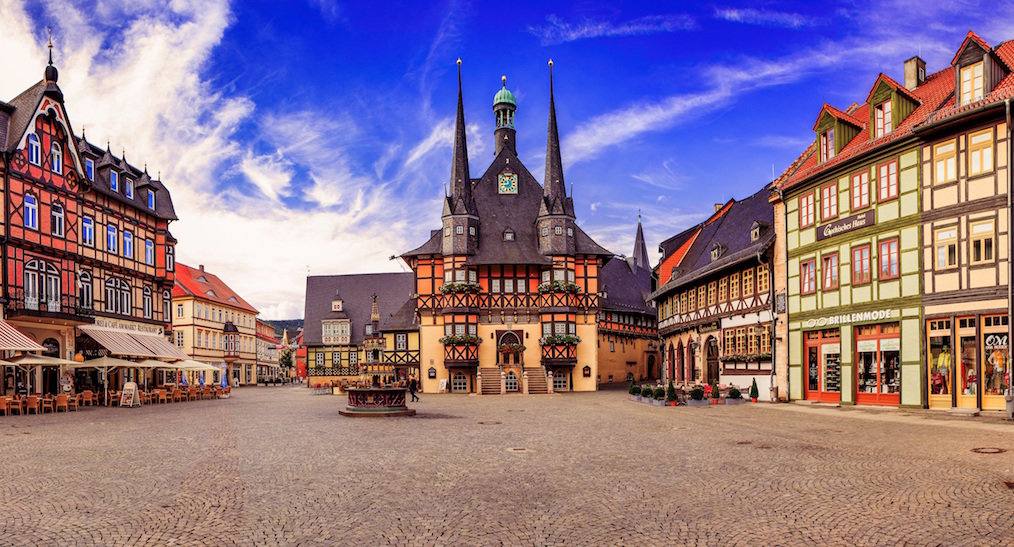 Germany is a wonderful place in the global spotlight of business, culture, art, and tourism. Today, one can get to Germany by air practically from any airport of the world that works with international airlines. The country is among the most popular flight destinations. There are usually several flight options available – from low-cost to business class – for you to choose. We will be reviewing the latter option provided by various known companies. As a whole, business class is characterized as the most comfortable and the highest-level service way to travel by air.
Review of Best Airlines to Germany
Now, on to reviewing the top-5 airlines that fly to Germany in the aspect of the business class seats provided.
Qatar Airways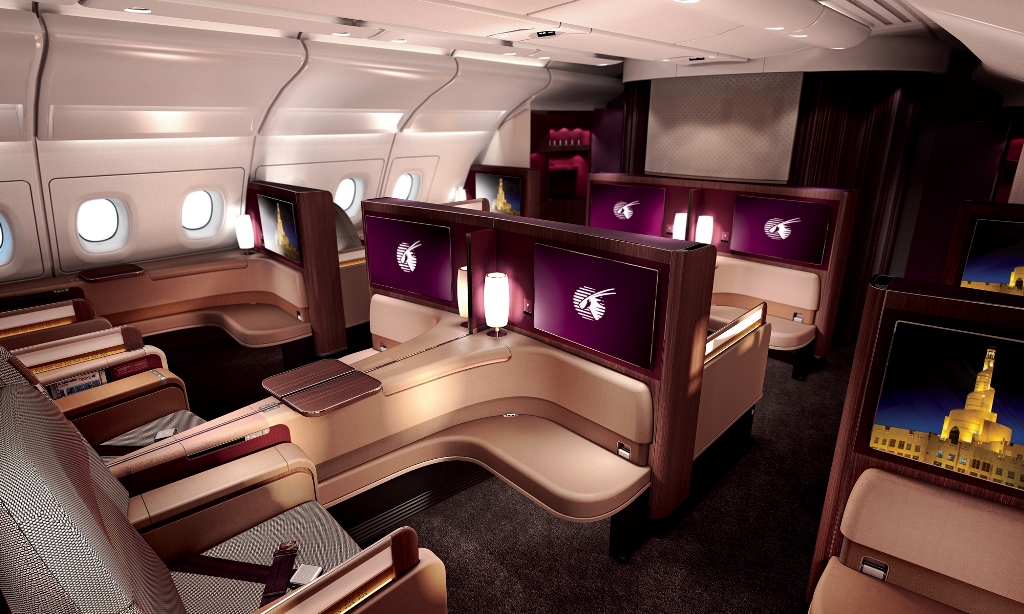 The business class flights with Qatar Airways were deemed as 'best in the world' in 2018 by Skytrax company. The TripAdvisor website marked their popularity with the authentic TripAdvisor Travellers' Choice Awards award.
Let's find out for which benefits exactly this best first class airline became so world-renowned.
Orthopedic chairs. Wide chairs with orthopedic backrests that can be transformed into the full-blown working space or bed are just the thing for continuous flights. the design is also beautiful and adds up to the overall comfort and harmony of the luxury environment.
Luxury traveler's set. You may not worry about the condition of your skin and such during the flight. There is a miniature skincare set from Castello Monte Vibiano Vecchio which includes a lip balsam, refreshing thermal water, and moisturizer. You will also get a set of natural cotton slippers and pajamas – everything you need to feel home-cozy.
A wide array of smart features. If you are an active person who cannot usually sleep during flights, use the Oryx One software that powers sensor panels built into chairs for your media entertainment. You can choose and launch any movie, video game or listen to the music. Additionally, Certain airplane cabin models support the synchronization of multiple screens for maximum opportunities.
Individual menu. Do you have individual diet demands? No need to worry. The Qatar Airways chef cook will offer you a personal set of dishes to meet all your culinary desires.

Summary
The business class from Qatar Airways is obviously one of the best business class options in the world. Here, the service is built in a way to satisfy the personal needs of each passenger, no matter how far they wish to go in terms of personal comfort.
KLM Royal Dutch Airlines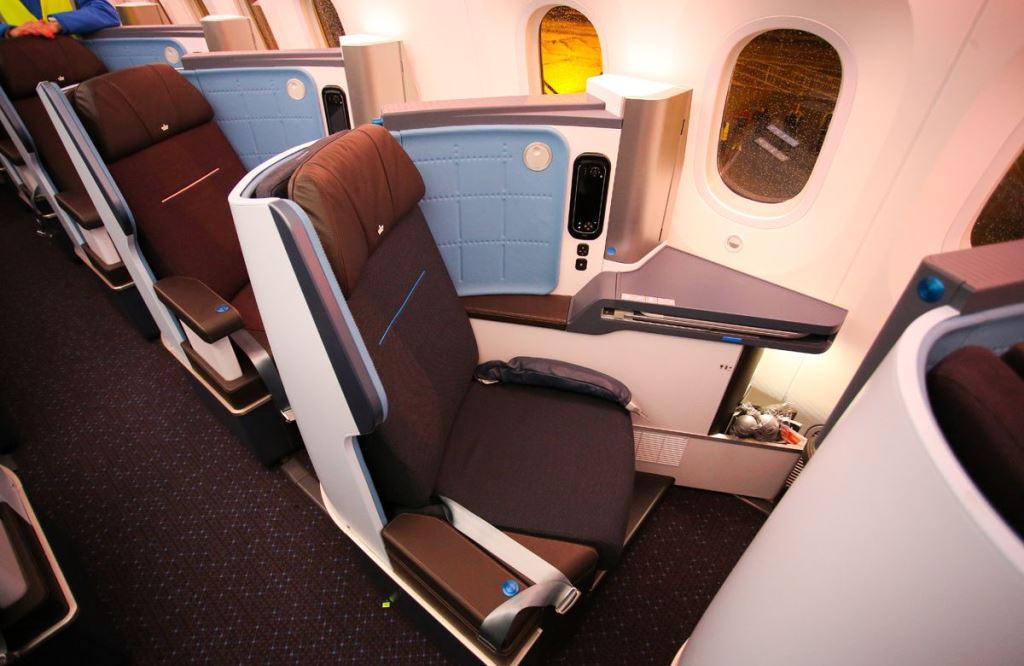 KLM Royal Dutch Airlines offers business class cabins at reasonable prices. It is a subsidiary company of Ar-France KLM which holds a position in the SkyTeam alliance. They let passengers enjoy luxury environment coupled with the top-notch service of the personal attendant.
How exactly does the Delta One business class stand out among other airline companies?
Custom passenger seat configuration. The KLM Royal Dutch Airlines seats will feel you as though in the veritable masseur cabinet. The chairs can unfold by 180 degrees and turn into a full-blown chair-bed 81.5 inch-long with a pillow and hypoallergic filling. The design of cabins is developed by famous German designer Hella Jongerius.
High-class service. You will be treated with the impeccable level of service even before you enter the plane. Thus, this airline's passengers get the accelerated registration benefit, as well as individual check, baggage handling, and boarding. You also get free access to the partner sponsored lounge areas with free cocktails and resting spaces.
A premium-class traveler's set as a pleasant extra. The traveler's set features stylish comfort bags designed by Jan Taminiau.
Custom high-class menus. KLM offers an exceptional set of dishes, the recipes for which were composed by such chefs as Onno Kokmejjer and Jonnie Boer. Everything is served in the sophisticated silverware Marcel Wanders and coupled with alcoholic or non-alcoholic beverages (including the wine thoroughly selected by the in-house sommelier).

Summary
With KLM Royal Dutch Airlines, the design takes the cake before all else. In our opinion, it is one of the best solutions compared with other existing business-level cabins from other airlines. The menu is also a moment to emphasize upon.
Swiss International Air Lines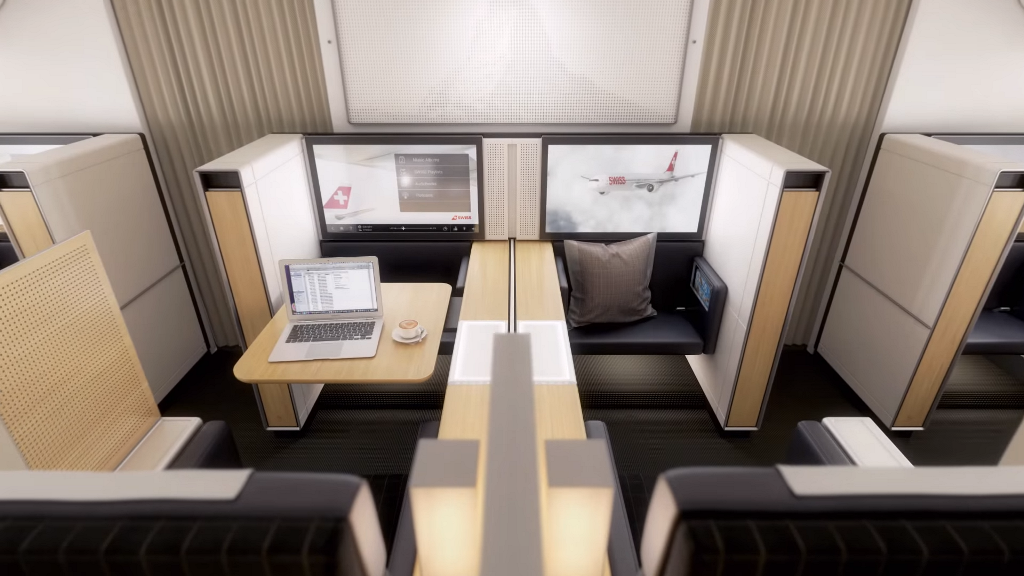 Swiss International Air Lines is the largest Swiss international air flights company that is a member of Star Alliance. This airline company, also known as SWISS, is a subsidiary organization of Deutsche Lufthansa AG.
And now for the best business class airline review for Swiss International Air Lines.
Comfortable chairs. All the passengers that ever took a flight in the Swiss International Air Lines' business class can be subdivided into two categories: those who really enjoy such an austere design (which, however, does not strip the chairs off their functional advantages) and those who see it as a bit out-of-date. Generally speaking, seats are quite spacious 2 meters-long each when fully extended. They are also well-positioned, which makes the flight in pairs much more comfortable.
Exclusive lounge zone. Between the flights and waits in between, you can visit аn exclusive lounge zone. It is an excellent location to have a snack, some rest, and complete some urgent business tasks right in the airport.
Personal traveler's set created in collaboration with Victorinox. The individual self-care set includes a sleeping mask, lip balsam, purse, teeth-brushing set, and other useful accessories.
Sophisticated menu. Last but not least, the menu. Passengers note the lightness and high nutrition of the dishes provided. Quite simple (but delicious nevertheless) menu items are followed here with various delicacies.
Summary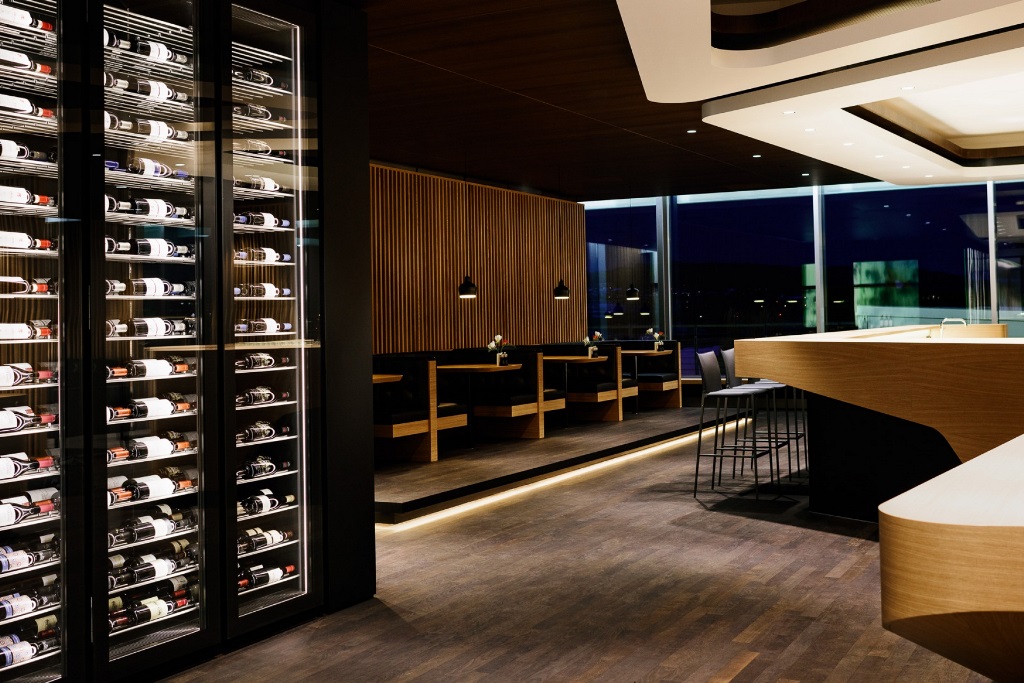 Swiss International Air Lines is beloved by many customers for comfortable chairs and polite flight attendants ready to satisfy your every demand. The service compensates the ticket price 100%.
Etihad Airways
Etihad Airways is a national airline company of the United Arab Emirates based in Abu Dhabi. It was established in 2003 and it specializes in international and intercontinental flights. The high status of the company blocks out any doubts as to the competency of this one.
Let's consider the standing-out features of the service provided in the Etihad Airways business class.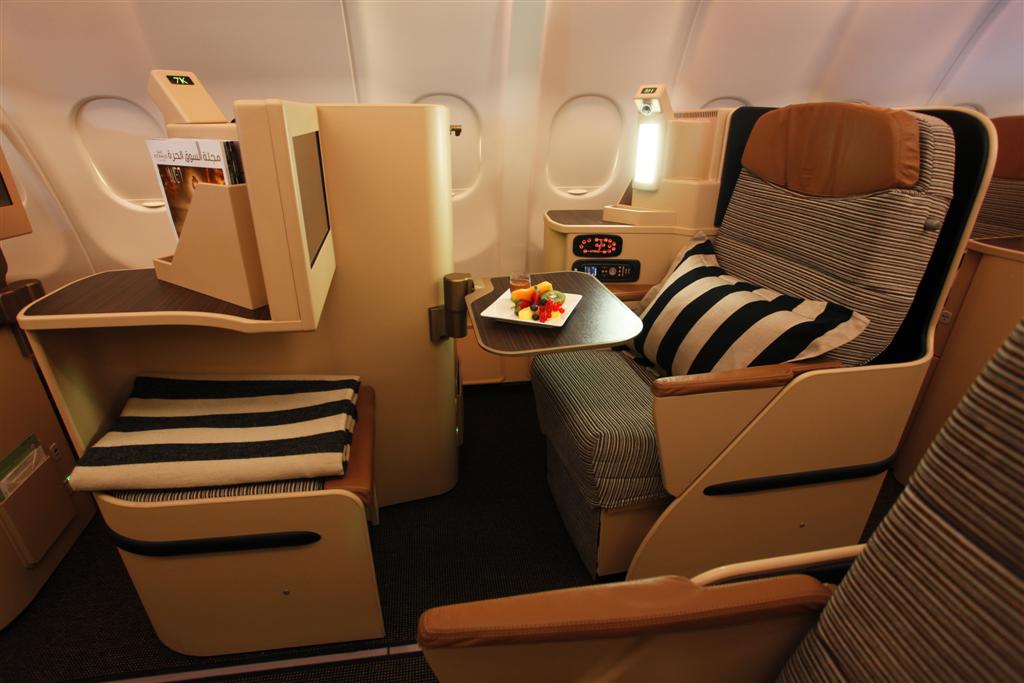 Ergonomic, spacious chairs. Etihad Airways' business class passengers do not just get a chair. They get the pinnacle of both the technological development (you will not experience any unpleasant feelings spending several hours in that chair) and aesthetic aspect. Modern design and high-quality materials create an authentic atmosphere of luxury and nobility. Moreover, these business class seats are situated in the front part of the plane, which allows passengers to leave the plane in the prioritized order if need be.
Leisure lobby. If you wish to stay active during your flight, you can go to a lobby that can house up to six people. There, you can discuss your business plans with your company and such.
Restaurant-like menu and food serving. Apart from the most various delicious dishes, there are also national UAE food items. Everything is served on porcelain silverware styled accordingly.
TV panels for entertainment. Passengers get to choose three screen formats – 18.5-inch, 15.4-inch, and 10.6-inch touch-screen TV with the special media software installed.

Summary
Etihad Airways business air flights are a perfect choice for connoisseurs. During the whole flight, you are treated by the caring servicing crew, surrounded by the impeccable level of comfort.
Japan Airlines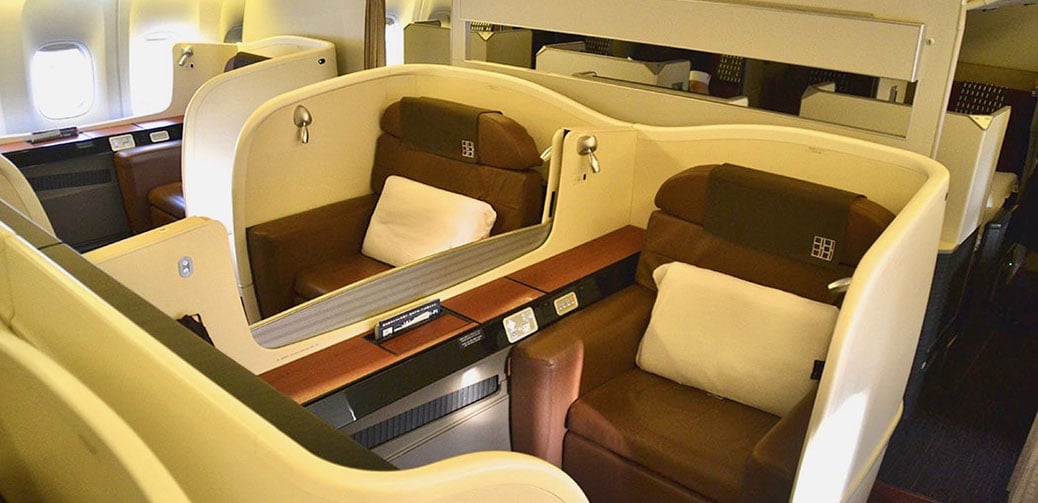 Our list finishes off with the business class airline to Germany review from Japan Airlines —  one of the largest Asian international airline companies. Currently, Japan Airlines airports are situated in numerous big cities of the countries all over the world.
Find out why the Japan Airlines' business class is so good.
Isolated seats. Just recently, Japan Airlines has expanded their set of business-class chairs by developing even more spacious, isolated from the surrounding environments, and adapted to sleep solutions. Each chair features a built-in 23-inch TV panel with the HDMI input, through which passengers may connect their own devices.
Modernized lounge area. The airport lounge area here is designed in tranquil shades of beige, which motivates a productive pastime.
Balanced menu with delicacies and impressive serving. Wish to try some Japanese or other delicacies coupled with a glass of fitting wine? There is unlikely something impossible to cook for chef cooks Daisuke Hayashi, Yamada Chikara, Jun Kurogi, as well as the Japan Airlines in-house sommeliers!
An ability to stay in tune with the news. There is a special media software to let you watch one of several thousand channels, listen to your favorite music, play a video game, or simply check on the latest world news.

Summary
Japan Airlines is preferred not only for their reliability. Most passengers like the business class from this airline company for the progressive interior of cabins, which provides a principally new level of traveler comfort, and the cuisine.
Comparison Table
| | | | | | |
| --- | --- | --- | --- | --- | --- |
| | Qatar Airways | KLM Royal Dutch Airlines | Swiss International Air Lines | Etihad Airways | Japan Airlines |
| Seats | Quite compact; can be transformed into a one-place bed; positively noted by the TripAdvisor Travellers' Choice Awards award. | Quite spacious; great for couples. | Spacious, austere, and ergonomic seats. | Very stylish, ergonomic seats perfect both for work and sleep. | Compact; with built-in touch-screen panels that do not go in the way of comfort in laying position |
| Amenities | A set of miniatures from Castello Monte Vibiano Vecchio; pajamas and slippers | A purse from Jan Taminiau, comfy hypoallergic pillow, sheets, and headphones | Amenities kit created in association with Victorinox –  a famous Swiss knife manufacturer | A miniatures' set from Acqua di Parma | A traveler's kit that includes a lip balm, toothbrush set, moisture mask, earplugs, and pocket tissue. |
| Menu | Dishes made with fresh products only; an ability to select menu items individually. | Dishes from the renowned chef cooks of Switzerland; delicacies. | Sophisticated menu inspired by the best traditions of the European and progressive cuisine. | Astounding delicious menu items and various quality snacks | Order a delicacy from the cuisine of any corner of the world |
| Entertainments and services | Leisure software Oryx One | Comfortable airport lounge area; 17-inch touch-screen TV panel built into chairs to watch movies and listen to the music. | Built into chairs touch-screen panels; SWISS Universe magazine. | Passengers get to select out of three screen formats:18.5-inch, 15.4-inch, and 10.6-inch touch-screen TV with the special media software installed. | Media software for leisure; comfortable airport lounge area. |
How to Make a Right Choice
In order to make the most proper choice and reasonably answer the question – 'what is the best airline to fly to Germany?', we would recommend to extend your choice over the cheap business class flights to Germany if possible and focus on such properties as the menu, seats format, lounge areas, as well as amenities – the comparison table is there to help you choose.
Conclusion
To sum it all up, as you can see, modern airlines with the best business class to Germany options certainly have something to impress customers with. Progressive, fully ergonomic chair constructions, extensive menus, and many other top-notch services combined create the maximum flight comfort for passengers. We hope that we managed to highlight the key features of luxury airlines to Germany and helped you with your final decision.
Top Destinations for Business Class and First Class Travel in 2021
Rome, Yangon, Lucerne, Frankfurt, Tokyo, Edinburgh, Dubai, Paris, Bangkok, Johannesburg, Budapest, Osaka, Taipei, Brussels, Stockholm, Barcelona, Amsterdam, Athens, Berlin, Helsinki, Vienna, Brisbane, Reykjavik, Venice, Guangzhou, Perth, Milan, Seoul, , Glasgow, Madrid, Munich, Nice, Beijing, Dusseldorf, Iceland, Cairo, Melbourne, Moscow, Shenzhen, Shanghai, Nuremberg, Spain, France, Germany, Italy, Sweden, Switzerland, Singapore, Tel Aviv, Israel, Norway
Cheap First Class will take you to London, Paris, Amsterdam, New York or Hong Kong cheap! Get to the global capital destinations easily and forget about the overly-priced services of the vast majority of air flight companies online! Save up to 70% of your money with Cheap First Class luxury travel!
Cheap First Class is Your Reliable Luxury Travel Partner
Travel with confidence, plan your luxury air trip, find the cheapest first class and business class flight deals and book great value fares to 60+ destinations with Cheap First Class!
Need help with your trip? Here are answers to FAQs for all your travel!