Have you ever used services of business class cabin? If so, you have probably been impressed with the quality of services and comfort reigning in the cabin. These qualities are especially important if your trip lasts more than six hours. Besides, the business class solution is the golden mean between the options of economy and first class. In addition, many air companies care about their business class customers just as well as first class passengers.
Despite of the unspoken standard of business class features, various airlines attempt to excel their competitors in the market of air transportation. With this view, the passengers of business class are offered with comfortable seats that can be turned into bed, exquisite menus designed by famous chefs or restaurants, luxury treatment both in the air and on the ground, and many other crucial features for convenient and pleasant trip. Competition triggers the improvement of business class services and products.
Now, you understand that business class in different aircrafts and different air companies is not the same. Hence, it is interesting to find out which airlines care about their premium customers most of all. For your attention, a list of top 5 air companies providing the best long-haul business class in 2017 is introduced.
Etihad Airways business class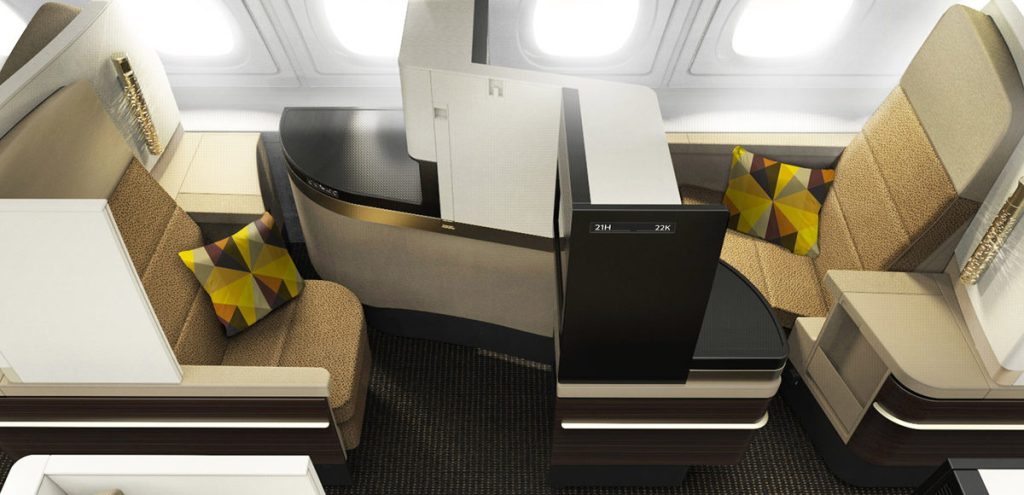 Let's start our rating with this prominent air company from United Arab Emirates. Etihad Airways provide business class in an unusual sense. It is called a business studio and is available on two types of aircrafts – Boeing 787 Dreamliner and Airbus A380. The other planes of the Etihad's fleet such as 777 Boeings, and Airbuses A330 and A340 offer the older version of business class product.
The business studios are the embodiment of functionality and style. They are designed in the form of dovetail. The arrangement of seats in the cabin is forward and backward that ensures more space and sense of freedom. Each passenger has own aisle access and is provided with numerous spots to store belongings. The dimension of seats is 22" (56 cm). Moreover, the seats are transformed into comfortable bed. The upholstery of the seats is designed by Poltrona Frau.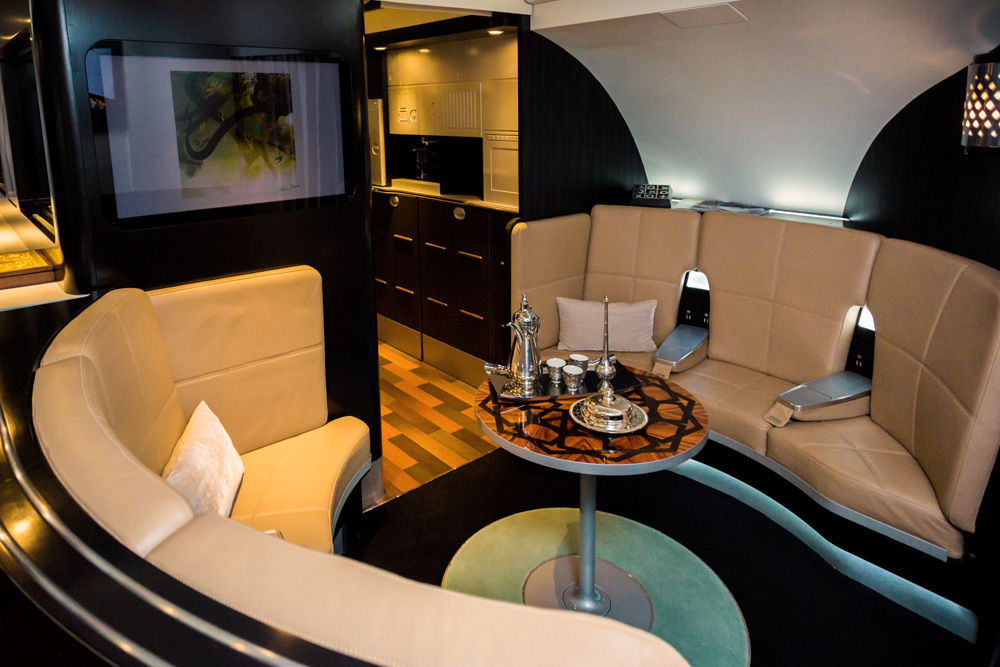 There is a space for almost everything in the business studio. Passengers are provided with a separate meal table and a large table where a passenger can place its personal belongings or gadgets. To make a flight even more comfortable, the board of A380 also hosts a lounge area for six guests.
A demanding customer will also appreciate the dining options on the board of Etihad's aircraft. The company offers the best restaurant dishes for the premium passengers.
Emirates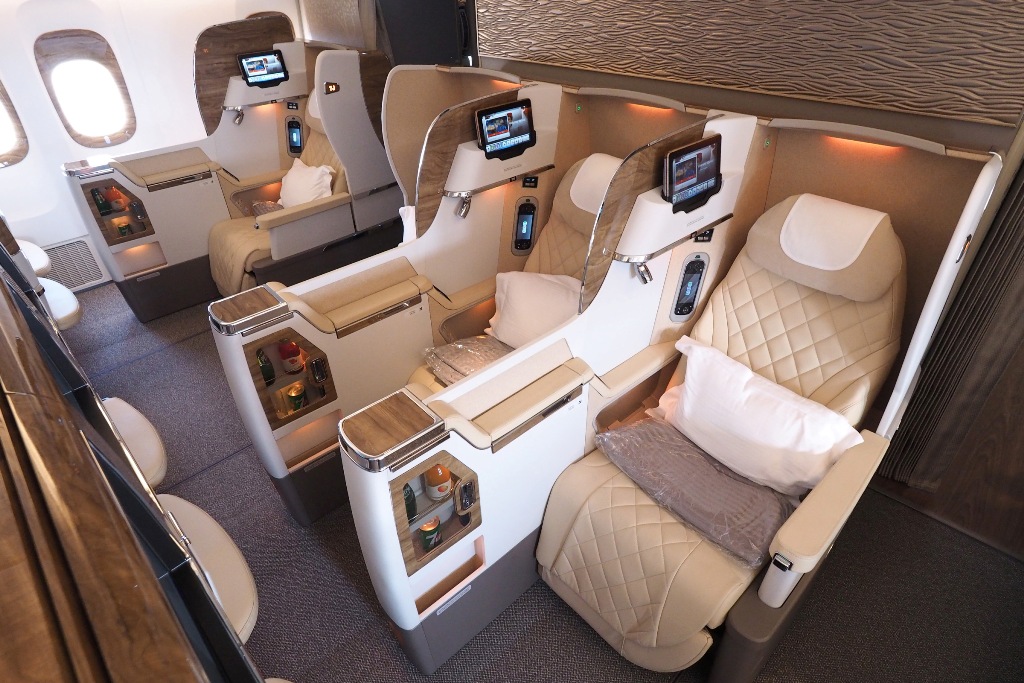 Another representative of UAE air carriers also prefers Airbus A380 to offer the best business class products. The business class of Emirates is famous for its spaciousness and incredible comfort.
The configuration of seats in the premium class cabin consists of three rows. Two side rows at the windows are a perfect choice for solo travelers. Nevertheless, it does not mean that the middle row is intended for couples only. If you happened to travel in the middle row of Emirates' business class, you can raise a divide between the seats and enjoy your privacy. Each seat is equipped with power outlet to charge your laptop and a side table. A personal mini-bar also relieves you from calling a flight attendant for a drink.
A long-haul flight will not seem such boring due to numerous inflight entertainments available on a large private screen. On the upper desk, there is a roomy bar.
The inflight meals are designed by outstanding chefs and can be preordered on the website.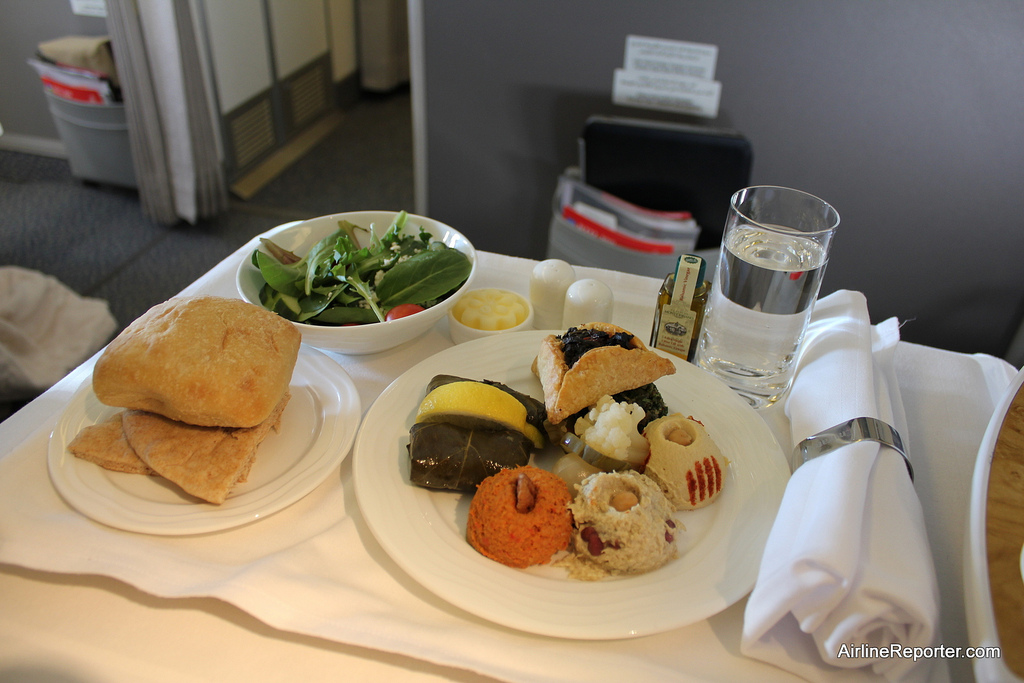 Emirates also provide numerous services for their premium customers on the ground. These include complimentary chauffeur transfer to/from the airport, access to luxurious lounge area and many other decent options.
Singapore Airlines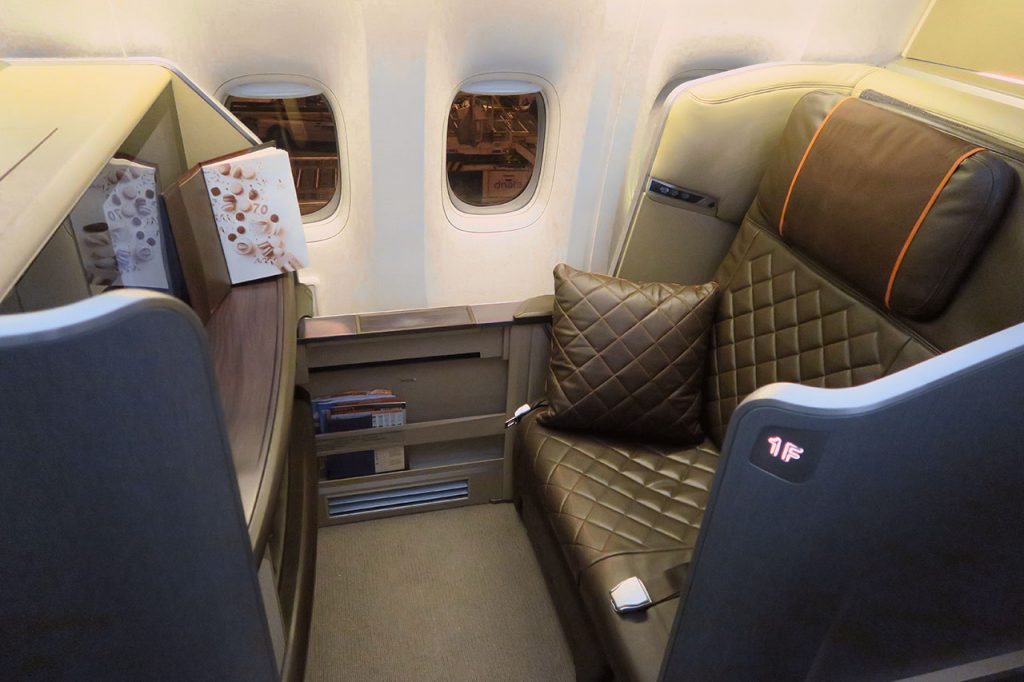 Luxury in the air is the key feature of Singapore Airlines. This air company impresses with its offers for premium class passengers. The seats in the business class cabin are the widest among the competitors. Someone even supposes that such dimension is too much for comfortable flight. But it is not truth, because the privacy and space for convenient trip must be of top quality.
The seats are arranged in the form of reverse herringbone as the majority of business class products. However, the sleeping option on the board of A350s and several 777-300ERs are much better if compared with rivals. The design of a seat provides any possible sleeping position.
The menus in the aircrafts of Singapore Airlines are designed with restaurant-style. International Culinary Panel of world famous chefs participates in creation of dishes for premium passengers of this air company.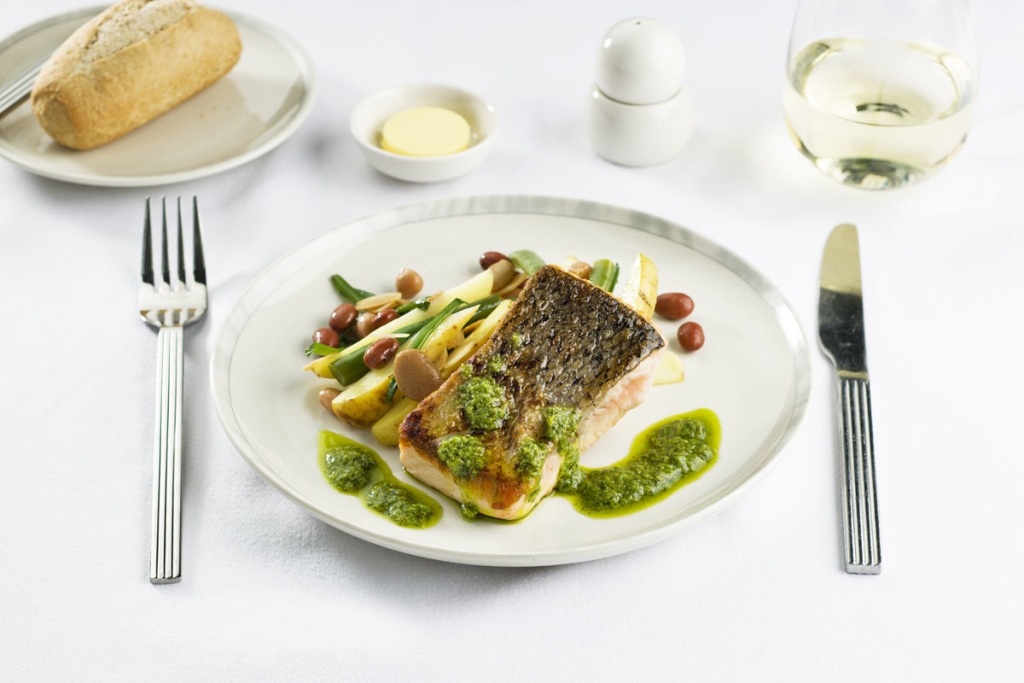 In fact, the business class product offers by Singapore Airlines resembles the first class solution. So, it is impossible to imagine what delicacies can be offered in the top class.
Cathay Pacific
This Hong Kong's airline counts on Boeing aircrafts for its best business class solutions. Most passengers admit the superb seats in the premium class cabin. Actually, it seems that a seat guesses the thoughts of a traveler. The ergonomics is incredible, and seats are fitted with useful and needed features for comfortable long-haul trip.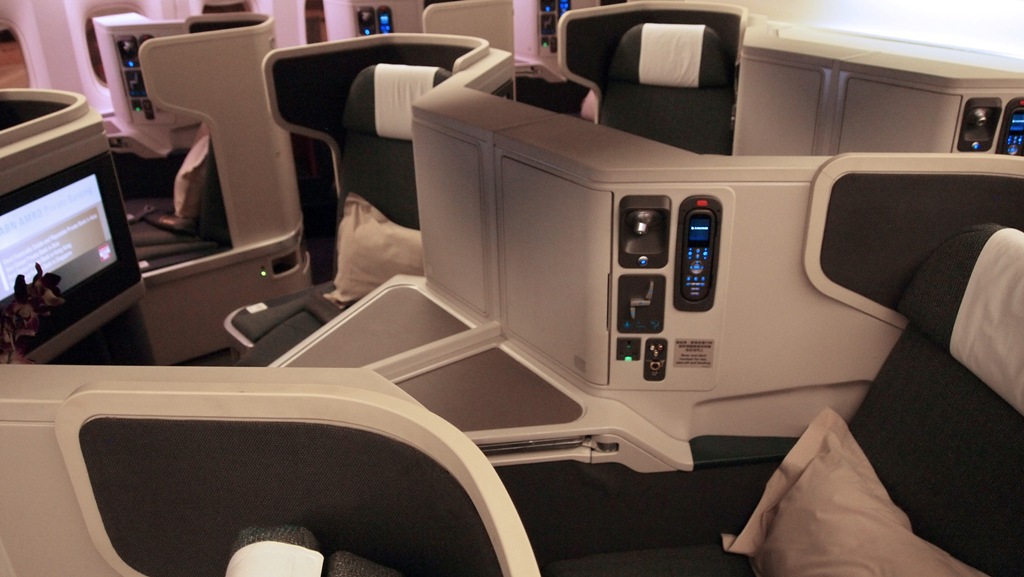 A standard reverse herringbone configuration is not an innovation. Every customer has a direct access to aisle. The level of privacy is fascinating due to the angle of a seat position and the surrounding walls. The passengers do not experience a sense of distance from the cabin.
The storage room has no complaints. Passengers are provided with a small shoes closet, shelf, side pocket for personal belongings or laptop, and many other useful features.
We will not focus on bed-seats, because they are standard for almost all air companies offering top class products.
Similarly to its competitors, Cathay Pacific provides escort of its premium customers from/to airport and offers luxurious treatment in lounge areas.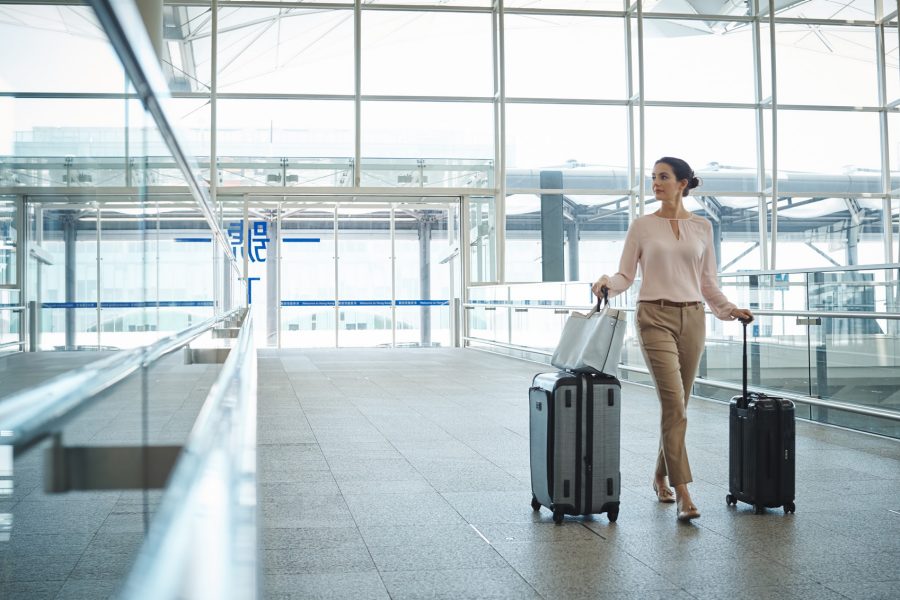 Restaurant dishes and refined assortment of wines is an integral attribute of any business class. Cathay Pacific is not an exception.
Finnair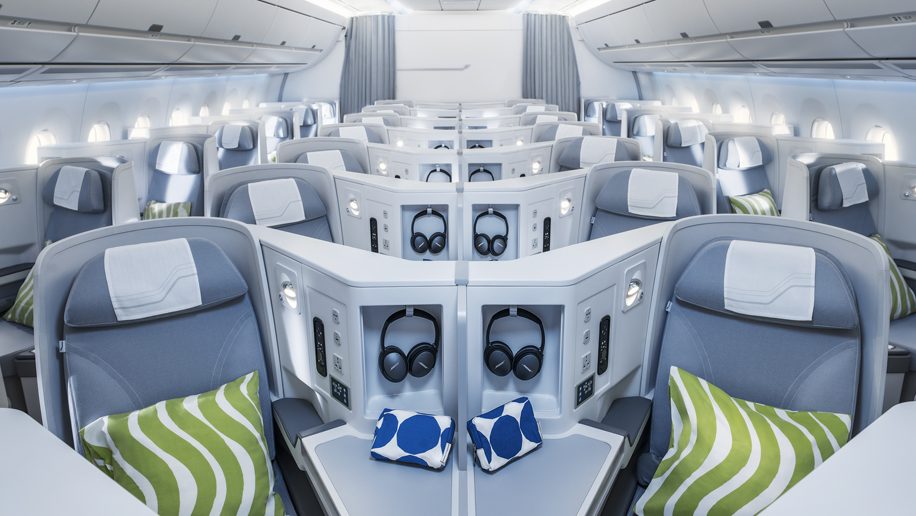 This is the only representative of Europe in our list. Finnair invested a lot in the creation of long-haul business class product on the basis of new generation of Airbus A350 XWB. The cooperation with design company from Helsinki named dSign Vertti Kivi & Co has brought its fruits, because the design of the premium class was terrific.
A standard for business class 1-2-1 configuration contains 46 seats. The cabin is bright and spacious. Each passenger has enough room for personal belongings and comfortable seating. The type of seats is prominent Zodiac Cirrus III enabling the passengers to turn a seat into a bed.
A comfortable amusement during the long-haul flights is ensured by inflight entertainment system containing and displaying TV shows, movies, music and other content in numerous languages on a large touch-screen.
On the board of Airbus A350, the business class customers are able to taste a signature menu containing Nordic delicacies. A wine card will be also appreciated by true gourmets.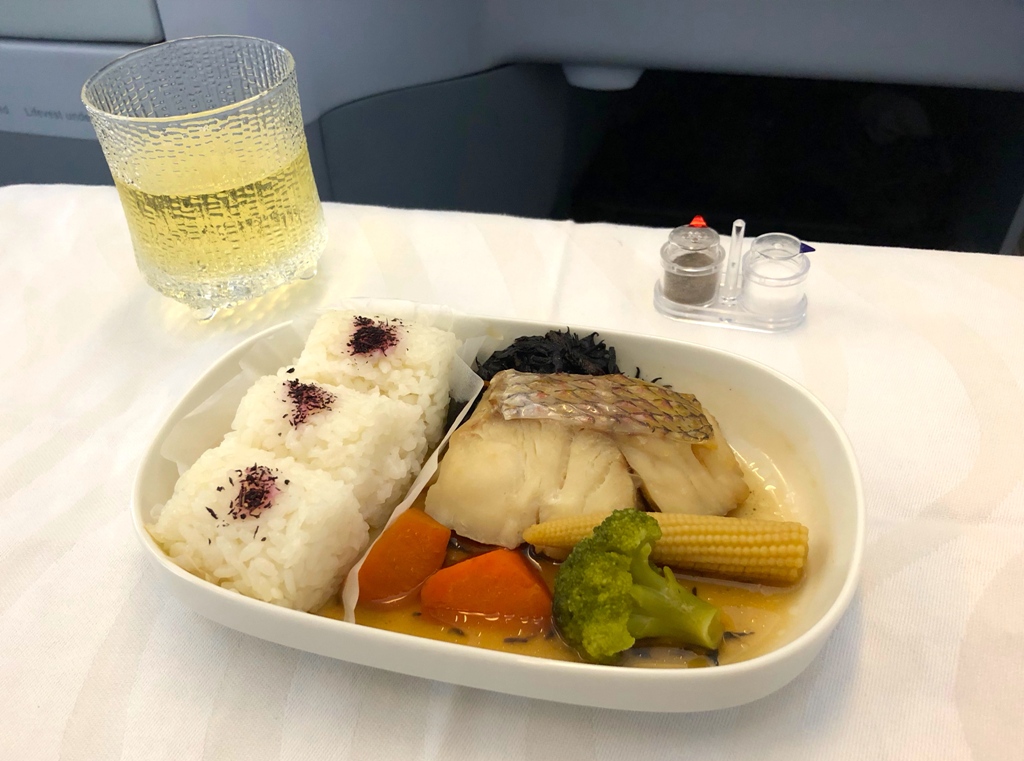 Free Wi-Fi for business class is a small but significant feature offered by Finnair.
Female passengers on the board of business class are provided with a separate ladies' room fitted with various cosmetics and amenities.
This list of top business class products is not a strict rating. Many other air companies, such as Qantas, United Airlines, Lufthansa etc. provide the superb services for premium customers on numerous routes. We hope that regardless of the company you choose, your flight will be delightful.
Top Destinations for Business Class and First Class Travel in 2024
Rome, Yangon, Lucerne, Frankfurt, Tokyo, Edinburgh, Dubai, Paris, Bangkok, Johannesburg, Budapest, Osaka, Taipei, Brussels, Stockholm, Barcelona, Amsterdam, Athens, Berlin, Helsinki, Vienna, Brisbane, Reykjavik, Venice, Guangzhou, Perth, Milan, Seoul, , Glasgow, Madrid, Munich, Nice, Beijing, Dusseldorf, Iceland, Cairo, Melbourne, Moscow, Shenzhen, Shanghai, Nuremberg, Spain, France, Germany, Italy, Sweden, Switzerland, Singapore, Tel Aviv, Israel, Norway
Cheap First Class will take you to London, Paris, Amsterdam, New York or Hong Kong cheap! Get to the global capital destinations easily and forget about the overly-priced services of the vast majority of air flight companies online! Save up to 70% of your money with Cheap First Class luxury travel!
Cheap First Class is Your Reliable Luxury Travel Partner
Travel with confidence, plan your luxury air trip, find the cheapest first class and business class flight deals and book great value fares to 60+ destinations with Cheap First Class!
Need help with your trip? Here are answers to FAQs for all your travel!