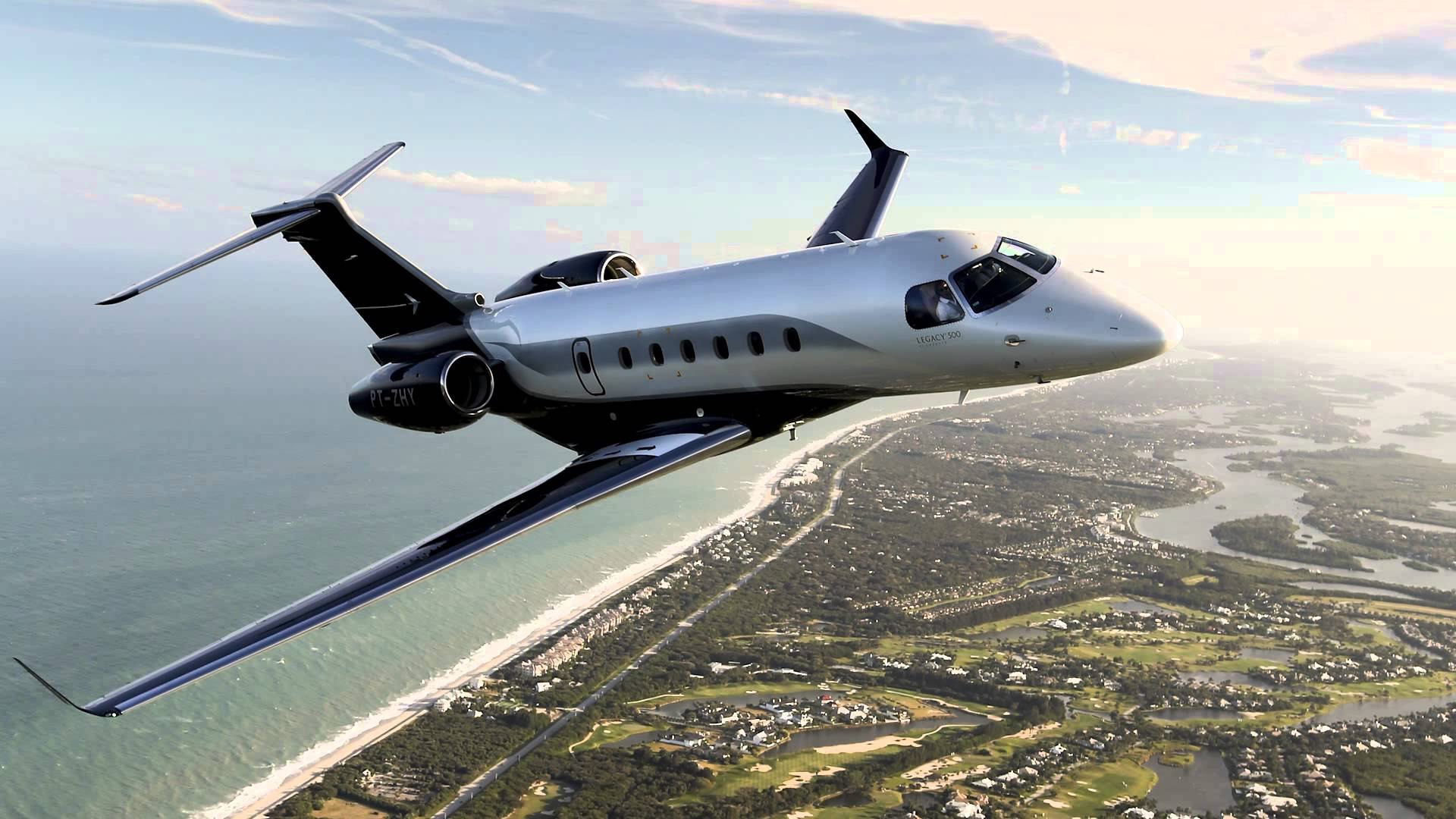 Luxurious business class flights are considered to be one of the best ways of air transportation. Super comfortable conditions: wide selection of chef dishes and alcoholic drinks, large and extra soft seats that easily transform into flatbed suites…However, does every airline provide at least these services so perfectly? Hmm… Not really. Your air trip can be spoilt by terrible service, hard seats, poor-quality food. How not to overpay and regret about the wrong choice? That's the great question we are to answer in this exact article.
Here you have 5 airlines that offered best business class flights oversees. We examined thousands of real online customer's reviews. That's what we focused on while making this top. People estimated the quality of seats and given services. Check out the real "public" listing below.
Welcome to a World of Luxury Flights Benefits
Business and First Class passengers  benefit from luxury travel experiences, all of which provide greater choice and the highest standards of quality, service and convenience. Business Class and First Class  passengers receive world-class treatment when flying to any destination across the globe. This means elevated service from the moment they arrive at the departure airport, continuing with luxurious and attentive in-flight services, then throughout their way way after arrival.
17 Benefits of Flying Business & First Class 
Enhanced health and safety measures

Quick and easy pre-flight experiences

Fast track security.

Dedicated check-in desks.

Priority boarding and deplaning

Access to private lounges.

Premium In-flight entertainment options.

A spacious seat,

adaptable to your personal space.

Advanced LED lighting.

Delicious dine-on-demand cuisine.

A luxurious selection of amenities.

State-of-the-art communications system.

Early arrival to the airport

Premium assistance to your departure, connection or arrival

Last minute schedule and ticket changes 

Extra luggage allowance.

Business class priority baggage
1. Qatar Airways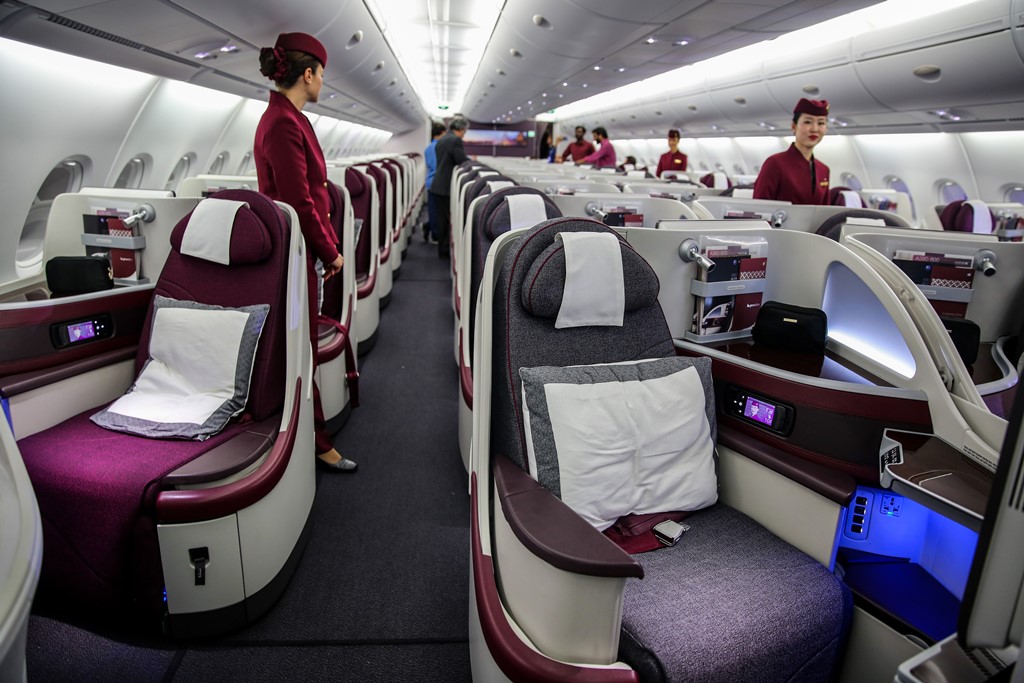 The list of the tops starts with this amazing airline that keeps winning awards. The inflight experience of countless satisfied customers just separates Qatar Airways from the competition. Let's find out why.
Equally comfortable seats on all the aircrafts the airline provideseasily turn into the flat ones. A perfect choice for tired workaholic who can sleep for days. High-quality noise-cancelling headphonesyour neighbors use make you finally get that wink of sleep you lacked after long working hours. Well, it turns out you can buy a perfect sleep for money… for a Qatar business class ticket price.
In-flight Entertainment
Experienced customers assure that entertainment system has many choices and works perfectly. On board you are also provided with an amenity kit and complementary pajamas. The only disadvantage is the lack of XXL size. Therefore, want a luxurious flight? Better grow lean;)
How about champagne. Reviewers admire 2 types of champagne there, delicious meals and single out an excellent crew with a formal and constant smile.
As lots of passengers nowadays complain about constant sitting or lying positions during long-term flights. Exhale, because aircrafts here have mini stands in lounge that everyone uses actually to stretch during portions of the flight.
State-of-the-art communications system
Wi-Fi connection, however, is the problem even the best airlines cannot fix. You will be able to check your What's Up or Instagram, but YouTube may freeze pretty often.
And, of course, the most essential thing to mention is an ability to upgrade and get business class tickets even less expensive.Unfortunately, very few airlines offer auctioning or simple upgrade. Let's admit these guys are the best for international flights. Qatar are the best in the industry and that's evident.
2. Lufthansa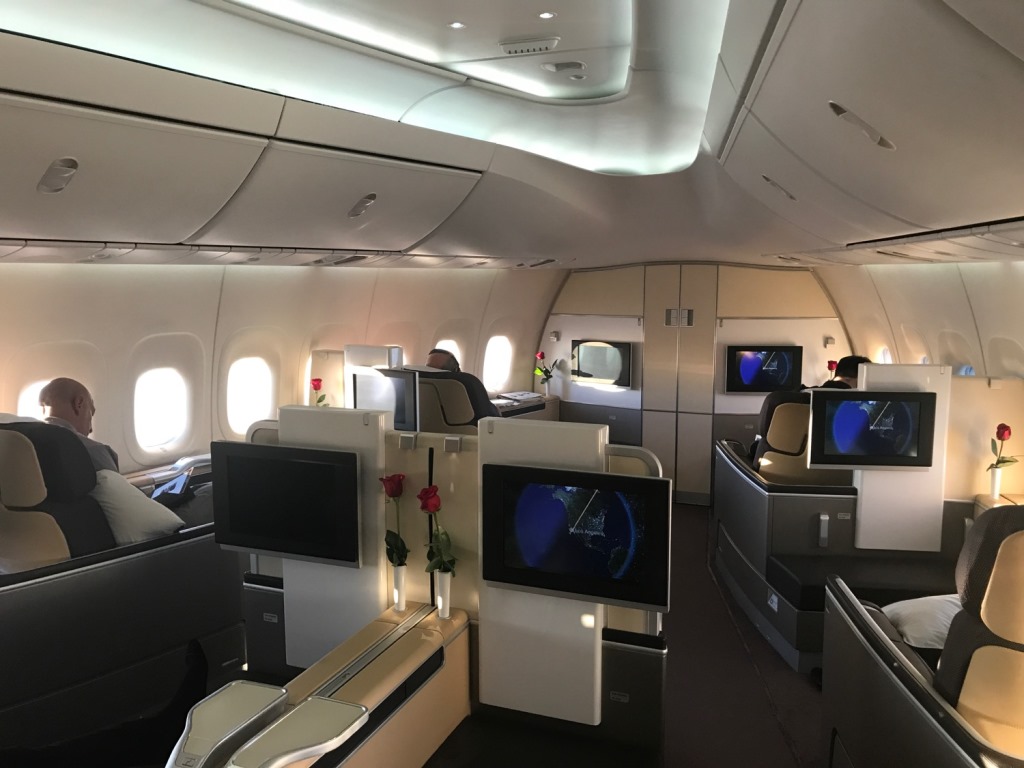 The most promising European competitor to bear the best business class airline status is German Lufthansa. Customers are bribed with super German efficiency and first-rate service (despite the class). Most of the reviewers are stunned at how an airline manages to stick to the timetable precisely. Very few experienced short-term delays and a lot of customers were surprised to arrive ahead of schedule. The next advantage is a good legroom in a business class cabin. Nobody likes uncomfortable flights with hurting legs on the next day. Right?
Delicious In-flight Meals
All the food is served by pleasant and professional flight attendants. If the staff is not in dispute, the food's reviews are a bit controversial. Specific Japanese catering is not to taste to several customers. Try to pick something else having a wide choice.
In general, Lufthansa deserves its 5-star rating of Skytrax. As all you'll feel at leaving LH is a sadness of saying "Good-bye" to a place with such level of efficiency, comfort, and sympathy.
3. Emirates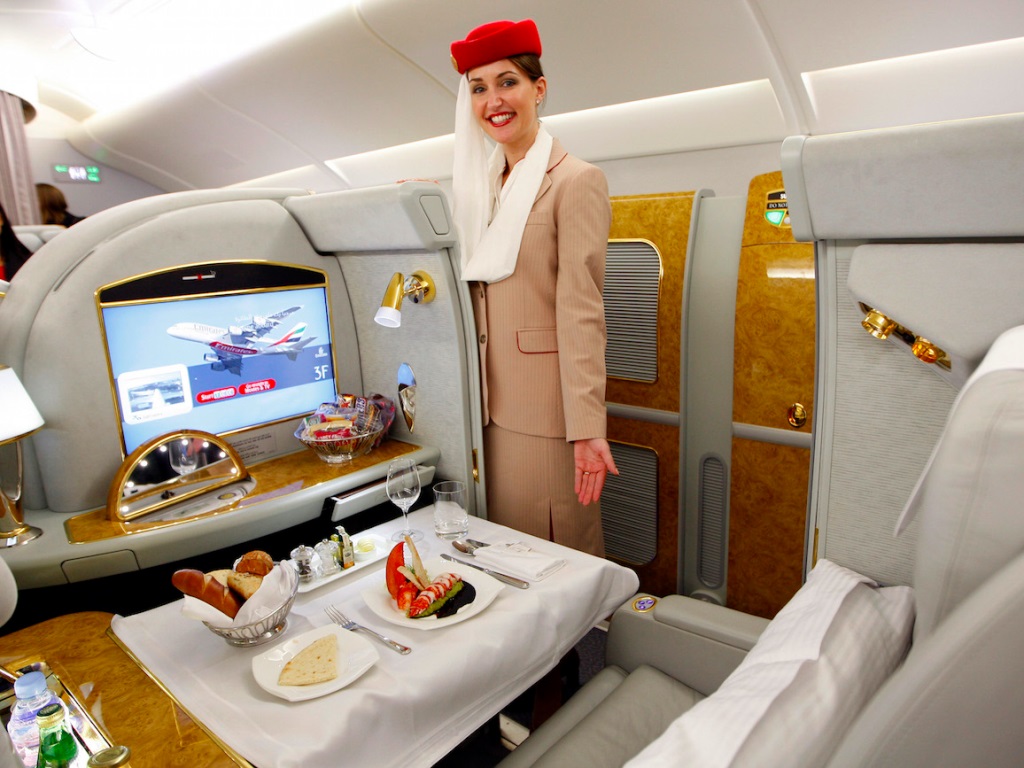 Emirates are here, thanks to huge number of large cabin interior admirers. Food and beverages are impressive as well as. Emirates consistently top-notch when it comes to IFE, transfers at DXB, OnAir WiFi, chauffeur pick-up and drop-off, and lounges. You can experience the great design of a high-tech oasis, where you can settle into unparalleled comfort, and adapt your personal space to suit your needs. Catch some sleep or get productive with a generous work surface.
Still, a perfect airline received only 4 stars from Skytrax. According to several reviews, the possible reason is old aircrafts and late disembarking. Screens on several planes are with bad resolution, so movies look blurred and special effects are in vain. In addition, while leaving the plane, you are likely to wait until the whole economy class gets off the board. No priority to those, who paid more.
Someone complained about poor quality of service. It took the whole hour to serve the meal when being asked for. That is why, today Emirates are the third.
4. Swiss Int'l Air Lines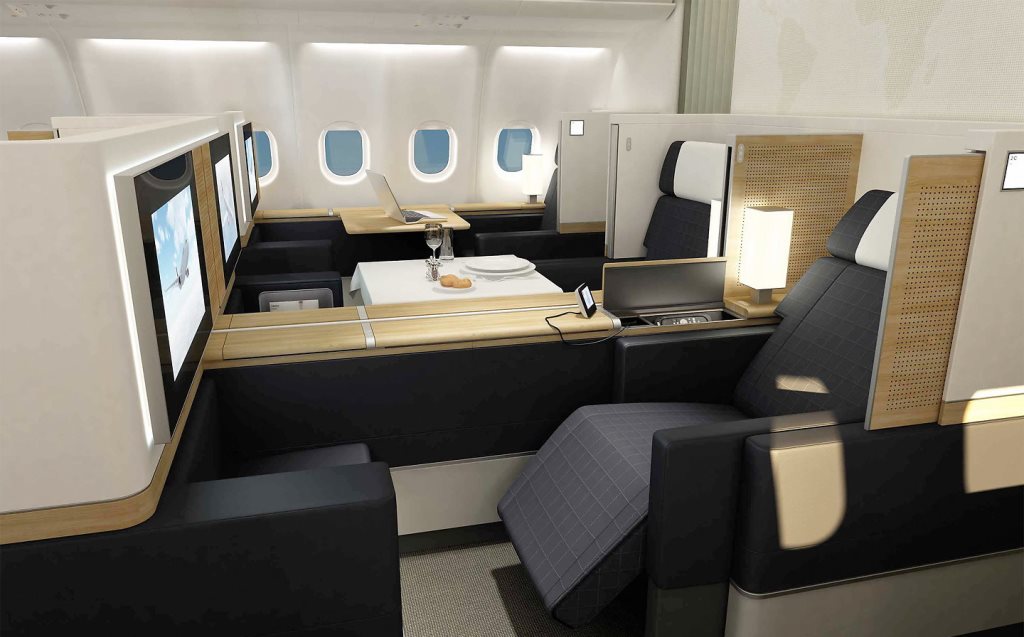 Another 4-Skytrax-stars winner. To cut a long story short, perfect service, but dated seats and limited snacks. Still, several people are sure that "seats are also very comfortable – had what felt like a gel type cushion that you sat on." Full-HD screens, attentive, eager to help flight attendants, at least 4 dishes to choose for every meal, a comfortable lounge are just some of the pros of Swiss Intl Airlines.
All the business class passengers receive priority baggage tag, therefore, are first to take the suitcase and leave an airport. 20 minutes after landing you are to be on your way to the city. Delays happen, but very seldom. However, the overhead bins are usually very small. That is why usually there is no enough space to put the hand luggage.
Yes, Swiss airlines are not perfect, but you can have a high-speed Wi-Fi connection, tasty meals and a baby sleep on its aircrafts.
5. Turkish airlines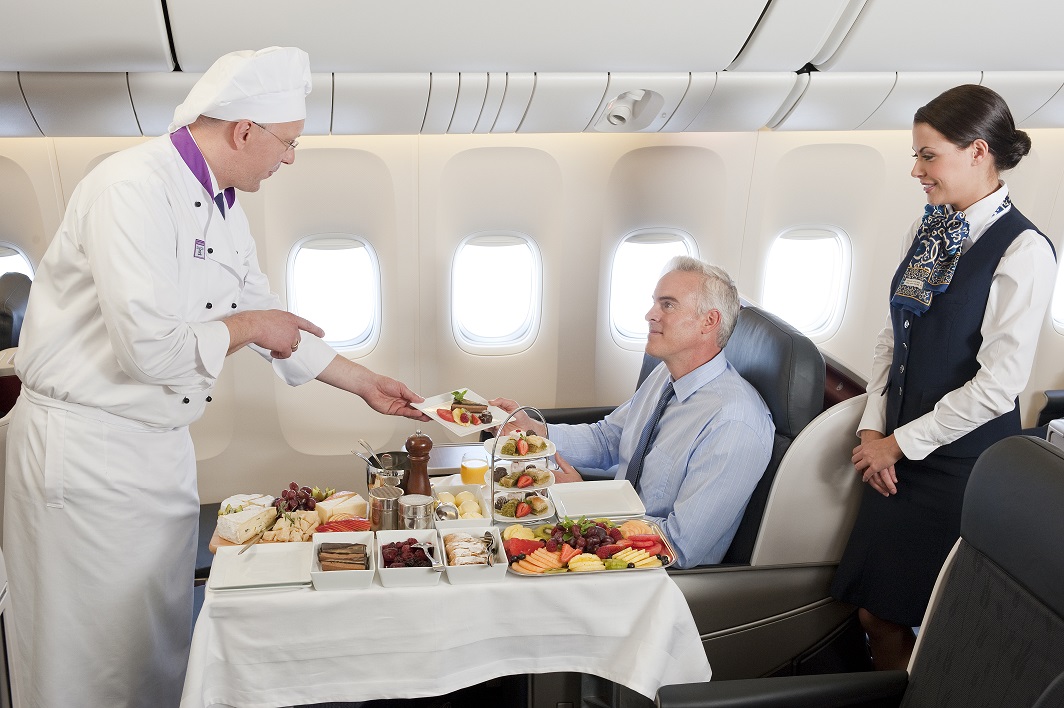 The most promising airlines with the brightest ads. We decided to conclude tops of the tops with an airline, which goes on developing very rapidly. The food here is perfect. The stuff recognizes its loyal customers. The Bentley night bag, Denon noise-cancelling headphones and large-screen IFE with a touch-screen remote are fascinating.
Getting to the terminal, the airline will provide a separate bus for business class. It seems to you like this is info about the airline which tops this list. Well, it would be so, but for the business lounges. These are proved to be noisy, crowded with tables and floors overflowing with dirty dishes, cutlery, napkins, empty bottles, and cans by several reviewers. Perfect in the air, sometimes disappointing inland. Still, Turkish Airlines' offers are too tempting to pass by.
Top Destinations for Business Class and First Class Travel in 2021
Rome, Yangon, Lucerne, Frankfurt, Tokyo, Edinburgh, Dubai, Paris, Bangkok, Johannesburg, Budapest, Osaka, Taipei, Brussels, Stockholm, Barcelona, Amsterdam, Athens, Berlin, Helsinki, Vienna, Brisbane, Reykjavik, Venice, Guangzhou, Perth, Milan, Seoul, , Glasgow, Madrid, Munich, Nice, Beijing, Dusseldorf, Iceland, Cairo, Melbourne, Moscow, Shenzhen, Shanghai, Nuremberg, Spain, France, Germany, Italy, Sweden, Switzerland, Singapore, Tel Aviv, Israel, Norway
Cheap First Class will take you to London, Paris, Amsterdam, New York or Hong Kong cheap! Get to the global capital destinations easily and forget about the overly-priced services of the vast majority of air flight companies online! Save up to 70% of your money with Cheap First Class luxury travel!
Cheap First Class is Your Reliable Luxury Travel Partner
Travel with confidence, plan your luxury air trip, find the cheapest first class and business class flight deals and book great value fares to 60+ destinations with Cheap First Class!
Need help with your trip? Here are answers to FAQs for all your travel!