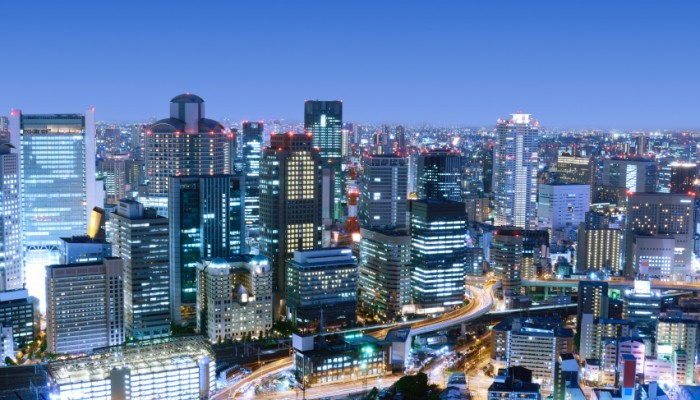 Osaka is undoubtedly not the first city people consider visiting when planning a trip to Japan. A great majority of tourists prefer visiting magnificent Tokyo, tropical Okinawa or romantic Kyoto. Indeed, Osaka is not the most popular tourist destination and therefore is usually overlooked by visitors. Though Osaka lacks picturesque scenery and alluring architecture peculiar to other Japanese cities, this city is undoubtedly worth visiting and you will never regret doing this. Сheapest business class tickets to Osaka you can find on the our main page cheapfirstclass.com
By the daytime, this is the most populated town after Tokyo. At the same time, it is the largest metropolitan area in the world and the second largest in Japan. Osaka is also known as a major economic hub. Being one of the leading Japan's economic centers, the city attracts lots of overseas business persons who, in contrast to, usual travellers know all perks and peculiarities of these Japan's town.
Osaka has a very stable economy and is especially lucrative for merchants. Since ancient times it is known as a major merchant center. During the Edo period, it used to be the main rice trade center, for which the city was dubbed "Nation's Kitchen". In modern times, the town also plays an important role in the economic development of Japan. A great number of international companies have chosen Osaka as their offshore home, as it offers a favourable business environment and a flexible system of taxes.
Hower, this Japanese town is famous not only for its numerous business opportunities. Little by little, the city is getting more popular as a tourist destination. Indeed, there are lots of interesting places to visit and exciting things to do in Osaka. Every visitor will find activities to his/her interest, starting from shopping and finishing with admiring architectural heritage and tasting traditional cuisine in local restaurants.
Osaka is a real paradise for gourmands. It is flooded with exquisite restaurants, serving delicious meals. If you happen to visit one of these restaurants, you should definitely try okonomiyaki – the most popular Osaka's dish. More reckless food lovers should try globefish and poisonous fugu.
Need cheap first or business class tickets for flights to Osaka? Call us!
Museum and art lovers can spend hours visiting numerous museums, including Municipal Museum of Fine Art, Museum of History and Museum of Oriental Ceramics. By visiting Bunraku theater, you will discover Japan's traditional puppet art that will charm even the most avid theater-phobes. Those who are interested in contemporary life of urban youth, should visit Ame-Mura, or American Town. This place is crammed with restaurants, bars and coffee shops.
You will never regret visiting Aquarium Kaiyukan with its huge water tank, showing breathtaking marine life, Osaka Castle – replication of an ancient castle, Shitennoji Temple – the oldest city in Japan, Universal Studios Japan and HEP Five Ferris Wheel that gives riders a magnificent view of the city.
Many tourists point out gaiety and friendliness of the streets. Osakans are very open-hearted and communicable. Numerous places of interests coupled with the friendliness and sincerity of local people will get under your skin.
To make your trip to Osaka even more unforgettable, it is crucial to get there in style and comfort. Since a flight to Japan takes several hours only a first of business class flight can offer the desired level of comfort. Only by choosing first or business class flight you will come to your destination relaxed and ready to dive into adventures right after the plane lands. With cheapfirstclass.com you will quickly find the best business and first class flights to Osaka and other virtually any place in the world.