Published on: Jun 17, 2014. Author: Oleg Mishyn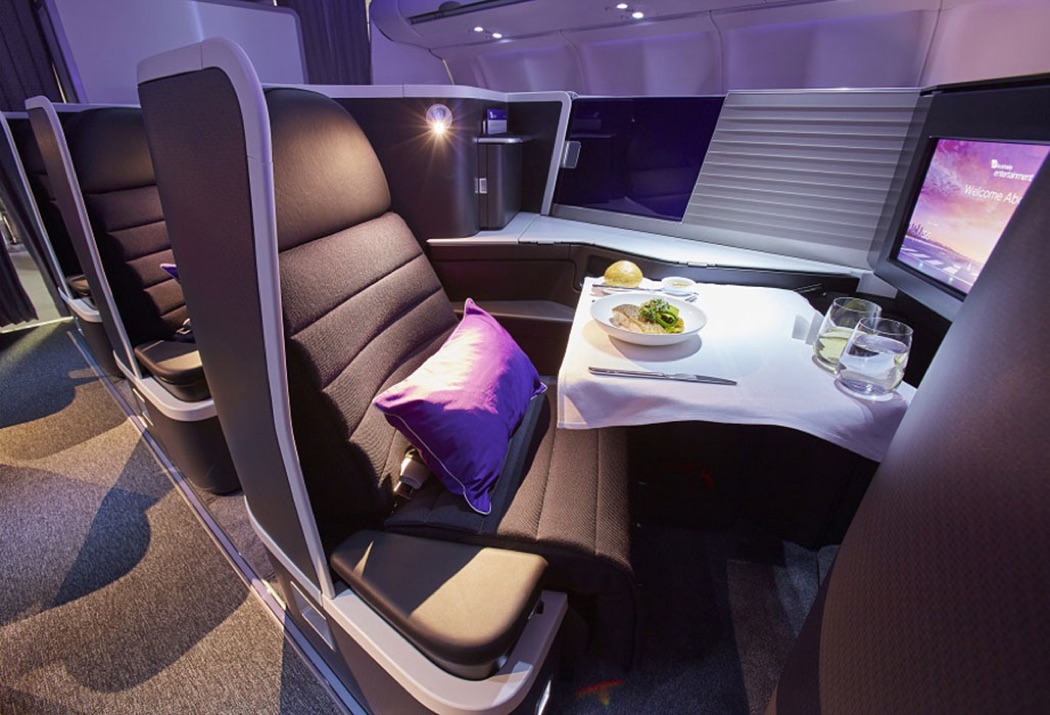 Well, business class plane flight doesn't need much introduction. Huge comfortable seats, a lot of leg room, high quality restaurant food, free alcohol and a small number of fellow passengers – those are just a few out of a bunch of preferences you can get when flying business class. And, if you think great service costs a lot, you're sooo wrong. There's always a big chance to experience numerous luxuries of business class for less than you'd expect.
All you need is a careful planning and flexibility. Booking your tickets well in advance and being ready to shift your flight dates are surefire ways to get great business class deals. Plus, you might also get an opportunity to get an upgrade for business class right at the airport which will cost way cheaper than a full business class ticket.
CheapFirstClass.com's first priority is to make sure you get the best business class deals. We guarantee that our prices on airfares are the lowest on the market. Call us at 800-818-2451 or use a free quote on this page right now and our specialists will get back to you with the best business class deals on airfares to nearly everywhere in the world within a few minutes. cheapfirstclass.com makes the luxury of business class as affordable as ever.
Extremely Cheap Business Class Tickets to Asia
Fares from $2,850!
– Flights to Bangkok from $2,860*
– Tickets to Seoul from $2,870*
– Deals to Beijing from $2,882*
– Fares to Hong Kong from $2,890*
– Airfares to Tokyo from $2,950*
Call now +1 800 818 2451
Discounted Business Class Flights to Europe
| | |
| --- | --- |
| Destination | Price From |
| Flights to Amsterdam | $2566 |
| Tickets to Berlin | $2469 |
| Deals to Paris | $2890 |
| Fares to London | $2752 |
Call now +1 800 818 2451
How to Get Upgraded to Business Class for Free
We bet every time you fly economy class, you wish you were sitting in a first or business class cabin. But then you think about the fares and you accept the situation. Don't give up so easily. You can get a flight upgrade and travel in a premium class. You just need to know some tricks to get upgraded to a business class cabin without additional payment. Very often it's a matter of luck but with the right amount of skill, intelligence, and charisma everything is in your hands. Here are 10 ways you can get an airline upgrade and fly business class on a budget.
1. Exchange your frequent flyer miles.
If you fly regularly, join the frequent flyer program. How does it work? You collect miles every time you fly, stay in a hotel, and use airline's credit card. Later, you can use those miles to buy/book a business class flight or get an upgrade. If you want to get a free business class seat for your miles, you need to accumulate a lot of them. It's possible only if you fly and pay with your credit card very often. If it's a good option for you, choose the right loyalty program and learn how to increase your mileage.
2. Be a loyal customer.
Even if you don't have enough miles to exchange them for a ticket, you get another benefit. Loyal passengers, subscribed to the frequent flyer program, get upgraded first when, for example, an economy class cabin is overbooked. Loyal customers of some major airlines (American Airlines, British Airways, and Lufthansa) are also rewarded with free upgrade vouchers.
3. Keep track of discounts and sales.
An average flier will not even consider buying a business class ticket due to its price. But you should know that sometimes you can grab a business class seat at an economy class price. There are some periods when business class cabins are almost empty. In order to fill them, airlines offer discounted fares that are slightly different from cattle class prices. So if you want to spend your long-haul flight in a business class cabin but don't want to overpay, sign up for airlines' newsletters and be aware of the current tickets sales.
4. Buy two tickets for the price of one.
Some airlines occasionally announce 2-for-1 flight sales. This is a very advantageous offer if you travel with a companion. You buy one business class ticket and get another one for free. Then, you just split the cost of the ticket in two. This way, you save a round sum and get business class seats. All you need to do to get these low cost airline tickets is to be alert in order not to miss the next 2-for-1 sale.
5. Be nice to the check-in staff.
Today, many people check in online but if you expect to get an upgrade, go to the check-in desk yourself. The way you ask for an upgrade will determine your chances of getting it. The main rule is to be polite and patient. Your appearance also matters so make sure you're dressed well – smartly dressed people win airport staff's favor. Also, you should have a good reason to ask for an upgrade (pregnancy, tall stature, or special occasion for traveling). Even if free upgrades are not available, you might be offered to get upgraded at a reduced rate.
6. Complain and get an upgrade
Very often, your trip may go not as smoothly as you expected. Your flight may be canceled or delayed and your luggage may be lost or delayed too. Also, if your seat is defective or there is another inconvenience you have to experience due to airline's negligence, complain about it and get a chance to be upgraded to a premium class. Some airlines make up for their failures by giving their customers upgrade vouchers to be used on a future flight.
7. Travel solo.
If you travel alone, you have more chances to get an upgrade. It's obvious that an airline is more willing to upgrade one person rather than a couple or the whole family. So, if you fly solo, an upgrade to a premium cabin will be a great bonus for you.
8. Have a pull in the airport.
If you're lucky to work for a particular airline or have relatives or friends who are airline employees, you can take advantage of a buddy pass. A buddy pass is a cheap ticket that every airline employee and their relatives can use it. However, this kind of ticket doesn't guarantee that you'll board the airline since it can be used only if there are available seats in a cabin. The seats are assigned at the last minute and you can't reserve in advance. If the flight is oversold, a buddy flier doesn't have any priority of getting a seat. If you don't have any friends employed by an airline, it will be useful for you to befriend check-in agents and somebody from airline's management.
9. Be willing to take the bump.
It's a common practice of most airlines to oversell flights since they assume that some passengers will cancel their flights. If you're not bound by the schedule and your flight turns out to be overbooked, offer to give up your seat in exchange for an upgrade on the next flight. Since it's a very tempting offer for a gate agent, the chances are you'll get what you want.
10. Bid for a premium upgrade.
This way of getting upgraded is not free but it's definitely worth mentioning. Plusgrade and Optiontown offer their customers, who have their flights booked with the partnering airlines, to get an upgrade. The procedure is usually the following. You book an economy class flight on an airline's website and then you bid on a flight upgrade to business class. You enter a bid price you are ready to pay for your upgrade and your credit card details. 72 to 24 hours prior to the departure, you'll get an email notifying you about your upgrade status. If your bid was accepted, the sum of money you offered for an upgrade will be withdrawn from your account or your credit card will be billed. After payment, you'll get your upgraded boarding pass. If your bid fails, you just keep your original ticket.
12. Book in advance
If your schedule is flexible enough, try to plan your trip in advance and book the tickets 1-2 months before the departure. You can easily find an online booking engine, which will enable you to select a flexible date while looking for business class flights.
You can also subscribe to the newsletter, in order to track down the lowest fare business class offer, before it is made public. It is a usual thing for airlines to let their subscribers know first about the deals they suggest.
If you book your ticket close to the departure, you will have to pay the full fare, which travelers often find quite expensive.
13. Choose the right date and time
Prices for tickets always depend on the demand. To that end, it is more expensive to buy a business class ticket for a flight which departures during the popular hours. The cheapest option is to buy a Monday morning flight or Sunday morning one. Business class passengers are not likely to travel on Sunday or Saturday, especially in the morning. Likewise, they do not usually travel during holidays, so you should easily get a cheap business class seat on New Year, for example.
Similarly, if you are abroad, consider staying there for a weekend. Airlines make business trip (from Monday to Friday) tickets more expensive, which makes it a better idea to stay for a couple of days and visit some popular sights instead.
14. Try another departure airport
If you plan to visit a big city, it is better to look for a minor airport. Such airports tend to have governmental subsidies and work with budget airlines, which results in the lower price of tickets. Furthermore, you can easily get there, as most minor airports have good logistics.
Another significant reason to check the prices among minor airports is that some websites show only nearest airports offers.
15. Split tickets
Another way to get a cheap business class to Europe is to split your trip. Divide your journey into two with the transfer in a cheap country, and you will reduce the cost twice. The thing is that airlines, which increase the rates for long direct flights, in order to reduce the risk of empty seats. Splitting the flight enables them to sell more tickets and get more profit. For example, the flight Moscow – Deli with Emirate airline will make the split in Dubai.
Nevertheless, not every passenger is ready to waste their energy and time, while waiting for the next flight. However, business class travel makes your waiting comfortable and easy. For instance, American Express Platinum card owners are offered to relax in certain lounge sky clubs for free. Not to mention, that you will also have a rest in the business class.
16. Cheap countries
Another interesting tip is to choose the right country. It doesn't mean you have to get to Sri Lanka to start your trip from. If we compare business class tickets in the UK and Europe you'll see the great difference in price. The thing is that the United Kingdom has the world highest Air Passenger Duty. In order to earn some profit, British airlines have no choice but to increase their flight's cost.
17. Frequent flyer loyalty programs (bonuses and miles)
There are different types of programs, offering benefits for their members. The benefits are bonuses or miles usually. Most of the programs top up your account for each flight you do with them. The number of bonuses or miles depends on the class of the flight, as well as its length.
The programs are numerous. Most of have a service, which enables you to upgrade the ticket you booked or bought, using their miles or bonuses. However, each has its specific features. For example, Asia Miles (Cathay Pacific program) allows their passengers to upgrade their tickets to the next higher class, but not to jump into a business class directly. So, be attentive, while choosing your loyalty program.
Here are 6 most popular frequent flyer programs, which give their passengers an opportunity to buy the cheapest business class tickets on plane:
– American AAdvantage
This is a good option to earn AAdvantage miles and use them to upgrade on flights by American Airlines or American Eagle.
British Airways Executive Club
This option enables their frequent flyers to have a more luxurious flight experience as well. You have an opportunity to upgrade a cash booking to the next cabin if available. You simply need to book or buy a British Airways, Iberia or American Airlines flight. It may be one-way or return flight.
– Virgin America Elevate
This program provides you with an opportunity to upgrade your seat by calling your exclusive Elevate (Silver or Golden one) reservations line.
– Delta Sky Miles
This is another loyalty program, which offers you a cheap business class seat and makes your trip more comfortable, using miles to pay the difference.
– JAL Mileage Bank
Allows their members to redeem their miles, in order to fly in the next higher class of service, than of the purchased ticket.
– Cathay Pacific
You can earn the miles with the following companies: Cathay Pacific, Quants, and other Oneworld members. The miles may be easily spent on upgrading to business class.
18. Bid an upgrade
Another interesting way to get the business class travel is bidding for an upgrade in online auctions. Some companies offer upgrading service for frequent flyers only, but in some companies any user may use this option and pay in cash.
Here is the list of airlines with the similar options:
– Malaysia Airlines
– Etihad Airways
– Cathay Pacific
– Virgin Australia
All these airlines offer a certain number of upgrades for passengers, who bid the cash they are ready to spend for a business class travel.
19. Sales
Is it possible to get a cheap business class deal? Just check the airline's websites. There are two main reasons why airlines do sales and reduce prices for business class tickets. On the one hand, they may have a competing carrier, they want to surpass. On the other hand, the sale is just another way to fill the cabin with passengers.
If you have no time to keep an eye on airlines sales and discounts, you may try a service that can do that for you. All you need is to subscribe to the First Class Flyer newsletter, which will cost you less than $200 a year. It will provide the information on the possible sales on business class and first class fares.
20. Less known carriers
Usually, such airlines offer much cheaper price for the tickets than the well-known and popular ones. For instance, the flights going from London Heathrow to New York Newark are provided not only by such well-known carriers as British Airways and American Airlines but also by Air India offering 3 flights on a weekly basis.
If you want a cheap business class to Asia the best business class airline is Asiana, China Eastern or Philippine Airlines, because they offer cheaper tickets than well-known ones.
21. Use major booking engines
A booking engine – is one of the easiest ways to buy a cheap business class ticket. So, how does it work? Booking engines compare prices for the tickets among hundreds of airlines and major agencies, using the information you give.
In case, if you search for cheap business class seats via airlines websites or simply via Google using something like "cheap business class flights" or "cheap business class to Asia", for example, you will miss all the cheap ones instead.
There are several useful booking engines, such as
– Priceline
– CheapTickets
– CheapAir
– CheapOair
– Kayak
– Matrix Airfare Search
– Skyscanner
Let's take a look at each.
The Priceline website offers a bidding service, which enables you to pay how much you want for the ticket. With Name Your Own Price tool you may save about 50%.
The CheapTickets, as most online booking engines, suggests various filters. Likewise, you may fill the information about the tickets you need, in addition, you may use the filters to narrow the search results.
Other websites include the CheapAir and the CheapOair. This one is similar to the CheapTickets. You can also narrow the search here and mix the airline to find the best deal. There is also an option which enables you to modify the search after the results are ready.
Another great engine is Kayak. This one enables you to search flexible dates and nearest airports, which increases the chances to find a cheap business class airfare. In addition, you may download the mobile app and use it whenever you need.
ITA Software's Matrix makes it possible to fly cheapest business class. You may get a business class seat for almost the same price as flying coach. This software is owned by Google and powers Orbitz, Kayak, CheapTickets, etc. It occurs to be rather popular among travel agencies and airlines, as well as travel search engines. You may easily find your discount business class if you choose "Business class or higher".
Furthermore, you may use some "secret" commands in Matrix. For instance, the "A" booking class is the discounted first class.
Skyscanner also enables you to search for a cheap business class seat. If you are looking for a cheap business class to Asia, simply search for their domestic flights. The Skyscanner has many interesting tools for search. You can even get the information on the cheapest month to travel, taking into account the destination you need.
22. Consolidators
It is not a well-known fact but there always exist some unpublished offers. The point is that you cannot find them unless you are a consolidator. They may have an access to 20-50 % lower fares (in comparison with the market price for the service). It is quite reasonable to use their services if you are planning your trip in advance (1-2 months before). The key thing here is to double check everything, to make sure that the consolidator has a good reputation. Likewise, it is better to use your credit card to confirm the tickets.
All in all, we came up with 11 tips on how to get a cheap business class flight. Here they are:
1. Book in advance
2. Choose the cheapest date and time
3. Check nearby airports fares
4. Split tickets
5. Search for cheap countries
6. Frequent flyer loyalty programs
7. Bid an upgrade
8. Sales
9. Less known carriers
10. Use major booking engines
11. Consolidators